Monogram: SDCC-Exclusive Captain America Bust Bank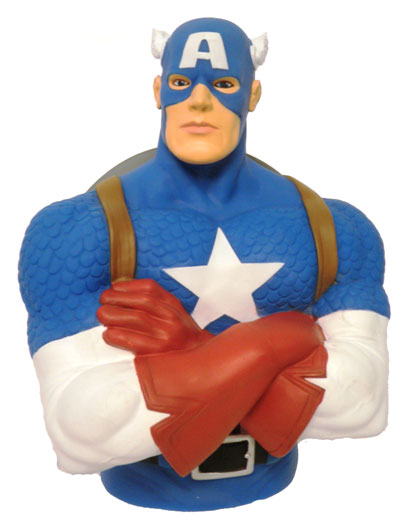 Monogram International proudly presents All NEW MARVEL Captain America Resin Bust Bank

June 2011 - The Captain America resin bust bank will be released for the San Diego Comic Con 2011, Just in time for the release of Marvel's newest epic in the AVENGERS saga "Captain America: The First Avenger"!

"Captain America: The First Avenger" will focus on the early days of the Marvel Universe when Steve Rogers (Chris Evans) volunteers to participate in an experimental program that turns him into the Super Soldier known as Captain America. As Captain America, Rogers joins forces with Bucky Barnes (Sebastian Stan) and Peggy Carter (Hayley Atwell) to wage war on the evil HYDRA organization, led by the villainous Red Skull (Hugo Weaving.)

Monogram International brings you this very special Marvel & Captain America collector's item that features Captain America, arms folded with his signature shield on his back ready to defend the citizens and ideas of the United States of America. This is a must have item for any patriot!

Product Features:

1) Captain America Bust Bank is the perfect place for anyone to keep their spare change!
2) Hand detailed dynamic pose of Captain America with Shield strapped to his back ready to protect America!
3) Can also be used as room décor! Great for placing on a desk or shelf!
4) Comes in a sealed box.
5) Made out of resin.
6) Limited release of only 100 pieces! Get it while you can because once it's gone, IT'S GONE!
7) Priced at only $25.00, this would make a great, affordable gift! Great for a Christmas gift, birthday present, or thank you for that special Marvel fan in your life!

Come visit us in booth #3744!