Sentinel, GI Joe, the Shadow, Sci-Fi Revoltech T-Rex at Big Bad Toy Store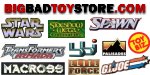 June 1, 2011 - (Sponsor Announcement) - Online retailer BigBadToyStore.com has several new items of interest to collectors:

-------------
NEW PREORDERS
-------------

MARVEL MASTERWORKS 16" SENTINEL This follow-up to Galactus is an indigo and silver version of the mutant-hunting Sentinels, and comes with lights and sounds in addition to a 3.75" Wolverine to battle. We have this great new figure listed at $54.99.

GI JOE SKYSTRIKER JET WITH PILOT This fantastic 3.75" scale vehicle from the 80's is getting reissued with new details and more. The original was a staple of the cartoon series as well as a prized part of collections; this version comes with a pilot figure and we have it listed at $37.99.

BBTS EXCLUSIVE THE SHADOW 1/6 SCALE FIGURE WITH BONUS LAMONT CRANSTON HEAD Go Hero's upcoming 1/6 scale figure of the Shadow is getting an exclusive Lamont Cranston swap-in head that is only available from Big Bad Toy Store. This edition is limited to just 250 pieces worldwide, and we have it listed at $119.99, saving you $10 off of the MSRP.

LOTR RIVENDELL 18" ENVIRONMENT The folks at WETA have outdone themselves with this fabulous recreation of Elrond's home from the Lord of the Rings movies. No expense has been spared to provide every detail - trees, buildings, towers, waterfalls and more - in this truly wonderful piece, which we have listed at $398.99.

"DISTRICT 9" EXOSUIT STATUE This replica stands almost a foot tall and is limited to 600 pieces worldwide, and is loaded with alien technology and armaments. We have it listed at $598.99, and expect it to arrive this August.

GI JOE MIDSIZE VEHICLES SERIES 01 - CASE, SINGLES This 3.75" scale vehicle assortment includes the Black Dragon VTOL and the GI Joe VAMP. Each vehicle comes with a driver and is priced singly at $24.99 and $21.99 respectively; we also have them available as a case of 2, priced at $44.99.

GI JOE 12" ULTIMATE ARMY PARATROOPER The new 12" Army Paratrooper comes with a 1/6 scale parachute for action play, and also includes accessories like a helmet and goggles, tactical assault rifle, combat knife and more. We have this new 12" figure priced at $28.99.

GI JOE 12" REAL AMERICAN HERO SERIES 01 - CASE, SINGLES Hasbro's line of 12" figures continues with the Real American Hero series of real-life figures. The first assortment includes an Army Heavy Gunner, a Rapid Strike Commando, a First Responder Firefighter and a Police K-9 Unit with dog and handler. These figures of real heroes are listed at $23.99 each, or you can pick up the case of four at $84.99.

LITTLE BIG PLANET PLUSH, ACCESSORIES We have listed a wide variety of new plushes from Little Big Planet, as well as some accessories that will make fans of the game happy. We have 9 different 7" plushes at $14.99 each, as well as 2 new 10" plushes at $19.99 and $27.99 and a 24" giant Sackboy plush at $94.99. In addition to these, we have a Sackboy Keychain at $6.99, a Mobile Bag at $23.99, a Messenger Bag at $44.99, a Travel Tote at $37.99 and a Backpack at $64.99. Be sure to check them all out, because they're sure to go quickly.

GREEN LANTERN MOVIE MASTERS SERIES 04 - SET, SINGLES We have this assortment back up and ready for pre-orders. It includes Green Lantern Galius Zed and Hector Hammond, and they are available singly at $17.99 each or as a set of 2 for $33.99.

MIXO CANS - DC, MONSTERS, SMURFS We have now listings for these new collectibles. Each Mixo tin is decorated like a favorite DC character, horror monster or Smurf, and each contains either a bag of candy or a bag of drink mix, as well as a spoon. We have them listed at $9.99 each, so grab your favorites while they're available.

CDMW-23 THE KING'S POWER PARTS CUSTOM HANDS CrazyDevy is producing a new set of articulated hands for Predaking, complete with moveable knuckle dusters. These G1-compatible accessories are also made to grip the CDMW-14 Sword add-on tightly, and we have the set priced at $39.99.

SCI-FI REVOLTECH T-REX FROM JP2 The sequel to "Jurassic Park", "The Lost World: Jurassic Park" was the basis for the latest Sci-Fi Revoltech figure to be announced. The fearsome Tyrannosaurus Rex will stand 7.5" tall and include switch-out claws and a display base, and is priced at $59.99.

JEFF DUNHAM FIGURES & MORE Jeff Dunham's 'friends' have inspired a new line by NECA. We have new listings for 8" window cling figures of Peanut and Achmed priced at $13.99 each, 19"-20" talking animatronic dolls of Achmed, Peanut and Walter at $43.99 each (saving you $6 each off the MSRP), talking head knockers of all three figures at $14.99 each and talking keychains of all three figures at $6.99 each. If you are a fan of Jeff's friends, these are a great way to bring them to life in your collection.

DOCTOR WHO MONOPOLY - ELEVENTH DOCTOR EDITION This new version of Monopoly uses images from the Eleventh Doctor's episodes, and also contains figures exclusive to this set. This imported version of the game is listed at $49.99, and is perfect for fans of the show.

1/6 SCALE APOLLO ASTRONAUT Dragon is releasing a 1/6 scale figure of an Apollo 11 Astronaut, and he includes a full space suit with bubble helmet and many other accessories. He is set to arrive this July, and we have it listed at $149.99.

DOCTOR WHO ELEVENTH DOCTOR'S JACKET AbbyShot has announced that they are releasing a replica of the Eleventh Doctor's wool jacket this fall. This fully wearable replica is made of an 80% wool/20% acrylic blend with 100% leather elbow patches and outer and inner pockets. We have it listed in sizes from Small to XXL, and it is priced at $309.99, saving you $20 off the MSRP.

TRANSFORMERS III VOYAGER MECHTECH REVISION CASES We have listings up for the Series 03 Revision 02 and Series 03 Revision 03 cases of the Voyager MechTech figures. These cases each include Shockwave, Sentinel Prime and an Optimus Prime redeco, with the Revision 02 case adding Ironhide and the Revision 03 case adding Skyhammer. Each of these cases is listed at $89.99, and should arrive in July.

CYBERVERSE COMMANDER SERIES 03 - CASE, SINGLES This assortment includes new figures Decepticon Hatchet & Optimus Prime with New Weapon, as well as returning figures Sentinel Prime, Megatron with Cannon and Ironhide with Blasters. We have singles available of all figures except Decepticon hatchet (who has already sold out) and they are listed at $9.99 - $12.99 each. We also have them by the case of 6, priced at $54.99.

HALO 3 1/4 SCALE HELMET REPLICAS WETA is also releasing a trio of helmets from Halo 3. Master Chief's Mark VI Spartan Helmet, an EVA Helmet and a CQB Helmet are each done at 1/4 scale, and due to a special buy, each is priced at $29.99, 50% off the MSRP of $59.99.

SABOTEUR 66 ULTRA-WAVE EQUALISER The latest in WETA's line of Original Rayguns is this new Ultra-Wave Equaliser. Nicknamed the Saboteur 66, this piece is chock full of early Sci-Fi style and is listed at $89.99.

REBOOT: THE DEFINITIVE MAINFRAME EDITION DVD BOX SET The groundbreaking CGI-animated series "Reboot" is coming to DVD as a complete box set this July. We have the 9-DVD set up for pre-order now, priced at $69.99.

M.A.S.K: THE COMPLETE SERIES DVD BOX SET Not to be outdone by the 90's, the 80's animated series "M.A.S.K." is also being released as a complete DVD set. You can bring the exploits of M.A.S.K. and V.E.N.O.M home this August, priced at $89.99.

ARTS UNKNOWN DESIGNER FIGURES New vendor Arts Unknown has solicited three new designer figures. Frank Kozik heads the line with the William, Reginald and Henry figure set, priced at $109.99. It is followed by Gary Baseman's Slugilicious and Doktor A's Bella Delamere, priced at $99.99. Be sure to take a peek at these stylish new figures and grab your favorites.

1/144 SCALE ALIEN TRIPOD MODEL KIT The 2005 remake of "War of the Worlds" had fantastic designs for the Martians and their craft, and now you can pick up this model of the new version of the Tripod for your collection. It comes with transparent parts for alternate versions and more, and is priced at $65.99.

1/6 SCALE 1ST BATTALION 75TH RANGER REGIMENT FIGURE Soldier Story has announced a new 1/6 scale figure. This Ranger comes with all kinds of weapons, equipment, communications gear and much more, and is listed at $114.99.

NEW GICLEES - DISNEY, STAR WARS We have listed a number of new art pieces from Acme Archives. We have six new Disney pieces such as "Do you make Honey?" and "Tiny Dancer", priced at $129.99 - $624.99 each. We also have two new Star Wars pieces - Darth Talon at $129.99 and Labyrinth at $165.99.

------------
NEW ARRIVALS
------------

D-ARTS MEGAMAN X The first figure in the Megaman D-Arts line has also arrived. This figure comes with multiple swappable faces, weapon effects and more, and is priced at $39.99.

PREDATORS SERIES 02 SET A small restock shipment of this wave has arrived. The assortment includes a Tracker Predator, a Cracked Mask Battle Damaged Classic Predator and an Unmasked Berserker Predator, and we have the set of three listed at $44.99, saving you $12 off the MSRP.

RUBIES COSTUME COMPANY - HUGE SHIPMENT As it says, we have received a giant shipment of costumes, masks and more from Rubies. We have full-size statues of Gollum and Yoda at $679.99 each (saving you $170 off the MSRP), as well as costumes, masks, wall displays, latex hands, accessories and more from "A Nightmare on Elm Street", "Friday the 13th", Star Wars, the Muppets, World of Warcraft, Lord of the Rings, "Texas Chainsaw Massacre" and "Green Lantern". Check out the menus at the links to get yourself ready for parties and Halloween in plenty of time!

SAINT CLOTH MYTH BLACK PHOENIX CLOTH The black version of the Phoenix cloth has finally arrived at our warehouse. We have it listed at $59.99, and you may want more than one to replicate scenes from the anime.

MARVEL MINIMATES SERIES 40 SET OF 8 This new assortment is from the upcoming "Captain America: The First Avenger" movie, and includes two different versions of Cap as well as Bucky, the Red Skull, Howard Stark, Peggy Carter and two Hydra Soldiers. We have this assortment ready to go, priced at $29.99.

MLB SPORTSPICKS SERIES 27 CASE RESTOCK We have been able to acquire a small restock quantity of the MLB Series 27 cases. This assortment includes figures such as Albert Pujols 4, Joe Mauer 2 and Tim Lincecum, and is priced at $79.99 for the case of 8.

IGEAR KUP HEAD SETS - REGULAR, BATTLE-DAMAGED We have received another shipment of replacement heads for Kup. the Kup 01 set is the regular version for the Generations Kup, while the Kup 02 set goes with the Battle-Damaged version of Kup from the E-Hobby three pack. We have the Kup 01 set priced at $15.99 and the Kup 02 set priced at $17.99; each set comes with two different replacement heads and a mini-screwdriver in a color-coordinated box that fits in the back of Kup's truck mode.

CDMW-16 SEA BRIGADE POWER PARTS CUSTOM HEAD We have restocked CrazyDevy's release of the replacement head for the Seacon gestalt. This piece is resculpted to fit the figure better and also has light-up yellow eyes. We have this add-on priced at $29.99.

BigBadToyStore.com