Thundershred, Masterpiece MP-10 & MP-09, Terminator, Thor, South Park, LEGO at Big Bad Toy Store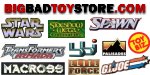 May 11, 2011 - (Sponsor Announcement) - Online retailer BigBadToyStore.com has several new items of interest to collectors:

Hi - Here is a quick update from http://www.bigbadtoystore.com about a variety of new arrivals and some awesome new preorders:

-------------
NEW PREORDERS
-------------

FANSPROJECT CAUSALITY CA-03 THUNDERSHRED An awesome new transforming insect figure from FansProject has just been listed at $47.99. Check out this awesome figure at the link below - Thundershred - A wounded outer space warrior, was converted and recovered. Also learned Ninja jutsu and able to control over the power of "air" in godai. Having the ability to transform into a stag beetle. Carrying 4 sickles which can compose into a manji shaken, and a set of gauntlets attach with 4 blades (* they can be stored on the back of shoulders). Multiplex combinations to switch different forms of weaponry. High quality and superior posability as always.

MASTERPIECE MP-10 PICTURES UP Pictures of the upcoming Masterpiece MP-10 Optimus Prime have been released. This figure comes with a trailer as well of a figure of Spike from the G1 cartoon. He stand as tall as Rodimus Prime, so he will bring a new level of continuity to your Masterpiece shelf, and we have his pre-order listed at $249.99.

MASTERPIECE MP-09 VERSION 02 We also have the Re-issue of the MP-09 figure listed. This new version is supposed to have fixes to many of the concerns and problems of the first release, and we have it listed at $209.99.

MARVEL BISHOUJO ELEKTRA The next lady in Kotobukiya's Marvel Bishoujo figure line is the ninja assassin Elektra. This statue shows her on a rooftop, with her hair blowing out behind her and her trademark sais in her hands. We have this figure listed at $49.99, saving you $10 off of the lovely lady's MSRP.

JAPANESE BEAST WARS FINDS We have located a small supply of Takara Beast Wars figures. They include pieces like Stampy, Longrack, Inferno, Metals Rattrap, Mach Kick Vs. Archadis, Bighorn/Bonecrusher, Heinlad, Corahda, Metals Optimus Prime, Scavenger and more, with prices ranging from $9.99 to $29.99. Now is the perfect chance to fill in those holes in your collection, at reasonable prices.

TERMINATOR COLLECTION SERIES 01 - CASE, SET, SINGLES The first assortment of the new Terminator Collection includes the Tech Noir T-800, the T-100 in Motorcycle Cop outfit and the Endoskeleton. We have them available as a set of three for $44.99 ($9 off the MSRP), and also as a case of 14 (5 each of the first two, 4 each of the Endoskeleton) for $189.99, $60 off the MSRP. Finally, we have singles listed for the Tech Noir T-800 and T-1000 in Motorcycle Cop uniform, priced at $15.99 each.

LIVING DEAD DOLLS PRESENTS SCARY TALES: BEAUTY & THE BEAST SET The next Scary Tales set includes Beauty and the Beast, but these aren't from any cartoon movie. We have the pair if these 10" figures listed at $44.99, and they are sure to be a hit with fans of the Living Dead Dolls figures.

THOR - THOR PREMIUM FORMAT, DESTROYER MAQUETTE Sideshow has announced two new statues from the "Thor" movie. The Thor Premium Format figure stands 24" tall with a cloth costume and a removable helmet and is listed at $299.99, saving you $25 off of the MSRP. The Destroyer Maquette is 26" tall and shows it standing atop a rocky outcropping; this piece is listed at $459.99, $40 off of the MSRP.

ACTION FIGURE DISPLAY SYSTEM This new system includes stands with a peg as well as a back clip to add file cards, diorama backs and more to your displays. We have them listed as a set of three stands, priced at $8.99 per set.

MASTERPIECE MP-05 ACCESSORY KIT RESTOCK We have a number of the add-on kit to the Megatron MP-05 on the way. This set includes all of the pieces to make the full-size gun version of Megatron, with an orange tip on the silencer section. This set is priced at $44.99.

NEW ORIGINAL COLOR TRAILER FOR MP-01/01L IGear has announced that although their original Masterpiece Trailer will not be re-issued, they do have one coming out that is essentially a scale-up of the trailer from the THS series. This piece is listed at $119.99, and they are up for pre-order now.

DISGUISE COSTUMES & PIECES - TRANSFORMERS, PIRATES OF THE CARIBBEAN, MORE More Disguise costumes, masks and more are now listed on our site. We have theatrical costumes from "Transformers: Dark of the Moon", "Pirates of the Caribbean and more; we also have the line of Sassy female costumes,
Family Guy costumes, Marvel heroes and villains, Sesame Street, the Simpsons, Teenage Mutant Ninja Turtles, "Nightmare Before Christmas", GI Joe and more.

GI JOE 12" ARASHIKAGE TEMPLE FIGURE ENVIRONMENT This piece is the largest yet in the Figure Environment line. It stands 26.5" tall by 25.5" wide by 17" deep and can easily hold a good number of figures. It is packed with details such as the golden statues at the base and the Arashikage banners in front of the arch. We have this fantastic set listed at $234.99, saving you $15 off the MSRP.

THE BERSERKER MAQUETTE This latest statue from the "Predators" film shows the hunting Berserker Predator coming up over a fallen tree, braids flying back in the wind. It measures 15.5" tall and is listed at $279.99, $20 off of the MSRP for the piece.

LITTLE BIG PLANET MEGA DELUXE SACKBOY ACTION FIGURE This large version of the original Sackboy is perfect for fans of the game series, and we have him listed at $22.99.

DC MEZ-ITZ SERIES 03 - SET, SINGLES The third assortment of DC Mez-Itz has been announced. This one includes Batman and the Joker, and we have them listed singly at $13.99 each, or as a set for $24.99.

LIVING DEAD DOLLS PLUSH SERIES 02 SET Series 02 of the LDD Plushes includes Sin and Posey, and we have them listed as a pair for $24.99.

SOUTH PARK CLASSICS SERIES 03 - SET, SINGLES The third assortment of South Park Classics includes fan favorite Mr. Hanky as well as Motorcycle Cop Cartman and Frozen Kenny. We have each figure available individually at $12.99, or you can grab a set of all three for $32.99.

DELUXE TALKING MR. HANKY, SOUTH PARK BOYS BOX SETS - 6" SCALE, 2" SCALE Two new box sets are also on their way, containing the original four boys from the hit show. The first set has Kenny, Stan, Kyle and Cartman as 6" figures and is priced at $21.99, while the second has them as 2" figures and is priced at $16.99. We also have the return of the Deluxe Talking Mr. Hanky figure, and he is listed at $19.99.

MR. POTATO HEAD - ELVIS We have listed a number of new Mr. Potato Head items. There are two new Elvis versions - the original in his white jumpsuit and the one in black from his 1968 Special. Each of these two figures is listed at $18.99.

MR. POTATO HEAD - KISS The Collector Set of KISS Mr. Potato Heads may be sold out currently, but we have singles of Gene, Paul, Ace and Peter up for pre-order, priced at $14.99 each. Check them out now and grab your favorites!

MR. POTATO HEAD - SPORTS Pre-orders are also available for Mr. Potato Heads dressed as members of College Football, MLB, NFL and NHL teams - dozens of teams, so we're likely to have your favorites. These figures are priced at $13.99 each.

BETTIE PAGE ACCESSORIES Dark Horse is releasing a number of new Bettie Page items, like cigarette cases, belt buckles, keychains, pill boxes and more. If you're a fans of this popular pin-up girl, be sure to check out all of the new items at the link.

------------
NEW ARRIVALS
------------

GREEN LANTERN MOVIE MASTERS SERIES 01.5 NAUT KEI LOI This aquatic Green Lantern from the upcoming movie is now available in the Movie Masters line of figures. He comes with a piece of the Build-A-Figure Parallax, and we have him listed at $17.99.

LEGO SETS - LEGO, HARRY POTTER, STAR WARS, CARS, MORE BBTS is now an Official Retailer of LEGO Brand products! We are now stocking the LEGO lines of building sets. We have Harry Potter, Star Wars, Cars, Toy Story, Winnie the Pooh and more, as well as the original LEGO and DUPLO sets and more. Additional shipments are arriving every day, so be sure to keep checking back to see all of the new pieces in stock, including Kingdoms, City, Atlantis, Hero Factory, World Racers and more. Many more items will be stocked in the next few days.

MARVEL BISHOUJO MS. MARVEL STATUE This statue shows current Avenger Ms. Marvel flying in her current costume, with energy blasts around both hands. We have her priced at $49.99, saving you $10 off of the MSRP for the piece.

BOBA FETT 1/10 SCALE ARTFX FIGURE We have restocked this popular ArtFX piece. He measures about 8" tall and is an easy snap-together statue of everyone's favorite bounty hunter. We have Boba priced at $39.99, $5 off the MSRP.

MARVEL MOVIE PEWTER KEYRINGS - THOR, CAPTAIN AMERICA We have two new keyrings in stock for fans of this summer's Marvel movies. We have the pewter Hammer of Thor keyring and the pewter Shield of Captain America keyring, each priced at $5.99.

MARVEL FRAMED LITHOGRAPHS & PHOTO/EVENT COVER COMBOS These art pieces from Marvel are just right for fans of the comics, movies, cartoons and more. Each one includes two or more pieces of Marvel art and come framed and ready for hanging. They are listed at $50.99 - $89.99 each.

FILM CELLS - STAR WARS, THOR, GREEN LANTERN More Film Cell framed pieces and bookmarks have arrived. We have a wide variety of Star Wars, Green Lantern and Thor pieces to choose from, so pick your favorite menu and start browsing at the link.

SENITYPE COLLECTIBLE MOVIE TICKETS We also have stock available of ten different collectible movie tickets with film cells for "Thor". The tickets act as regular theater tickets (value $12.00) - you just call the number listed for a code, and then use them at any normal theater if you'd like. They are available singly at $14.99 each, or you can get the set of 10 for $129.99.

TRANSFORMERS ANIMATED "THE COOL" WITH CLEAR ACTIVATOR OPTIMUS PRIME This Transformers Animated import exclusive includes a comic that was serialized in Kerokero Ace as well as a clear version of the Optimus Prime Activator figure. We have this set ready to ship, priced at $54.99.

STAR WARS VINTAGE 2011 SERIES 01 - CASE, SET, SINGLES A new shipment of this popular wave has arrived. The set of 6 includes Clone Trooper, Luke Skywalker, Han Solo, R5-D4, Commander Gree and a Stormtrooper, and it is priced at $79.99. The case adds Yoda, a Sandtrooper, a different Luke Skywalker, General Grievous, Darth Vader and Anakin Skywalker, and is listed at $109.99. We also have singles of many of the figures from the case, so check them out at the link.

THOR 3.75" FIGURE SERIES 02 - CASE, SET, SINGLES The second wave set of Thor figures includes Hammer Smash Thor, Battle Blade Hogun, Fire Blast Destroyer, Ram Smash Volstagg and Harpoon Blade Fandral, and is listed at $59.99. The case also includes figures like other versions of Thor as well as Loki, and is priced at $104.99. We also have singles up of the Thor figures, the Frost Giant and more, so check them out as well.

MARVEL UNIVERSE 3.75" 2011 SERIES 02 - SET, SINGLES The set of 5 for this assortment includes Cyclops, Cable, Apocalypse, Gladiator and First Appearance Wolverine, and is listed at $69.99. We also have leftover singles from the assortment, like Gladiator, First Appearance Wolverine, Apocalypse, World War Hulk, and Spider-Woman, so you will be able to add to your collection by picking your favorite figures.

HALO WARTHOG ACCESSORY SETS - SET, SINGLES You can now upgrade your McFarlane Warthog with these two new weapon and figure sets that attach to it. We have the Gauss Cannon with Spartan Operator Custom and the Rocket Launcher with Spartan JFO Custom available singly at $23.99 per set, or you can pick up both sets for $39.99.

BigBadToyStore.com