Halo: Reach, Film Cells, Monsters Inc. Sci-Fi Revoltech, Living Dead Dolls at Big Bad Toy Store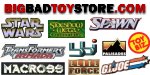 May 4, 2011 - (Sponsor Announcement) - Online retailer BigBadToyStore.com has several new items of interest to collectors:

Hi - Here is a quick update from http://www.bigbadtoystore.com about a variety of new arrivals and many more cool new preorders:

-------------
NEW PREORDERS
-------------

HALO: REACH SERIES 05 FIGURES, TWO-PACKS, VEHICLES McFarlane Toys has announced quite a bit about the Series 05 of the Halo: Reach line. The figures will include Carter Unhelmeted, Skirmisher Murmillo, an Elite Ranger and More, and we have them at $11.99 each or as a case of 8 for $87.99. The Two-Packs include a Covenant Special Ops Two-Pack as well as four sets of armor - two styles in two colors each. These are available at $99.99 for the set of 5 or at $22.99 individually. The fifth wave of vehicles includes the "Exodus" and "Rocket Race" Mongoose sets, and you can get them singly at $22.99 each or as a set of two for $44.99.

BANDAI MAY JAPANESE EXCLUSIVES A number of Bandai's Japan-exclusive figures are up for pre-order. We have the S.H. Figuarts versions of Shinken Pink and Shinken Yellow at $84.99 each, a S.I.C. Kamen Rider W Effect Parts Set at $74.99, two versions of the Robot Damashii Gundam 00 Quanta (Qan[T]) Quantum Burst figure at $109.99 and $164.99 each and many more. Check out all of the figures at the link for more information.

MORE FILM CELLS - BATMAN, MUPPETS, HARRY POTTER, STAR TREK, MORE Well over one hundred film cells have been added to our listings, with entries from "Iron Man 2", "Pirates of the Caribbean", "A Nightmare on Elm Street", "Tron", "Star Trek", "Harry Potter", "Scarface", "The Muppet Movie", "The Wizard of Oz", "Batman Begins", "Batman: The Dark Knight", "The Godfather", "Nightmare Before Christmas" and "Alice in Wonderland". Feel free to browse the menus at the link and pick your favorites.

NEW BANDAI ITEMS In addition to the Japanese exclusive items, we have new listings up for a number of other Bandai items coming out soon. The Super Robot Chogokin King of Braves GaoGaiGar Figure is listed at $59.99, and you can also get the Key to Victory add-on set for an additional $23.99. Five of the Gundam Wing 1/144 scale model kits are also up for pre-order, with Wing, Heavyarms, Sandrock and Deathscythe at $7.99 each and the Deathscythe H at $10.99. The next Real Grade 1/144 Scale model kit is the Zaku II, priced at $39.99; the GFF Metal Composite line gets a new addition in the form of the RX-78-S Gundam (The Origin version), priced at $161.99. Finally, we have the 1/144 HGUC GM II at $23.99, the Going Merry Flying Model Ship from One Piece at $79.99 and the Figurise 1/8 scale Kamen Rider 000 TaToBa Combo Model Kit at $62.99.

GUND PLUSH - SESAME STREET, WINNIE THE POOH, DINOSAURS We have just listed a number of new Gund plush figures. We have Sesame Street figures like Snuffleupagus, Oscar the Grouch, Bert, Ernie and others, along with Winnie the Pooh, Tigger, Piglet and Eeyore. Finally we also have three new animated dinosaurs that tell jokes and everything - Roaring Rex, Trevor Triceratops and Adam Ankylosaur. These plush figures are listed at $16.99 - $39.99 each, so give them a look.

POWER RANGERS LEGEND SENTAI The Legend Sentai line continues with two new Jointo Gattai figures - Daiyujin and Shinken-Oh, priced at $49.99 each - and six new Heroes Series figures - Red Ranger, Dragon Ranger, Vul Eagle, Gao Silver, Geki Red and Deka Break, each priced at $12.99. We also have the Legend Sentai Music 3D Scope at $59.99.

REAL ACTION HEROES (RAH) NEW BODIES - MASSIVE 2, NAKED 2 Two new bodies are coming from Medicom's RAH line. The Massive 2 and Naked 2 bodies are updates of the originals, and we have these 1/6 scale figures listed at $44.99 each.

SCI-FI REVOLTECH #028 - MONSTERS INC. MIKE & SULLEY The friendly monsters from "Monsters Inc." are being made as figures in the latest entry of the Sci-Fi Revoltech Line. Both figures will have movable eyes and also come with accessories, and we have the set listed at $54.99.

LIVING DEAD DOLLS 2" COLLECTIBLE FIGURES SERIES 01 - CASE, BOX, SINGLE These new figures come blind boxed, so you get the surprise of opening them as well as the satisfaction of collecting them. The first assortment includes 5 regular and 5 chase figures, and we have this assortment available three ways. The random single is priced at $3.99; the box of 25 is priced at $89.99; the case of 50 (two boxes of 25) is to include all figures and all chases, and is priced at $174.99.

GRAPHIC NOVELS & TRADE PAPERBACKS This month's assortment includes a good variety of items. We have Absolute Edition Hardcovers of Kingdom Come and the Watchmen; the written but unpublished 80's story "New Teen Titans: Games" by Marv Wolfman & George Perez; new GI Joe, Star Wars and Transformers Trade Paperbacks from IDW and Dark Horse; The Crow Special Edition Trade Paperback from Pocket Books; the X-Men: X-Cutioners Song Hardcover and more. Be sure to check out your favorite publishers and pick up the books you like.

STAR WARS SD PLUSH CHARCTERS, VEHICLES, GOLF CLUB COVERS Some new Star Wars super deformed plush items are up for pre-order. We have three vehicles - the X-Wing Fighter, the Millennium Falcon and the AT-AT Imperial Walker - priced at $11.99, while new versions of Yoda, Darth Vader, Boba Fett, a Stormtrooper and R2-D2 (each noted by the "2") are priced at $12.99 each. We also have listings for three new golf club head covers. Chewbacca, Darth Vader and a Stormtrooper are each available at $27.99.

STAR WARS KIT FISTO LIGHTSABER WITH REMOVABLE BLADE Kit Fisto is the next Jedi to have his lightsaber released. Hasbro's FX Lightsaber line will include a removable-blade version of Kit's Lightsaber, and we have it listed at $119.99.

JAPAN STORE-EXCLUSIVE TRANSFORMERS MECHTECH WEAPONS Takara has announced that they will be doing four different chromed MechTech weapons as exclusives to different Japanese stores. We have listings up for the Tritanium Heat Blade Claw Exclusive MechTech Weapon, the Tritanium Power Saw Exclusive MechTech Weapon, the Tritanium Plasma Double Bullet Exclusive MechTech Weapon and the Cybertitanium Power Saw Exclusive MechTech Weapon, and each of these hard-to-find accessories is priced at $64.99.

SPUDBOB SQUAREPANTS MR. POTATO HEAD The newest version of Spongebob merges with the Mr. Potato Head franchise to produce Spudbob. He comes with his signature pants as well as numerous other parts, and we have him listed at $10.99.

DOCTOR WHO: THE LOST TV EPISODES COLLECTION 01 This audio box set includes 5 of the original Doctor's adventures whose video has been lost over time. In addition it had cast interviews, linking narration and more, and we have it listed at $204.99, saving you $10 off the MSRP.

THE HOBBIT COMPLETE 5-DISC AUDIOBOOK SET We also have the BBC presentation of "The Hobbit" in a complete 5-disc set. This version is a classic and is listed at $29.99.

VENTURE BROTHERS MOLOTOV COCKTEASE 1/5 SCALE STATUE Brock Samson's 'friend' Molotov Cocktease is the second statue in the 1/5 scale line. She stands 16" tall in a sultry pose and is holding a pistol in her right hand; we have her priced at $234.99, saving you $15 off the MSRP.

TMNT SHREDDER COMIQUETTE Sideshow continues their Teenage Mutant Ninja Turtles Comiquette line with their nemesis Shredder. This 16" statue is sculpted in an angry pose atop the edge of a roof, and includes an alternate head so that he can be displayed masked or unmasked. We have Shredder listed at $214.99, $10 off the MSRP.

STAR TREK CAPTAIN KIRK & CHAIR SET, ENTERPRISE NCC-1701 REISSUE Two reissues are on their way for fans of the classic "Star Trek" series. We have the Captain Kirk and Chair figure set listed at $22.99, and the Classic Enterprise NCC-1701 reissue with sounds and lights priced at $39.99, $10 off the MSRP.

MINIMATES VEHICLES SERIES 02 - SET, SINGLES The second assortment of Minimates vehicles includes a blue version of the M.A.X. Stealth Jet with Pilot figure, a brand new Pirate Ship with Lookout figure and the "Back to the Future 2" Time Machine with Jennifer figure. These are available singly at $13.99 - $14.99 each, or you can opt for the set of three for $37.99.

VAMPIRELLA ADAM HUGHES-INSPIRED STATUE This new statue of Vampirella is drawn from Adam Hughes' art and stands about 8" tall. We have the statue listed at $179.99, saving you $10 off of the MSRP for the piece.

TRANSFORMERS DARK OF THE MOON IMPORT EXCLUSIVES We have listings for two new promotional items for the upcoming Transformers movie. The Optimus Prime Dual Model Kit with Battle Hooks is the same kit as the regular version, but also includes the Japan-exclusive snap-on battle hooks for the figure, and is priced at $179.99. The Transformers x Kewpie Bumblebee exclusive is a small figure with a helmet/mask that rotates down over the face; this piece is listed at $34.99.

ZOIDS 1/62 GENOSAURER RAVEN CUSTOM PLASTIC KIT FIGURE Raven's version of the Genosaurer from Zoids is the latest in the 1/72 scale figure kit line. This one includes new neck and tail parts as well as pilots and even a Shadow Organoid figure. This set is priced at $124.99.

ROBOT DAMASHII TALLGEESE III The Endless Waltz Tallgeese III is now being released in the Robot Damashii line. We have this figure listed at $41.99, so be sure to continue your Gundam Wing collection with this fine piece.

MOVIE MASTERPIECE JACK SPARROW WITHOUT LONG TELESCOPE We have had many questions about the Jack Sparrow Movie Masterpiece figure, and we now have pre-orders up for the one without the long telescope. He includes all of the other pieces and accessories, and we have him listed at $219.99.

DEVILMAN AMON FIGURE Union Creative is creating a new figure of Amon from Devilman. This piece includes interchangeable hands, face and wings, along with the flame effect and base, and is listed at $134.99.

GREAT EASTERN ENTERTAINMENT ANIME COSTUME PIECES A number of new items from great Easter Entertainment have gone up for pre-order. We have new costume parts from Bleach, Death Note, Fullmetal Alchemist, Naruto and Gurren Lagann, and they are great for Halloween, cosplay and more.

------------
NEW ARRIVALS
------------

PE-11 SFX SCOUTING FORCE X CAMERA SET This new version inspired by the original animated Reflector has arrived at our warehouse. The set of Edge, Shield and Bullet each come with their own weapons and accessories, and also merge to form a 35mm camera with telescope lens, flash and tripod. This fantastic new set is listed at $89.99, and makes a great addition to any G1 or Classics collection.

MGT-01 DELICATE WARRIOR This figure by iGear bears a striking resemblance to a certain female Autobot from the 1986 movie and Season 3 of the G1 cartoon. She measures 11.5 cm long in vehicle mode and about 14 cm tall in robot mode. We have this figure listed at $139.99.

FANSPROJECT WARCRY & FLAMEBLAST RESTOCK We have received a second shipment of the new Causality figures from FansProject. We have Flameblast and Warcry both in stock right now, priced at $44.99 each, so if you missed them the first time around, be sure to grab yours now.

JAPANESE TRANSFORMERS ANIMATED EXCLUSIVE BLACK RODIMUS This new Hyper Hobby exclusive has the Animated Rodimus figure redone in black, grey, metallic purple and gold, complete with a clear red windscreen. This figure even comes with the Decepticon symbol, and we have him in stock now, listed at $84.99.

PREDATORS TRACKER MAQUETTE From the recent "Predators" movie comes this maquette of the Tracker Predator and his hound. it stands 16.5" tall and is listed at $274.99, saving you $15 off the MSRP.

STAR TREK ENTERPRISE NCC-1701 PIZZA CUTTER We have restocked the pizza cutter based on the original Enterprise. The saucer section is now a functional cutter disc, and the rest of the piece is chromed for a great look. This cutter is listed at $24.99.

GREEN LANTERN CLASSICS SERIES 02 RESTOCK - SET, SINGLES A restock shipment of this popular wave has arrived at our warehouse. We have singles available of all six figures in the assortment, priced at $16.99 - $17.99 each; we also have the set of six available, priced at $94.99. We also have the case of 8 still available, priced at $124.99.

TRANSFORMERS UNITED MEGATRON RESTOCK This Voyager-sized recolor of the Classics version of Megatron has him done up in his G1 colors of silver and black. We have managed to get a small quantity , but we expect him to sell out fast. This figure is priced at $54.99.

REVOLTECH - SKELETON ARMY 2ND VERSION, GAMERA 1967, RESTOCKS A good number of Revoltech figures are now in stock. We have new figures like the Skeleton Army Second Version, Jehuty and Gamera 1967 at $44.99, $44.99 and $51.99 respectively. We have also restocked older figures like Professor Layton, the Alien Warrior, Dancouga and EVA-02 The Beast, so take a peek at the menu and grab your favorites while they last.

BigBadToyStore.com