Street Fighter HeroClix, Dark of the Moon, Marvel Universe, Green Lantern Movie Masters at Big Bad Toy Store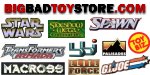 April 27, 2011 - (Sponsor Announcement) - Online retailer BigBadToyStore.com has several new items of interest to collectors:

Hi - Here is a quick update from http://www.bigbadtoystore.com about a variety of new preorders and more new arrivals:

-------------
NEW PREORDERS
-------------

TRANSFORMERS DARK OF THE MOON - HUMAN ALLIANCE SERIES 01, 02, BASICS SERIES 01, 02 The first of the new Dark of the Moon figures are now up for pre-order. The Human Alliance series continues with a redeco of Bumblebee in black, who is available singly at $34.99; you can also get him in a case, with three of Bumblebee with Sam and one of Skids & Elita-1 with Sergeant Epps, and this case is listed at $129.99. Series 02 of the Human Alliance includes Bumblebee with Sam and Roadbuster with Sergeant Recon, and they are available as a set of two for $69.99. The new line of Human Alliance Basics starts off with Backfire with Spike Witwicky, Ice Pick with Sergeant Chaos, Thunderhead with Major Tungsten and Sandstorm with Private Dedcliff, and we have them as a set of four for $44.99; they are also available singly at $11.99 each. The second series of these figures includes new pieces Autobot Whirl with Major Sparkplug and Tailpipe with Sergeant Noble, and they are available as a set of two for $27.99; they are also available in a case assortment which contains two each of the new figures and one each of the Series 01 figures, and is priced at $89.99.

BTS-04 SONICRON - TRANSFORMING ROBOT BTS Toy's latest announcement is for a new version of a transforming minicassette recorder that transforms into an evil looking blue robot. This piece even has an opening tape drawer that looks like it might be right for microcassettes or the like. We have this piece priced at $59.99, and it should arrive in June.

D-ARTS MEGA MAN ZERO Bandai Japan has announced a new figure from the Mega Man universe. Mega Man X's partner Zero uses a sword as well as a blast power similar to other Mega Men, and also comes with an alternate facial expression and other accessories. We have this new figure listed at $39.99, saving you a couple of bucks off of the MSRP.

FANTASY FIGURE GALLERY - LUNA, MEDUSA'S GAZE RESIN STATUE, THE TOUCH OF ICE We have restocked the Touch of Ice statue, which is priced at $84.99 ($5 off the MSRP), and added two new pieces. The Medusa's Gaze Resin statue takes the old version of the figure and adds a brand new specially designed base, and is listed at $219.99, saving you $30 off of the MSRP for the pieces. The latest figure is Luna, designed by Dorian Cleavenger. This piece shows a girl sitting on the man-in-the-moon and plucking a shooting star from the sky; we have her priced at $89.99, $10 off the MSRP.

TRANSFORMERS GENERATIONS 2011 - MAGAZINE, STEPPER Million Publishing has announced their new 2011 Generations book. This one has all kinds of information about TF Animated, TF United, Kabaya kits, Dark of the Moon and more, along with a Transformers United comic
book, and is priced at $29.99. We also have the 2011 exclusive listed - Stepper, a redeco of Jazz from TF United. This figure is priced at $119.99.

TERMINATOR 2 T-800 BRAIN CHIP REPLICA The leftover chip that caused Cyberdyne and Skynet from the end of the first Terminator movie is now available as a collectible. It comes in a light-up tube within a display that is labeled, and is limited to 400 pieces worldwide. This item is priced at $168.99, and should arrive this August.

SENITYPE COLLECTIBLE MOVIE TICKETS - THOR We have just started listing the new SeniType Collectible Movie Tickets. Each one is a valid movie ticket that can be used after calling for activation, and also includes a 35mm film cell from the movie. There are 10 different ticket styles priced at $14.99 each, or you can get the set of 10 for $129.99 and save $20.

FILM CELLS - CAPTAIN AMERICA, THOR, GREEN LANTERN Three more upcoming movies now have film cells up for pre-order. We have a variety of styles from "Thor", "Captain America: The First Avenger" and "Green Lantern", so be sure to check them out at the link.

RUBIES COSTUMES & ACCESSORIES A great variety of costumes and accessories from Rubies are now up for pre-order. We have a wide variety of items and sizes from "Green Lantern", Star Wars, "Alien Vs. Predator", World of Warcraft, The Muppet Show, "The Texas Chainsaw Massacre", "A Nightmare on Elm Street", "Friday the 13th", Mortal Kombat, Harry Potter, The Lord of the Rings, "Sucker Punch" and many more, so take a look at the menus at the link for more information,

TRANSFORMERS DARK OF THE MOON - CYBERVERSE ACTION SET SERIES 01, 02 The Dark of the Moon figures continue with the Cyberverse Action Sets. These merge a Legends-class figure with a transforming vehicle/base for more play fun. Series 01 includes Bumblebee with Mobile Battle Bunker and Starscream with Orbital Assault Carrier, and they are available as a case of four (three Bumblebee, one Starscream) for $64.99; Bumblebee is also available singly at $16.99. Series 02 contains Megatron with Blastwave Weapons Base and Optimus Prime with Armored Weapon Platform, and they are listed as a set of two for $33.99, or singly at $17.99 each.

TRANSFORMERS DARK OF THE MOON - ROBO POWER FIGHTERS, ROBO POWER BASH BOTS The Robo Power line is for younger children, and includes two types of figures at present. The Robo Fighters are figures with hidden weapons that pop out at the press of a button, and the first series includes Optimus Prime, Bumblebee, Starscream and Ironhide. They are available as a set of four at $45.99; Bumblebee and Optimus Prime are also available singly at $11.99 each. The Robo Power Bash Bots are two-packs of transforming figures on play bases that can battle like Rockem' Sockem' Robots; we have them listed as Bumblebee Vs. Megatron and Optimus Prime Vs. Starscream, priced at $16.99 per set.

TRANSFORMERS DARK OF THE MOON - CINE-MASKS The Cine-Mask sets include a 3-D poster, a pair of regular 3-D glasses and a battle-mask with RealD 3-D built-in lenses, which you can use at any RealD-equipped theater to watch 3-D movie. We have listings for the Optimus Prime and Bumblebee Cine-Mask Sets, priced at $11.99 each.

NO MORE HEROES 2 SYLVIA CHRISTEL This new 1/5 scale figure of the video game character is shown astride her Beam Katana, wearing a jacket over her underclothes. This figure is listed at $174.99, $25 off the MSRP.

MARVEL UNIVERSE 3.75" 2011 SERIES 02 REVISION 02 CASE This new assortment includes a variety of 12 new and older heroes, like Black Costume Spider-Man, Thanos, Cable, Cyclops, Apocalypse, Mystique and more. It is to arrive in June, and we have it priced at $104.99.

1/6 SCALE RED PYRAMID THING HOMECOMING VERSION BOOGEYMAN EXCLUSIVE Trims Japan has announced a new exclusive Boogeyman version of the Red Pyramid Thing from the Silent Hill franchise. He comes on a stand with a giant bloody sword, and is listed at $599.99.

DINOSAUR CHOPSTICKS Kotobukiya has announced a new line of novelty chopsticks. This wave includes Tyrannosaurus Rex. Triceratops and Pteranodon, and each has clear chopsticks extending from their tail; these are priced at $9.99 per pair.

STREET FIGHTER HEROCLIX NECA and WizKids have announced their newest Heroclix - Street Fighter! These figures come doing their signature moves, and we have them priced at $2.99 for a random single, $59.99 for a display of 24 random singles, and $15.99 for a starter pack of six with different dials and colors.

------------
NEW ARRIVALS
------------

GREEN LANTERN MOVIE MASTERS SERIES 01 - SET, SINGLES The first assortment of Movie Masters figures from the upcoming "Green Lantern" movie has arrived. It includes Hal Jordan, Tomar Re and Rot Lop Fan, and they are available as a set of 3 for $52.99, and singly at $17.99 each. They are embellished with metallic green paint and are sure to be a hit.

HALO: REACH SERIES 03 - CASE, SINGLES The newest assortment of Halo figures includes Jun, Elite Special Ops, Spartan Air Assault (Female), Heavy Grunt, ODST Jetpack Trooper and Spartan Military Police Custom (Male). These figures are available singly at $10.99 each, or you can opt for the case of 8 which includes two each of Jun and the Spartan Military Police Custom (Male) as well as one each of the others, and is priced at $79.99.

HALO: REACH TWO-PACK SERIES 03 - SET, SINGLES The third assortment of two-packs has also arrived. This assortment contains Covenant Rangers - Elite Officer & Elite Ultra, Spartan Loadouts - Grenadier & Expert Marksman and UNSC Trooper Support Staff - Medic Trooper & Radio Trooper; we have them available as a set of three two-packs for $59.99, or as single two-packs at $20.99 each.

THUNDERCATS TYGRA STATUE Hard Hero's latest Porcelain Thundercats statue has arrived. This time it is Tygra, the Thundercats' resident scientist, and we have him available in two versions - the regular statue is priced at $179.99 ($19 off the MSRP), while the Artist Proof edition is priced at $214.99.

CRAZY DEVY RESTOCK A large shipment of Crazy Devy items has been restocked. We have CDMW-01, both colors of CDMW-02, CDMW-05* and CDMW-08* for the Constructicons; CDMW-18, CDMW-14 and CDMW-10 for the Predacons, CDMW-07A for Frenzy, CDMW-16 and CDMW-20 for the Seacons, CDMW-17 for the Combaticons and
CDMW-19 for the Stunticons.

TRANSFORMERS UNITED RESTOCK We have been able to restock a number of the original lineup of these popular figures. We now have stock for UN-08 Drift, UN-01 Optimus Prime Cybertron Mode, UN-06 Optimus Prime, UN-05 Soundwave Cybertron Mode, UN-04 Megatron Cybertron Mode and UN-02 Bumblebee Cybertron Mode, priced at $33.99 - $39.99 each.

MARVEL SELECT THOR MOVIE FIGURES - THOR, LOKI These new figures are set to arrive in the next day or two, and are taken from the movie looks of the characters. We have Thor and Loki available, priced at $18.99 each, which saves you $3 each off the MSRP.

MASS EFFECT SERIES 01 - SET, SINGLES This long-awaited figure line is also to arrive in the next couple of days. This set includes Grunt, Shephard, Tali and Thane, and is priced at $64.99, $15 off the MSRP. We have the figures available singly as well, priced at $17.99 - $19.99 each.

VAMPLETS These cute little stuffed baby vampires are sure to be a hit with collectors. We have six different 8" - 10" Vamplets in Coffins priced at $17.99 each; they'll also want their Bottle of Blood, priced at $5.99 each.

DISNEY PRINCESS ITEMS We have listed a large amount of new Disney Princess items. There are Mini Princesses, Accessory Packs, Fashion Sets, Bath Beauties, Princess & Horse sets, Sparkling Princess dolls, Princess Ballerinas and much more. You can check out all of these new items at the link.

MARVEL PLUSHIES These cute 9" plush Marvel figures from Funko are now in stock. We have Captain America, Wolverine, Thor, Iron Man, Spider-Man and the Hulk, and each is listed at $9.99.

BigBadToyStore.com