Marvel Super Hero Team Packs, BTS-04 Sonicron, JLU 3-packs, Walking Dead at Big Bad Toy Store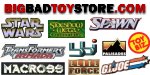 April 23, 2011 - (Sponsor Announcement) - Online retailer BigBadToyStore.com has several new items of interest to collectors:

Hi - Here is another quick update from http://www.bigbadtoystore.com - its been a fantastic week for big new announcements - take a look at some of the great new stuff listed in the past few days:

-------------
NEW PREORDERS
-------------

TRANSFORMERS MASTERPIECE - MP10 While we don't have any images for the latest figure, or even a name, we do have the release date and pricing. This figure is declared 'New' by the early solicitations coming out of Japan and has a retail price of 22,000 yen, which is about $265US based on current exchange rates. Preorders have been listed at $249.99 and the figure, whoever it is, is expected in September. Reserve yours now - we expect more news next week

HOT TOYS - IRON MAN MARK II MOVIE MASTERPIECE The new Armor Unleashed Iron Man Mark II Movie Masterpiece figures comes with a Don Cheadle head sculpt as well as a metallic silver paintjob and detachable armor do you can see the exoskeletal details. This figure is also listed at $194.99, saving you $15 off of the MSRP for the piece.

DARTH VADER EPISODE IV LIMITED EDITON HELMET REPLICA EFX is producing a new Darth Vader helmet replica from "A New Hope" This piece is cast from an actual mold which produced the helmet used in filming the movie. We have this piece listed at $799.99, with a September release date.

BTS-04 SONICRON An exciting new futuristic looking cassette player that transforms into robot mode and back - coming this summer from BTS Toys. We expect this figure to be able to hold G1 size cassettes in its tape deck, and to stand in the neighborhood of 6" tall. The preorder price is reasonable at $59.99 - take a look here

JAPANESE EXCLUSIVE - STEPPER This figure is available by mail away coupon from Million Publishing in Japan after the purchase of their $30 magazine. We have buyers in Japan to take care of the magazine & mail-away, and the toy has just been listed at $119.99 - take a look at this great figure here

SWEENEY TODD 1/6 SCALE MOVIE MASTERPIECE FIGURE Hot Toys has announced a 1/6 scale Movie Masterpiece version of Johnny Depp as Sweeney Todd. This figure will come with a complete cloth outfit and many accessories, and is listed at $194.99, saving you $15 off of the MSRP.

TRUETYPE TTM-18 CAUCASIAN NARROWED SHOULDERS FIGURE Hot Toys is also releasing a new version of the Caucasian Narrowed Shoulders male figure. It has over 38 points of articulation and is priced at $46.99, saving you a couple of bucks off the MSRP.

TERMINATOR PREMIUM FORMAT FIGURE This new Premium Format figure goes back to the original "Terminator" movie and gives us the character as it began. He is wearing a leather jacket and sunglasses, with a shotgun on his shoulder and an assault weapon in his outstretched right hand. This figure stands 23.5" tall and is listed at $309.99, $15 off the MSRP.

STALKER PREDATOR MASK PROP REPLICA This new mask from "Predators" is bright metal with blades and a light-up blue targeting laser, perfect for hunting other heat-detecting creatures. It is listed at $314.99, $15 off the MSRP, and should arrive this fall.

BABY DOLL 1/4 SCALE STATUE - JAPAN EDITION This new piece from Gentle Giant and Hot Toys shows the heroine of Sucker Punch loaded for battle. We have the Japan edition listed, priced at $449.99.

BLUE BOX 1/18 SCALE MESSERSCHMITT BF-109 Blue Box' newest 1/18 scale vehicle is the Messerschmitt BF-109. This German plane is sized to go with 3.75" figures and is listed at $89.99.

MARVEL SUPER HERO TEAM PACK SERIES 02 - CASE, SET, SINGLES Hasbro has announced second wave of Super Hero Team Packs for their 3.75" Marvel Universe line. This assortment has one each of the Classic Avengers and X-Force packs and two of the new Fantastic Four pack, and it is available as a case for $84.99. We also have the Fantastic Four pack separately at $26.99, as well as sets and singles of the first wave.

MARVEL SUPERHERO SQUAD FIGURE FUN PACK - CASE, SET, SINGLES Two new seven-packs of Superhero Squad figures are up for pre-order. The case of 4 includes one of the Avengers Attack Pack and three of the Defeat of Doom Pack, and is listed at $84.99 You can also get the set of two at $49.99, as well as singles of the Defeat of Doom Seven-Pack at $22.99.

MGS PEACE WALKER PLAY ARTS KAI SNAKE IN BATTLE DRESS, KAZUHIRA MILLER Volume 4 of the Metal Gear Solid Peace Walker Play Arts Kai releases includes Snake in Battle Dress and Kazuhira Miller. We have each figure up for pre-order, priced at $49.99.

YAMATO 1/3000 SDF-1 REISSUE Yamato is reissuing the spectacular 1/3000 scale SDF-1 transforming base. This piece measures almost 16" long in spacecraft mode and is listed at $424.99.

THE WALKING DEAD SERIES 01 - CASE, SET, SINGLES The case assortment for Walking Dead Series 01 has been announced. This case will include 4 of Officer Rick, 2 of Michonne and 3 of each zombie, and is listed at $149.99. We also have the set of 4 listed at $54.99 and singles at $14.99 each.

TREVCO T-SHIRTS We have listed a number of new shirts from Trevco. They have produced shirts from licenses like Robocop, Rocky and Green Lantern, so take a looks at the menus for the new shirts.

------------
NEW ARRIVALS
------------

GI JOE 2011 SERIES 04 - CASE, SET, SINGLES The newest assortment of GI Joe 2011 figures includes Snake Eyes Temple Guardian, Crazy Legs, Croc Master, Rock Viper, Viper and Iron Grenadier. We have them available as a case of 12 (2 of each) for $84.99, and also as a set of 6 for $44.99. Finally, we have singles available of all except Viper and Iron grenadier, priced at $7.99 - $9.99 each.

JLU 2010 THREE-PACKS SERIES 02 - CASE, SINGLES The long-awaited assortment has finally arrived. We now have singles available for the Warlord/Deimos/Supergirl, Batman/Joker/Gray Ghost, Superman/Livewire/Weather Wizard and Green Lantern/Manhunter/Manhunter JLU Three-packs, priced at $14.39 - $19.99 each. We also have the case available, including two each of the Batman and Warlord packs and one each of the Superman and Green Lantern packs, and it is priced at $104.99.

ENTERBAY ACTION BODY RM-4.01, WARDROBE 16 STYLE 311 Enterbay is now producing a new line of figure apparel, and they have created a new body to go with it. The RM-4.01 includes interchangeable hands and has over 25 points of articulation, and is priced at $39.99. The new Wardrobe 16 Style 311 includes a black felt trench jacket, a navy roundneck long-sleeve t-shirt, a pair of black classic fit trousers and a pair of boots, and is listed at $39.99 as well.

SCOTT PILGRIM 6" FIGURES - SET, SINGLES There has been a change to this series of Scott Pilgrim figures - the yellow shirt figure with coat has been replaced by a purple shirt figure with no coat. Both the purple and green figures come with the sword and the guitar, and we have them available individually at $13.99 each, and also as a set at $24.99, $5 off the MSRP for the pair.

EXCLUSIVE WHITE BLADE LIGER REVOLTECH This new version of the Revoltech Blade Liger is done in a special white and red paintjob. We have this figure in stock now, priced at $69.99.

APRIL MOTU - SY-KLONE, PANTHOR For the benefit of our international and other customers we have managed to get a hold of some of this month's Masters of the Universe Classics figures. We have Sy-Klone and Panthor in stock now, priced at $34.99 and $54.99, respectively.

IRON MAN 6" FIGURE SERIES 02 SET, SINGLES This second assortment of 6" figures is in stock. We have the set of four, comprised of Marvel's Initiative War Machine, Crimson Dynamo, Stealth Strike Iron Man Mark IV and Iron Man Mark V Evolution Armor, listed at $54.99; we also have singles available of the latter two figures, priced at $13.99 each.

SUPERHERO SQUAD 2011 SERIES 01 - SET, SINGLES The new assortment of Superhero squad figures includes Iron Man & Tiger Shark, Hercules & Thor, Black Costume Spider-Man & the Green Goblin, Spider-Man 7 Spider-Woman and iron Man & Red Hulk. They are available as a set of five for $44.99, and we also have the case assortment available, priced at $84.99 and including two each of the latter three sets, one each of the formers two and Wolverine & Juggernaut, Wolverine & Silver Samurai, Spider-Man & Sentry and Captain America & the Red Skull. In addition, we have singles available of most of these sets as well, so take a look for your favorite in the menu if it's not at the link.

SECRET WARS COMIC TWO-PACKS 2011 SERIES 01 - CASE, SET, SINGLES Secret Wars 2011 Series 01 includes new packs Wolverine & Silver Samurai and Deadpool & Taskmaster, and they are available as a set of two for $36.99. We also have the Wolverine & Silver Samurai pack singly at $17.99; the case assortment is also available, with three of the Wolverine pack, two of the Deadpool pack, and one each of Spider-Man & Sentry, Wolverine & Captain America and Thor & Iron Man, and they are available at $124.99.

18" RYU STATUE - SOTA TOYS ANNIVERSARY EDITION This new piece is limited to 200 pieces and shows Ryu powering up in the middle of a circle of flames, which light up via USB or regular cord. This statue is dressed in his signature white outfit and is listed at $319.99, saving you $55 off of the MSRP for the piece.

STAR WARS CLONE WARS 2011 SERIES 03 - CASE, SET, SINGLES This wave includes new figures Anakin Skywalker, Eeth Koth, Bariss Offee, a Red ARC Trooper Leader and a Riot Control Clone Trooper. We have them listed as a set of five for $74.99, and you can also pick them up as part of the case, along with old favorites like General Grievous, R2-D2, Commander Cody and an ARF Trooper. The case is listed at $104.99 for 12 figures; we also have singles listed of many of the figures, so check them out to find what you need.

BigBadToyStore.com