Rubies, Noble Collection, Terminator, Street Fighter, Green Lantern at Big Bad Toy Store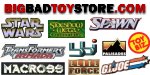 April 19, 2011 - (Sponsor Announcement) - Online retailer BigBadToyStore.com has several new items of interest to collectors:

Hi - Here is another quick update from http://www.bigbadtoystore.com about a huge batch of new preorders and more new arrivals!

-------------
NEW PREORDERS
-------------

PROPS, MASKS, REPLICAS & COSTUMES - RUBIES - DC, HORROR, MOVIES & MORE So far we have listed items from Green Lantern, Friday the 13th, Nightmare on Elm Street, Lord of the Rings, Suckerpunch, DC Characters and more. We'll continue to list cool new items from Rubies over the next few days so check back for more later. The main Rubies heading is found here:
http://www.bigbadtoystore.com/bbts/company.aspx?company=254&browse=1

THE NOBLE COLLECTION - BATMAN, POTTER, LOTR, POTC & MORE The Noble Collection has announced many new replicas and other items. We have new pieces listed under Batman, Batman: The Dark Knight, Harry Potter, the Da Vinci Code, Lord of the Rings, Pirates of the Caribbean, Superman, and Green Lantern, such as the Basilisk Bookend Statue from Harry Potter, letter openers from Pirates of the Caribbean and the Lord of the Rings replicating various weapons, the Cryptex from The Da Vinci Code, a Batman Begins Gliding Sculpt and many more. Check them all out at the menus under the link.

TERMINATOR 7" FIGURE SERIES 01 SET NECA's newest assortment of Terminator figures includes Tech-Noir Cyborg and Endoskeleton versions of the T-800, as well as the T-1000 in his motorcycle officer uniform with helmet. We have this set listed at $44.99, and singles should be listed sometime soon.

GREEN LANTERN MOVIE FIGURES & ITEMS We have just listed a huge variety of Mattel items from the upcoming Green Lantern movie. For the 4" line of Mattel figures we have 5 waves of figures broken down by case, set and singles; they also come in two-packs and four-packs with various figures, and these also come in cases, sets and singles. In addition there are vehicle and figure sets, 10" Galactic Scale figures, Battle Shifters figures with quick-changing accessories, Power Slings and Colossal Cannon role-play items and more. In addition to all of these we have Series 1 through 5 of the Movie Masters figures, including characters like Galius Zed, Morro, Parallax, Krona, Hector Hammond and more, and each of these figures comes with a part of an immense 14" build-a-figure of Parallax' final form.

2011 4" STREET FIGHTER FIGURES Jazwares has two new lines of Street Fighter figures on the way. The first assortment of Classic 4" Two-Packs includes Blanka Vs. Ken and Ryu Vs. Sagat, while the Modern Two-Packs include Seth Vs. El Fuerte and Guile Vs. Abel. Each two-pack is available singly at $17.99, as a set of two (Classic or Modern) for $34.99 and as a Case of 6 (3 and 3, Modern or Classic) for $94.99.

CAPTAIN AMERICA MOVIE FIGURES, ACCESSORIES More waves of figures and other items from the upcoming movie are now up for pre-order as well. We have Series 03 and 04 of the 3.75" Captain America line listed, with cases and singles available of both. We also have a number of waves of the Deluxe figures - Series 023 is divided into a case of 6 at $84.99, with a set of three at $54.99 and the new Assault Shield Captain America single at $17.99. We also have Deluxe figure series 02, 02 Revision 02, 02 Revision 03 and 02 Revision 04 cases available at $84.99 each, so you can pick amongst the various assortments. The vehicle line continues with the Cruisers Series 02 Set of 4 at $43.99, the Battle Vehicle Series 02 Justice Jet at $23.99 and the Ultimate Vehicle Strikefire Transport at $34.99. Finally, we have the Captain America Electronic Play Feature Action Figure at $23.99 and the Captain America Throwing Shield at $8.99.

THOR MODERN MUSEUM STATUE This new Bowen Designs statue shows Thor in his new outfit from the Straczynski storyline. he stands 15" tall with his cape blowing slightly behind him, and is priced at $249.99.

THUNDERCATS MUMM-RA QUARTER SCALE MIXED MEDIA STATUE PopCultureShock has announced two new Mixed Media statues this month. The first is Mumm-Ra, the main villain from the Thundercats cartoon. He stands 26" tall and is listed at $329.99, saving you $20 off of this figure, which is limited to just 400 pieces worldwide.

MARVEL SELECT MUNSTERS FIGURES Diamond Select's new line of Munsters figures starts off with a bang, giving fans Herman, Lily and Grandpa all in the same wave. These figures bear great likenesses to the original characters, and each comes with part of an exclusive Specialty Market Build-an-Electric-Chair. We have them listed at $19.99 each, saving you $2 each off the MSRP.

UNIVERSAL MONSTERS ULTIMATE QUARTER SCALE FRANKENSTEIN The Ultimate Quarter Scale line starts a new branch with Frankenstein. He stands 18" tall and includes a cloth outfit. This new figure is listed at $69.99, saving you $10 off of the MSRP.

UNIVERSAL MONSTERS RETRO CLOTH SERIES 02 - SET, SINGLES This second assortment of Retro Cloth Monster figures includes Dracula and the Mummy. Each figure is about 8" tall, and we have them priced at $16.99 each individually, or at $31.99 for the pair.

CURSE OF THE MUTANTS MINIMATES BOX SET The newest box set of Marvel Minimates takes its cues from the recent X-Men storyline and includes Blade, Dracula, and Wolverine and Jubilee as vampires. This set is priced at $15.99, saving you $2 off the MSRP.

MARVEL VS. CAPCOM MINIMATES SERIES 01 - SET OF 8 The Marvel Vs. Capcom 3 video game has spawned a new subline of Minimates. This first assortment includes Dante, Trish, Morrigan and Arthur from the Capcom side and Dormammu, Phoenix, Deadpool and Iron Man as their Marvel compatriots. We have this series priced at $29.99 for the set of 8 figures, saving you $6 off the MSRP.

FEMME FATALES MINIMATES SERIES 01 BOX SET Diamond's Femme Fatales line is also getting a box set of Minimates. It includes Lady Death, Darkchylde, Dawn and Tarot, and is priced at $15.99, $2 off the MSRP.

MARVEL BISHOUJO MS. MARVEL BINARY VERSION This new Previews Exclusive version of Ms. Marvel shows her in the flame-headed form she had with the Starjammers (although wearing her Ms. Marvel costume), which she gained after losing her original powers to Rogue. This piece is priced at $54.99, $5 off the MSRP.

DARKSTALKERS LORD RAPTOR QUARTER SCALE MIXED MEDIA STATUE This second PopCultureShock figure shows the zombie rocking out with his electric guitar. It measures 18" tall and is listed at $289.99, $20 off the MSRP.

TRANSFORMERS CHRONICLES 01 & 02 SETS of G1 AND DOTM FIGURES Takara has announced two new figure sets. Each of these Transformers Chronicles sets includes both the G1 and DOTM versions of popular characters. Set 01 is Optimus Prime and Set 02 is Megatron, and each set is listed at $124.99. Note that the G1 Megatron will arrive with orange barrel plug attached, to allow for gun safety regulations. We also have a new listing for a Transformers Chronicles EZ Collection Series 01 Case of 24; we are unsure of the included figures at this point, but will update the page as we receive more information. The case of 24 is priced at $144.99.

TF - G1-TSC-85V1 TECHNICAL SPECIFICATIONS CARD SET The second assortment of Atomic Laser's reproduction Tech Specs includes the first hale of the 1985 Transformer releases. These cards are laminated and some include color swaps for more correct resemblances to their figures, and this box set is listed at $29.99.

GENERAL MILLS CEREAL AD ICONS POP FIGURES, PLUSHIES Funko has added some of the General Mills mascots to their lines. Count Chocula, Boo Berry and Franken Berry are now available as 9" Plushies at $12.99 each and as POP Ad Icons figures at $9.99 each.

DEUS EX HUMAN REVOLUTION PLAY ARTS KAI FIGURES - SET, SINGLES Square Enix is producing figures from the sequel to the popular video game. We have listings available for Adam, Federova and Barret, priced at $49.99 each or $139.99 for the set of 3.

EMMA FROST LEGENDARY SCALE BUST Sideshow's latest Legendary Scale Marvel bust is this 13" piece modeling Emma Frost, ally and former enemy of the X-Men. It shows her is her standard white bustier with a coy look, and is priced at $209.99, $15 off the MSRP.

DC MINI MEZ-ITZ SERIES 02 - SET, SINGLE TWO-PACKS This new wave of mini Mez-Itz two-packs includes Batman Beyond & Cyborg, Flash & Captain Cold and Dr. Fate & Etrigan. Each two-pack is available individually at $10.99, or you can get the set of three for $29.99.

NFL SPORTSPICKS CHAMPIONSHIP THREE-PACK GREEN BAY PACKERS This new box set is listed at $32.99 and includes Aaron Rodgers, Greg Jennings and a first-ever Sportspicks figure of Clay Matthews. Each figure is wearing their white road jersey uniform, as they did throughout the NFC Playoffs.

NEW & RESTOCK BARBIE LISTINGS A wide variety of new and returning Barbie figures are up for pre-order. We have restock listings for the African-American 2010 Barbie Case Assortment, the BFMC Russia Ken doll and the Pirates of the Caribbean Jack Sparrow Barbie doll. We also have new listings for the Museum Collection Barbie dolls (Van Gogh, Da Vinci and Klimt), the Barbie Loves Frank Sinatra doll, the Faith Hill & Tim McGraw doll set, the Black Label Barbie Basics Accessory Assortment case, the Couture Angel 2011 doll, the Silkstone Francie and Bride Grace Kelly dolls, the Grace Kelly Trousseau set, the Tokidoki Barbie and the Moulin Rouge Barbie. Be sure to check them all out.

DOCTOR WHO CHARACTER BUILDING MINI SETS These new mini building block sets feature the Eleventh Doctor. The Dalek Progenitor Room set includes the Doctor and a Supreme Dalek figure along with the blocks for the display, and the Time of Angels set has the Doctor, Amy Pond and a Weeping Angel as well as the blocks; each of these sets is listed at $18.99. The TARDIS mini set includes the Doctor, Amy Pond and the blocks to build the TARDIS itself, and is listed at $19.99.

MAD MICKEY VS. MANNY PACQUIAO 12" MONOCHROME FIGURE SET We have sold out of our 7" color sets, but we have been able to get a hold of the 12" monochrome version of the set that was so popular at the conventions. We have this set of two listed at $549.99, $50 off the MSRP.

IGEAR KUP 01 HEAD SET This new set includes two different heads to swap with Generations Sergeant Kup's original head (one with a cigar!), along with a small screwdriver to facilitate the change, and a special case to carry them all that also fits in the back of Kup's vehicle mode and goes well with the color scheme. The set is listed at $15.99, and we are expecting the second wave later this month.

THE WALKING DEAD SERIES 01 - CASE, SET, SINGLES, TWO-PACK This first wave of McFarlane figures is based on Robert Kirkman's popular comic series. It includes Officer Rick Grimes, Michonne, a Zombie Roamer and a Zombie Lurker. We have them listed singly at $14.99 each, and also as a set of four at $54.99. They are also available as a case of 12, with 4 of Rick, 2 of Michonne and 3 of each Zombie, and this is priced at $149.99, saving you over $50 off the MSRP. Finally, we have the Previews Exclusive Zombie two-pack listed as well. This set is done in black and white with red blood and includes one each of the two zombies of Series 01; this two-pack is priced at $33.99.

REAL ACTION HEROES SEVERUS SNAPE Medicom's latest 12" RAH figure form the Harry Potter Franchise is potions Professor Severus Snape. He comes dressed in his long black robes with his wand and alternate hands, and is listed at $199.99.

MASTERS OF THE UNIVERSE CLASSICS We have pre-orders up for this month's Masters of the Universe Classics items, for those of our customers who are overseas or otherwise are unable get them. This month includes Sy-Klone and re-Issue Mossman (unflocked ears) at $34.99 each, Panthor at $54.99 and the Weapons Rack with Weapons at $19.99.

SUPERMAN 12" FIGURES We also have listings up for the 12" Superman Re-Issue as well as the new 12" Lex Luthor figure. Each of these figures is listed at $89.99.

RETRO ACTION DC SUPER HEROES SINESTRO Matty also released Sinestro in their Retro Action Mego-like line this month. This figure is priced at $34.99.

CARS BARRY DIESEL Our final Matty entry this month is the 1/55 Scale Barry Diesel RV from "Cars". This vehicle is listed at $39.99.

ATA BOY MAGNETS, BUTTONS, KEYCHAINS We have new listings up for new DC and Marvel Keychains, Buttons and 2.5" x 3.5" Magnets. Each come in sets of 5-20, with the magnets duplicating famous comic covers. be sure to take a look at all of the new entries.

PLAYSKOOL ITEMS Playskool is the latest branch of Hasbro to be added to our menus. We have a wide variety of Alphie items, Mr. Potato Heads, Play Favorites, Explore'N Grow and Weebles items, which you can check on at the link. These items are great for your little ones to play with and learn through.

------------
NEW ARRIVALS
------------

GI JOE 2011 SERIES 04 - CASE, SET, SINGLES We have a container arriving from Hasbro tomorrow, and this new wave of GI Joe 3.75" figures will be on it! It includes Temple Guardian Snake Eyes, Crazy Legs, Croc Master, an Iron grenadier, a Viper and a Rock Viper. We have them available as a set of 6 for $44.99, as a case of 12 (2 of each figure) at $84.99, and singly at $7.99 - $10.99 each. Wave 03 and more Wave 04 are scheduled to arrive in May!

MARVEL UNIVERSE 3.75" FIGURES 2011 SERIES 02 SINGLES The new assortment of Marvel Universe figures is also on the container, but we expect the sets and cases to be sold out until the next shipment. We do expect to have singles of Apocalypse, Gladiator and First Appearance Wolverine, along with Series 01 figures World War Hulk, Iron Man and Spider-Man 2099. These figures are priced at $9.99 - $12.99 each, so grab your favorites while they're available.

STREET FIGHTER GUILE 18.5" MIXED MEDIA STATUE This figure of Street Fighter's military man includes real metal dog tags as well as a cloth outfit. We have him listed at $289.99, saving you $20 off of the MSRP.

DRAGON 1/6 SCALE FIGURES, ACCESSORIES A large shipment of Dragon 1/6 scale figures has arrived. We have dozens of new figures in stock, as well as accessories such as the MA1 Flight Jacket, German Anti-Tank Weapon Set A and more. They vary in price, so just take a look at the menu and see what you like.

DC UNIVERSE CLASSICS SERIES 16 CASE ASSORTMENT 02 This case includes Jonah Hex, Azrael Batman in Knightfall Armor, Creeper, Classic Robin (randomly packed), Mercury, Riddler, 'Best Of' Deathstroke and 'Best Of' Joker, along with all of the parts for the Collect-N-Connect figure, Bane. We have this case listed at $114.99.

NFL SPORTSPICKS PLAYMAKERS SERIES 01 RESTOCK We have received a small restock shipment of Playmakers Series 01. We are currently sold out of the singles for Ben Roethlisberger and Larry Fitzgerald (as well as the set of 14), but we have singles available of all other singles, including Brett Favre, Drew Brees, Troy Polamalu and more. Each figure is listed at $7.99, so grab your favorites now before they're gone.

GENESIS OF THE DALEKS COLLECTOR SET This box set brings the origin of the Daleks home for collectors of all ages. it includes the Fourth Doctor, Davros and two Genesis Daleks, and is listed at $59.99, saving you $15 off of the MSRP for the set.

TF WAR AXE ACCESSORY We have restocked a small quantity of this popular accessory that saw its original appearance in the War For Cybertron game, although it was inspired much earlier by Prime's orange Energy Axe in the "More Than Meets The Eye" cartoon miniseries that began the G1 franchise. We have this great piece listed at $14.99.

D-ARTS WARGREYMON The first of the D-Arts figures has arrived. This line is based on the S.H. Figuarts articulation and this version of Wargreymon is able to be posed in almost any way. This figure is listed at $44.99.

BigBadToyStore.com