OAFE Contest: Afghanistan Assemblage Robot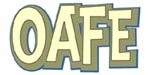 April 2011 - The fine folks over at OAFE.net are having a contest to raise funds for a batch of military-support charities. The prize is a robot action figure hand-made by PFC Rupert Valero while he was stationed in Afghanistan.

For more details on the contest, please visit the Afghanistan Assemblage Robot contest page over on OAFE.net.