Hot Toys Bruce Lee, Living Dead Dolls Zombies, Sesame Street Plushes, Darth Nihilus, Marvel Minimates at Big Bad Toy Store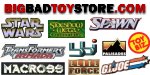 March 24, 2011 - (Sponsor Announcement) - Online retailer BigBadToyStore.com has several new items of interest to collectors:

Hi - Here is a quick update from http://www.bigbadtoystore.com about a variety of new arrivals and many more new preorders!

-------------
NEW PREORDERS
-------------

LIVING DEAD DOLLS SERIES 22 - ZOMBIES - CASE OF 5 The new Zombies series of Living Dead Dolls is available for pre-order. This set is to be released in September, and is listed at $99.99, $30 off the MSRP.

HOT TOYS - 1/6 SCALE M ICON BRUCE LEE COLLECTIBLE FIGURES Two new versions of Bruce Lee are on their way from Hot Toys. One shows Bruce in a tan suit with a director's chair, while the other has him in casual wear with a beach chair; each figure also includes other accessories and is listed at $144.99 ($10 off the MSRP).

SESAME STREET PLUSHES Enesco has a number of new Sesame Street plushes on the way. We have listings up for #12" Abby Cadabby, 12" Zoe Ballerina, 13" Cookie Monster, 14" The Count and 15" Big Bird, Elmo and Grover, and they are priced at $21.99 - $27.99 each. We also have a listing for the 11" Happy Birthday Elmo Plush with Sound, who is priced at $15.99.

GI JOE - 12" GENERAL HAWK Sideshow's latest announcement includes their new 12" GI Joe, General Hawk. He comes loaded with weapons and accessories, and we have him listed at $124.99, saving you $10 off of the MSRP.

DARTH NIHILUS MINI BUST Another Sith Lord will soon be available to join your collection. This bust shows him reaching out with his left hand while wielding his lightsaber with his right, and is listed at $84.99.

TIGER BLOOD ENERGY DRINK Do you want the superbrain and power of a warlock? If so, you'll need to ingest this new Tiger Blood Energy Drink. The power of the universe in your hands, priced at a mere $3.99. Duh, WINNING!

NEW TRIAD TOYS 1/6 SCALE FIGURES, BODIES, ACCESSORIES A number of new Triad Toys items are now available for pre-order. We have the Alpha Female in Asian, African-American, Hispanic and Caucasian (Tan Redhead), each listed at $39.99. We also have a new 12" Riza figure from Ternion Wars, priced at $84.99, and a 12" Jason (the Greek hero) figure from Legends, priced at $94.99. Finally, we have two new Spring Beat female clothing sets at $19.99 each, a pair of Ryder female boots at $18.99 and a pair of Boot Camp 2.0 female boots at $14.99.

BACKSTAGE PASS ITEMS - SMURFS, VIDEO GAMES, TMNT & MORE We have just listed a wide variety of new items from Backstage Pass, from Pac-Man shot glasses and Smurf pint glasses to Scooby Doo Fleece Blankets and Street Fighter Mirrors. Check out all of the items under a variety of licenses, including Teenage Mutant Ninja Turtles, Call of Duty, Gears of War and more.

MARVEL MINIMATES WAVE 41 Diamond has announced a new wave of Marvel Minimates as well as a new box set. Wave 41 includes Spider-Man Unmasked & Green Goblin, Bulked-Up Hulk & First Appearance Iron Man, Mr. Sinister & Nimrod and variant Age of Apocalypse Mr. Sinister & Nimrod. We have this wave listed at $29.99, $6 off MSRP, and it should arrive in September.

MARVEL MINIMATES X-MEN FIRST CLASS BOX SET We have also listed the X-Men First Class Box Set, which includes Iceman, Cyclops, Marvel Girl and Angel in their costumes from the comic of the same name, and they are priced at $15.99 for the set of 4.

WOMEN OF MARVEL STORM COMIQUETTE The next figure in this line is Storm, one of the leaders of the X-Men. This figure shows her in the leather outfit and mohawk that she sported after losing her powers due to Forge's Neutralizer, and stands 16.5" tall; we have it listed at $189.99, $10 off the MSRP.

ZC GIRL 1/6 SCALE FIGURES & ACCESSORIES This new line from ZC Girl includes figures, bodies and accessories, and they are priced at $9.99 for a gloved hand set up to $99.99 for some of the figures. Be sure to check out the complete line and grab your favorites.

RESIDENT EVIL AFTERLIFE ALICE 1/4 SCALE STATUE Milla Jovovich's portrayal of Alice in the "Resident Evil: Afterlife" movie will now be immortalized in a 1/4 scale statue. It stands 19" tall and shows Alice with a pistol in each hand, ready for action. We have this limited edition statue listed at $269.99, $10 off the MSRP.

TWILIGHT ZONE MYSTIC SEER REPLICA This piece measures 13.5" tall and works just like the original on the original TV show - it will dispense a fortune when you put a coin in it. This piece also comes with a certificate of authenticity and is listed at $249.99.

DOCTOR WHO - NEW DALEK BOX SETS Two new sets are on their way featuring the Fourth Doctor and his enemies the Daleks. "Genesis of the Daleks" and "Destiny of the Daleks" each include a version of the Fourth Doctor, a version of Davros and two Daleks, and each set is listed at $59.99.

BLACKEST NIGHT ACTION FIGURE BOX SET A new wave of Blackest Night figures is on its way in this new box set. It includes Indigo Lantern Munnk, Black Lantern Blue Beetle, Star Sapphire Fatality and Hal Jordan from when he wore both the Green and Blue Rings. The set also includes a 48 page Blackest Night Special Edition book with three different stories in it, and we have this box set listed at $59.99.

UNIVERSAL MONSTERS SELECT FIGURES This year brings two new Universal Studios Monsters home as 7" figures from Diamond Select. We have Dracula and Frankenstein's Monsters each up for pre-order, priced at $19.99 apiece. We also have more stock on the way of the first two releases in the line, the Mummy and the Creature from the Black Lagoon, also priced at $19.99 each. Finally, we have a listing up for a Black & White version of the Wolfman (color version hopefully to be coming sometime as well), priced at $18.99.

MORE CRAZY DUMMY 1/6 SCALE ACCESSORIES We have also listed more 1/6 scale weapons from Crazy Dummy. We have the MK46MOD0 and MK46MOD1 in different colors with different stocks, each priced at $26.99.

MOTOKO KUSANAGI 11" COLDCAST FIGURE This new version comes from Stand Alone Complex 2nd Gig, and is dressed in a gray leotard and wields a handgun. We have this figure priced at $249.99.

IKKI TOUSEN SONSAKU HAKUFU BIKER VERSION Sonsaku's newest figure stands 9.5" tall and bears more than a passing resemblance to the Bride from "Kill Bill," wielding a sword and wearing a yellow jumpsuit. This figure is priced at $239.99.

DOCTOR WHO - TENTH DOCTOR MAXI BUST The latest in the new line of Doctor Who 3/4 busts is David Tennant, the Tenth Doctor. It stands 8" tall and is listed at $64.99, saving you $5 off the MSRP.

BEYBLADE We have listed a number of new Beyblade items. We have four cases of 2011 Metal Fusion Battle Tops - Series 05, 05 Revision 02, 06 and 06 Revision 02 - at 104.99 per case of 12. We also have the Electronic Battle Top Series 03 Revision 03 and 03 Revision 04 Case of 6 at $64.99 each. We have the Metal Fusion Faceoff Series 03 Set of 2 at $33.99 and Series 04 Case of 6 at $94.99; also listed is the Metal Fusion Battle Gear Series 03 Case of 6 at $49.99. Finally, we have two Beystadiums listed; the Dragon's Den and Lion's Lair are each priced at $12.99.

QUARRIORS DICE BUILDING GAME NECA and WizKids' latest announcement is for the Quarriors dice building game. Unlike a lot of collectible games, this one appears to contain the entire game in one box, and uses dice and cards to give you a fast-paced strategy game. We have the set listed at $39.99, saving you $10 off of the MSRP.

SOLDIER STORY 1/6 SCALE FIGURES, ACCESSORY Soldier Story is a new company producing realistic 1/6 scale figures and accessories, and we have them listed for pre-order. We have listings up for the LAH Panzer Commander figure, USMC 1st Battalion 2nd Marine Expeditionary Brigade figure, the 160th SOAR Night Stalkers Pilot figure and the USMC M1917A1 Machine Gunner Tarawa 1943 figure, priced at $89.99 - $114.99 each. We also have the Expandable Weapons Rack listed at $35.99, and it is a modular piece to be configured any way you'd like to store your extra weapons.

BLEACH ENCORE SERIES 03 - SET, SINGLES If you had missed out on some of the figures from the original runs of the Bleach lines, now is your chance to pick up two more. This assortment includes Renji and Toshiro, and we have them listed singly at $14.99 each, or as a set of two for $24.99.

Y-MSF SEA SNAKE SET Two new pieces are coming from Y-MSF. This set includes two different articulated Sea Snakes - both with and without tongue out - and we have the set listed at $59.99. This exclusive set is limited to 100 pieces of each version.

ZY TOYS SNIPER SET The first release from ZY Toys will be a new sniper set. This set includes a wide range of accessories, along with backpack and pouches to carry it all, and is priced at $74.99.

TTL FIGURES FEMALE BODY - BLACK SHORT STRAIGHT HAIR, TWO VERSIONS TTL is releasing two versions of their Short Straight Black Hair female figure. We have the Large and Small Chest versions both up for pre-order, priced at $34.99 each.

BLACK BOX TOYS METAL UNIVERSAL CARRIER A new vendor has announced a gigantic metal carrier vehicle that we assume is for 1/6 scale figures. This piece is loaded with detail and is listed at $839.99. Be sure to take a look at it - it looks fantastic.

"THE LION, THE WITCH AND THE WARDROBE" 1979 ANIMATED DVD This animated version from over 30 years ago will soon be available on DVD, and ought to bring back a wave of nostalgia for most of us. We have this feature listed at $15.99, so don't miss out on sharing this version with your children, or just enjoying it again for yourself.

MARVEL LOGO NEON SIGN Diamond Select is releasing a new neon sign for the Marvel fans among us. This piece is priced at $109.99, saving you $15 off the MSRP, and has the big red M with "Comics" written in white across the middle.

FEMME FATALES LADY DEATH STATUE This line of beautiful ladies continues with a 9" tall version of Lady Death. Designed by creator Brian Pulido, this statue is to release in September and is listed at $34.99, $5 off the MSRP.

SNOW WHITE 15" STATUE From the Zenescope comic and CS Moore Studio comes this new 15" statue of Snow White. It shows her in a blue and yellow outfit and holding an apple, and we have it listed at $184.99, saving you $14 off of the MSRP.

DISNEY SHOWCASE TINK BY THE NUMBERS FIGURINES Enesco is also releasing a series of figurines of Tinkerbell alongside large numerals, which are perfect for years and other special dated. Each numeral one through zero is priced at $19.99.

SHELLY'S CREATION - FRANKENSTEIN'S MONSTER STATUE The first piece from Quarantine's new Ghastly Graves line of statues is Frankenstein's Monster. It stands 13.25" tall and stands in front of a gravestone with a tribute to the author, including a quote from the book. We have this piece listed at $184.99, $10 off the MSRP.

GREEN LANTERN MINI KIT WITH RING This set will help you become a Green Lantern! It includes a booklet with background info on the Lantern Corps, the Oath, the Ring and Hal Jordan, and also includes a light-up Power Ring to have your own adventures. This set is priced at $8.99 and should arrive in time for the movie to come out.

INDRA, GOD OF WAR 12" STATUE Visionary Temple is starting a new line of statues based on the Hindu pantheon, and the first release will be Indra. This statue shows him wielding a spear, a bow and a thunderbolt, and is listed at $79.99. I've spoken directly with the sculptor/owner, he's a great guy so please give him your support and consider his first work.

------------------
VINTAGE DEPARTMENT
------------------

The Vintage Department sees some changes this month with James moving to the BBTS Purchasing department and the manager Dennis taking over Vintage Department purchasing & communication. Dennis will take over where James left off, and continue to offer Cash or BBTS Credit for collections. We are in need of vintage GI Joe, Star Wars, Transformers, and Masters of the Universe in good condition loose or with packaging. We also are looking for packaged items from the last 1 - 20 years from basically any category of items we carry on our site. Please email [email protected] with any portion of your collection you are looking to sell and Dennis will get back to you.

------------
NEW ARRIVALS
------------

MARVEL MINIMATES SERIES 38 - SET OF 8 This assortment is taken from the Shadowland storyline and includes Daredevil, Elektra, Iron Fast, Spider-Man, Classic and new versions of the White Tiger and two Hand Ninjas. This set is priced at $29.99, $6 off the MSRP.

THOR MOVIE MINIMATES - SET OF 8 The Minimates from the upcoming Thor movie have also arrived. This assortment includes Thor, Odin, Loki, the Destroyer, Agent Coulson, Jane Foster and a pair of Frost Giants, and is also priced at $29.99 ($6 off the MSRP).

JANGO FETT REAL ACTION HEROES FIGURE - 2ND JETPACK VERSION Medicom's second version of the RAH Jango Fett figure comes with a removable helmet, a jetpack, blasters and more, and we have it listed at $139.99, saving you $10 off of the MSRP for the figure.

M. BISON 1/4 SCALE MIXED MEDIA STATUE This 19" figure of the main villain from the Street Fighter series comes dressed in a cloth costume and includes three switch-out hands, including a clear purple one showing his energy power. It is limited to just 500 pieces and is priced at $329.99, saving you $15 off of the MSRP.

HALO REACH PLAY ARTS KAI SERIES 02 SINGLES Our second assortment of Halo: Reach Play Arts Kai figure has arrived. We have Carter, Jorge and Kat each available, priced at $29.99 apiece.

DOCTOR WHO NOVELTIES - ELEVENTH DOCTOR'S SONIC SCREWDRIVER, SONIC SCREWDRIVER TORCH Two new Doctor Who items have arrived. The Eleventh Doctor's Sonic Screwdriver has an LED and sound effects in both Open and Closed modes, and is priced at $27.99. The Sonic Screwdriver Torch is a smaller version of the item and operates as an LED flashlight, and is priced at $11.99.

IN YOUR POCKET TALKING KEYCHAINS Our Underground Toys shipment also included a number of "In Your Pocket" talking keychains. We have The Hoff, Yoda, Rambo and Monty Python currently available, priced at $8.99 each.

MOTU CLASSICS REISSUES We have received a small quantity of the reissue versions of Evil-Lyn and Adora for the benefit of our international and other customers. These figures are now available, priced at $34.99 each.

GI JOE 2010 SERIES 02 REVISION 04, 2011 SERIES 02 REVISION 03 CASES A small assortment of GI Joe cases has also arrived at our warehouse. Each of these two cases contains a good variety of figures like Snake Eyes, Duke, army builders and more, and each is priced at $84.99.

TRANSFORMERS 2011 LEGENDS SERIES 01, 02 We have restocked our supply of the first two assortment of G1-inspired Legends from 2011. Series 01 includes Optimus Prime, Megatron, Starscream and Gold Bumblebee and is listed at $22.99 for the set of 4; Series 02 adds Trailcutter and Prowl making it a set of 6, and it is listed at $33.99. We also have singles of many of the figures, priced at $5.99 - $6.99 each.

AVENGERS REBORN IRON MAN 1/6 SCALE COLD CAST FINE ART STATUE This statue of Iron Man stands about 13" tall and shows him standing on a rocky base. It is fashioned out of cold-cast porcelain and can connect with the Thor and Captain America statues to allow you to display the Big Three of the Avengers. We have this piece priced at $164.99, saving you $35 off of the MSRP.

KOTOBUKIYA RESTOCK In addition to the Iron Man Statue, we have received a large restock shipment from Kotobukiya. We have the 1/10 Scale Stormtrooper Build Pack ArtFX Statue Set, Marvel Collection Busts like Nightcrawler, Colossus, Wolverine, Storm, Kitty and Cyclops, Marvel Bishoujo Rogue, Ani-Statues and more. If you have one you're looking for, we may have it back in stock now, so be sure to check out the menus.

CLONE TROOPER (EPISODE 2) PREMIUM FORMAT FIGURE This new statue from Sideshow stands 19" tall and is dressed in a fabric suit with armor pieces. He wields a laser rifle and is priced at $279.99, saving you $15 off of the MSRP.

CLONE TROOPER - PHASE I 12" FIGURE This figure comes dressed in green-detailed clone armor and carries a Carbine Blaster and Long Rifle. He also includes switch-out hands and boots, as well as a display stand, and is priced at $84.99, saving you $5 off the MSRP.

IRON MAN 6" FIGURE SERIES 01 - SET, SINGLES We have just received the first assortment of Iron Man 6" figures. This assortment includes Hulkbuster Iron Man, Titanium Man, War Machine and Iron Man Mark VI, and we have them listed as a set of four at $54.99. We also have singles of Iron Man Mark VI and Hulkbuster Iron Man, each listed at $13.99.

STAR WARS VINTAGE 2010 SERIES 06 REVISION 01 - CASE, SET, SINGLES The set of 8 for this assortment includes one each of Super Battle Droid, Senate Guard, Kit Fisto, Mace Windu, Jango Fett, Peasant Anakin, Peasant Padme and Zam Wessel, and is priced at $84.99. The case adds Obi-Wan Kenobi, Darth Vader, Sandtrooper and General Grievous and is priced at $109.99. Finally, we have a few singles left over from the assortment, so be sure to check those out if you have spaces in your collection that need to be filled.

GHOSTBUSTERS LIGHT-UP SLIMER STATUE This new light-up statue from Diamond Select measures 6.5" tall and has everyone's favorite spud-ghost sitting on a Ghostbusters base. We have it listed at $59.99.

"SILVER NEMESIS" CYBERLEADER & CYBERMAN SET This pair of figures comes from an trio of episodes featuring the Seventh Doctor, Sylvester McCoy. Each of the two figures comes with a weapons, and the set is listed at $39.99.

BigBadToyStore.com