Captain Action, Hot Toys Odin, Green Lantern, Transformers 3D Movie Promo Pack at Big Bad Toy Store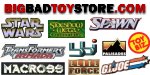 March 16, 2011 - (Sponsor Announcement) - Online retailer BigBadToyStore.com has several new items of interest to collectors:

Hi - Here is a quick update from http://www.bigbadtoystore.com about another slew of new preorders and more new arrivals:

-------------
NEW PREORDERS
-------------

CAPTAIN ACTION 2011 - DELUXE FIGURE, COSTUME SETS Captain Action is making a comeback later this year, and the first items from the new line are already up for pre-order. The Deluxe Figure set includes the new super-poseable body, along with accessories like his costume with cap, a sword, a gun, a portfolio full of documents and photos and more. This set is listed at $39.99, $5 off the MSRP. We also have listings up for the first two Marvel costume sets - Captain America and Spider-Man. Each set includes a full cloth costume and a whole host of accessories, and each also includes one part of a collectible Hawkeye Costume Set, which will be split among the first six Marvel Costume Sets. Each of these sets is listed at $29.99, also $5 off the MSRP.

MOVIE MASTERPIECE ODIN 1/6 SCALE FIGURE Hot Toys has announced a new Odin figure based on Anthony Hopkins' portrayal of the Allfather in the upcoming "Thor" movie. He comes with a full set of armor, multiple alternate body parts, an electroplated Gungnir spear and more, and is priced at $159.99, saving you $10 off the MSRP.

ELITE COLLECTION STAR WARS STATUES Attakus' new line of 1/10 scale Star Wars statues continues with Commanders Thire, Bly, Green and Neyo, along with a Coruscant Clone Trooper. This pieces are listed at $99.99 - $114.99 each, and will arrive in June, July and October of this year.

TRANSFORMERS 3D MOVIE PROMO PACK This new set includes a powered-up version of Optimus Prime in Scout/Commander Class, along with a set of 3-D glasses that can be used to look at the 3-D pages coming shortly to Hasbro's Transformers webpage. This set is priced at $9.99.

GREEN LANTERN SERIES 04 - SET, SINGLES The newest assortment of Green Lantern figures includes Power Glow Halo Jordan, Green Lanterns Stel and Arkkis Chukkuk and the Red Lantern version of Guy Gardner. We have them available as a set of 4 at $64.99 ($11 off the MSRP for the set); we also have the figures available as singles, priced at $17.99 each.

FLASHPOINT SERIES 01 - SET, SINGLES This set commemorates the new crossover centering on the Flash. The assortment includes Batman, Cyborg, the Flash and Wonder Woman, and they are available as a set of 4 at $64.99, $11 off the MSRP. We also have each figure available singly at $17.99.

12" KENNER STAR WARS FIGURES - OBI-WAN KENOBI, JAWA WITH CLOTH CAPE Two new figures from gentle Giant's Kenner 12" Scale Star Wars Figure Line are up for pre-order. Obi-Wan Kenobi comes with his telescoping lightsaber and is priced at $67.99 ($7 off MSRP), while the Jawa comes with a cloth robe and gun, is scaled to fit with the other 12" figures and is priced at $58.99 ($6 off the MSRP).

DC UNIVERSE ONLINE STATUES - JOKER, HARLEY QUINN Two new statues based on Jim Lee's DC Universe Online art are being released later this year. The Joker stands 7.6" tall while his girl Friday, Harley Quinn, stands 7.1"; they are listed at $79.99 each, saving you $10 each off of the MSRPs.

GUNDAM ROBOT DAMASHII WING ZERO GUNDAM (ENDLESS WALTZ) The newest Robot Damashii Gundam figure is of the main Gundam in "Endless Waltz," the Wing Zero. It includes the full array of wings for shielding and dramatic flight poses, as well as a complement of weapons and a Tamashii stand to make the package complete. This set is listed at $44.99, and is to arrive in July.

DARTH TALON 12" STATUE Darth Talon is a Twi'lek Sith from the Star Wars: Legacy comic series, and now she is being made into a statue courtesy of Gentle Giant. She stands 12" tall with her red lightsaber, and is listed at $199.99, saving you $25 off of the MSRP.

SHAE VIZLA MINI BUST This new bounty hunter from the upcoming Old Republic video game will be getting a new bust from Gentle Giant. It will stand 5.5" tall and show her in Mandalorian armor with a blaster rifle, and is listed at $58.99, $6 off the MSRP.

GOONIES SLOTH MASK This piece is perfect for the "Goonies" fan who wants to dress up as the last Fratelli boy. It is priced at $51.99, saving you $8.00 off the MSRP.

FRANKLIN MINT DOLLS, ELVIS MEMORABILIA We have just listed a wide variety of dolls being released by the Franklin Mint. They include a number of Marilyn Monroe dolls, Scarlett O'Hara, Michelle Obama, Jackie Kennedy, Kate Middleton, Princess Diana and more, ranging from $107.99 to $220.99 each. We also have the Franklin Mint line of Elvis Memorabilia listed, including a Complete Masters Collection of CDs at $298.88, Framed Prints, Cars and more.

SOUTH PARK DELUXE TALKING CARTMAN This new version of Cartman has seven phrases taken from the show, and is listed at $19.99, saving you $4 off the MSRP.

JASON VOORHEES 10" STYLIZED ROTOCAST FIGURE This new 10" version of Jason from the "Friday the 13th" movies is shown hunched over and wearing his signature hockey mask. He holds a bloody machete in one hand and is priced at $23.99, $4 off the MSRP.

SAW PUPPET STYLIZED ROTOCAST FIGURE The puppet from the "Saw" movies is also getting into the Stylized act. He has rooted hair and an oversized leering head, and is priced at $15.99, $2 off the MSRP.

CINEMA OF FEAR TINY TERRORS FREDDY, JASON Two of the figures from the 2" Tiny Terrors line are back and available individually. Freddy and Jason are each equipped with their standard weapon, and each figure is listed at $4.99.

LDD PLUSH SERIES 01 SET The first assortment of Living Dead Dolls Plush figures includes Sadie and the Eggzorcist, measuring 8" tall each. They are priced at $24.99 for the set of two, saving you $4 off the MSRP for the pair.

WOMEN OF THE DCU 3 ZATANNA BUST The Justice League's resident magic-wielder is making an appearance in the third assortment of this line of busts. This piece shows her exploding out of a magic book with a wand extended and a top hat on her head. It is listed at $49.99, saving you $10 off of the MSRP.

BLACKEST NIGHT YELLOW LANTERN 1/4 SCALE POWER BATTERY & RING REPLICA SET The penultimate entry in this line is Sinestro's yellow lantern, and it comes with an acrylic stand and power ring replica. This set is priced at $29.99, $5 of the MSRP.

HEROES: BLACKEST NIGHT SINESTRO CORPS MEMBER ARKILLO BUST This 6" tall bust shows the hulking member of the Sinestro Corps hunched forward, with his hands balled into fists. The bust is priced at $59.99, $10 off the MSRP.

COVER GIRLS OF THE DCU STARFIRE STATUE Kori of the Teen Titans is the latest in the Cover Girls line of statues. She stands 9.25" tall and is dressed in her purple outfit, holding some of her voluminous hair in her left hand. The statue is listed at $84.99, saving you $15 off of the MSRP, and is set to arrive in November.

CAPTAIN AMERICA MOVIE 3.75" ACTION FIGURE SERIES 02 REVISION 02 CASE This new case assortment includes one each of the four figures in Series 1 plus one or two of most of the figures in Series 02. This case is a good way to get many of these movie figures all at once, and is listed at $104.99.

STAR WARS TRANSFORMERS 2011 SERIES 01 CASE This assortment includes 6 different Transformers - Anakin Skywalker to Jedi Starfighter, Captain Rex to Freeco Bike, Obi-Wan Kenobi to Jedi Starfighter, Battle Droid Commander to AAT, Clone Pilot to Republic Gunship and Clone Commander to AT-TE. It is a great way to fill out your Clone Wars era SW TF collection, and is listed at $104.99.

COBRA COMMANDER PREMIUM FORMAT FIGURE The head of the Cobra organization is going to be the basis of a new Premium Format figure from Sideshow. This piece will stand 21" tall and show Cobra Commander in his military uniform and mirrored mask and helmet, holding his gold snake staff. It is listed at $284.99, saving you $15 off of the MSRP.

DARKCHILDE COMIQUETTE Illyana Rasputina's alternate version, the Darkchilde, will be the next comiquette from Sideshow. She wears her leather bikini and wields a large axe (as seen on a recent comic cover), and stands 16" tall. She is priced at $259.99, saving you $10 off the MSRP.

MARVEL UNIVERSE 3.75" SUPER HERO TEAM PACK SERIES 01 - SET, SINGLES Hasbro is releasing new Team Pack box sets of their Marvel universe 3.75" figures. We are still waiting for information on the exact makeups of the teams, but the first assortment includes the Classic Avengers and X-Force, and we have them available individually at $23.99 each, or at $44.99 for the pair of teams.

DANTE COAT - RED, BLACK This new coat from Abbyshot is designed from the one Dante wore in the Devil May Cry series. It comes in red or black, and in small, medium, large and extra large. It is priced at $309.99, saving you $40 off the MSRP.

THOR MOVIE MINI BUST Gentle Giant will also be working with Marvel, and the first of two new busts comes from the upcoming "Thor". movie. This bust of the title character is sculpted with Chris Hemsworth's likeness and is hoisting Mjolnir aloft; it is priced at $67.99, saving you $7 off the MSRP.

BLACK CAT MINI BUST The other new Marvel bust is of Spider-Man's on-again-off-again ally the Black Cat. Her bust is 7" tall and shows her in her traditional costume, hiding a diamond behind her back. This piece is listed at $62.99, $7 off the MSRP.

FUTURAMA ENCORE BENDER VERSION 02 Toynami is reissuing their popular Bender figure from Futurama, and this time he's coming with new eye sets to increase his display options. This time he comes with angry, tired and crazy eyes, and is priced at $12.99.

MY LITTLE PONIES WITH ANIMAL FRIEND SERIES 03 This new assortment of figures pairs a Pony with one or two small animal friends to increase the fun. We have them listed as a set of 4 at $27.99 and as a case of 12 at $59.99.

PREDATORS SERIES 03 SINGLES We have had the sets of this wave available for a while, and now we are proud to announce that we have singles listed of the Elder Predator and the Predator Hound as well. Each figure is listed at $15.99, saving you $3 each off the MSRP.

MOTU CLASSICS We will be receiving a small quantity of this month's Masters of the Universe Classics releases for the benefit of our international and other customers. This month includes King Hsss, Battle Armor Skeletor, and re-issues of Adora & Evil-Lyn, and each figure is listed at $34.99.

EARLOOMZ BLUETOOTH HEADSETS Underground Toys is releasing a number of fan-oriented Bluetooth headsets decorated with Star Wars and Star Trek imagery. We have the Star trek logo, along with Darth Vader, Luke Skywalker, Boba Fett and the Dark Duel, and each piece is listed at $49.99.

MAD ENGINE T-SHIRTS - MARVEL, STAR WARS We have listed a wide variety of new Mad Engine T-Shirts. We have new Marvel shirts featuring the X-Men, Captain America, Thor, Ghost Rider and more, as well as Star Wars T-Shirts with Boba Fett, Darth Vader and others. Take a look at all of the new shirts at the menus.

FLOCKED VINYL SNOOPY FIGURE Dark Horse is releasing a line of 8" flocked Vinyl Snoopy figures. Each is priced at $23.99, and in addition to the standard white version, they are also being released in limited edition colors - blue, green, orange, pink, violet, yellow and brown.

APEXPLORERS ICE & LASER FIGURE SET - SPECIAL VERSION This follow-up to the original version includes all of the same accessories and outfit pieces from the original, done in a more gray & white color scheme. This set is limited to 400 pieces worldwide, and is priced at $379.99, $20 off the MSRP.

NEW POP ROCKS FIGURES Funko has announced six new POP Rocks vinyl figures. Chuck D, Flavor Flav, Johnny Ramone, Dee Dee Ramone, Tupac Shakur and Notorious B.I.G. are on the way for later this year, priced at $9.99 each.

1/6 SCALE WWII DEFENSE OF THE REICH FIGHTER PILOT This new figure from Crazy Dummy comes dressed in the full outfit of a German Captain, including a number of real leather parts. He is priced at $104.99, and is slated to arrive in May.

STAR BLAZER YAMATO NON-SCALE SOFT VINYL SHIP - NORMAL VERSION This replica of the Star Blazer Yamato is to measure about 30 cm long (about 11.8"), is somewhat softened to give it a whole new style, and is colored in the original color scheme. It is listed at $109.99, $10 off the MSRP.

LITTLE BIG PLANET SACKBOY DIY FIGURE This new 9" version of Sackboy is done all in white, so that you may color him and dress him up as you like. We have him listed at $19.99, $4 off the MSRP.

------------
NEW ARRIVALS
------------

WORLDS GREATEST DC SUPER HEROES SERIES 04 - SET, SINGLES This new wave of 8" cloth costume figures includes Shazam!, Black Adam, Martian Manhunter and Darkseid. We have them available as a set of 4 at $29.99, as well as singly at $20.99 each - sorry, the Shazam single is sold out.

TFG1 TSC-84 REPRODUCTION TECHNICAL SPECIFICATIONS CARD SET The laminated set of Tech Specs includes cards for all of the 1984 toy releases, along with a red cellophane card reader. The set is priced at $34.99 and ready to join your collection.

ARH MEDUSA SNAKE TAIL STATUE This version of ARH Studios' Medusa statue is unclothed measures 11.5" tall. This statue is priced at $169.99, saving you $30 off of the MSRP for the piece.

STARGATE SG-1 F-302 SHIP REPLICA, GOA'ULD DEATH GLIDER COLLECTOR SCALE REPLICA Two of the Stargate SG-1 replica ships are available again, this time at clearance prices. The F-302 and Goa'uld Death Glider are each priced at $49.99, and go together nicely in a Stargate scene or display.

GREEN LANTERN CLASSICS SERIES 02 SINGLES This long-awaited assortment has finally arrived. We have singles available of G'Hu, Nautkeiloi/Medphyll and Skallox/Nite-Lik, priced at $16.99 each. We have sold most of our sets and other singles, although we are still expecting a case shipment.

GX-56 ZEROKAGE & BAKURYU This new Soul of Chogokin set pairs Zerokage with his dragon Bakuryu, and allows them to transform together as well. The set is listed at $134.99.

REVOLTECH IRON MAN MARK VI Iron Man in his most recent armor from "Iron Man 2" is the latest Sci-Fi Revoltech figure to arrive. He includes boot thrusters, alternate hands, repulsor blasts and more, and is listed at $42.99.

BACK TO THE FUTURE 25TH ANNIVERSARY MINIMATES BOX SET This Minimates box set includes Marty, Doc Brown, Biff and Principal Strickland, and is listed at $15.99, $2 off the MSRP.

MARVEL EXCALIBUR MINIMATES BOX SET The long-awaited box set includes new versions of Nightcrawler and Juggernaut as well as Captain Britain and Meggan, and is also listed at $15.99, $2 off the MSRP.

THOR MOVIE MINIMATES ARMY BUILDER DUMP This third assortment of Minimates this week includes one each of Laufey and Selvig, along with three Asgardian Royal Guards, three of Frost Giant 1 and four of Frost Giant 2. This set is perfect for setting up battle scenes, and is listed at $59.99, saving you $12 off the MSRP.

ENERGY DRINKS RESTOCK We have received a small restock shipment of Energy Drinks. We have Zombie Survival, Pac-Man, T-Virus Antidote and Mega Man E-Tank Drinks in stock among others, priced at $2.00 - $2.99 each.

REVELATION of the DALEKS COLLECTOR SET This new set includes Davros with an alternate hand, a Necros Dalek, a Skaro Dalek and the Sixth Doctor with Cloak. The set is priced at $59.99.

BigBadToyStore.com