Family Guy, Halo: Reach, Green Lantern, Lightsaber Chopsticks at Big Bad Toy Store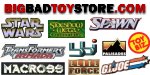 March 9, 2011 - (Sponsor Announcement) - Online retailer BigBadToyStore.com has several new items of interest to collectors:

Hi - Here is a quick update from http://www.bigbadtoystore.com about a variety of new arrivals and another big batch of new preorders.

-------------
NEW PREORDERS
-------------

FAMILY GUY INTERACTIVE - FIGURES, PLAYSETS Playmates is producing a new line of Family Guy figures that can speak when attached to the playsets, similar to the long-running Simpsons line. Series 01 of the figures includes Peter, Brian, Quagmire, Cleveland, Stewie and Halloween Stewie and is listed at $62.99 for the set of six; we also have the first playset listed - the Griffin Living Room, with bonus Lois figure, and it is priced at $32.99.

HALO: REACH ANNIVERSARY FIGURES, THREE-PACKS The newest assortment of Halo figures is the Anniversary assortment. It includes new or updated versions of Master Chief, Dutch, Cortana, an Arbiter and a Grunt, and they are listed singly at $11.99 each or as a set of 5 for $54.99. We also have the two new three-packs listed - the Evolution of Master Chief and Fearless Leaders, and each is priced at $32.99.

STAR WARS LIGHTSABER CHOPSTICKS SERIES 03 Kotobukiya's newest wave of Star Wars Chopsticks draws from the Prequels. It includes Count Dooku, Anakin Skywalker and Obi-Wan Kenobi's Lightsabers, and each pair of chopsticks is listed at $8.99.

STEAMPUNK REPLICAS Museum Replicas also has a new line of Steampunk-inspired items, mixing technology with Victorian fashion and style. We have listed a number of weapons from the line, including pistols, rifles, swords and more, and they are priced from $28.99 to $139.99 each.

TRANSFORMERS DUAL MODEL KITS Takara has announced two Dual Model Kits. Each contains an articulated robot frame along with armor pieces to turn it into a favorite Transformers character. We have the Optimus Prime figure listed at $119.99, and Bumblebee at $54.99.

DEVIL HORNS CUSTOM KIT For those of us who missed out on the original upgrade for Classics Cliffjumper, Beelzeboss is producing a new Custom Kit for him. It
includes a newly-sculpted head, along with a pistol and a large gun/bazooka, so he can be prepared for battle. We have this set listed at $29.99, so don't miss out on it.

CDMW-19 AUTO BRIGADE POWER PARTS GIANT IONIZER SWORD This new weapon for Menasor measures 131 mm long and is made of Polylac virgin ABS, and chromed to boot. We have this upgrade priced at $19.99 and it should arrive early next month.

DRAGON MILITARY 1/6 SCALE FIGURES We have just listed over 80 different 1/6 Scale Military figures from Dragon. We have Brits, Germans, Americans, and more, and some figures come with large-scale accessories like gun emplacements and others. These figures start at $30.99 and go up from there, so check them all out and add to your 1/6 scale collection.

NEW POP HEROES AND MORE Funko has announced a whole bunch of new POP Heroes figures and Bobbleheads, including Star Wars pieces like C-3P0 and Boba Fett; DC Series 03 with figures like Two-Face and Hawkman; Marvel figures like the Thing and Wolverine; Green Lantern, Wizard of Oz, Gremlins, Captain America and Thor Movie POP Heroes and more - check them out at the link.

NEW INDIE SPOTLIGHT FIGURES Shocker Toys has announced a number of new figures under the Indie Spotlight banner. Indie Series 03 consists of The Phantom (and Variant), Zorro, Grendel (and Variant), Fist of Justice and Nira-X, and each is available at $14.99, or you can get them as a set of seven for $99.99. We also have Indie Two-Packs, with Captain Action & Madman and Zen the Intergalactic Ninja & Lazerman each listed at $23.99. the new Golden Age line's first wave is also listed, with the Heap (and Variant), Dan Garrett the Blue Beetle, the DareDevil (and Variant), the Arrow and the Black Terror, and these are priced at $15.99 each or $99.99 for the set of seven.

ANIME SPOTLIGHT FIGURES Another newly-announced line from Shocker Toys is the Anime Spotlight. This series includes figures from a number of different anime series, and the first assortment includes Naruto's Iruka Umino and Kakashi Hatake, Bleach's Ichigo Kurosaki (and Variant), Death Note's L, Doctor Slump's The Monster and One Piece's Nico Robin. These figures are priced at $99.99 for the set of seven, or $14.99 each. The first two-pack is also listed, with Naruto's Sakura Haruno & Ino Yamanaka, and it is priced at $27.99.

NEW MIMOBOTS Mimoco has announced a number of new Mimobots for 2011. We have pre-orders up for Star Wars Mimobots like Captain Rex, the Wampa, Lobot and Wicket the Ewok, Halo Mimobots like Blue Spartan and Red Spartan, DC Mimobots like Batman and many Green Lanterns, and most are available in both 4 Gigabyte and 8 Gigabyte sizes. Four GB Mimobots range from $22.99 to $24.99, while the 8 GB version range from $34.99 to $39.99. You can check them all out at the link.

BATMAN: THE BRAVE & THE BOLD - FIGURE CASES, UTILITY BELT A number of new items have been listed under Batman's The Brave and the Bold men. We have the light-up Bat-Signal Utility Belt priced at $8.99; we also have 3 cases of 6 different basic figures, priced at $49.99, and 1 case of six different Deluxe figures, priced at $59.99.

SOUL OF CHOGOKIN GX-57 SPACE BATTLESHIP YAMATO Bandai will be reissuing this awesome piece in June - preorders are available now at $274.99 here

HOT TOYS IRON MAN MARK VI COLLECTIBLE BUST RESTOCK This bust was created as an exclusive for toy shows in Asia during 2011, and we had originally received a small allotment of these pieces. Now, we have been able to locate a small additional quantity and are happy to be able to bring them to you. This bust is 9" tall and includes LED lighting and metallic painted armor, and is listed at $119.99.

DOCTOR WHO SIGNATURE STATUE COLLECTION - PATRICK TROUGHTON The Second Doctor will actually be the first released in this new line of statues from Underground Toys. His design is taken directly from stills and footage from the original show, even down to the colors on his outfit (even though the show was broadcast in black & white). This statue stands 9" tall with the base and is priced at $94.99, saving you $25 off of the MSRP for the piece.

"THE EAGLE" PROP REPLICAS Museum Replicas is creating replica weaponry and armor from the movie "The Eagle". There are Gladiuses (Gladii?) of Marcus Aquila and Galba as well as a Roman Eagle Gladius at $219.99 each, and also daggers, short swords, helmets, various armor pieces, a shield, a belt and more - take a peek at them at the menu.

BIF BANG POW - NEW ITEMS & RESTOCK We have listed a variety of new Bif Bang Pow bobbleheads, and restocked a number of old favorites. You can choose from bobbleheads under licenses like Lost, the Twilight Zone, Flash Gordon, the Venture Brothers, Dexter and more, and you can find them all under the link.

LUCKY STAR 1/4 SCALE FIGURE REISSUE All four of the 1/4 Scale girls from Lucky star are getting re-issued. We have Konata Izumi listed at $162.99, with Kagami Hiiragi, Tsukasa Hiiragi and Miyuki Takara listed at $175.99 each.

MASCHINEN KRIEGER 1/6 SCALE SUPER ARMORED FIGHTING SUIT - SNOWMAN VERSION This new version of the 1/6 scale SAFS from Medicom comes with a whole new deco and is priced at $1499.99.

CAPTAIN ULTRA SPIEGEL NON-SCALE SPACE SHIP STATUE Captain Ultra's Ship the Spiegel (German for mirror) will now be available for collectors. This ship comes apart into its components, and is priced at $199.99, $20 below the MSRP.

DOC SAVAGE 12" POLYSTONE STATUE Electric Tiki is producing a new 12" statue based on pulp hero Doc Savage. He stands atop an icy base and is listed at $189.99, $10 off the MSRP.

APEXPLORERS ICE & LASER FIGURE SET This new pair from Hot Toys includes Ice and her pet Husky Laser, each dressed for Arctic conditions. They also include a number of weapons and pieces of equipment, and are priced at $269.99, saving you $30 off of the MSRP.

GREEN LANTERN MOVIE ITEMS NECA has announced a whole line of accessories and other items from the Green Lantern movie. From bookend sets and paperweights to keychains and plush figures and even a snowglobe shaped like a Green Lantern Power Battery, this line includes something for everyone - be sure to check out all of the available items.

GREEN LANTERN ITEMS NECA is also producing a number of non-movie related GL items - a necklace with a Pave Pendant for $16.99, three different Rubber Bracelets at $4.99 each, and three different terry cloth wristbands at $4.99 each.

BATMOBILE 1/25 SCALE SNAP MODEL KIT This model kit of the 1966 Batmobile will measure 8.5" long when completed and include metal axles and loads of detail. We have this kit priced at $27.99, $2 off the MSRP.

BLACK ORC OF MORDOR 20" PREMIUM FORMAT FIGURE Sauron's servants are getting their own statue at last. This piece measures 20" tall by 9" wide and 12" deep, and shows him running into battle with a pair of wicked knives in his hands. This piece is listed at $284.99, $15 off the MSRP.

BERSERKER PREDATOR LIFE-SIZE BUST This fiberglass and polystone bust stands 33" tall by 30" wide by 22" deep and shows the Berserker Predator in all his glory, with his jaws spread wide. This piece is listed at $1149.99 ($50 off MSRP) and due to its size may have to ship by freight. A $100 nonrefundable deposit is required on this item.

DOCTOR WHO MAXI-BUSTS - THIRD DOCTOR, WEEPING ANGEL Two new Maxi Busts are on the way. The first shows Jon Pertwee, the Third Doctor, complete with waistcoat and tie, and the second is one of the Doctor's newer enemies, the Weeping Angel, frozen in mid-attack. Each piece measures about 8" tall and each is priced at $64.99, $5 off the MSRP.

------------
NEW ARRIVALS
------------

CROSSFIRE EXPLORER, MUNITIONER RESTOCK The second run of these popular transforming robots is now in stock. These new bots will work with any variation of the Energon/ROTF Bruticus set, and XF-02A Explorer and XF-02B Munitioner are each priced at $54.99. Each also comes with a number of accessory parts to help your Bruticus resemble his G1 namesake, so don't miss out on these great figures.

MOTU CLASSICS PRETERNIA DISGUISE HE-MAN, SHADOW BEAST We have received a small amount of these new Masters of the Universe Classics figures for the benefit of our international and other customers. We have the subscription-exclusive Preternia Disguise He-Man priced at $49.99, and the large-scale Shadow Beast at $44.99.

GI JOE 2011 SERIES 02 CASE, SET This assortment includes Destro Version 03, Low Light Version 01, Skydive Version 01 and Shadow Tracker Version 01, and we have them as a set of 4 at $29.99, and also as a case of 12 (3 of each figure) at $84.99

MARVEL UNIVERSE 2010 SERIES 06 REVISION 03 CASE This new version of a classic case includes longtime favorites like Kitty Pryde and the Vision, along with newer figures like Warpath, Ms Marvel and Daredevil (all of which will probably be the new variants - the Moonstone version of Ms. Marvel, Warpath in red and blue outfit and Daredevil in dark red). This case is priced at $104.99, and is a great way to add to your collection.

1/18 SCALE US NAVY VF-154 MERIT EXCLUSIVE EDITION This new version of JSI's 1/18 Scale U.S. Navy VF-154 Black Knights jet includes lights and redesigned parts, and is limited to just 888 pieces worldwide. This exclusive vehicle is listed at $274.99, saving you $23 off of the MSRP.

FORCES OF VALOR 1:18 SCALE FIGURES & VEHICLES The first shipment of our Forces of Valor figures and vehicles has arrived. We have sets of 6 different WWII U.S. or German Army Soldiers at $39.99 each, along with a variety of vehicles like the M4A3 Olive Drab Sherman Tank at $34.99, the M16 multiple Gun Motor Carriage at $34.99, the M1A1 Abrams Desert Tank at $39.99 and more.

CRYSIS 2 SINGLES Although we have already sold through our first shipment of Crysis 2 cases and sets, we still have a number of singles in stock. The Heavy, Grunt and Alcatraz Nanosuit 2.0 are each currently ready for ordering, priced at $8.99 apiece.

DEAD SPACE 2 SET This pair of figures from the hit video game includes the new version of Isaac Clarke as well as one of his enemies, a Necromorph Slasher. we have them listed at $32.99 for the pair, or at $109.99 for the case of 8 ($34 off the MSRP), which includes five Isaac figures and three Necromorph figures.

TF UNITED - DRIFT, LUGNUT, GRAPPLE Three of the more popular Transformers United import figures are now back in stock. We have Drift listed at $39.99, with Grapple and Lugnut at $54.99 each.

STAR WARS VINTAGE 2011 SERIES 02 SET, SINGLES This new set of 6 Vintage figure includes Fi-Ek Sirch, Clone Trooper, Dagobah Landing Luke Skywalker, General Lando Calrissian, an AT-RT Driver and Weequay, and is listed at $89.99. We also have singles available of figures such as the Stormtrooper, the Clone Trooper, the Rebel Commando, R2-D2 with Drink Tray & Lightsaber, Obi-Wan Kenobi and a Senate Guard, so be sure to check them out to fill any vacancies in your collection.

STAR WARS CLONE WARS 2011 SERIES 02 SET, SINGLES We've also received the new assortment of Clone Wars figures, and this set of 5 includes Clone Commander Wolfe, an Aqua Droid, El-Les and new versions of Ahsoka Tano and Anakin Skywalker. We have this set of 5 listed at $74.99; we also have singles available of the new Anakin, along with an ARF Trooper, Yoda, Commander Cody, Captain Rex and more.

X-FORCE MINIMATES BOX SET We have finally received the remainder of our X-Force Minimates. This assortment includes Wolverine, Deadpool, Archangel and Psylocke, all in their X-Force outfits, and is listed at $15.99, saving you a couple of bucks off of the MSRP.

TF ENCORE RATCHET, IRONHIDE RESTOCK We have been able to restock these two classic Autobots. Each figure is priced at $19.99, so now is the perfect time to pick them up. We have a few of the Head and Arms sets left as well, so be sure to check the Accessories menu for those as well.

STAY-PUFT CAFFEINATED MARSHMALLOWS These tasty creations are also back in stock and ready to go. Each box contains 24 marshmallows and is listed at $19.99.

BigBadToyStore.com