Iron Man Mark IV & Gamera 1967 Sci-Fi Revoltech, SW DX Kubricks, Green Lantern Movie Masters at Big Bad Toy Store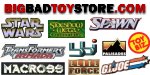 March 3, 2011 - (Sponsor Announcement) - Online retailer BigBadToyStore.com has several new items of interest to collectors:

-------------
NEW PREORDERS
-------------

SCI-FI REVOLTECH EXCLUSIVE IRON MAN MARK IV An exclusive Iron Man Mark IV Sci-Fi Revoltech figure is being released through Figure King in Japan, and we are proud to have it up for pre-order. It has recolored arms and legs along with a new chest piece, and we have this one-time release figure listed at $62.99.

1/6 SCALE MOVIE MASTERPIECE TRACKER PREDATOR WITH HOUND The latest Hot Toys figure from "Predators" is the Tracker Predator. This figure comes with all of his gear from the movie, including his Hound. This figure is listed at $209.99, saving you $20 off of the MSRP.

MARVEL UNIVERSE 3.75" 2011 SERIES 03 - CASE, SET, SINGLES A new assortment has been announced and is up for pre-order. This set includes Doctor Strange, Dr. Doom, Scarlet Spider, Falcon and Skaar, and we have it listed as a set of 5 for $49.99, with Skaar and Falcon still available singly at $11.99. The case of 12 includes two each of the five figures plus one each of Gladiator and Apocalypse, and is priced at $104.99.

GREEN LANTERN MOVIE MASTERS SERIES 02 - SET, SINGLES The second assortment of Green Lantern Movie Masters includes the movie versions of Isamot Kol and Sinestro. We have them listed at $33.99 for the set of two, and $17.99 singly.

STAR WARS DX KUBRICKS SERIES 03 - BOX, MASTER CASE The new assortment of Star Wars Kubricks includes Luke Skywalker, Obi-Wan Kenobi, Garindan, a Sandtrooper, a Tusken Raider and R5-D4, and each box of 12 incldues the pieces to build a Landspeeder for the figures to ride. We have the Box of 12 listed at $194.99, and a Master Case of 48 (4 Boxes) priced at $719.99.

BEN 10 - FIGURES, VEHICLES, ACCESSORIES Pre-orders have been listed for a wide variety of upcoming Ben 10 items. from Alien Collection figures to HyperAlien 7" figures, DVD Packs to vehicles, and even Ultimatrixes (Ultimatrices?) and Alien Arms sets, there is something for every Ben 10 fan. Be sure to check out all of the new listings.

POWER RANGERS SAMURAI - FIGURES, ZORDS, BATTLE GEAR We have also received information on upcoming Power Rangers Samurai products. We now have listings for four waves of 4" figure cases, as well as a Shogun Red Ranger 12" Figure, Samurai & ClawZord Megazords and a number of different Battle Gear items. Check out the menu at the link to see all of the new pre-orders.

TFG1 REPRODUCTION TECHNICAL SPECIFICATIONS CARD SET This new set of digitally remastered Tech Specs includes all of the 1984 release Transformers toys, with each Spec laminated for good measure. This new set is listed at $34.99, and is a great way to get all of them together at once, especially for those of us that have misplaced them over the years.

SCI-FI REVOLTECH #026 - GAMERA 1967 This new version of Godzilla's turtle friend comes with a new paintjob, jet units to display him spinning through the air and other accessories. This figure is listed at $51.99, and should arrive mid-May.

DC UNIVERSE ACTION LEAGUE 2011 SERIES 02 SET OF 4 The two-packs of these mini versions of DC's heroes and villains continue with Series 02. This assortment includes Green Lantern Tomar Re Vs. Sinestro Corps Member Low, Red Lantern Atrocitus Vs. Green Lantern Hal Jordan, Green Arrow Vs. Prometheus and Batman Vs. the Joker. This set of four two-packs is listed at $29.99.

OTONA NO CHOGOKIN HAYABUSA MUSES-C The latest spacecraft in the Otona no Chogokin sub-line is the Hayabusa MUSES-C, the first craft to land on a comet and return safely to Earth. This piece will be loaded with the detail we've come to expect from the Chogokin lines, and is listed at $309.99.

BIOSHOCK BIG DADDY ULTRA DELUXE BOUNCER WITH LED LIGHTS This new figure from NECA is a new version of the original Big Daddy figure with the drill hand, but now it will also come with LED lighting in the air mask that can change the lights from green to yellow to red, depending on how you set its mood. This new figure is listed at $20.99, $3 below MSRP.

GREMLINS MOGWAI SERIES 01 - SET, SINGLE NECA has also announced the first series of their new Mogwai line from "Gremlins" and "Gremlins 2". This first assortment includes Gizmo, George and Lenny, and is available as a set of three for $44.99, with Gizmo also available singly at $13.99. The best part of these new figures is the ability to move their eyes to look in any direction, allowing for new display options.

ANGEL COMIQUETTE This new comiquette shows the X-Man in his blue and white costume with his wings fully spread. It measures 20" tall by 29" wide and is listed at $284.99, saving you $15 off the MSRP.

PREDATOR LEGENDARY SCALE BUST This piece is done from the design of the original Predator in the first movie, and stands 16.5" tall by 10" wide by 7.5" deep. It is incredibly detailed (especially the jaws of the creature) and is listed at $329.99, $20 off the MSRP.

TOYS CITY 1/6 SCALE FIGURES Pre-order listings are now up for two new 1/6 scale military figures from Toys City. The U.S. Navy SEAL Recon Diver and British Special Forces Support Group each come loaded with authentic military gear and weaponry, and they are listed at $119.99 and $124.99, respectively.

STAR WARS 24" SUPER DELUXE CHEWBACCA TALKING PLUSH This super-deformed Chewbacca plush is a full two feet tall, and even makes the signature growling noise of the famous Wookie. This plush toy is listed at $84.99 and should arrive later this month.

GI JOE 2011 WAVE 03 - IMAGES UP A number of pre-orders now have images up. The first is wave 03 of the 2011 GI Joe figures, with pics of everything but the Jungle BAT, so take a peek at them at the link.

STAR WARS CLONE WARS 2011 SERIES 02, 03 - IMAGES UP We also have pictures available of both the new waves of Clone Wars figures, like the updated Ahsoka and Anakin figures, Clone Commander Wolfe and more - check them out and get your pre-orders in.

STAR WARS VINTAGE 2011 SERIES 02, 03 - IMAGES UP Pictures are in for the Vintage 2011 Series 02 and 03 figures, sets and cases as well. Take a look at the link for images of these great new figures.

YOUNG JUSTICE 4.25" & 6" FIGURES - IMAGES UP Mattel has released pictures of the first waves of the 4.25" two-packs and 6" figures in the Young Justice line. If you were waiting for pictures before pre-ordering, now is the time.

TRANSFORMERS UNITED - IMAGES UP Finally, we've got updated Takara images of Wheeljack, Scourge, G2 Prime and Rumble & Frenzy up, straight from Japan - take a peek!

IRON MAN 6" FIGURE SERIES 01, 02 The new 6" line of Iron Man figures is starting off with two waves back to back. Series 01 includes Iron Man Mark VI, War Machine, Hulkbuster Iron Man and Titanium Man, while Series 02 includes Initiative War Machine, Crimson Dynamo, Awesome Stealth Armor and Black & Gold Mark V. Each set of four is listed at $54.99; we also have singles listed for Iron Man Mark VI, Awesome Stealth Armor and Black & Gold Mark V, priced at $13.99 each.

BRAVE GOHKIN KOTETSU JEEG CMS Corp's newest Brave Gohkin figure is Kotetsu Jeeg. He comes with all manner of switch-out parts and accessories, and even his steed Panzeroid. This fantastic magnetized set is listed at $299.99.

PERFECT EFFECT PE-07 & PE-08 SET We now have Perfect Effect's accessories the Sun and the Night listed as their own set of two, unhampered by other figures. This set of robo-birds is listed at $69.99, and make great add-on boosters or weapons in addition to adding to the robo-bestiary.

MLB PLAYMAKERS 4" FIGURE SERIES 02 - CASE, SINGLES The second wave of 4" MLB figures has arrived. This assortment includes figures like Joe Mauer, Johan Santana, Mariano Rivera and Albert Pujols, with about half the assortment coming randomly in fielding or batting versions. We have them listed as a case of 12 at $74.99, and singly at $6.99 each.

THE BORGIAS WEAPON REPLICAS Showtime's upcoming historical show The Borgias will tell stories of the powerful Italian family, and they'll prove to be bloody if these replicas are any indication. We have Cesare's 17" Dagger, Juan's 47" Sword and Micheletto's 17" Dagger and 47" Sword, listed at $47.99, $129.99, $33.99 and $134.99 respectively.

ABC WARRIORS MONGROL VINYL FIGURE The ABC Warriors are a team of robots from the 2000 AD comic, and war is what they do. Mongrol is one of the most powerful, and he carries the remains of a comrade (now called the Mess) with him into battle. This vinyl figure is the first in the series and stands 11.8" tall, and is priced at $229.99, saving you $20 off the MSRP.

BIG DUO VINYL FIGURE This robot is the nemesis of Big O from the anime of the same name. He stands in scale with the Max Alloy version of Big O, and is listed at $174.99.

CAPTAIN AMERICA HEROCLIX The new wave of Marvel Heroclix to follow Giant-Sized X-Men is inspired by the Captain America movie and will contain Cap and a number of his allies and enemies. It is available as a ClixBrick of 10 Booster Packs, which will include the Nick Fury LMD "Buy It By The Brick" figure, and is priced at $94.99. Single Booster Packs are also available, priced at $9.99 each. In addition, a Gravity Feed Box of 24 single blind-boxed figures is available at $57.99, and each figure in this assortment will include the same sculpt from the Brick, but with a new dial and new powers.

CLASSIC SONIC THE HEDGEHOG VINYL FIGURES Two new sizes of vinyl Sonic figures are available for pre-order. We have the 5" figures in a set of 3 (Sonic, Tails and Knuckles) for $44.99 as well as singles of Sonic at $14.99. We also have a Box Set of 6 2" figures (Sonic, Tails, Knuckles, Metal Sonic, Super Sonic and Amy), priced at $26.99.

1/72 SCALE LIGER ZERO SCHNEIDER, SCHNEIDER UNIT ADD-ON SET The Liger Zero Schneider is specialized for close combat battles, and it is available as a full kit for $89.99, or as an add-on kit for your existing 1/72 Liger unit, priced at $41.99. This set includes a number of blades and is done in an orange color scheme.

MARVEL DIE-CAST CARS, PLAYSETS The folks at Marvel and Maisto have gotten together to bring die-cast cars back to Marvel playtime. We have new listings for cases of Power Racers, Trucks, Superhero Squad Cars, Super Cycles, Mini Haulers and more, along with playsets such as the Fire Station, Marvel Universe Headquarters, the Flight Deck and more. Check out all of the new items at the link.

ROCK REBEL SHOP ACCESSORIES A number of new listings are up courtesy of our new vendor Rock Rebel Shop. We have belt buckles, wallets, wallet chains, belt, handbags, necklaces, bracelets and canvas giclees from Star Wars, Universal Studios Monsters, "A Nightmare on Elm Street" and more - be sure to check out all of the new goodies.

NEW BIOWORLD MERCHANDISE Bioworld has announced many new hats, belt buckles, shirts, hoodies and more from licenses like Transformers, the Simpsons, Thundercats, Marvel
Comics and DC Comics, so be sure to take a peek at the new items by clicking on the menus at the link.

------------
NEW ARRIVALS
------------

TRANSFORMERS UNITED FIGURES We have received a small shipment of Transformers United import figures. The Wreck-Gars went quick, but we still have stock of UN-16 Blur, UN-17 Kup and UN-15 Perceptor, priced at $33.99 each. These figures each have metallic paint and/or a different deco than the Hasbro versions.

THOR MOVIE 3.75" FIGURES SERIES 01 - CASE, SET, SINGLES The first assortment of Thor movie figures has arrived. This assortment includes Battle Hammer Thor, Sword Spike Thor, Lightning Clash Thor, Shield Bash Marvel's Odin, Secret Strike Loki and a Frost Giant, and we have the set of 6 priced at $69.99. We also have the case of 12, which includes three of each Thor figure and one of each other figure, and it is listed at $104.99. Finally, we have singles listed of all three Thor figures, priced at $8.99 each.

SCI-FI REVOLTECH We have restocked our supply of the Sci-Fi Revoltech #022 Predator figure, and also received our first shipment of Sci-Fi Revoltech #024, Iron Man Mark VI. Iron Man comes with a boot jet base, alternate hands and repulsor effects, and each of these two Revoltech figures is listed at $42.99.

TRANSFORMERS GENERATIONS DELUXE SERIES 03 - CASE, SET, SINGLES *Note* many of these items just sold out due to high demand, we have just reordered and expect more stock in 10 days or so. This popular wave has finally arrived at our warehouse. We have the set of four which includes Sergeant Kup, Thundercracker, Scourge and Wheeljack priced at $49.99; we also have the case of 8 (2 of each figure) priced at $97.99. For those who are interested in single figures, we have Scourge, Sergeant Kup and Thundercracker available, with Scourge and Kup at $15.99 and Thundercracker at $17.99.

LEGO IMPORT MINIFIGURES - BAG OF 40, SINGLES We have stock available of both Side A and Side B of the Lego Import Series 03 Minifigures. Side A includes figures such as Baseball Player, Sumo and Fisherman, while Side B has Space Alien, Hula Dancer, Tribal Chief and more. Each Side is available as a random single at $3.99 or as a Bag of 40 at $134.99.

WOMEN OF THE DCU 3: POISON IVY BUST Batman's botanically-inclined opponent Poison Ivy is the next bust in the Women of the DCU line. It shows the green-skinned beauty reaching up to the sky with a lotus flower in her open hand. Ivy's bust is listed at $49.99, saving you $10 off of the MSRP.

BUCK ROGERS 8" FIGURE SERIES 01 SET The first wave of Zica Toys' new Mego-like 8" Buck Rogers figures has arrived. This first set includes the titular hero and Princess Ardala's bodyguard Tigerman, and we have the set of two TV show-inspired figure priced at $59.99.

THOR - ROLE PLAY ITEMS A small shipment of Thor movie items has arrived. We now have stock available of the Thor Sword, Helmet and Lightning Electronic Hammer, priced at $16.99, $9.99 and $19.99, respectively.

THOR - HERO SERIES 01 - SET, SINGLES We also have stock of both the set and the singles of Thor 8" Hero figures. The set of 2 includes the "Avengers Assemble" and "The Mighty Avenger" versions and is listed at $23.99; each version is also available singly at $12.99 each.

GI JOE 2011 SERIES 01 RESTOCK We have been able to restock our supply of the first was of 2011 GI Joes. This assortment includes Duke Version 06, Snake Eyes Version 08, Storm Shadow Version 06 and Cobra Shock Trooper Version 01; we have the set of 4 priced at $29.99 and the case of 12 (3 of each figure) priced at $84.99.

STAR WARS VINTAGE 2011 SERIES 01 - SET, SINGLES This popular wave has already sold out at the case level, but we still have some stock of the set of 6 (Luke Skywalker, Han Solo, R5-D4, Stormtrooper, Commander Gree and Clone Trooper), priced at $79.99. We also have stock of a number of singles from that wave as well as 2010 Series 06, such as Sandtrooper, General Grievous and Darth Vader - check out the available figures at the link.

SPIDER-MAN 2011 3.75" SERIES 02 - SET, SINGLES The second series of 2011 Spider-Man 3.75" figures includes stinger Strike Scorpion, Sewer Clash Lizard, Space Crusader Spidey and Sword Attack Spidey, and they are available as a set of four at $43.99. We also have singles available of Dive Attack Spidey, Blaster Armor Spidey, Super-Poseable Spidey and Web Winged Spidey, and they are priced at $8.99 - $9.99 each.

MARVEL UNIVERSE 2010 SERIES 02 REVISION 01, SERIES 03 REVISION 01 CASES Two case assortments of Marvel Universe figures have been restocked. Each is full of popular characters such as Archangel, Warpath, Mr. Fixit and the Vision, and each is priced at $104.99.

BigBadToyStore.com