Transformers Legends, Sci-Fi Revoltech, Sam Fisher, Ghostface at Big Bad Toy Store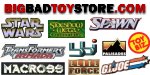 February 23, 2011 - (Sponsor Announcement) - Online retailer BigBadToyStore.com has several new items of interest to collectors:

Hi - Here is a quick update from http://www.bigbadtoystore.com about a great pile of new arrivals and many more new preorders

------------
NEW ARRIVALS
------------

TRANSFORMERS LEGENDS 2011 SERIES 01, 02 We have just received a large shipment of toys from Hasbro, and Transformers fans are sure to be happy with this one! The first chunk of figures is two waves worth of the new TF 2011 Legends assortments - waves 01 and 02. These assortments have Optimus, Megatron, Starscream, Gold Bumblebee, Prowl and Trailcutter, a few sets may be left and singles are available.

TRANSFORMERS COMBINER FIVE-PACKS 2011 SERIES 01, 02 We have also received the next two waves of Combiner 5-Packs. Series 01 includes the Dinobots and the Constructicons, and they are available singly at $24.99 per set or as a pair of sets for $47.99. Series 02 adds the new Stunticon set, which are available singly at $29.99 or in a case with one set each of the series 01 sets and two sets of Stunticons, and it is priced at $89.99.

TRANSFORMERS VOYAGER 2011 SERIES 02 - CASE, SINGLES We also have the most recent assortment of Voyager figures. This case contains two of Deep Dive and one each of Grapple and Lugnut. The case is listed at $89.99, and singles should also be available at $24.99 - $29.99 each.

TRANSFORMERS COMBINER COMMANDER TWO-PACKS 2011 SERIES 01, 02 Two waves of Combiner Commanders have arrived. Series 01 includes Heavytread and Skyhammer with their minicons, and we have them available at $14.99 each or $29.99 for the pair. Series 02 is only sold by the pair, and includes Undertow with Waterlog and Salvage with Bombburst at $29.99 for the pair.

STAR WARS COMMANDER BLY EXCLUSIVE BUST Gentle Giant's newest exclusive bust is Commander Bly in the Clone Wars Cartoon style. This piece is packed with detail and is listed at $59.99.

STAR WARS DARTH REVAN MINI BUST This character from the Old Republic era has loads of fans, and now has a bust, too. Wielding both red and purple lightsabers, Darth Revan looks ready for battle, and is listed at $53.99, saving you $6 off the MSRP.

STAR WARS DARTH VADER THE FORCE UNLEASHED MINI BUST This bust pulls its image of Vader from his battle-damaged look during the final battle, and is listed at $53.99, saving you $6 off the MSRP.

SCI-FI REVOLTECH RESTOCK We have managed to restock almost every Sci-Fi Revoltech figure released so far. From Gamera and Baragon to the Alien Queen, Jason Voorhees and the Predator, we have them available now, although they are expected to go quickly. Check out the figures at the link and get yours now.

HOT TOYS 10TH ANNIVERSARY EXCLUSIVE FIGURES We have received a second shipment of the Hot Toys 10th Anniversary figures, and have some left over this time. We have the Batman Demon & Scarecrow set listed at $499.99, with the Michael Jackson M Icon "Beat It" Figure at $299.99.

SAM FISHER FIGURE NECA's Splinter Cell: Conviction figure of Sam Fisher measures 6.75" tall and comes with a gasmask, pistol and vest. This figure is listed at $15.99, $2 off the MSRP.

SCREAM 4: GHOSTFACE FIGURE - CASE, SET, SINGLE NECA has released their Ghostface figure from the upcoming "Scream 4" movie. We have it available singly at $16.99, as a set with the Zombie Ghostface variant at $34.99, or as a case with 6 regular and 2 Zombie variants at $109.99 (saving you $34 off the MSRP).

SIDESHOW 12" GAMORREAN GUARD This new 1/6 scale version of Jabba's palace guard come with his axe, his furry toga, a polearm, multiple hands and more. We have him listed at $114.99, $5 off the MSRP.

C-3P0 1:1 SCALE LIFE SIZE BUST Everyone's favorite Protocol Droid has received his own life-sized bust. He is constructed of polystone and fiberglass and has light-up eyes and his trademark golden exterior. This piece is priced at $619.99, saving you $30 off of the MSRP.

DC UNIVERSE CLASSICS SERIES 16 CASE ASSORTMENT 2 This case contains one each of Azrael Batman, Creeper, Classic Robin (Random), Jonah Hex, Mercury, Riddler, Deathstroke and Joker, along with all of the pieces for the Collect-N-Connect Bane figure. We have it priced at $114.99.

MICHAEL KEATON AS BATMAN STATUE This piece goes back to the 1989 "Batman" movie that brought the franchise back to movie fans after decades of waiting. The statue measures 13.5" tall and is listed at $159.99, saving you $35 off the MSRP.

REAL MASTERPIECE AKECHI SAMANOSUKE HIDEMITSU 12" FIGURE This figure of the historical character is taken from the Onimusha 3 video game and comes with alternate hands, multiple different swords and weapons and an Oni Gauntlet. It is listed at $199.99, and is a great gift for fans of the game or historical characters from the East.

JLA TROPHY ROOM SINESTRO POWER BATTERY PROP REPLICA This life-sized version of the Sinestro Corps' ring-charging item comes with a yellow Power Ring. We are expecting it to arrive in the next day or so, and will be able to verify at that point, but we expect that this Lantern will light up as previous versions have done. This set is listed at $279.99, saving you a whopping $70 off of the MSRP.

TRENDMASTER VOLTRON DIE-CAST GIFT SET We have been able to secure another small quantity if this fantastic gift set from 1997. It comes with all five lions as well as their individual and Voltron weapons, and we have the set listed at $139.99.

MOTU CLASSICS We have received a small amount of this month's Master of the Universe Classics figures for our overseas and other customers. We have some of the Preternia Disguise He-Man, although he didn't come with the map (which will be available later, separately) as well as Bow, and also still have pre-orders available for the Shadow Beast, Keldor and Tytus. If you missed out on any of these, now is the time to get your name in for them.

LABYRINTH 13" PLUSH WORM RESTOCK We have received a few more of this fast-moving collectible. His cuteness is listed at $29.99, $5 off the MSRP, so grab him while you can.

WWE LEGENDS SERIES 04 - SET, SINGLE The latest series of WWE Legends includes Ax and Smash of Demolition, as well as George "The Animal" Steele, the Ultimate Warrior, Hillbilly Jim and "Mr. Wonderful" Paul Orndorff. We have them listed as a set of 6 for $99.99, and we also have leftover singles of the Ultimate Warrior, priced at $19.99.

-------------
NEW PREORDERS
-------------

BATMAN LEGACY SINGLES - SET, SINGLES We now have listed the Singles Series 01 from the Batman Legacy line. The first assortment includes Modern Age Batman, Golden Age Joker and Silver Age Mr. Freeze, and you can get them singly at $16.99 each, or as a set of 3 for $49.99.

STAR WARS CLONE WARS 2011 SERIES 02 - SET, SINGLE Just a quick update - we have added the set of five new figures (Ahsoka Tano, Anakin Skywalker, Aqua Battle Droid, El-Les and Clone Commander Wolfe), priced at $74.99, as well as the Anakin Skywalker Single, priced at $14.99.

STAR WARS VINTAGE 2011 SERIES 02, 03 - SETS, SINGLE We have also updated our listings with sets of 6 new figures each from the new Series of Star Wars Vintage figures; each set is listed at $89.99, we also have the single of the VC 45 Clone Trooper Episode II, priced at $14.99.

STAR WARS FX LIGHTSABER WITH REMOVABLE BLADE - LUKE SKYWALKER A new Removable Blade FX Lightsaber is on the way. Luke Skywalker's blue-bladed lightsaber will be available in June, priced at $114.99.

DUKE NUKEM FOREVER 7" FIGURE The game that took 'forever' is now spawning a 7" figure of the famous hero. He is wearing his standard red undershirt and blue jeans, along with a harness full of weapons and his trademark sunglasses. This figure is priced at $15.99, $2 off the MSRP.

JB-00 INFINITY WARFARE SET - RED, BLUE Junkion Blacksmith is producing two versions of their upcoming JB-00 Infinity Warfare set. This add-on set is meant to upgrade Predaking with new shoulder cannons, hands and a giant weapon that can be configured many ways, but the set may also be used with many other figures as well. We have it listed in both clear red and clear blue versions, priced at $34.99 each.

BATTLE ARMOR BATMOBILE This new entry from "The Brave and the Bold" is an old-fashioned Batmobile that comes with a number of snap-on accessories to customize into the ultimate crime-fighting vehicle. This set is listed at $19.99, and is great for young fans and older fans alike.

NEW DISNEY MINDSTYLE RELEASES Three new items are up for pre-order from Mindstyle. First is a 7" two pack of Mad Mickey and boxer Manny Pacquiao, priced at $119.99. Also priced at $119.99 is a 10" Stitch figure, done in the Tron style. Finally the Tin Toy from Pixar's shorts is also available, priced at $107.99.

THUNDERCATS 2011 We have finished listing the upcoming Thundercats figures and assortments. We have Cases, Sets and singles in a variety of lines (although some may not be available in every type of offering), including 4" Regular, 4" Deluxe, 6" Collector, 8" Classic Collector, Basic Vehicles, role-play items, vehicles and playsets. Our listings for cases should be updated by the time you read this (or soon after), letting you know what exactly comes in each assortment, with images of each to come soon after.

MARVEL BISHOUJO JEAN GREY Kotobukiya's Bishoujo line continues with this figure of Jean Grey in her Jim Lee Era outfit. This piece will make a great addition to any X-Fan's collection, and is priced at $49.99, $10 off the MSRP.

STAR WARS SILICON ICE TRAYS These two new ice trays from Kotobukiya can also be used for chocolate, Jello and other things. We have Han Solo in Carbonite and R2-D2 available, each priced at $8.99.

TRANSFORMERS MASTERPIECE RESTOCK - MP-01B, MP-02 We have got a restock shipment coming of two of the recolors of the original Masterpiece Optimus Prime. We have the MP-01B Black Optimus Prime priced at $149.99, while the MP-02 Ultra Magnus is listed at $124.99. If you're missing a trailer for either your original or Black version of Optimus, we have the iGear IG-TF004 Trailer Sets also up for pre-order, priced at $109.99 each, and each comes with a Roller unit.

1/18 SCALE HOT WHEELS ELITE FOUNDATION 1966 BATMOBILE We also have this new version of the Batmobile up for pre-order. This version comes from the 1966 television series, and we have it priced at $39.99.

NEW TONNER DOLLS A new assortment of 2011 Tonner Dolls is now up for pre-order. We have Ariel, Jasmine and two "It's a Small World" dolls from Disney, as well as Vampire Diaries, Twilight and Harry Potter Dolls. We also have six new dolls from the DC Stars collection - Catwoman, Raven, Starfire, Black Canary, Dove and a 22" Wonder Woman doll - check them all out at the menus following the link for more information.

NEW BOWEN STATUES Bowen Designs has announced four new statues. The War Machine Modern 13.5" Statue is priced at $249.99, with the Iron Man Classic Museum 13.5" Statue at $199.99, the Spider-Woman 14" Statue at $224.99 and the Cyclops Modern 12" Statue at $199.99.

NEW BOWEN BUSTS Bowen also has two new busts up for pre-order. The Thanos 7" Mini Bust shows him atop a pile of skulls with one fist raised and is listed at $84.99, while the Iron Spider-Man 10.5" Mini Bust shows him in his briefly-used costume and is listed at $86.99.

ROGUE PREMIUM FORMAT FIGURE Sideshow is producing a new statue of Rogue. This piece measures 16" tall and shows her in her yellow and green outfit, complete with brown leather jacket (real cloth, of course). She comes standing on a red and black X-Men symbol base and is listed at $284.99, saving you $15 off the MSRP.

HALO MINIMATES SERIES 03 BOX SET This new assortment includes a Khaki Armor CQB, a Cobalt Rogue, a Gold Elite Combat Armor and a Jackal Sniper. We have the set of four listed at $15.99, saving you $2 off the MSRP

CHALICE OF KALI PROP REPLICA This replica comes from "Indiana Jones and the Temple of Doom" and replicates the gruesome chalice that he forces Indy to drink from. It measures 12" tall and is listed at $189.99, $10 off the MSRP.

DC HEROCLIX GREEN LANTERN FAST FORCES SET This new six-pack of figures appears to take its sculpts from the upcoming movie, and offers Hal Jordan, Tomar Re, a Guardian, Sinestro, Abin Sur and Kilowog, each with new powers and dials. This set is priced at $13.99, $3 off the MSRP.

GREEN LANTERN MOVIE GAMES We have listed a wide variety of games from the upcoming Green Lantern movie. These games are listed from $8.99 for a new take on Dominoes to $19.99 for more traditional board games - check out the new items and pick your favorites.

GALLERY OF LIGHT ENESCO PIECES We have listed a wide variety of Enesco's Gallery of Light Disney boxes. From Nightmare Before Christmas and Finding Nemo to Fantasia, Cinderella and Mary Poppins, we have 17 new listings, priced from $74.99 to $124.99.

NEW GRAPHITTI DESIGNS SHIRTS, HOODIES A bunch of new Graphitti Designs shirts and hoodies are now available for pre-order. We have Arkham Asylum shirts and hoodies, as well as Wonder Woman, Teen Titans, Zan and Jayna, Green Lantern, Blue Beetle, green Arrow and Steel, as well as Kevin Smith Movie Jerseys. The t-shirts are priced from $17.99 - $20.99, with the Hoodies at $35.99 - $37.99 and the Jerseys at $49.99 - $52.99.

CLASSIC DOCTOR WHO – REVELATION OF THE DALEKS BOX SET This new set contains the Sixth Doctor with blue mourning cloak along with a Skaro Dalek, a Necros Dalek and Davros himself. This set will be a must-have for Dalek fans and fans of the Classic Doctor Who series, and is listed at $59.99 with an April release date.

BigBadToyStore.com