Toy Fair, Thundercats, DC, Green Lantern, Young Justice at Big Bad Toy Store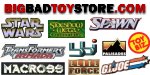 February 16, 2011 - (Sponsor Announcement) - Online retailer BigBadToyStore.com has several new items of interest to collectors:

Hi - Here is a big Toy Fair update from http://www.bigbadtoystore.com about a variety of new arrivals and a slew of excellent preorders based on information coming out of Toy Fair. Watch for many more new listings in the future as manufacturers get additional info to us

-------------
NEW PREORDERS
-------------

NEW BANDAI THUNDERCATS FIGURES AND MORE There is a new Thundercats cartoon debuting this year, and Bandai has a whole line of figures, vehicles and playsets on the way to go with it. The figures come in 4" regular versions, priced at $7.99 per figure or $89.99 per case of 12, Deluxe versions at $54.99 for a set of 4, and a 6" Collector Figure line at $47.99 for the first set of 3. There is also an 8" Classic Collector Figure Series for those that prefer the original designs, at we currently have the Series 01 Set of Lion-O and Tygra at $33.99. In addition we have listings for a set of 3 Basic Vehicles with Figures, priced at $47.99, a ThunderTank Deluxe Vehicle at $31.99 and a Tower of Omens Deluxe Playset at $41.99. Thundercats Ho!

YOUNG JUSTICE FIGURES - 6" SINGLES, 4.25" TWO-PACKS Mattel has announced these new figures as well. The first two figures in the 6" line are Robin and Artemis, and each comes with loads of accessories; they are priced at $21.99 each, or $41.99 for the set of two. The 4.25" two packs come with a mentor and a student - Batman & Robin, Ra's al Ghul & Cheshire, Flash & Kid Flash and Aquaman and Aqualad. Each two-pack is priced at $17.99, or you can pick up the set of four at $69.99.

STAR WARS ARTFX STATUES - COMMANDER CODY, BOBA FETT, IG-88 Kotobukiya is producing a new 1/7 scale figure of Commander Cody. It comes with alternate parts to be displayed either before or after Order 66, and includes a light-up Emperor Palpatine hologram just like in the movie. This figure is listed at $99.99, $20 off the MSRP. They are also reissuing the Boba Fett and IG-88 Bounty Hunter 1/7 scale figures, and they are each listed at $79.99, saving you $20 each off of the MSRP.

GHOSTBUSTERS BISHOUJO JANINE MELNITZ Kotobukiya's first non-superhero Bishoujo girl is Janine Melnitz from Ghostbusters, although she's not like any Janine you've seen before. This figure is wearing a ripped uniform and wielding a proton thrower, and we have her listed at $49.99, $10 off the MSRP.

THE WALKING DEAD SERIES 01, 02 - SETS, SINGLES McFarlane Toys has announced that they are producing figures from both versions of The Walking Dead. Series 01 comes from the comic book and includes Officer Rick Grimes, Michonne, Zombie Lurker and Zombie Roamer, while Series 02 comes from the TV series and includes Deputy Rick Grimes, Daryl Dixon, Zombie Biter and Zombie Walker. These are priced at $54.99 per set of four, and $16.99 for each single figures.

BATMAN LEGACY TWO-PACKS The first series of this new line includes Prototype Suit Batman & Lt. Jim Gordon from "Batman Begins" and Batman & Two-Face from the upcoming "Arkham City" video game. You can pick up each two pack for $32.99, or the set of two two-packs for $63.99.

GREEN LANTERN MOVIE MASTERS SERIES 01 - SET, SINGLES Mattel's line of Movie Masters from the upcoming "Green Lantern" film is up for pre-order. The first assortment includes Hal Jordan, Rot Lop Fan and Tomar Re, and they are listed singly at $15.99 or as a set of three for $44.999. They will be followed soon after by Naut Kei Loi, whole is also listed singly at $15.99.

GREEN LANTERN MOVIE BUSTS, STATUES, PROP REPLICAS DC Direct has announced a number of items from the upcoming "Green Lantern" Movie. There are busts of Hal Jordan, Kilowog, a Guardian, Tomar Re and Sinestro, each priced at $69.99 ($10 off MSRP). We also have listings for a Hal Jordan Movie Maquette at $164.99 ($30 off MSRP), 1:4 Scale Deluxe Busts of Hal and Sinestro at $99.99 each ($25 off MSRP) and a Hal Jordan Emerald Energy Statue at $164.99 ($30 off the MSRP). There is also a Power Battery Prop Replica with Ring, priced at $284.99 ($65 off MSRP), and a Power Ring Replica (singly) at $39.99 ($5 off MSRP). Check out all of the new items and grab your favorites.

CAPTAIN AMERICA: THE FIRST AVENGER MARVEL SELECT FIGURES, MINIMATES Diamond Select is producing two figures for the Marvel Select line from the upcoming movie. Both Captain America and the Red Skull are getting the treatment, and we have them listed at $18.99 each. We have also listed a set of 8 Minimates from the movie (including Cap, Bucky and more) to go along with the Army Builder Dump, and it is priced at $29.99, $6 off the MSRP.

LUKE SKYWALKER REVEAL LIGHTSABER LIMITED EDITION REPLICA This lightsaber replica that telescopes out was taken from a scene from "Return of the Jedi" that had disappeared for many years, but has now been announced to be added to the upcoming Blu-Ray version of the film. This limited edition replica is listed at $499.99, and should be released in the Second Quarter of this year.

THOR MOVIE FIGURES, ROLE PLAY ITEMS We have recently listed a good deal more figures and other items from the upcoming "Thor" movie. We have a Thor 10" Electronic figure at $23.99, a Sword & Shield set at $12.99, the Hammer of Thor at $12.99, and a Foam Sword at $16.99. We also have three new waves of 3.75" figures listed by sets, cases and singles. Each Series (02, 03, 04) adds new figures to the assortment, so be sure to check out each assortment and find your favorite characters, like Thor, Hogun, Fandral, Volstagg, Odin, Loki, Sif, the Destroyer and more. We also have Thor Deluxe Figure Series 02, and Thor Hero Series 02, so pick your favorites.

HOT WHEELS ELITE CULT CLASSICS - ECTO-1 & A-TEAM VAN We have listings up for the A-Team's signature Van and the Ghostbusters Ecto-1. Each vehicle is loaded with details at either size, and each comes in 1:43 scale at $36.99 and 1:18 scale at $99.99.

DC UNIVERSE CLASSICS SERIES 18 - SET, SINGLES This assortment has been announced, and we are happy to share the information with you. It contains Toyman (Superfriends), Black Vulcan (Superfriends), Samurai (Superfriends), El Dorado (Superfriends), Captain Boomerang (Modern) and Bronze Tiger (Classic). The set of 6 is listed at $94.99 and will include all of the parts for the Apache Chief Collect-N-Connect figure; if you're interested in specific figures we have each one listed individually at $16.99.

FORCES OF VALOR 1:18 FIGURES & VEHICLES, 1:32 VEHICLES & 1:72 VEHICLES A large number of new Forces of Valor items have recently gone up for pre-order. We have many 1:18 scale (GI Joe-sized) figures, including WWII US Army Soldiers and WWII German Soldiers, each in sets of 6 for $39.99, as well as as a set of 6 Modern US Army Soldiers at the same price, and a set of 3 Modern US Marines at $19.99. We also have a number of in-scale vehicles to go with them, including an M1A1 Abrams Tank, an M4A3 Sherman Tank and a German Tiger 1 Tank. In addition to these we have listed new die-cast and plastic items in the 1:32 and 1:72 scales, including a 1:32 German Half Tack and a 1:72 US Landing Craft (Normandy). Finally, we also have the Ages of Action 1:18 scale figure set of 5, with Samurai, Ninja, Roman Legionary, Knight Templar & Norman Knight figures, and this is listed at $41.99.

MOTU CLASSICS TYTUS, KELDOR, STANDS We were able to get a small quantity of these figures and stands for our international and other customers. We have Keldor Reissue 01 and Bow at $34.99, Shadow Beast at $44.99 and Tytus Reissue 01 at $59.99. We also have packs of the Castle Grayskull Diorama Stands at $19.99 for the pack of 5.

FINAL FANTASY DISSIDIA PLAY ARTS KAI SERIES 01 - SET, SINGLES The newest Final Fantasy game has spawned a new run of figures, done in the Play Arts Kai style. This first wave of figures includes Cloud Strife, Squall Leonhart and Gabranth, and we have them listed singly at $48.99 each, and as a set of three for $139.99, saving you $10 off the MSRP.

X-FORCE WARPATH FINE ART STATUE The latest member to receive the Fine Art Statue treatment is strongman Warpath. He stands 12" tall, and is priced at $164.99, saving you $35 off the MSRP.

STAR WARS VINTAGE 2011 SERIES 02, 03 CASES The new assortments of Vintage figures are listed and ready for ordering. Series 02 includes new figures like Fi-Ek Sirch, General Lando and Dagobah Arrival Luke Skywalker, while Series 03 has Bom Vindin, Logray and Bariss Offee. Each case of 12 is listed at $109.99.

STAR WARS CLONE WARS 2011 SERIES 02 CASE We had previously had the current Series 03 Case listed as Series 02, but it now has the correct number and Series 02 is now listed as well. This assortment includes new figures like El-Les, Clone Commander Wolfe and Aqua Battle Droid, and this case is listed at $104.99.

TRANSFORMERS SHARED EXCLUSIVE OPTIMUS PRIME VS. MEGATRON BATTLE PACK Our final new shared exclusive is a reissue of the Battle Pack that came out when the Classics line started. This version has the same decos but does not include the DVD, and is listed at $23.99.

BLACKEST NIGHT BLACK LANTERN NEKRON BUST The line has finally gotten around to the other Big Bad of the storyline, Nekron. This spirit of death comes on a black base and is listed at $59.99, $10 off the MSRP.

BLACK LANTERN 1:4 SCALE POWER BATTERY & RING PROP REPLICA SET The lantern series continues with the Black Lantern. This piece comes with a Black Ring and includes a translucent black acrylic base, and is priced at $29.99, $5 off the MSRP.

NEW AME-COMI HEROINES This month includes two recolors of popular Ame-Comi figures. Cheetah V1 has been redone in a Stealth Variant, while Zatanna V1 is in a Halloween Variant; each figure is listed at $498.99, $10 off the MSRP.

BATMAN STATUES Two new Batman statues have been listed. The Black And White line continues with a statue from Cliff Chang's artwork and is listed at $69.99, and the Batman Vampire statue comes from the Elseworlds trilogy and is priced at $79.99. Each statue saves you $10 off of the MSRP.

GREEN LANTERN EMERALD KNIGHTS DVD SINESTRO MAQUETTE A new animated set of Green Lantern Corps tales is coming out this June, and this figure is drawn from Sinestro's look in the movie. It stands 11.6" tall and is listed at $79.99, $20 off the MSRP.

UNIVERSAL STUDIOS MINIMATES Another wave of Universal Studios Minimates has been listed for pre-order. Dracula and Frankenstein are each getting a four-pack of figures, and each is listed at $15.99.

JAK & DAXTER FIGURE TWO-PACK The heroes from the Sony game franchise are now getting their own figure two-pack. They are sculpted from the in-game models, and are priced at $23.99 for the pair.

SUPERHERO SQUAD MOVIE THREE-PACKS Hasbro is releasing six different three-packs of Superhero Squad figures to celebrate the three current or future Marvel Movies. We have listings for the Detroit Steel three pack with Iron Man, War Machine and Detroit Steel, the Battle for Asgard's Vault with Thor, Loki and Destroyer, Asgardian Smash with Thor, Hulk and Odin, Battle in the Frozen Land with Thor, Sif and a Frost Giant, Raid on Enemy Headquarters with Captain America, his motorcycle and a Hydra Soldier, and Battle at the Red Skull's
Lair with Cap, Bucky and the Red Skull. Each three-pack is priced at $12.99 - $14.99, or you can pick from five different cases of four, priced at $44.99 each.

GI JOE RECOVERY AT SERPENT TEMPLE 12" FIGURE ENVIRONMENT Sideshow's newest 1:6 scale figure environment is the GI Joe Recovery at Serpent Temple. This piece measures 16.5" tall by 12" wide and 11" deep, and comes with a jungle snake and a downed satellite, complete with blinking light. We have this set listed at $189.99, saving you $10 off the MSRP.

VENOM 1:1 SCALE LIFE-SIZE BUST This new version of Venom is ready to dine, preferably on you. He measures 25" tall by 9" wide and 16" deep and has a scary maw full of sharp teeth, complete with long tongue snaking out. This piece is listed at $569.99, saving you $30 off of the MSRP.

------------
NEW ARRIVALS
------------

STAR WARS TRASH COMPACTOR BOOKEND SET This fantastic new sculpture set can be used together as a display of the famous scene, or separately to hold your books in place. One side has Han trying to brace the wall with a pole while Princess Leia looks on, while the other has Chewbacca pushing against the wall while Luke tries to escape the Dianoga's tentacle. This set is priced at $178.99, $20 off the MSRP.

VOLTRON SHOGUN WARRIORS FIGURES We have received another shipment of the Golion (Lion Force) Voltron, as well as the new Dairugger XV (Vehicle Voltron). Each figure stands almost two feet tall and is limited to just 500 pieces worldwide; we have each listed at $229.99, $20 off the MSRP.

GI JOE 2011 SERIES 02, SERIES 02 REVISION 04 - CASE, SET, SINGLES Our Hasbro restock shipment also contained a good quantity of the second wave of 2011 GI Joe figures. This set includes Destro Version 03, Low Light Version 01, Skydive Version 01 and Shadow Tracker Version 01, and is listed at $29.99 for the set of four. We also have them available as a case of 12 (3 sets) at $84.99, and singly at $7.99 - $9.99 each. Finally, we've also received a small quantity of Series 02 Revision 04 cases, which switch Low Light and Destro out for Alley Vipers, Jungle Vipers and more, and this case of 12 is also listed at $84.99.

MARVEL UNIVERSE FIGURES - CASES, SINGLES We have also received a number of cases of Marvel universe 3.75" figures, and although most of the cases are gone, we do have a few of the Series 06 Revision 01 and Series 04 Revision 01, which are priced at $104.99 each for the cases of 12. We've also got singles of many figures, including Warpath (in his red and blue costume), Union Jack, Dark Hawkeye, Kitty Pryde with Lockheed, Modern Thor, grey Hulk, Iron Patriot, Multiple Man and more - check out all of the available singles at the link.

MARVEL SUPERHERO SQUAD 2011 SERIES 01 - CASE, SINGLES This new assortment includes figures like Spider-Man & Sentry, Iron Man & Red Hulk, Hercules & Thor and more, and is priced at $84.99 for the case of 12 two-packs; we also have singles available of many of the packs, priced at $4.49 - $9.99 each.

MARVEL MINIMATES X-FORCE BOX SET This new set includes Wolverine, Psylocke, Archangel and Deadpool in their new black and grey X-Force costumes. We have this set listed at $15.99, saving you a couple of bucks off of the MSRP.

HORROR FILM PLUSHIES Funko's Plushies have branched out into famous characters from horror movies. This first assortment includes Freddy Krueger, Jason Voorhees and Michael Myers, and they are listed at $10.99 each.

THE SONTARAN EXPERIMENT COLLECTORS SET This new Classic Doctor Who box set includes the Fourth Doctor, as well as a Sontaran Field-Major and his ship. This set is listed at $64.99.

TRON: LEGACY RESTOCK We have received a small restock shipment of Tron: Legacy items. We have regular and Deluxe Identity Discs, Core Figures Series 02 sets and singles, Ultimate 12" Sam Flynn and Clu and Core vehicle Light Cycles and Light Jets - make sure to check them out and grab your favorites.

SILENT HILL 3 SCULPTURES Trims Japan has released two 1/6 scale monster statues from Silent Hill 3. We have the Valtiel piece listed at $539.99, and the Red Pyramid Thing
statue at $579.99. These creepy pieces will certainly make good conversation pieces for fans of the Silent Hill franchise.

MARVEL SELECT RESTOCK A few more Marvel Select figures have been restocked. In addition to another shipment of Juggernaut with helmet, we've also got the new Bucky Barnes Captain America, Sabretooth and the Spider-Man figure with Crushed Car base. These figures are priced at $18.99 - $19.99 each.

NFL SPORTSPICKS 25 - CASE, SINGLES Our shipment of NFL Sportspicks 25 went pretty quickly, but we've still got a few cases of 8 in stock at $79.99, along with a number of singles like Lesean McCoy, Percy Harvin, Troy Polamalu 2 and Julius Peppers, and even some Chase and Collector Level figures. Check out the available items at the link.

STAR WARS VINTAGE 2010 SERIES 06 REVISION 01 CASE OF 12 A small shipment of these figures has arrived, and this case includes Peasant Disguise versions of Padme and Anakin, along with Mace Windu, Zam Wessel, General Grievous, a Sandtrooper and more. This case is listed at $109.99 and is a great way to catch up on some recent releases.

BigBadToyStore.com