McFarlane: The Walking Dead Action Figures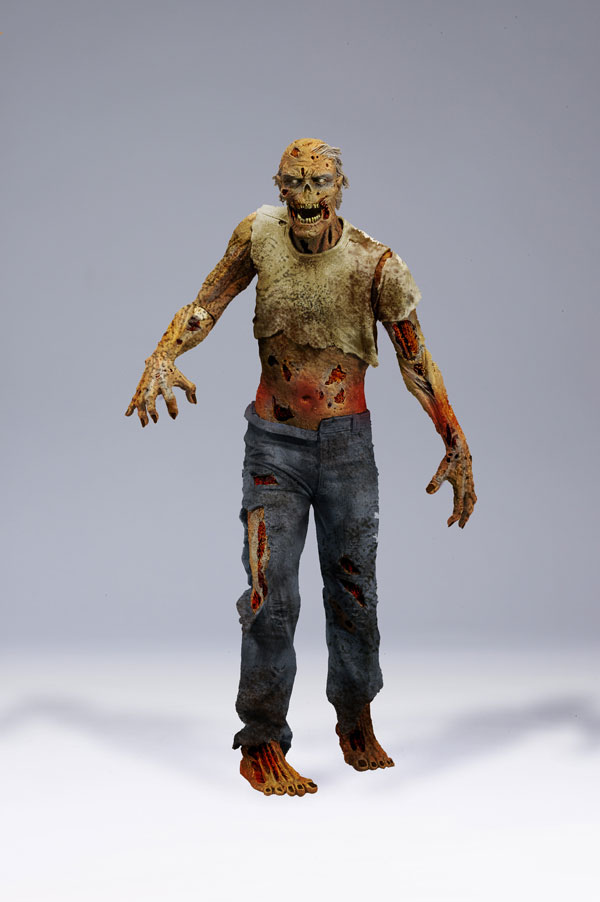 Walking Dead Zombie Lurker
McFarlane Toys to Bring "THE WALKING DEAD" Action Figure Lines to Fans Worldwide

Collectibles from AMC's original TV Series and Robert Kirkman's Bestselling Comic Coming Fall 2011

Tempe, Ariz. - February 10, 2011 - In one the most creative action figure collaborations of 2011, McFarlane Toys announced today two separate deals concerning the licensing rights of "The Walking Dead." The first is with AMC to create action figures based on the original series that premiered on the network in October of last year. The second is with Robert Kirkman to also create action figures based on the comic-book series created by him. This is the first time action figures have been produced and both lines are available to retailers this Fall.

"Kirkman has created a world that is macabre and suspenseful with deeply-drawn characters: both human and zombies," said Todd McFarlane, McFarlane Toys, creative force and CEO. "Working with the creative talents of Kirkman and AMC, we have planned figures lines that authentically represent both the television and comic series – including mind-blowing details, likenesses and play action. We want to push the envelope so that the true essence of 'The Walking Dead' series is captured."

The first series of deluxe 6-inch figures is releasing in September 2011, includes four fan-favorite characters from the Image comic book including:

THE WALKING DEAD Series 1
Officer Rick Grimes
Michonne
Zombie Lurker
Zombie Roamer

The second series of deluxe 6-inch figures is revealed in November 2011 and introduces four figures based on AMC's original drama including:

THE WALKING DEAD Series 2
Deputy Rick Grimes
Daryl Dixon
Zombie Walker
Zombie Biter

Each human figure includes multiple interchangeable accessories and several points of articulation for limitless possibility and customization. Each zombie figure features unique, gory, play action such as exploding heads and removable limbs. Figures are expected to sell for around $14.99 at retailers nationwide.

"I simply cannot contain my excitement over working with McFarlane Toys," said Robert Kirkman, creator of "The Walking Dead" comic-book series. "For nearly two decades McFarlane Toys have proven themselves to be leading the pack when it comes to making cool looking, innovative toys, and I'm thrilled that they're going to continue to do so with 'The Walking Dead."

AMC's "The Walking Dead" is based on the comic book series written by Robert Kirkman and published by Image Comics. The series tells the story of the months and years that follow after a zombie apocalypse. It follows a group of survivors, led by police officer Rick Grimes, who travel in search of a safe and secure home. The comic goes on to explore the challenges of life in a world overrun by zombies who take a toll on the survivors, and sometimes the interpersonal conflicts present a greater danger to their continuing survival than the zombies that roam the country. Over time, the characters are changed by the constant exposure to death and some grow willing to do anything to survive. AMC's "The Walking Dead" attracted 3.5 million adults in the 18-49 demo making it the most watched drama series in basic cable history for the demo. The series was nominated for a Golden Globe for Best Television Series – Drama.

About AMC

AMC reigns as the only cable network in history to ever win the Emmy® Award for Outstanding Drama Series three years in a row, as well as the Golden Globe® Award for Best Television Series - Drama for three consecutive years. Whether commemorating favorite films from every genre and decade or creating acclaimed original programming, the AMC experience is an uncompromising celebration of great stories. AMC's original stories include the Emmy® Award-winning dramas Mad Men and Breaking Bad, and entertaining non-scripted programming such as AMC News. AMC further demonstrates its commitment to the art of storytelling with curated movie franchises like AMC Hollywood Icon and AMC Complete Collection. Available in more than 96 million homes (Source: Nielsen Media Research), AMC is a subsidiary of Rainbow Media Holdings LLC, which includes sister networks IFC, Sundance Channel, WE tv and Wedding Central. AMC is available across all platforms, including on-air, online, on demand and mobile. AMC: Story Matters HereSM.

ABOUT ROBERT KIRKMAN:

Robert Kirkman is a New York Times bestselling author known for being the cultural zeitgeist of the comic book industry. Kirkman achieved superstar status in 2003 with Invincible and The Walking Dead. Kirkman's SKYBOUND imprint, under the Image Comics umbrella, is committed to fostering up-and-coming talent in the industry, and all acquisitions are hand-picked by Kirkman himself. Kirkman won the 2010 Eisner Award for Best Continuing Series for The Walking Dead. AMC's interpretation of the comic, helmed by Frank Darabont and Gale Anne Hurd, has received glowing reviews from critics and fans alike, and continues to garner the highest ratings for the network, making it a game changer for groundbreaking television on cable. For more information on Kirkman, visit http://www.kirkmania.com; http://www.facebook.com/pages/Robert-Kirkman/113215485358669 and Twitter: @robertkirkman.

ABOUT MCFARLANE TOYS:

Grammy-and Emmy-winning producer/director Todd McFarlane, creator of Spawn, is the force behind McFarlane Toys, one of America's top action figure manufacturers. 2011 marquee lines include "The Walking Dead" HALO, HALO: Reach as well as the officially licensed teams of the NFL, NBA, MLB and NHL, McFarlane Toys has become a leader and redefined the standards within the action figure industry. For complete information on this pop-culture powerhouse, visit www.McFarlane.com; http://www.facebook.com/home.php#!/pages/Todd-McFarlane/160535290657228 and Twitter: Todd McFarlane.