WB Summary: ThunderCats at Toy Fair 2011
(Bandai) 8-inch action figure
Warner Bros. Consumer Products Welcomes Back the Legendary ThunderCats With Licensing Program at Toy Fair 2011

Master Toy Licensee Bandai America Incorporated, Along With Icon Hero, Hard Hero And Mezco Lead The Way With Original Offerings Inspired By The Fearsome ThunderCats

BURBANK, Calif., Feb. 3, 2011 -- Warner Bros. Consumer Products (WBCP) will showcase an engaging and innovative line-up of licensed toys and products in support of the highly anticipated animated television series ThunderCats at the 2011 American International Toy Fair. The all-new series from Warner Bros. Animation (WBA) marks a creative collaboration with Studio 4C - one of the most vibrant animation studios in Japan - and is a 21st century re-imagining of the iconic 1980s action classic. ThunderCats will air on Cartoon Network in 2011. Global master toy licensee Bandai America Incorporated, along with licensees worldwide, will reinvigorate the nostalgic brand with enthusiasts to introduce a whole new set of fans to the beloved pop culture staple.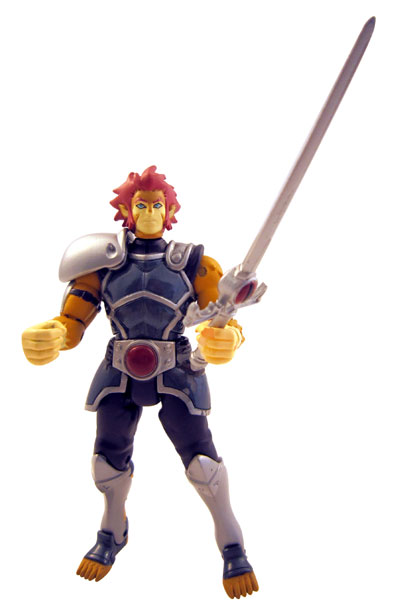 (Bandai) 4-inch action figure
"We're looking forward to reigniting the iconic ThunderCats franchise with a worldwide licensing program," said Karen McTier, executive vice president of Domestic Licensing and Worldwide Marketing for Warner Bros. Consumer Products. "We are delighted with our powerhouse licensee partnerships and innovative line-up that will surely capture the true essence of ThunderCats for both longtime fans and a new generation."

(Bandai) Deluxe ThunderTank vehicle and 4-inch Snarf figure
Global master toy licensee Bandai will unveil an electrifying toy line including must-have new toys inspired by both the new, re-imagined animated series, as well as the classic franchise. The action-packed toy line-up will include the detailed ThunderCats 4-inch figures, each of which come with a weapon or accessory and includes an exclusive embedded magnet that allows the toy to interact with and activate unique features in multiple ThunderCats products. Fans and kids alike will want to roll into battle with the Deluxe ThunderTank vehicle and 4-inch Snarf figure, and activate the iconic "ThunderCats, Ho!" sound effects. Rounding out the initial Fall 2011 line-up are the highly articulated ThunderCats 8-inch Classic Figures, based on the classic 1980s animated series, and the ThunderCats Deluxe Sword of Omens, which will allow fans to relive the adventurous series in a variety of ways.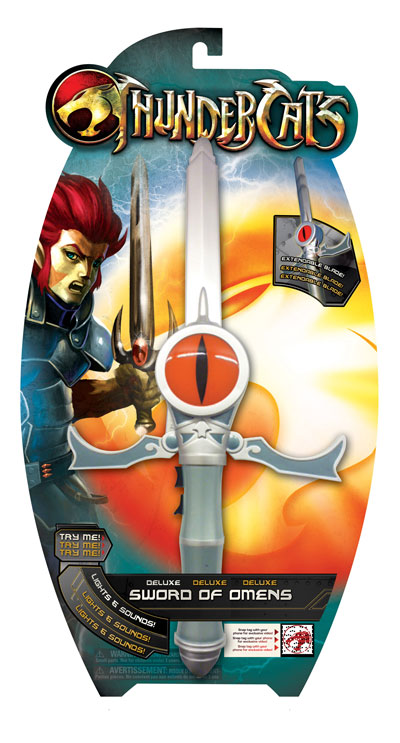 (Bandai) Deluxe Sword of Omens
"The ThunderCats toy line from Bandai America captures the thrilling sorcery and sci-fi of the new 'ThunderCats' animated series with high quality, lovingly detailed products appropriate for an active play time or a collector's shelf," said Mark Schaffner, Executive Vice President of Toys for Bandai America Incorporated. "These innovative new products will encourage imaginative play and are sure to have kids everywhere shouting 'ThunderCats, Ho!' once again."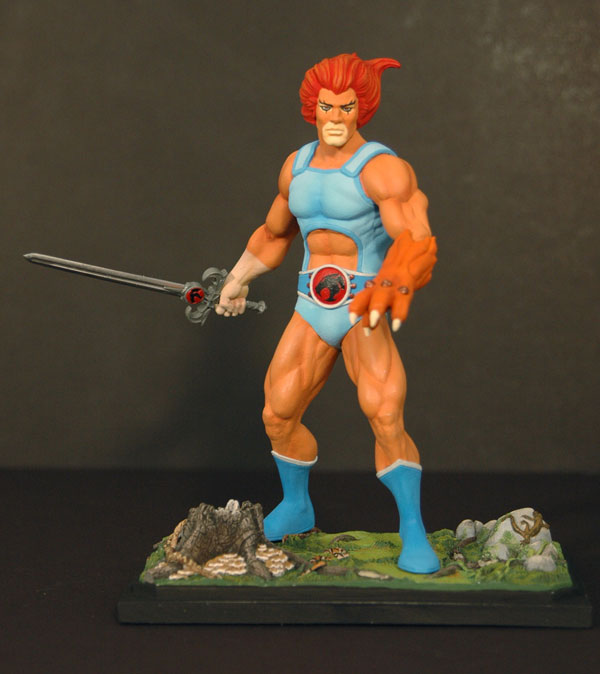 (Icon Hero) staction figure
Additional key licensees supporting the launch of the new series include Icon Hero, with 6-inch statue collectibles; Hard Hero, with limited-edition porcelain statues; and Mezco, with vinyl figures.

(Hard Hero) porcelain statue
Debuting in 1985, "ThunderCats" roared onto the broadcast air waves and created a feline frenzy with their band of cat-like heroes from the planet Thundera. Behind their fearless leader Lion-O, the ThunderCats strove to protect their new home on Third Earth and their headquarters, Cat's Lair, from the Mutants of Plunn-Darr. The ThunderCats pop culture phenomenon had its paws sunk deeply not only in television, but also toy lines, apparel and comic books. Twenty-five years later, the beloved brand is poised to make a new audience of kids feel the magic and hear the roar once again.

About Warner Bros. Consumer Products

Warner Bros. Consumer Products, a Warner Bros. Entertainment Company, is one of the leading licensing and retail merchandising organizations in the world.

About Bandai America Incorporated

A leader in developing engaging, quality toys that capture children's imaginative spirit and provide endless "Fun For The Future," Bandai America Incorporated is the manufacturer and master toy licensee of some of the most popular brands in children's toys and interactive entertainment today. The Bandai America brand family includes Power Rangers®, Ben 10™, Harumika®, Tamagotchi®, Pocoyo™ and Teeny Little Families™ among other boys, girls, pre-school and hobby product lines. Bandai America Incorporated is a subsidiary of NAMCO BANDAI Holdings (USA) Inc., an entity that resulted from the integration of Namco Ltd. and Bandai Co. Ltd. of Japan. Global interests encompass three strategic business units: Toys and Hobby, Amusement Facility and Contents. The company is headquartered in Cypress, California. Find out more about our expertise in connecting with kids in fun and fresh ways at www.Bandai.com.

About Warner Bros. Animation

Warner Bros. Animation (WBA) is one of the leading producers of animation in the entertainment industry, with an innovative and talent-rich roster boasting some of the most accomplished writers, producers and artists working today. The studio is on the cutting edge of animation technology, and has both CG and traditionally animated projects in current production and development. In 2010, WBA unveiled three new CG cartoon shorts that feature iconic Looney Tunes characters Wile E. Coyote and Road Runner, rendered in stereoscopic 3D and released theatrically, attached to Warner Bros. Pictures releases. For television, WBA currently produces Batman: The Brave and the Bold, Scooby-Doo! Mystery Incorporated, MAD and Young Justice for Cartoon Network, and will soon launch The Looney Tunes Show, ThunderCats, Green Lantern: The Animated Series and more. WBA also creates the highly successful series of DC Universe Original Animated Movies for DVD. Producing for multiple platforms including TV, digital and home entertainment both domestically and internationally, WBA is highly respected for its creative and technical excellence, as well as for maintaining the Studio's rich cartoon heritage. It is also the home of the iconic animated characters from the DC Comics, Hanna-Barbera, MGM and Looney Tunes libraries. One of the most-honored animation studios in history, WBA has been honored with six Academy Awards®, 35 Emmy® Awards, the George Foster Peabody Award, an Environmental Media Award, a Parents' Choice Award, the HUMANITAS Prize, two Prism Awards and 20 Annie Awards (honoring excellence in animation).