GI Joe 2011, Thor, Captain America, Bruce Lee, DCU Classics at Big Bad Toy Store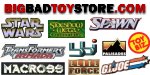 February 2, 2011 - (Sponsor Announcement) - Online retailer BigBadToyStore.com has several new items of interest to collectors:

GI Joe 2011 - Wave 03 and Wave 04 Listed:

http://www.bigbadtoystore.com/bbts/product.aspx?product=HAS19915&mode=retail
Blowtorch
Cobra - The Enemy
Cobra Commander
General Hawk
Jungle B.A.T.
Steel Brigade

http://www.bigbadtoystore.com/bbts/product.aspx?product=HAS19889&mode=retail
1x Snake Eyes Temple Guardian
1x Crazy Legs
1x Croc Master
1x Rock Viper
1x Viper
1x Iron Grenadier

---
Hi - here is a big update from http://www.bigbadtoystore.com about a ton of exciting new preorders from Hasbro and other companies, and another round of cool new arrivals.

-------------
NEW PREORDERS
-------------

GI JOE 2011 SERIES 03, 04 We have re-orders up for not one, but two new assortments of GI Joe figures. Series 03 includes Blowtorch, Cobra the Enemy, Cobra Commander, General Hawk, Jungle B.A.T. and a Steel Brigade Soldier, while Series 04 includes Crazy Legs, Croc Master, an Iron Grenadier, a Rock Viper, a Viper and Temple Guardian Snake Eyes. Each figure is available singly at $7.99 - $10.99, with Series Sets of 6 priced at $44.99.

CAPTAIN AMERICA MOVIE - HASBRO 3.75" FIGURES The first 2 waves of 3.75" figures have been listed and the lineup looks great. Choose from Captain America (Ultimates, Classic, WWII), Winter Soldier from series one, and series 2 includes: Bucky Captain America, Captain Britain, Captain America Final Mission, US Agent, Crossbones, and two figures to be disclosed. Deluxe figures at the $15 price point each have been listed and look for role play and replica items to be added shortly!

THOR MOVIE - HASBRO 3.75" & DELUXE FIGURES We've just received info about the first wave of Hasbro 3.75" figures for the upcoming Thor movie. Wave 1 includes 3 cool versions of Thor, Secret Strike Loki, Shield Bash Marvel's Odin, and one figure not yet disclosed. Cases of 12 available at $104.99, and sets of 6 at $69.99. We also have singles of Thor at $8.99. Several Deluxe scale figures are also up for preorder here

BRUCE LEE 1/6 SCALE "GAME OF DEATH" VERSION 3 BEHIND THE SCENE FIGURE Another awesome release from Enterbay - take a look at the full description on the site, overview includes: Wax configuration features two incredible likeness Bruce Lee head sculptures: Damage Edition with
"EVision" eyeball system and Smile Edition. Two sets of "The Game of Death" costume: one is normal edition and the other is Damage Edition with footprint on it. Both costumes are made with real fabric, and the overall product is more authentic. Newly developed BL Original Action Body: rubber coating action body with contractable biceps. Preorders listed at $349.99

MEZCO 14" THUNDERCATS - LION-O ThunderCats Ho! Straight from the ThunderCats' Lair on Third Earth, it's Lion-O and the legendary mystic Sword of Omens. This mega scale figure measures over 20 inches tall from the tip of his upraised, extended sword to the soles of his Thunderian boots. Featuring 7 points of articulation this mega figure is superbly detailed, perfectly capturing not only the iconic look of Lion-O as he appeared in the classic television series, but the essence, of Lion-O as he proudly raises the mystic Sword of Omens towards the heavens and roars out "Thundercats, Ho!" - priced at $34.99

DC UNIVERSE CLASSICS SERIES 18 SET We just wanted to mention that we have the set of Series 18 listed. We don't have any specific information, but the set should include all of the CnC pieces for the wave, and is listed at $94.99.

TRANSFORMERS GENERATIONS - WARPATH CASE While this wave brings us only 1 new figure - Warpath - it is packed with fantastic molds including Wheeljack, Thundercracker, Kup, and Scourge. We have Cases at $104.99, as well as sets and a few singles. Pricing on Singles is higher than we'd like because there are only 2 pieces of the new figure in the case.

MARVEL UNIVERSE 2011 3.75" SERIES 02 - CASE, SET, SINGLES This new wave of Marvel Universe figures includes Cable, First Appearance Wolverine, Apocalypse, Gladiator and Cyclops, and they are available as a set of 5 for $66.99, and FA Wolverine, Gladiator and Apocalypse are also available singly at $11.99 - $12.99. We also have the case up for pre-order, including two each of FA Wolverine, Gladiator and Apocalypse and one each of World War Hulk, Modular Armor Iron Man, Spider-Man 2099 and Spider-Woman, and that is listed at $104.99. The added figures from the case have also been restocked.

MARVEL UNIVERSE 2011 SECRET WARS COMIC TWo-PACKS SERIES 01 - CASE, SET, SINGLE The newest wave of Comic Two-Packs includes new two-packs of Wolverine & Silver Samurai and Deadpool & Taskmaster, and they are available as a set of two-packs for $36.99, with Wolverine & Silver Samurai available singly at $17.99. We also have them in a case of 8, with three of the new Wolverine pack, two of the Deadpool pack and one each of Spider-Man & Sentry, Wolverine & Captain America and Thor & Iron Man, and it is priced at $124.99.

MOVIE MASTERPIECE THOR 1/6 SCALE FIGURE Hot Toys has announced a 1/6 scale Thor figure from the upcoming movie. Featuring a sculpt based on Chris Hemsworth's head, this figure incldues his hammer (done in metal), a removable helmet, armor pieces and more. This figure is priced at $159.99, $10 off the MSRP.

JAPANESE CONVENTION & WEBSITE EXCLUSIVES - BANDAI, MEDICOM, MORE We have just listed 38 new Japanese-only exclusive items. From new and Black versions of Saint Seiya characters and SH Figuarts versions of Kamen Rider and Samurai Shinkenger characters to new Robot Damashii and Project BM figures and even some VCDs, Nendoroids, Real Action Heroes Beach Queens and more, we have something for everyone - be sure to check out the list before they're gone. Of particular note is the RAH DC Kikaider Version 1.5 with Sidemachine, a motorcycle and sidecar set - this piece is listed at $999.99, and is sure to be a popular high-end collectible.

ASSASSIN'S CREED BROTHERHOOD 1/18 SCALE FIGURES - CASE, SET, SINGLES The first of two Unimax Toy lines we have for today, the Assassin's Creed Brotherhood line is done in the 1/18 scale so familiar to collectors of GI Joe, Star Wars, Marvel Universe and more. This assortment of figures includes Cesare Borgia, the Doctor, Da Vinci, Ezio, the Harlequin and Machiavelli. We have them available as a set of 6 for $59.99 and as a case of 12 (extras yet unknown) for $89.99; Ezio is also available singly, at $9.99.

CRYSIS 2 1/18 SCALE FIGURES - CASE, SET, SINGLES The video game Crysis 2 is also receiving the 1/18 scale figure treatment courtesy of Unimax. This assortment includes a Cell Assaulter (1 per case), a NOMAD Nanosuit Version 1.0 (2 per case), a NOMAD Nanosuit Version 2.0 (3 per case), a Stalker (1 per case), a Grunt (2 per case) and a Heavy (3 per case). The Case of 12 lists for $89.99, with the set of 6 at $54.99; we also have single available of the two NOMAD units, the Grunt and the Heavy, and each is listed at $8.99.

THE SEVEN DEADLY SINS STATUES Comic artist Carlos Pacheco's new design company Geek Toys' first release will be this series of interpretations of the Seven Deadly Sins. Each statue is full of detail and all seven statues can form together into a diorama of sin; we have each statue available for pre-order, priced at $109.99 per sin.

ANGRY BIRDS PLUSH ITEMS Awesome 5" and 8" from the top selling & addictive game. Grab the standard Red version of the angry bird, or get the entire family as a set - check them out here

STAR WARS SAGA LEGENDS 2011 SERIES 03 CASE Another new wave from Hasbro features figures mainly numbered from SL24 to SL32, and includes favorites such as Boba Fett, Stormtrooper, Mace, Obi-Wan and more - $104.99 for the case.

STAR WARS CLONE WARS 2011 SERIES 02 - CASE, SET This new case features 5 brand new figures and a variety of existing. The new figures are include: Anakin Skywalker, Jedi Eeth Koth, Jedi Bariss Offee, Red Leader, Riot Control Clone Trooper - case price is $104.99

M ICON MICHAEL JACKSON 1/6 SCALE "BEAT IT" 10th ANNIVERSARY EXCLUSIVE Limited edition release in Asia that celebrates Hot Toys 10th Anniversary. We have a very limited number of preorders available at $299.99

DC MINI MEZ-ITZ - SET, SINGLES Mini Mez-Itz are 2" collectibles that are cool by design. All Mini Mez-Itz feature five points of articulation and are packaged together on a blister card! The $29.99 set features 1x Batman & the Joker, 1x Green Lantern Hal Jordan & Sinestro,1x Superman & Mongul

ARX-01 POLARIS HEAD & WEAPON UPGRADE KIT The ARX-01 "Polaris" is made from high grade plastic resin and can be used in conjunction with the TFA Arcee figure. The kit includes 1 head upgrade and 1 ion displacement pistol - figure is not included with the set. The upgrade kit ships in a clear heavy duty plastic box and also includes a file card that states the character's biography and tech specs.

GI JOE 12" STALKER Another of the original "A Real American Hero" Joes is being made in the 12" scale by Sideshow. Stalker comes with a number of switch-out body pieces, a cloth costume, military accessories, weapons and more, and is priced at $114.99, $10 off the MSRP.

RED SKULL LEGENDARY SCALE 12" BUST This bust shows Captain America's nemesis the Red Skull is a smoking jacket with a light blue cravat, with a lit cigarette in holder dangling from his mouth. This bust is listed at $189.99, saving you $10 off of the MSRP.

DRAGON AGE - SWORD REPLICAS, COASTERS & PENDANTS Epic Weapons is producing a number of items from the Dragon Age games. The first game is the inspiration for the Grey Warden's 52" Sword Prop Replica and the Darkspawn Greatsword 52" Prop Replica, with each metal sword priced at $399.99, saving you $49 off the MSRP. The are also producing a line of coasters and pendants from the upcoming sequel, with the symbols of the Chantry, the Templars, the City of Kirkwall and the House of Tides each getting entries. The coasters are 1/8" thick metal weighing 1 pound, coated in black nickel and priced at $11.99 each, and the pendants are about 1.75" across, plated in black nickel and priced at $12.99 each.

STAR WARS SFX LIGHTSABER FLASHLIGHTS We have two new Lightsaber Flashlights listed for pre-order. Both Darth Vader and Luke Skywalker versions are available, each with its own colored LED lights to brighten up the darkness. They are listed at $21.99 each, $3 off the MSRP.

DEAD SPACE 2 PLASMA CUTTER REPLICAS Epic Weapons has also announced two new full-sized replicas of the Plasma Cutters from the two Dead Space games. The Timson Tools 211-V version is listed at $229.99, $20 off the MSRP, while the Isaac Clarke's Customized Cutter is listed at $249.99, aslo $20 off the MSRP. Each comes with a die-cast carry/display case.

CARE BEARS SHARE-A-BEAR 2" MINIFIGURES The 80's revival continues with this new assortment of blind-boxed 2" Care Bears figures. They go a bit beyond the original with both old and new favorites including two Pandas in the assortment, and each box includes 25 random figures from the assortment of 32. Each box is priced at $98.99.

GHOSTBUSTERS ECTO ROD RESIN WALL HANGER This new wall piece from Solid Thought Corporation shows Slimer taking a hot-rodded Ecto-1 out for a spin, complete with flames from the engine, with the Ghostbusters symbol in the background. It measures 20" long and is priced at $79.99.

DOCTOR WHO CYBERMAN 8" MAXI BUST The line of Doctor Who 3/4 busts continues with this Cyberman piece. It shows the robotic soldier holding his weapon, and we have it listed at $64.99, $5 off the MSRP.

GOOGLE ANDROID FIGURES These new minifigures of the mascot for Google's Android phone are currently available in a display box of 16 random figures of Series 02 at $137.99, as well as a Do-It-Yourself blank at $7.99. This figure was designed by noted artist Andrew Bell, and is sure to be popular.

SCI-FI REVOLTECH #025 - CAPTAIN JACK SPARROW The endearing scalawag Jack Sparrow from the "Pirates of the Caribbean" movie series now makes his appearance in the Sci-Fi Revoltech line. This figure comes with a sinking ship base, a sword, a pistol with interchangeable hand and even a removable hat, and is listed at $59.99.

THE BIG O MAX ALLOY FIGURE This new metal version measures almost 12" tall and comes with the ability to recreate a number of the character's special attacks. The figure also includes alternate hands and a car that can be stored inside the left foot of the robot, and we have it listed at $499.99, $60 off of the MSRP.

------------
NEW ARRIVALS
------------

MP-09 MASTERPIECE RODIMUS PRIME The long-awaited next entry in the Masterpiece series has arrived. This Transformer has the ability to change between Hot Rod and Rodimus in both robot and vehicle modes with his included trailer, and he also has weapons, the Matrix of Leadership and more. We have this figure listed at $209.99 and is a great addition to any Transformers collection.

HALO: REACH SERIES 02 - CASE, SET, SINGLES The new assortment of McFarlane's Halo: Reach figures includes Carter, Elite Officer, Grunt Minor, Kat, Skirmisher Minor, Spartan CQC Custom Male - Brick Red and Spartan CQC Custom Male - White. We have them listed singly at $10.99 each, or you can pick them up as a Set of 7 for $74.99, or as a case of 8 with an extra Carter for $79.99.

DC UNIVERSE WAVE 16 Our shipment has just pulled in, while much of it is already presold, we expect limited stock of some figures to be available shortly. Get your orders in now and we will ship DCU 16 out to you very shortly.

PSYLOCKE 12" FINE ARTS STATUE Sculpted by Erick Sosa, Psylocke stands approximately 12 inches tall (1/6th scale) atop an amazing exclusive base - the severed hand of a mutant-hunting Sentinel! Every mutant in the Danger Room Sessions series is mounted on a unique Danger Room holographic environment with translucent parts that glow with a built-in LED light in the base. Psylocke is the perfect companion to Wolverine and the rest of the Danger Room series.

HALO: REACH TWO-PACKS SERIES 02 - SET, SINGLES We have also received the second assortment of Halo: Reach Two-Packs. The set of 2 includes one each of the Spartan CQC & Elite Minor and Spartan Mark V and Spartan Hazop two-packs, and is priced at $39.99. We also have each two-pack listed singly, at $20.99.

PERFECT EFFECT PX-03, PX-04, PE-05, PE-06, PE-09 A number of new robots have arrived from Perfect Effect. We have restocked the PE-09 Ninja, priced at $34.99, and also now have the Set of PE-05 Ejector & PE-06 Rewinder, priced at $59.99. The newly-recolored PX-03 Backpack is available at $16.99, as well as the set of the PX-03 Backpack and the PX-04 Ultimate Form Set, which includes PE-05 Ejector, PE-06 Rewinder, PE-07 The Sun and PE-08 The Night and is priced at $99.99 for all five pieces.

LABYRINTH - THE WORM PLUSH This cute plush figure is a larger-than-life size version of the little guy that greeted Sarah at the beginning of the Labyrinth, and he's all ready to come have tea with you. He measures 13" long by about 9" high, and is priced at $29.99, saving you $5 off the MSRP.

OTONA NO CHOGOKIN SPACE SHUTTLE ENDEAVOUR This new Chogokin version of one of the Space Shuttles features the shuttle, along with external fuel tanks, the giant booster rocket, a display base with LED lighting, astronauts with the NASA Astrovan and much more. The set must be seen to be believed, and we are offering it at $499.99, saving you $25 off the MSRP.

CRAZYDEVY RESTOCK We have received a small restock shipment of CrazyDevy custom Transformer parts. We have the CDMW-13 Aviation Brigade Custom Blast Shield with Gun at $37.99, CDMW-06 Aviation Brigade Custom Head at $31.99, the CDMW-01 Construction Brigade Custom Head at $29.99, the CDMW-15 The King's Custom Foot Plates at $32.99 and the CDMW-09 Construction Brigade Custom Barrel, Mounting Plate & Shoulder Brace Set at $26.99.

SONOKONG RESTOCK A shipment of Takara and Sonokong Transformers and related items has also arrived. We have all manner of figures in stock now, from the Japanese versions of J-Four, J-Five, Wild Ride, BuildTyphoon and more, to Korean versions of Galvatron, Beast Wars Two-Packs, Captain Shark, all kinds of Brave figures, Microman transforming figures and more. You can check all the newly-available figures at the link.

CLONE TROOPER BUST BANK This bust of a Clone Trooper from the Star Wars Prequels stands over 7" tall and is all set to guard your savings from the Separatists. He is priced at $17.99, $2 off the MSRP.

LPS PRIZED PETS SERIES 01 CASE This new case includes Guppy, Bunny & Sheepdog, Husky & Kitten, Horse & Deer, Cat & Polar Bear and Sugar Glider & Bird, and is listed at $29.99.

LPS COLLECTOR PETS SERIES 01 CASE The newest assortment of Collector Pets contains King Charles Spaniel, Flamingo & Ostrich, Snake & Iguana, Rat & Dog, Dog & Cow and Tiger and bear, and is priced at $26.99 for the case.

REPULSOR POWER IRON MAN MARK VI The first shipment of Repulsor Power figures has arrived, and although we have sold out of the War Machine figure and sets already, we still have stock remaining of the Iron Man Mark VI. This figure is about 10" tall and includes lights and speech, and is priced at $23.99.

TRANSFORMERS DELUXE RESTOCK Also in our Hasbro shipment was a small restock of TF Deluxes. We now have a small number of sets of Deluxe 2010 Series 03, with Battle Blade Bumblebee, Electrostatic Jolt, Tomahawk and Terradive, priced at $49.99 for the set. We also have singles of Battle Blade Bumblebee, Hailstorm, Ironhide and Sidearm Sideswipe, priced at $8.00 - $14.99 each.

MAMESHIBA PLUSHES The new Mameshiba line of plush beans has arrived. We have the Black Bean, Mocha Bean, Edamame (Soy Bean) and Chickpea each in stock as both a Clip-on at $4.49 and as a 6" Plush at $7.49.

THE VENTURE BROTHERS 8" FIGURES We have the first three sets of Venture Brothers 8" figures from Bif Bang Pow in stock. Series 01 includes Dr. Venture and Brock Samson, with Series 02 including the Monarch and Dean Venture and Series 03 including Henchmen 21 and 24. Each pair of figures is listed at $37.99.

GUNDAM MARKERS & COATS GSI Creos has just sent us a shipment of Markers for detailing Gundam models and figures, as well as a number of gloss and matte coating sprays and bottles. We have the markers singly and in sets of 6, and the coats come in 9 different versions - check out the available items at the link.

IRON MAN MARK IV 1/6 SCALE ARTFX STATUE Sculpted by Ryoichi Ito, Iron Man stands approximately 13 inches tall (1/6th scale) atop an exclusive cylindrical Repulsor Transmitter base. To show off the Iron Avenger's mighty power the Mark IV includes LED lights in the eyes, chest, fists, and base! In addition, the switch to activate the lights is located on the top of the base for easy activation. This pre-painted, snap-fit ARTFX Statue is easy to assemble so you can have your Iron Man Mark IV on display in no time!

MARVEL BISHOUJO EMMA FROST, SCARLET WITCH STATUES We've restocked some of the most popular Koto Bishoujo statues including Emma Frost and the Scarlet Witch at $49.99 - several other statues are in stock and we have preorders listed for some fantastic upcoming releases as well.

PATLABOR GRIFFON D-STYLE MODEL KIT From the world-renowned classic manga and anime franchise Patalabor comes the second iconic robot in Koto's new D-Style, the GRIFFON! A heavy military Labor suited for combat, the super-deformed Griffon is the perfect complement to the D-Style Ingram 1.

BigBadToyStore.com