Blackest Night, Iron Man, GI Joe, MOTU Classics at Big Bad Toy Store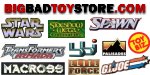 January 26, 2011 - (Sponsor Announcement) - Online retailer BigBadToyStore.com has several new items of interest to collectors:

Hi - Here is a quick update from http://www.bigbadtoystore.com about a ton of new preorders and many more new arrivals:

------------
NEW ARRIVALS
------------

BLACKEST NIGHT SERIES 08 - SET, SINGLES We now have the go-ahead to start shipping this fantastic closing set to the Blackest Night Series of figures. This assortment includes Indigo Tribe the Atom, Black Lantern Black Flash, Orange Lantern Lex Luthor and Sinestro Corps Scarecrow. Each is available singly at $16.99, or you can save some money and pick up the set of four, priced at $59.99.

DRAGON AGE: ORIGINS SERIES 01 - SET, SINGLES The first assortment from the best-selling game Dragon Age: Origins has arrived. This set includes Grey Warden Duncan, Witch of the Wilds Morrigan, "driven" General Loghain and a Genlock enemy. We have them available singly at $17.99 each, or as a set of four at $64.99 (saving you $11 off the singles price).

TRANSFORMERS DELUXE 2011 SERIES 02 SINGLES We have a number of singles left from the latest shipment of TF Deluxe 2011 Series 02. We have Bumblebee at $11.99, and Perceptor and Wreck-Gar at $17.99 each.

STAR WARS VINTAGE 2010 SERIES 06 REVISION 01 We still have this assortment available in a set of 8 (Peasant Anakin, Peasant Padme, Senate Guard, Jango Fett, Super Battle Droid, Mace Windu, Zam Wessel and Kit Fisto), priced at $84.99. We also have singles remaining of a number of the figures as well as Darth Vader, General Grievous, Obi-Wan Kenobi and a Sandtrooper, priced at $9.99 - $11.99 each.

IRON MAN 2011 SERIES 01 - CASE, SINGLES This new assortment includes figures like Storm Surge Armor Iron Man, Sonic Storm Armor Iron Man, Exosphere Armor Iron Man, a Hammer Drone, Reactor Shift Iron Man and more. We have them available as a set of 12 at $99.99; we also have singles available of a number of figures, so check out the menu to find the new pieces.

GI JOE 2011 SERIES 01, 02 The two new 2011 assortments of GI Joe are back in stock. We have the Series 01 set of 4 listed at $29.99. We also have singles available of a number of figures from each series, priced at $7.99 - $9.99 each.

STAR WARS BOBA FETT 1:1 SCALE BUST This life-size bust of everyone's favorite bounty hunter measures 30" tall by 25" wide (and 10" deep) and includes a fabric cape and hand-painted armor. This piece is listed at $749.99, saving you $50 off of the MSRP.

BLADE RUNNER BLU-RAY & SPINNER SET We've managed to get a hold of some more of these popular sets. Each includes the movie on Blu-Ray as well as a replica of the Police Spinner vehicle, and we have the set listed at $179.99.

DC ACTION LEAGUE 2011 SERIES 01 SET OF 4 TWO-PACKS This new assortment includes Firestorm & Deathstorm, White Lantern Sinestro & Green Lantern Hal Jordan, the Flash & Captain Boomerang and Superman & Bizarro, and we have them listed as a set of four two-packs for $29.99.

MACHETE 7" ACTION FIGURE This figure from the movie of the same name starring Danny Trejo comes complete with two different bloody machetes, and is sculpted with a leather vest full of throwing knives. We have this figure listed at $16.99.

DEAD SPACE SERIES 02 - SET, SINGLE NECA has also sent us our first shipment of Dead Space Series 02. This assortment includes Isaac Clarke and a Necromorph Slasher, and we have them listed as a set for $32.99 ($3 off MSRP) as well as singles of Isaac at $15.99 ($2 off MSRP). In addition, we have them listed as a case of 8 (5 Isaac, 3 Necromorph) for $109.99, $34 off the MSRP.

MARVEL SELECT - JUGGERNAUT, CYCLOPS, RESTOCK On Thursday we'll receive a shipment of the new Juggernaut figure, and this huge guy can go toe-to-toe with the Hulk and the Thing any time. We have him listed at $19.99 for the regular version, and at $39.99 for a set of the regular & Helmetless versions. In addition, we've received an X-Man to take him on, in the form of X-Leader Cyclops. He comes in regular and X-Factor costume versions, and we have them as a set of two for $39.99 as well, and also have the regular version available singly at $17.99. We have also received a restock shipment, including Magneto, Daredevil, Sabretooth, the Thing and Thor, so if you missed any of them the first time around, you can grab them now.

STAR WARS 12" BLACKHOLE STORMTROOPER RETAILER EXCLUSIVE This new figure is Sideshow's latest to be released solely through online retailers. This black-armored soldier comes with alternate hands, a thermal detonator, a blaster and a display base, and is listed at $89.99.

BODHI DHARMA 12" FIGURE This new figure of the man who introduced Zen Buddhism to China and Japan and introduced the martial arts to the Shaolin Temple comes with authentic clothing, and weapons that can change into five different forms and multiple hands for all manner of martial arts poses. This figure is listed at $114.99, saving you $5 off the MSRP.

MOTU CLASSICS - VIKOR, THE GODDESS REISSUE, ETERNIAN PALACE GUARDS TWO-PACK We have managed to get some of this month's Masters of the Universe Classics figures for our overseas and other customers. This month includes Vikor and a reissue of the Goddess (each at $34.99) along with the Eternian Palace Guard Two-Pack, which is listed at $59.99.

GHOSTBUSTERS PETER VENKMAN (COURTROOM) This new 6" figure of Peter Venkman in his courtroom suit from "Ghostbusters II" also comes with a ghost of Nunzio Scoleri, and the set is priced at $34.99.

TRANSFORMERS UNITED - SMALL RESTOCK We have received a small restock shipment of Transformers United figures. We have UN-06 Optimus Prime, UN-07 Bumblebee, UN-09 Megatron, UN-02 Bumblebee Cybertron Mode and UN-03 Cliffjumper Cybertron Mode in stock now, so grab your favorites.

MOS EISLEY CANTINA NADON'S NOOK 12" FIGURE ENVIRONMENT This version of the Cantina environment includes a smooth-sided table and two brown chairs, and is perfect for recreating the scene where Han Solo is hired by Obi-Wan to take them to Alderaan. The Nook set is listed at $84.99, $5 off the MSRP.

POP ROCKS FIGURES We have received a shipment of Funko's new POP Rocks figures. These 3.75" figures have big heads and are designed after your favorite musicians. We have Run, DMC and Jam Master Jay from Run DMC, as well as Reggae Rasta Bob Marley, Purple Haze Jimi Hendrix, and all four members of KISS, and each figure is listed at $8.99. We also have pre-orders up for two different versions of Elvis as well as Ozzy Osbourne, so grab your favorites while they're available.

HARRY POTTER GRYFFINDOR SCHOOL ROBE - ADULT SIZE, YOUNG ADULT SIZE We have received part of our shipment of Gryffindor School Robes, and have a number of the adult size in stock. This robe is perfect for costume parties or any other use you may want, and is listed at $139.99, $9 off the MSRP. We also have the Young Adult size in stock at the same price.

HEADROBOTS HOTHEAD MINI FIGURE We've just restocked our supply of Headrobots' newest figure. This version goes great with the original Hardhead or the current version, and comes with a number of large weapons to add to their firepower. This figure is priced at $34.99.

LOST 8" FIGURES SERIES 01, 02 Another shipment of Lost 8" figures has arrived. Series 01 includes Kate Austin & Benjamin Linus, while Series 02 includes John Locke & Hurley Reyes. Each Series is listed as a set of two, and each set is priced at $37.99.

WAR AXE ACCESSORY We have restocked the War Axe accessory from Corbot V. This piece is made to go with your War For Cybertron Optimus Prime (or any other 'bot who could use some extra weaponry) and is designed from his axe in the game. This accessory is listed at $14.99.

GODZILLA - MEGARO & KUMONGA VINYL REALISTIC COLOR SET Both parts of this set have arrived at our warehouse and are ready to ship out. Each figure is done in a 'realistic' color style, and the set of two is priced at $109.99.

-------------
NEW PREORDERS
-------------

NEW BISHOUJO COMIC GIRLS Two new Bishoujo girls are on their way from Kotobukiya this summer. Marvel Comics delivers the Invisible Woman in her full Fantastic Four costume, while DC brings Supergirl in a half-top and miniskirt, being chased through the clouds by Streaky. Each figure is listed at $49.99, saving you $10 off the MSRP.

STAR WARS CLONE WARS COMMANDER BLY EXCLUSIVE BUST This bust is taken from the Clone Wars show on Cartoon Network, and is set to arrive next month. We have it listed at $59.99, so grab yours before they're gone.

STARCRAFT PREMIUM SERIES 01 - SET, SINGLES Following on the heels of the Warcraft Premium figures is a new line from the hit Real Time Strategy game series, Starcraft. The first wave includes Jim Raynor, a Human Marine and Marshall, and Zeratul, a Protoss Dark Templar Prelate. We have them listed singly at $29.99 each, or you can pick up the set of two for $57.99.

JLU 2010 THREE-PACKS SERIES 02 We have just received word from Mattel that we will indeed be able to get this assortment after all. The case assortment includes two each of Batman/Joker/Gray Ghost and Warlord/Supergirl/Deimos, along with one each of Green Lantern/Manhunter/Manhunter and Superman/Livewire/Weather Wizard. We have the case of 6 three-packs listed at $99.99, with the single three-packs listed at $17.99 each.

NFL SPORTSPICKS BOX SETS McFarlane has announced two new NFL boxed two-packs. The Chicago Bears get a Dick Butkus & Brian Urlacher 2 Two-Pack, while the Pittsburgh Steelers get a "Mean" Joe Greene 2 & James Harrison Two-Pack. Each pack is listed at $22.99, with an arrival date of July 2011.

NFL PLAYMAKERS SERIES 02 - CASE, SINGLES The second wave of 3.75" NFL players is also up for pre-order. This assortment includes figures like Reggie Bush, Adrian Peterson, Tim Tebow, both Manning brothers, Rashard Mendenhall and more, and is listed at $7.99 per single figure, or at $79.99 for the case of 12.

FINAL FANTASY VII STATIC ARTS SEPHIROTH STATUE This fantastic piece is going back for another run, and should arrive this June. It stands over 14" tall and shows Sephiroth standing amidst a swirl of flames; we have it listed at $142.99, $7 off the MSRP.

REAL GHOSTBUSTERS MINIMATES SERIES 01 BOX SET The first assortment of Minimates from the "Real Ghostbusters" cartoon is to include Janine, Slimer, Ray and Egon, and is listed at $15.99, $2 off the MSRP. Don't miss out on this set, which is to arrive this May.

GHOSTBUSTERS LIGHT-UP STAY-PUFT MARSHMALLOW MAN STATUE This second light-up statue in the Ghostbusters series is Ray's wish brought to life. The friendly-faced statue stands on a base with the Ghostbusters logo, and is listed at $59.99, $10 off the MSRP.

FEMME FATALES ANNE BONNY STATUE The pirate lady is the next in Diamond's Femme Fatales statue series. She wears a leather jacket and boots over her... clothes, and wields a whip or rope of some kind, and she is up for pre-order at $34.99, $5 off the MSRP.

CAPTAIN AMERICA MINIMATES ARMY BUILDER DUMP This assortment from the upcoming movie will include 12 Minimates, with a Red Skull in Hydra outfit as well as a wide variety of Hydra soldiers, pilots and more. This set of 12 is listed at $59.99, and is set to arrive in May, in plenty of time for the movie's release in July.

CDMW-14* THE KING'S POWER PARTS CUSTOM GIANT SONIC SWORD - G1 GOLD VERSION CrazyDevy is releasing a newly-colored version of the sword for Predaking. This version will be a more bronze-colored version to match the original G1 release, rather than the gold color that they originally released. This sword is up for pre-order, priced at $21.99.

CDMW-17 COMBAT BRIGADE POWER PARTS MISSILE LAUNCHER This new set will allow your Onslaught and Bruticus to have the longer missile launchers that were shown in the cartoon. Not only that, but is will come with a specially designed launcher, and the whole set is listed at $37.99.

MICHAEL JACKSON 10" COLLECTIBLE FIGURES Two new figures in this line have been announced by Playmates. Michael in his 'Beat It' outfit and Michael in the outfit he wore for his first Moonwalk are each available for pre-order, priced at $44.99 each.

PERSEUS 22" PREMIUM FORMAT FIGURE Sideshow has announced that they are releasing a Premium Format figure of Perseus from the recent "Clash of the Titans" remake. This piece has Perseus standing atop the remains of a column, with his sword in one hand and shield in the other. This piece is listed at $284.99, $15 off the MSRP.

STAR WARS 501ST LEGION VADER'S FIST CLONE TROOPER 1:1 SCALE BUST This bust wears the battle-weathered blue and white clone armor of the 501st Legion. it stands 26" tall by 27" wide, and is constructed from fiberglass, polystone, fabric and metal. This piece is listed at $569.99 ($30 below MSRP) and requires a $60 nonrefundable deposit at the time of ordering.

THE SONTARAN EXPERIMENT COLLECTORS' SET Underground Toys' new Classic Doctor Who set comes from the Fourth Doctor's tenure and includes the Tom Baker version of the Doctor along with Sontaran Field-Major Styre and his ship. The set is listed at $64.99, and is set to arrive next month.

LUKE SKYWALKER LIGHTSABER STUNT REPLICA (ROTJ) eFX is producing a stunt replica version of Luke Skywalker's lightsaber from "Return of the Jedi". This version is used in filming and is cast in resin with metal and plastic details. This item is listed at $99.99, and also comes with a display stand.

DISNEY TRADITIONS SONATA FIGURINES & BASES We have just listed Enesco's new line of Disney Traditions Sonata figures. The line consists of six different Disney 'princesses', along with a display that can hold all six at once, and a Musical Base. When you put one of the princess figurines on the base, it plays a specific piece for each individual princess. The princess figurines are listed at $38.99 each, with the displayer at $39.99 and the Musical Base at $29.99.

GRAYS SPORTS ALMANAC 1950-2000 REPLICA This replica is a copy of the book used in the Back to the Future movies for characters to know the scores before the games happened. This version includes silver paint on the cover, and is listed at $69.99.

BATTLESTAR GALACTICA MAP OF THE 12 COLONIES Quantum Mechanix is releasing a 26" x 39" map of the Colonies from the new Battlestar Galactica Series. It was created with the help of a NASA scientist and includes data and points of interest from the planets. This map is listed at $14.99.

NFL SPORTSPICKS SERIES 26 - CASE, SINGLES We've just listed the newest wave of McFarlane's NFL Sportspicks. This assortment includes Adrian Peterson 4, Eli Manning 4, Ray Lewis 4, Wes Welker, Brandon Marshall, Terry Bradshaw and Jerome Bettis 2. We have each single listed at $11.99, or you can pick up a case with one of each plus one Chase or Collector Level figure for $89.99.

USAGI YOJIMBO STATUES We have pre-orders up now for the second wave of Usagi Yojimbo statues. They average 10" tall and include Usagi in Armor ($109.99), Lord Noriyuki ($49.99), Jei ($79.99), Kitsune ($79.99) and Zato Ino ($79.99).

DARTH VADER USB HUB WITH SOUND This new version of the Darth Vader USB Hub has different sculpting than the original, and also makes Darth's breathing sounds every time something is plugged in. This piece is listed at $37.99.

BLACKEST NIGHT INDIGO-1 BUST The leader of the new Indigo Tribe of Lanterns is being released as a bust in the Heroes: Blackest Night series. As with the other releases her bust will come with the other lantern symbols carved on the base, and shows her holding her staff and ready for battle. We have her listed at $59.99, saving you $10 off of the MSRP.

INDIGO LANTERN 1/4 SCALE POWER BATTERY & RING PROP REPLICA The Indigo Tribe may use staves instead of lanterns for their power batteries, but that wouldn't go very well with the rest of the set, would it? This set will fit in with the rest of the collectible line, and is priced at $29.99, $5 off the MSRP.

WOMEN OF THE DC UNIVERSE SUPERGIRL BUST The third series of Women of the DC Universe is now getting a Supergirl Bust, which shows her busting free from chains. This piece retails at $59.99, but we have it listed at $49.99, saving you $10.

AME-COMI HEROINE MINI-FIGURES SERIES 03 The new assortment of Ame-Comi mini figures includes Hawkgirl, Supergirl (with Streaky) and Power Girl, and we have the set of three listed at $39.99, $5 off the MSRP. We also have singles listed of Power Girl and Supergirl, priced at $13.99 each.

THE LITTLE ENDLESS PORTFOLIO This set includes 12 different 8" by 10" prints of art from the Little Endless Storybooks, done by Jill Thompson. The set of 12 is listed at $26.99, saving you $3 off the MSRP.

KABAYA GUM PLUS TRANSFORMERS SERIES 04 - GAIACROSS This new wave includes the Landcross figures redone in a new color scheme and different proportions to make a different look. We currently have them listed as random singles at $3.99 each, and also as a display box of 8 at $29.99.

ROCK ICONZ YELLOW SUBMARINE STATUES Rock Iconz is releasing a line of statues from the Beatles' movie "Yellow Submarine". We have listings up for Paul, John, George, Ringo and a Blue Meanie, each done in the animated style and each priced at $114.99.

BigBadToyStore.com