Mezco Unveils South Park Series 2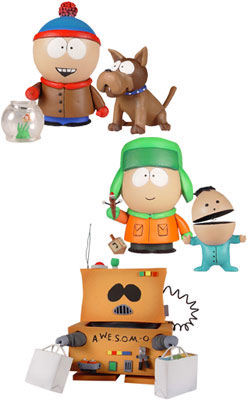 Mezco Unveils South Park Series 2

January 2011 - Mezco presents the extraordinary, the insane, the outrageous characters who are part of everyday life in the little Colorado town of South Park.

Series 2 includes: A.W.E.S.O.M.-O - with removable helmet and shopping bags. Stan – with his dog, evil goldfish in bowl, and alternate arms. Kyle - with his little brother Ike (adopted from Canada), and alternate arms. Each individually packaged.

Now in its 14th season, South Park has won both an Emmy and Peabody Award as well as a Cable Ace Award. The series is currently aired in syndication in 90 percent of television markets. Time magazine included the show on its list of the "100 Best TV Shows of All Time. South Park was also named the 12th-greatest TV show of the past 25 years by Entertainment Weekly.

Ships in early July 2011. Available at finer retailers or pre-order at http://www.mezcotoyz.com/store/detail.aspx?ID=916