Blackest Night 7, Thundercats Bengali, Marvel Select Deadpool at Big Bad Toy Store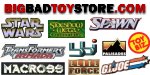 January 5, 2011 - (Sponsor Announcement) - Online retailer BigBadToyStore.com has several new items of interest to collectors:

------------
NEW ARRIVALS
------------

BLACKEST NIGHT SERIES 07 We have just received these long-awaited figures. Series 07 includes Mera with Dex-Starr, Black Lantern Superman, Black Lantern Terra with Scar and Sinestro Corps Arkillo, complete with ripped-out tongue necklace. The set is available for $59.99, or singly at $16.99 - $18.99 each.

BBTS EXCLUSIVE THUNDERCATS BENGALI STATUE This new 10" statue of the siberian tiger Thundercat wields his Hammer of Thundera and stands atop a rocky outcropping. We have him available as the Limited Edition statue (350 pieces worldwide) at $199.00, and also as the Artist Proof edition (50 pieces worldwide) at $215.00.

FANTASY FIGURE GALLERY BLACK TINKERBELL STATUE This new take on a fairy is a lot darker than the standard, with translucent bat-type wings and a deadly spear. The piece measures 11.25" tall from bottom to top and is listed at $109.99, $10 off the MSRP.

DEADPOOL 10" FINE ART STATUE This new Deadpool statue by Kotobukiya has him crouching atop an ammo crate, with guns pointed in each direction and a bazooka laying propped up nearby. The piece is listed at $149.99, saving you $25 off of the MSRP.

AERIAL TEAM APPENDAGE ADD-ON KIT This add-on set turns your Energon (,etc.) Aerialbot set into a truer, more accurate form of Superion. It includes parts that transform into weapons and accessories for the various planes, and they form feet, hands and more for the gestalt version. This set is listed at $69.99, and if this shipment is anything like the previous ones, these sets are sure to sell out quickly.

MP-M02 MASTERPIECE MOVIE BUMBLEBEE - JAPAN EDITION This Japanese version is painted yellow to match the character on screen, and includes a number of special features such as light-up eyes and cannon in robot mode, light-up cannons in vehicle mode and a battle mask. This import version of Bumblebee is listed at $159.99, and stock is moving fast.

TRANSFORMERS UNITED Our first shipment of the import version of the Generations line has arrived, and have been very popular. These figures have style differences from the Hasbro versions, from metallic paint to different colored accessories and detailing. A few figures have already sold out, but we've still got stock of Cliffjumper, Straxus, Megatron, Optimus Prime and more - take a look at the menu and grab your favorites before they're gone.

BATMAN 13" FIGURE - JUSTICE This new 1/6 scale version of the Dark Knight is designed from his look in Alex Ross' Justice miniseries. Done in black and grey with a serious look on his face, he comes with alternate hands, a batarang and a display base, and is listed at $84.99, saving you $15 off of the MSRP.

MARVEL SELECT DEADPOOL - SET, REGULAR SINGLE, VARIANT SINGLE The Merc with a Mouth has arrived at our warehouse. This assortment included more of the variant maskless figure than what was originally to be shipped, so we now have that version available singly as well. We have the regular version listed at $17.99, the variant at $21.99 and the set of both at $39.99.

MARVEL SELECT MAGNETO Magneto has also been received at our warehouse, and like Deadpool we have received a number of additional variant helmetless singles. Like his fellow release, we have the regular version listed at $17.99, the variant at $21.99 and the set of both at $39.99.

MARVEL UNIVERSE 2010 SERIES 06 - CASE, SET, SINGLES This long-awaited series has finally arrived. The set of 5 includes Thanos, Constrictor, Iron Man 2020, Dark Hawkeye and Yellowjacket, and is listed at $69.99; we also have a case of 12 with returning favorites and more, priced at $99.99. Finally, we have singles available of all of the new singles except for Thanos, priced at $14.99 each. in addition to the new singles, we have plenty of previous figures as well, like Team X Wolverine, Iron Spider-Man, Ghost Rider, Juggernaut and more, so check out all of the available figures and grab your favorites.

AME-COMI CATWOMAN VERSION 01 PURPLE SUIT VARIANT, ARTEMIS This version of Catwoman is wearing a shiny purple leotard and boots, and has her whip held above her head, curling to the floor. Wonder Woman's fellow Amazon Artemis is wearing black armor with green clothing and has a broadsword, with her wild red hair flowing. Each piece is listed at $49.99, saving you $10 off of the MSRP.

MICHAEL KEATON AS BATMAN 5.75" BUST Before Christian Bale, Val Kilmer or George Clooney, Michael Keaton set the bar for portraying the serious version of Batman in the movies. DC Direct has released a bust of him from the 1989 "Batman" film, and it is listed at $69.99, $10 off the MSRP.

DOCTOR WHO - ELEVEN DOCTORS TARDIS BOX SET For anyone who may have missed this item the first time around, we have got a small quantity back in stock. This box set is designed like the TARDIS and contains action figure versions of all eleven Doctors, and is priced at $99.99.

COVER GIRLS OF THE DC UNIVERSE BATGIRL STATUE This statue is almost 9" tall and depicts the classic Barbara Gordon Batgirl with her cape-let spread behind her. This porcelain piece is priced at $84.99, saving you $15 off of the MSRP.

FARM BOY LUKE SKYWALKER MINI BUST Gentle Giant's Star Wars bust series continues with Luke Skywalker in his original "farm boy" look. In this version he has his newly-found lightsaber stretched upward to the sky, and he is priced at $53.99, $6 off the MSRP.

MARVEL MINIMATES WAVE 37 - SET OF 8 The newest assortment of Minimates includes Professor X in his hoverchair with Warpath in his X-Force Outfit, the six-armed version of Spider-Man with the Lizard, the Thing with a Doombot and variant Trenchcoat Thing with a Doombot. This set is listed at $29.99, $6 off the MSRP.

HALO: REACH JUN PLAY ARTS - KAI, EMILE, NOBLE SIX Jun and Emile have joined her Noble Six in Series 01 of the Play Arts Kai Halo: Reach figures. The Jun figure comes with alternate hands, a grenade and a sniper rifle, while Emile has alternate hands, an ammo vest, a grenade and a shotgun, and Noble Six comes with alternate hands, a grenade and his standard gun. Each figure is listed at $49.99.

DC COMICS 75TH ANNIVERSARY SUPER DELUXE KUBRICK SET This set includes Batman and Superman figures and friends from a variety of movies and cartoon series, and is priced at $84.99, saving you $15 off of the MSRP.

IRON MAN 2 COMIC FIGURES SERIES 04 SINGLES This assortment includes figures like Guardsman, Modern Iron Man, Whiplash, War Machine, Arctic Iron Man and more - take a look at the available figures and mix and match the ones you need.

BATMAN SLOT CAR TRACK SET This set takes its cues from the 1960's Batman TV series, and has Batman & Robin in the Batmobile racing against the Joker in his '59 Cadillac Goon Car. It includes 28 feet of track and is listed at $114.99.

BATMAN BLACK & WHITE STATUE - ARKHAM ASYLUM BATMAN - 108 The next statue in the Black & White series is designed from Batman's look in the Arkham Asylum video game. Standing 7.25" tall, he is priced at $69.99, saving you $10 off of the MSRP.

DC UNIVERSE ONLINE STATUES - BATMAN, CATWOMAN The Caper Crusader and his feline ally-enemy are the most recent releases in the DC Universe Online series. Designed by Jim Lee, these statues stand 7.5" (Batman) and 7.25" (Catwoman) tall, and are priced at $69.99 and $64.99 respectively, saving you $10 each off the MSRP.

HALO MINIMATES SERIES 01 SET This new set of Halo Minimates includes Master Chief, UNSC Marine 2, a White Spartan Scout and a Cobalt Elite Assault Armor. Each figure comes with a weapon, and the set of 4 is listed at $13.99, saving you a couple of bucks off of the MSRP.

CDMW-12 MASTER COMMANDER POWER PARTS 20" SWORD This new replacement sword for Fortress Maximus or any of his analogues is so large (almost 21"!) that it has to come in three separate pieces and must be assembled. It is priced at $69.99, and looks fantastic in the hands of Fort Max and other TFs.

SAMURAI RANGERS - RED, GREEN, BLUE We've received a small shipment of Power Rangers Samurai figures, and although we're already sold out of sets, we have got singles left of the Red, Blue and Green Ranger figures. Each figure stands 4" tall and comes with two weapons, and each is listed at $8.99.

BTS-03 G1 PRIME MATRIX OF LEADERSHIP RESTOCK This fast-selling set is now back in stock. Not only does it include the Jetpack, alternate hands, the clear orange axe and more, but our set comes with a BBTS exclusive clear blue version of Prime's rifle as well. This set is listed at $21.99, and looks great on the G1 Prime or his mold-sharing brothers.

JLU 2010 THREE-PACKS SINGLES We have received a replacement shipment for the original assortment, and although we have been told we will not be able to get the Warlord or Gray Ghost three-packs, we have now got stock available of the Green Lantern/Manhunter/Manhunter, Despero/GL/Katma Tui, Batgirl/Penguin/Nightwing and Livewire/Superman/Weather Wizard three packs, priced at $15.99 - $26.99 each.

-------------
NEW PREORDERS
-------------

MOVIE MASTERPIECE 1/6 SCALE IRON MAN MARK V Hot Toys has announced their latest figure from "Iron Man 2", the Iron Man Mark V. This version comes with swappable chest plates, an alternate battle-damaged arm, alternate hands, the armor suitcase and more, and is currently listed at $199.99, although that price may decrease once a domestic supply is found.

CRAZYDEVY CDMW-16 SEA BRIGADE POWER PARTS CUSTOM HEAD CrazyDevy has branched out to a new gestalt, the Seacons. Their first upgrade piece is a new head for Pirahnacon, with light up eyes and a slimmer sculpt, and we have it listed at $29.99.

STAR TREK EXPEDITIONS GAME NECA and Wizkids are releasing their first Star Trek Heroclix game. This self-contained set is for 1-4 players who work together to solve a mystery, which changes with each playthrough. The set includes clix for Kirk, Spock, McCoy and Uhura as well as the Enterprise and a Klingon Battle Cruiser from the 2009 movie, and the set is priced at $44.99, $5 off the MSRP.

PERFECT EFFECT TRANSFORMER ACCESSORIES - PE-05 & PE-06, PX-03, PX-03 & PX-04 A number of new listings are up for Perfect Effect TF add-ons. We have the PX-03 Backpack, which is a red and blue recolor of the Shadow Pack and is a great way to add the other figures to your larger Classics characters, and is priced at $16.99. The PX-03 & PX-04 Ultimate Form Set adds Ejector, Rewinder, the Sun and the Night to the Backpack (the former are new versions of Blaster's cassettes, while the latter are recolors of later exclusive tapes) and is priced at $99.99. Finally, we have also listed the PO-05 & PE-06 set, which includes Ejector and Rewinder by themselves, and is listed at $59.99.

DC UNIVERSE CLASSICS SERIES 17 - CASE OF 8 We have now listed a case assortment for the upcoming DCUC Series 17. This assortment includes White Lantern Hal Jordan (may possibly be randomly replaced with the Black Lantern version, but we don't have verification of that at this time) along with Violet Lantern Wonder Woman, Indigo Lantern the Atom, Blue Lantern the Flash, Sinestro Corps Scarecrow, Orange Lantern Lex Luthor, All-Star Martian Manhunter and All-Star Superman. This case is priced at $114.99 and is to contain all of the pieces to assemble the CnC Anti-Monitor figure.

MLB SPORTSPICKS SERIES 28 - CASE, SINGLES The first of two new Sportspicks assortments this week is the MLB Series 28. This wave includes Andre Ethier, Buster Posey, David Wright 2, Jason Heyward, Kevin Youkilis 3, Mariano Rivers 3 and Ryan Howard 2, and they're available singly at $11.99 each or as a case with a Chase or Collector Level figure for $84.99. This wave also have a Mass Assortment version, with singles of Cliff Lee, Carl Crawford and Adrian Gonzales, with each figure listed at $11.99.

COLLEGE FOOTBALL SPORTSPICKS SERIES 03 - CASE, SINGLES This series includes popular stars of today, in their college football uniforms. This assortment includes Adrian Peterson 2, Beanie Wells, Charles Woodson, Joseph Addai, Ndamukong Suh, Tim Tebow and Troy Polamalu, and each is available singly at $11.99 or as a case with a Chase or Collector Level figure at $84.99.

GUNDAM 1/48 SCALE MEGA CHAR'S ZAKU II The second in the Mega Scale line of 1/48 model kits has been listed. This time, it is Char's red Zaku II, a perfect foil to the previously-released RX-78-2. It stands 14" tall when completed and is listed at $129.99. Be sure to check out the Gundam directories for other new listings - we just listed 38 new and returning sets, like the 08th MS Team RX-79 vs Zaku II set, a restock of many 1/144 scale Seed and Seed Destiny kits, and 7 EcoPla kits, which are black kits of familiar Gundams made out of remolded leftover sprues from previous kits.

EVANGELION 2.22 YOU CAN NOT ADVANCE DVD, BLU-RAY The second movie in the rerelease of the Evangelion tetralogy has been listed for pre-order. This movie includes updated animation as well as new characters and more, and we will have it on DVD for $29.99, and on Blu-Ray for $34.99.

FUNKO POP ROCKS FIGURES Funko is expanding their 3.75" figure line with POP Rocks, a new series starring the biggest names in music. The first figures to be listed include Jimi Hendrix, two versions of Elvis, the members of KISS, Bob Marley, Ozzy Osbourne and the members of Run DMC. Each figure is listed at $8.99. While you're at it, be sure to check out the Plushies of Run and DMC, as well as Wacky Wobblers of KISS and Elvis Plushies, each under their menus.

NEW BIF BANG POW! 8" FIGURES - LOST, VENTURE BROTHERS, TWILIGHT ZONE We have listed two waves each of Lost, venture brothers and Twilight Zone Bif Bang Pow! 8" Mego-like figures. Lost Series 03 includes Jacob & the Man in Black, while Series 4 includes Sawyer & Juliet. Venture Brothers Series 03 has Henchmen 21 & 24, and Series 04 includes Hank venture & Dr. Girlfriend. Twilight Zone new sets include the Doctor & Henry Bemis and Talkie Tiny & Willy; each set of two is listed at $44.99.

DOCTOR WHO MAXI BUST SERIES 02 - THE MASTER, CAPTAIN JACK Two new 8" maxi busts are on their way allowing you to add more Doctor Who characters to your shelf. This wave of 3/4 length busts includes the Doctor's nemesis the Master in his newest incarnation, along with ally and Torchwood leader Captain Jack Harkness. Each of these busts is priced at $64.99, $5 off the MSRP, and should arrive this April.

HARRY POTTER - SLYTHERIN SCHOOL ROBE REPLICAS Following on the popularity of the Gryffindor releases, Museum Replicas has announced that they will release Slytherin School Robes as well. We have them in Adult and Young Adult sizes, and they are listed at $139.99, saving you $10 off the MSRP.

KISS DESTROYER MODEL KITS Round Two is releasing four new model kits based off of the looks in KISS' Destroyer tour. Gene, Paul, Ace and Peter each have their own 1/10 scale model where they are standing on a rock base, and the four model kits fit together to make a great KISS display. Each kit is listed at $29.99.

MARUSAN TOYS VINYL GODZILLA FIGURES Marusan Toys' latest series of Godzilla vinyl figures is limited to 200 pieces each, and includes Godzilla 1954, Godzilla 1955, Anguirus 1955, Gamera and Flying Gamera. The figures range from 8" - 12", and each is priced at $59.99.

SCHLEICH FIGURES - SMURFS BOX SETS, BAYALA, HISTORICAL WARRIORS We've listed a number of new items from Schleich. We have new historical warriors and animals under the New Heroes line of historical figures, new elvish and faerie figures under the Bayala lines and Smurfs Multi-Pack Box sets representing different decades in their directory. Check them all out and grab your favorites.

ELECTRIC TIKI ANIMATED LADIES STATUES - TINKERBELL, PRINCESS DAPHNE Electric Tiki has started a new line of Animated Ladies statues from various fantasy stories. The first two entries are Tinkerbell from Disney's "Peter Pan" and Princess Daphne from the Dragon's Lair video game. The pieces stand 12" and 14" tall respectively, and each statue is listed at $179.99, saving you $20 off of the MSRP.

BigBadToyStore.com