15% Off Year End Sale & 50% Off Graphic Novels at Big Bad Toy Store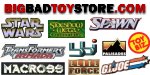 December 27, 2010 - (Sponsor Announcement) - Online retailer BigBadToyStore.com has several new items of interest to collectors:

Hi - Here is a quick update from http://www.bigbadtoystore.com

-------------
YEAR END SALE
-------------

2010 comes to an end and we'd like to wrap up the year with one last sale. From now until January 1st - save 15% on everything except 'New' and 'Preorder / Backorder' items. Graphic Novels are on sale for 50% off - this sale will end on January 1st. Just search or browse for your favorites to view items with sale pricing.

Thanks for making 2010 a great year - we truly appreciate your patronage and look forward to bringing you more fantastic new items in 2011.

Thanks!

BigBadToyStore.com