Hot Toys Predator, DC Direct, DC Retro 3, Greedo at Big Bad Toy Store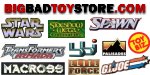 December 23, 2010 - (Sponsor Announcement) - Online retailer BigBadToyStore.com has several new items of interest to collectors:

------------
NEW ARRIVALS
------------

HOT TOYS MOVIE MASTERPIECE BERSERKER PREDATOR This new 1/6 scale figure comes from the "Predators" movie and comes with multiple blades, trophies, interchangeable hands and mandibles and much more. We have this figure listed at $189.99, saving you a few bucks off of the MSRP.

DC RETRO ACTION SERIES 03 - SET, SINGLES The DC Retro Action Series 03 are also done in the Mego style, and this assortment includes Wonder Woman, Cheetah, Captain Cold and the Flash. They are also available singly at $20.99 each and as a set for $79.99.

GHOSTBUSTERS RETRO ACTION SERIES 01 - SET, SINGLES These 8" cloth costume figures are done in the Mego style and take their designs from the animated series. We have Ray Stanz, Peter Venkman, Winston Zeddemore and Egon Spengler available as a set of 4 for $79.99 as well as singly at $20.99 each.

TRANSFORMERS DESERT DECIMATION LEGENDS BOX SET This set of 4 is a shared exclusive and includes Legends class versions of Ironhide (Black), Ratchet (dusty), Bonecrusher and Deep Desert Brawl. The set of four is listed at $17.99, saving you a couple of bucks off of the MSRP.

BLACKEST NIGHT SERIES 06 - SET, SINGLES The long-awaited Series 06 of DC's Blackest Night assortment has finally arrived. This series stars the Lantern Deputies Star Sapphire Wonder Woman and Blue Lantern Flash as well as Green Lantern Hal Jordan and a Black Lantern Hawkgirl for them to tussle with. We have them available as a set of four for $59.99 ($16 off MSRP) and singly at $16.99 - $19.99 each.

PERFECT GRADE STRIKE FREEDOM GUNDAM These sets are going fast, but we've got a few yet available. This huge set is packed full of detail and must be the largest Perfect Grade Gundam model kit ever. It is priced at $279.99, $20 off the MSRP.

12" GREEDO Sideshow has released their version of the Greedo 12" figure. This one comes with his blaster, a tasty beverage and other accessories as well as interchangeable hands, and is priced at $84.99, saving you $5 off the MSRP.

"TEMPLE OF DOOM" INDIANA JONES 1/4 SCALE PREMIUM FORMAT FIGURE Sideshow has also released their newest Indiana Jones statue. This Premium Format figure shows him as he appeared in "Indiana Jones & the Temple of Doom" and shows him with a machete in one hand and the Sankara Stones in the other. The statue measures 20" tall and is listed at $279.99, $20 off the MSRP.

CRAZYDVEVY RESTOCK We've been able to restock a small quantity of CrazyDevy items. We now have new stock of the King's Sonic Sword, Cassette Robot Power Parts - Rumble, and Construction Brigade Forearms as well as older items - take a look at the available items at the link.

MARVEL UNIVERSE 2011 SERIES 01 RESTOCK We've received another shipment of this great new wave, and just wanted to let our customers know that, in addition to the case, set and regular singles of this assortment being in stock, that we also have the shortpacked figures in stock as singles as well. Captain Marvel, Spider-Woman and Doc Samson are all in stock as singles, priced at $10.99 each.

HALO MINIMATES WARTHOG VEHICLE SET This new set comes with a Warthog that can fit three Minimates figures, as well as an exclusive light green Minimate figure to drive it. This set is priced at $12.99, $2 off the MSRP.

LPS COLLECTIBLE PETS 2010 SERIES B5 - CASE, SINGLES The final LPS Collectible Pets wave of 2010 has arrived. This assortment includes Cat & Skunk, Mouse & Elephant, Giraffe & Bird, Yorkie & Ferret and Toucan & Bird, and we have them available singly at $7.99 each, or as a case of 6 (with the Rhino) for $29.99.

GI JOE 2010 RESTOCK We have been able to get a number of cases of GI Joe 2010 3.75" figures to restock our singles. We have figures like Snake Eyes Version 05, Beachhead, Firefly, Dusty, the Jungle Viper and more available right now, so check the link for in-stock figures and mix and match your favorites.

-------------
NEW PREORDERS
-------------

TRANSFORMERS GENERATIONS 2011 SERIES 03 - CASE, SET, SINGLES We have listed a new assortment of TF Generations figures. This assortment includes Sergeant Kup, Scourge, Thundercracker and Wheeljack, and we have them listed as a set of 4 for $49.99 and a case of 8 (two each) for $97.99. We also have singles listed of each figure, with Kup and Scourge at $15.99 and Thundercracker and Wheeljack at $17.99 each.

DC UNIVERSE CLASSICS SERIES 17 IMAGES This assortment has now been revealed as a Blackest Night assortment. It includes White Lantern Hal Jordan (as well as a Black Lantern Hal Jordan variant), along with Blue Lantern the Flash, Indigo Lantern the Atom, Violet Lantern Wonder Woman, Orange Lantern Lex Luthor and Sinestro Corps Scarecrow. We have each figure (including the variant) available singly at $16.99 each, as well as our set of 7 including the variant and all of the pieces to assemble the Anti-Monitor CnC figure, at $104.99.

PREDATORS SERIES 03 SET OF THREE The newest assortment from NECA includes the brand-new Predator Hound from "Predators" as well as the Masked Classic Predator from the original movie and the Elder Predator from "Predator 2". Each figure including the Hound will include good articulation, and we have them listed as a set of three figures for $47.99, with an estimated Spring release.

SCI-FI REVOLTECH IRON MAN MARK VI The newest announcement from the Revoltech guys is the Iron Man Mark VI figure. This piece should arrive in the Spring of next year and includes multiple hands as well as a jet effect base to go under his boots. We have this figure listed at $42.99, and he's sure to be popular with fans of the comics and the movies.

STAR WARS VINTAGE 2011 SERIES 01 - CASE, SET, SINGLES The first new Vintage assortment of 2011 is up for pre-order. This assortment includes new figures of a Clone Trooper, Luke SKywalker (Ep IV), Han Solo (Ep IV), R5-D4 (Ep IV), a Stormtrooper and Commander Gree. We have them listed singly at $13.99 each, or as a set of 6 for $79.99. We also have the case of 12 listed at $104.99, which includes one each of the six listed figures as well as Darth Vader, Anakin Skywalker and more.

GEARS OF WAR SERIES 06 - SET, CASE, SINGLES The newest wave of Gears of War figures includes Kantus Priest, Skorge, a COG Soldier with new articulation and a Boomer Mauler, and we have them available as a set of 4 for $69.99, as well as a case of 14 (5x Skorge, 4x Priest, 3x Cog, 2x Boomer) for $184.99 ($66 off MSRP!). We also have singles listed for all but the Boomer, priced at $16.99 - $17.99 each.

DEAD SPACE SERIES 02 - CASE, SET, SINGLE The second assortment of Dead Space figures has also gone up for pre-order. This assortment includes a new version of Isaac Clarke with light-up visor and a Necro, and is listed as a set of 2 for $32.99 and as a case of 8 (5x Isaac, 3x Necro) for $109.99 ($34 below MSRP). Finally, we also have singles of Isaac available for $15.99 each.

STAR WARS EXPANDED UNIVERSE EXCLUSIVE TWO-PACKS SET OF 4 We have pre-orders up for the new exclusive set of 4 Expanded Universe Comic two-packs. This assortment includes Deliah Blue & Darth Nihl, Jarael & Rohlan Dyre, Montross & Jaster Merell and Baron Soontir Fel & Ysanne Isard. We have them available as a set of 4 for $69.99, with some singles also available at $17.99 each.

SEVEN DEADLY SINS STATUES - PRIDE, GLUTTONY Geek Toys is producing a new series of 7" statues based on the Seven Deadly Sins. The first wave includes Pryde, a girl with gouged-out eyes in front of a broken mirror and Gluttony, a large man who likes his food. Each statue is listed at $99.99, saving you $10 off of the MSRP, and all seven statues will fit together to make a diorama in the end.

BRIGHTEST DAY SERIES 03 - SET, SINGLES DC Direct has announced their new items for the month, and our first listing is for the Brightest Day Series 03 figures. After initial reports that two White Lantern figures would be in it, a switch has mixed it up and given us Jade, Aqualad, Hawk and Dove. We have them available as a set of 4 for $64.99 ($11 off the MSRP) and some singles available as well at $17.99 each.

AME-COMI HEROINE SERIES - WONDER WOMAN VERSION 3, BIG BARDA Two new Ame-Comi ladies are also up for pre-order. This new version of Wonder Woman is in a new futuristic outfit, while Barda is done up like a space pirate; each figure is listed at $59.99, $10 off the MSRP.

BLACKEST NIGHT SAINT WALKER BUST The head Blue Lantern Saint Walker is the next in the Blackest Night bust line. He stands 5.75" tall and is listed at $59.99, a saving of $10 off the MSRP.

BLUE LANTERN 1/4 SCALE REPLICA This month's 1/4 scale battery and ring replica set is also from the Blue Lantern Corps. As usual, this set includes a clear display base (blue, this time) and is listed at $29.99, $5 off MSRP.

JL TROPHY ROOM - RED LANTERN POWER BATTERY PROP REPLICA If a full-size version is more to your liking, we've also got the full-size Red Lantern Power Battery listed. This version also comes with a ring, which causes the battery to glow, and it is priced at $299.99, saving you $50 off of the MSRP.

GREEN LANTERN HONOR GUARD RING PROP REPLICA We also have restocked the pre-orders on the Green Lantern Honor Guard Ring listing. This new version includes ribbed sides, and is listed at $29.99, $5 below MSRP.

DC DYNAMICS JOKER STATUE Not wanting to let Batman have all the fun, the Joker has pushed his way into this statue line. This piece shows him coming up out of a cloud of green smoke that is spewing out of a smiley-faced bomb. This statue stands 13.5" tall and is priced at $154.99, saving you $40 off of the MSRP.

DC UNIVERSE ONLINE STATUES - ZATANNA, SOLOMON GRUNDY This month's entries in the DCU Online series include magic-wielder Zatanna and super-strong undead Solomon Grundy. Zatanna stands 7" tall and is priced at $74.99 ($10 below MSRP), while Solomon Grundy stands 7.25" tall and is listed at $77.99 ($12 off MSRP).

THANOS 14" STATUE The mad Titan Thanos is getting a 14" museum style statue from Bowen Designs. He doesn't have his Infinity Gauntlet, but he is wielding a Cosmic Cube instead, and he is priced at $259.99, saving you $15 off of the MSRP.

ONIMUSHA 3 AKECHI HIDEMITSU 1/6 SCALE REAL MASTERPIECE FIGURE The samurai warrior Hidemitsu Akechi is getting his own Real Masterpiece 12" figure from his appearance in Onimusha 3. This version will include multiple swords and weapons, interchangeable hands and more, and is priced at $199.99.

DCU ACTION LEAGUE 2011 SERIES 01 SET OF 4 DC's Action League is a line of cute mini-figures similar to the Superhero Squad and Galactic Heroes lines. The first assortment we will be carrying is to include two-packs like Flash & Captain Boomerang, Hal Jordan & White Lantern Sinestro, Batman & the Joker and more, although the exact assortment has not yet been set. We have them as a set of four two-packs for $29.99.

HALO R/C 14" WARTHOG NKOK continues its line of HALO Universe Remote Control Vehicles with the Warthog. This vehicle measures 14" long and can seat a number of figures, with a driver and a gunner included. This vehicles is priced at $47.99, and should arrive in April.

BigBadToyStore.com