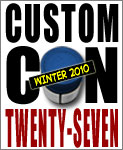 December 13, 2010 - CustomCon 27 Day One is online!

The Day One batch of galleries includes:
Unmade A.V.E.N.G.E.R.S. A.S.S.E.M.B.L.E.D. – Part 1 by jakey-jake
Super Hero Squad – Marvel MAX by Lucretia Hall
Masters of the Universe Man-at-Arms and Ram Man by Pablolobo
The ActorJez Collection – Super Powers
Marvel Legends Hydra Dreadknought Build-A-Figure Series by CRobTheCreator
Nintendo Super Smash Heroes by Rust This World
---
Take a look back at the previous CustomCon events.