Doctor Who, Hot Toys Tron Legacy, LDD 21, Holiday Sale at Big Bad Toy Store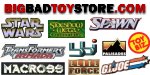 December 8, 2010 - (Sponsor Announcement) - Online retailer BigBadToyStore.com has several new items of interest to collectors:

------------
HOLIDAY SALE
------------

We still have over 3600 items on our holiday sale menu priced from 20% to 80% off - over 800 items are priced at 50% off or more. We've just refreshed the sale menus today - take a look here:
http://www.bigbadtoystore.com/bbts/content.aspx?content=18

-------------
NEW PREORDERS
-------------

HEADROBOTS: BLOOD THE DARK WARRIOR UPGRADE KIT This new set by Headrobots includes a head with two skull-like faces, a helmet and two chromed swords to upgrade your Voyager Bludgeon figure. The swords can also be used with the original Pretender Bludgeon, and the whole set is listed at $16.99. Don't miss out on this fantastic new set from Headrobots!

TRON LEGACY MOVIE MASTERPIECE LIGHT UP LIGHT CYCLE & SAM FLYNN Hot Toys has also announced a 1/6 Scale Light Cycle with Sam Flynn figure from "Tron: Legacy". This piece will include light-up features and details from the movie, and is listed at $279.99, saving you $20 off of the MSRP.

LIVING DEAD DOLLS SERIES 21 CASE OF 5 The newest assortment of Living Dead Dolls is subtitled "Things with Wings" and includes Pixie, Sunday, Desmodus, Tenebre and Absynth, We have the case of 5 listed at $99.99, saving you $30 off the MSRP for the case.

SPIDER-MAN 3 - MOVIE MASTERPIECE 1/6 SCALE SPIDER-MAN FIGURE This new figure from hot Toys comes directly from the movie and has Spider-Man in his silver web-pattern outfit. The figure comes with a number of interchangeable hands and costume parts, as well as a number of web-strips for using in different poses. This figure is listed at $144.99, $5 off the MSRP.

MEGAMAN/ROCKMAN - ROLL-CHAN (ROLL) PLASTIC KIT FIGURE Kotobukiya's line of Megaman plastic Kit figures continues with Mega's sister, Roll. This figure comes with two different outfits and three faces, and is listed at $44.99

NEW IMPORT BANDAI JAPAN EXCLUSIVES We have listed a variety of new Japanese exclusive items from Bandai. We have the Kamen Rider DX Sound Capsule Gaia Memory Collection at $299.99, the Super Robot Mazinger in Mazinkaizer SKL Colors at $94.99, the Kamen Rider S.H. Figuarts Double Cyclone Joker Gold Extreme Exclusive figure at $94.99, the Kamen Rider SIC Diend figure at $144.99, the Robot Damashii Fafner Mark Drei figure at $94.99 and the Saint Cloth Myth Black Pegasus and Black Andromeda Exclusive set at $249.99. You can see these and other new exclusives at the link.

GI JOE 2011 - TWO NEW ASSORTMENTS We've just listed two new case assortment of GI Joe 2011 figures. Both Series 02 Revision 03 and Series 02 Revision 04 include a nice variety of Cobra army builders as well as a mix of GI Joe team members, and each case of twelve is priced at $84.99.

NEW BOWEN MARVEL STATUES We've listed three new statues from Bowen Designs. This crop includes a Jean grey 12.5" statue in her X-Factor outfit, a Modern Sabretooth 12" statue and a Winter Soldier 12" statue. Each piece is listed at $213.99, saving you $12 off each statue.

UFC ULTIMATE COLLECTOR SERIES 05, LIMITED EDITION SERIES 05 Round 5 has announced their latest waves of UFC Ultimate Collector figures. The regular assortment includes Shane Carwin, Thiago Silva, Vitor Belfort, Nate Diaz, and regular and Championship editions of Mauricio "Shogun" Rua. We have these figures available as a set of 6 for $79.99, and we also have singles remaining of most figures at $14.99 each (with Championship Rua at $19.99). The Limited Edition version of this wave includes Shane Carwin, Thiago Silva and Vitor Belfort; each includes a ring cloth outfit, each is available singly at $20.99 or in a set of three for $59.99.

STAR WARS "REVENGE OF THE JEDI" DIORAMA This new diorama from Sideshow show the scene where a vengeful Anakin Skywalker decimates the Tusken Raider camp to take revenge for his mother's death. We have it listed at $279.99, saving you $20 off the MSRP for the piece.

FRIDAY THE 13TH PART III JASON VOORHEEES PREMIUM FORMAT FIGURE The killer of Camp Crystal Lake is back in this new Premium Format figure from Sideshow. The statue stands 23" tall and shows Jason in his hockey mask, axe in hand. The statue is listed at $264.99, $15 off the MSRP.

DOCTOR WHO DALEK PARADIGM FIGURES - SET, SINGLES The reborn Dalek race from Season 5 of Doctor Who comes to life in these figures. This assortment includes the White Supreme Dalek, the Yellow Eternal Dalek, the Blue Strategist Dalek, the Red Drone Dalek and the Orange Scientist Dalek, and these are available individually at $17.99 each, or as a set of five for $79.99.

DOCTOR WHO - SEVENTH DOCTOR FIGURE Underground Toys is also releasing a new version of the Seventh Doctor, Sylvester McCoy. This figure will be wearing a cream colored jacket with hat and carrying his umbrella, and is listed at $19.99 with a January release date.

KAIZOKU SENTAI GOUKAIGER - FIGURES, ZORDS, MORE The toy lineup from the newest Power Rangers series has been listed for pre-orders. This series has the Rangers as pirates, with the ability to use the powers of previous Rangers through the use of Ranger Keys. We have listings available for the new Megazord Kaizoku Gattai DX GohKaiOh (at $94.99) as well as his helper zords Majidragon ($39.99, also available as a set with GohKaiOh at $149.99) Patstriker ($44.99) and Gao Lion ($74.99). We also have vinyl figures of the five Rangers, role-play items and more.

ASSASSIN'S CREED II EZIO BROTHERHOOD FIGURINE Gamebuzz has announced a new PVC figurine of Ezio. This figure stands about 9" tall with details taken directly from the game, and is listed at $33.99.

SILENT HILL 3 - 1/6 SCALE STATUES Konami has partnered with Trims Japan to produce two 1/6 scale statues from Silent Hill 3. These Japan-only figures are done by a fine eye with superior attention to detail, and we have the 1/6 Scale Red Pyramid Thing listed at $579.99, with the 1/6 Scale Valtiel priced at $539.99.

ABBYSHOT CLOTHING We have listed a number of new replica clothing items from Abbyshot. We have a Kingdom Hoodie and Enigma Trench Coat from Kingdom Hearts, a GIG Shrug jacket from "Ghost In The Shell", Jenova Trench Coat and Squall Jacket From Final Fantasy, a Vereen Jacket from "Wolverine", a Foxhound coat from MGS and a Max Jacket from "Mad Max". Each comes in various sizes and shows sizing for men or women (based on design). You can check out these new designs and more at the menus under the link.

DRAGON 1/6 SCALE PANZER TANK Dragon has announced a new die-cast 1/6 scale Panzer Kpfw.II Ausf.B Tank to go with your 1/6 scale figures. This piece is loaded with detail and is listed at $599.99. Check out the pics at the link for more information.

LEGEND OF ZELDA TWILIGHT PRINCESS 1/4 SCALE WOLF LINK & MIDNA STATUE This new statue shows Link in his Wolf form with his helper Midna astride his back. The piece measures 15" tall by 15.5" long and is listed at $334.99, $15 off the MSRP.

GRENDIZER - NEW DIE-CAST FIGURES AND PLAYSETS High Dreams is releasing a number of new Grendizer items. We have listings for the Metaltech 01 Die-Cast Grendizer - Manga Color Version at $46.99, the Metaltech 01+ Die-Cast Spaizer at $94.99, a Deluxe Box Set of the two previously-mentioned items at $139.99, and a Grendizer Waterfall Base Die-Cast Set at $74.99.

DEAD CELL - IRIS BRANHAM, ACCESSORY KITS Triad Toys is releasing a new figure for the "Dead Cell" line. This 1/6 scale figure is named iris Branham and is a deadly lady with a crossbow; she is listed at $89.99. We also have two different Zombie Survival Packs listed; each one includes three different 1/6 scale items/weapons and is listed at $14.99.

NEW GRAPHITTI DESIGNS BLACKEST NIGHT ITEMS We have new listings up for a number of Blackest Night apparel. We have hoodies with Blue Lantern Flash Symbol, Brightest Day, Black Lantern Symbol and Blue Lantern Symbol, along with a Blue Lantern Flash Symbol T-shirt - take a look at all of the new items at the link.

NEW MAD ENGINE SHIRTS Mad Engine has also announced a new crop of shirts. We have new designs for Marvel, Spider-Man, Star Wars and "Married With Children", and you can see them all at the various menus at the link.

HARRY POTTER SWEATERS We have listed pre-orders for a number of Harry Potter Gryffindor sweaters from Diamond Toymakers. We have Cardigans and Pullovers for both men and women in a variety of sizes, priced at $74.99 to $84.99 each.

------------
NEW INSTOCKS
------------

TF DELUXE 2011 SERIES 01 - SET, SINGLES Another shipment of this popular wave has arrived, and although we are sold out of Special Ops Jazz and Turbo Tracks singles, we still have singles of Mindset and Fallback, priced at $10.99 and $9.99, respectively. We also have all four available as a set, priced at $49.99.

ROBOT CHICKEN FIGURES Jazwares has shipped us their Robot Chicken figures. We have the 10" electronic Robot Chicken with sound effects and lights, and it is listed at $22.99 ($3 off MSRP). We also have Series 1 of the figures, which includes the Mad Scientist and Robot Chicken as well as the Humping Robot with Washing Machine, and they are priced at $29.99 for the set.

TF DELUXE 2010 SERIES 04 - CASE, SET, SINGLES This wave of TF Deluxe figures includes Rescue Ratchet, Axor, Battle Blades Bumblebee, Tuner Skids and Ironhide, and we have them listed as a case of 8 (2 of each except one each of Tuner Skids and Ironhide) priced at $99.99. We also have Rescue Ratchet and Axor available as a set of 2, priced at $33.99, and singles available of BB Bumblebee, Tuner Skids and Ironhide, priced from $8.00 to $13.49 each.

MARVEL UNIVERSE SINGLES We have just received another shipment of Marvel Universe 3.75" 2011 Series 01, and although all of the sets from the case are already spoken for, we still have a number of singles in stock. Currently we have singles available of Extremis Iron Man, Original Captain America, Modern Thor, Modular Armor Iron Man, Spider-Man 2099 and World War Hulk, each priced at $4.00 to $9.99. These figures would make great stocking stuffers for kids or collectors.

BLACKEST NIGHT SINESTRO CORPS MONGUL DELUXE FIGURE The latest Blackest Night figure to arrive is the Sinestro Corps version of Mongul. He's a huge recolor of the Infinite Crisis, and he wears yellow rings on each of his fingers and thumbs. This figure is priced at $22.99, saving you $7 off the MSRP.

SUPERMAN: NEW KRYPTON SERIES 01 - SET, SINGLES This new assortment of figures comes from the recent "New Krypton" Superman storyline and includes Superman in his military uniform, as well as Superwoman, Mon-El and Brainiac. We haev them listed as a set of 4 at $64.99 ($11 off the MSRP), and singly at $16.99 - $20.99 each.

TMNT TURTLE FACE T-SHIRTS & HOODIES These new Ripple Junction shirts and hoodies are all done in green, with the face and bandana of a Turtle on each. You can choose from Leonardo, Donatello, Raphael or Michelangelo on either a t-shirt (priced at $18.99 each) or a hoodie (priced at $41.99 each). These would also make great holiday gifts for any Turtles fan, young or old.

BigBadToyStore.com