Holiday Sale, Green Lantern Classics, Sci-Fi Revoltech at Big Bad Toy Store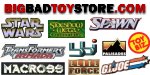 December 2, 2010 - (Sponsor Announcement) - Online retailer BigBadToyStore.com has several new items of interest to collectors:

Hi - Here is a quick update from http://www.bigbadtoystore.com about more great new arrivals, exciting new preorders, and a new Holiday Sale!

------------
HOLIDAY SALE
------------

We've further reduced pricing on about 1000 items and have a total of 3500 items priced between 20% and 90% off our list prices! There are tons of older Transformer, Star Wars, and Marvel figures and a big mix of other figures, statues, busts and collectibles. Please take a look at the sales menus below:
http://www.bigbadtoystore.com/bbts/content.aspx?content=18

------------
NEW ARRIVALS
------------

GREEN LANTERN CLASSICS SERIES 01 - SET, SINGLES This first series of Green Lantern Classics has been very popular, and although our entire first shipment of cases has sold through, we've still got a number of sets of six (Kyle Rayner, Mongul, Sinestro Corps Members Maash/Low, Black Lantern Black Hand, Black Lantern Abin Sur and a Manhunter) with all of the pieces to create the Arkillo CnC figure, priced at $89.99. We also have singles available of Black Lantern Abin Sur, Mongul, Black Lantern Black Hand, Manhunter and Kyle Rayner, priced at $16.99 each. We also have another shipment of cases coming, so feel free to enter your pre-order now, before they're gone, too.

SCI-FI REVOLTECH - ALIEN QUEEN, RADON (RODAN) Two new Sci-Fi Revoltech releases have just arrived. Figure #18 is the Alien Queen from the Alien movies, and this large figure is priced at $57.99. She was accompanied by #19 Radon, a Godzilla figure known in the U.S. as Rodan, who is listed at $42.99.

IRON MAN 2 1/6 SCALE MOVIE MASTERPIECE WAR MACHINE The newest "Iron Man 2" figure from Hot Toys is the War Machine Movie Masterpiece figure. This figure has a Don Cheadle head sculpt, multiple light-up hand pieces, light-up eyes and chest pieces, multiple weapons and more. This figure is listed at $174.99, $5 off the MSRP, and we are expecting another shipment soon.

SLAVE LEIA ANIMATED MAQUETTE This new statue shows a seductive Leia in her gear as Jabba's slave sitting back-to-back with Salacious B. Crumb on a dais designed to fit the decor of Jabba's throne room. This statue is priced at $89.99, saving you $10 off of the MSRP.

NFL SPORTSPICKS SERIES 24 We have received a small restock shipment of NFL Sportspicks Series 24, and have a few cases of 8 and sets of 8 left, priced at $79.99 each. We also have a number of singles in stock including a few Collector Level singles; check out the link for pricing on these figures.

PREDATORS SERIES 02 - SETS, SINGLES Our first shipment of Predators Series 02 figures has arrived. We have singles available of the Tracker Predator and the Unmasked Berserker Predator, priced at $15.99 each; we also have a limited number of sets of three left, which adds the Classic Battle Damaged Predator to the previous two, and is priced at $44.99, saving you $12 off the MSRP.

DOCTOR WHO 2010 SERIES 03 SET, SINGLES The new assortment of Doctor Who 5" Figures includes new figures such as the Silurian Warrior Alaya and Silurian General Restac and Underhenge versions of a Cyberman and a Roman Auton. We have these figures available as a set of 8 (with other returning favorites) for $129.99, along with singles of the Smiler, Vampire Francesco and both Silurians, at $16.99 each.

TRANSFORMERS AUTOBOT ALLIANCE - BRIMSTONE, ELITA-1, HUBCAP We have received a small shipment of Autobot Alliance import TFs. This shipment included Elita-1, priced at $32.99, along with Hubcap and Brimstone, priced at $19.99 each.

RED SONJA & SNAKE MICHAEL TURNER RESIZED EDITION STATUE This new version stands about 9" tall and shows the heroine standing triumphant over her ophidian foe. This piece is done from the art of Michael Turner, and is listed at $69.99, saving you $10 off of the MSRP.

MARVEL LEGENDS EXCLUSIVE TWO-PACKS We have been able to get a hold of a small quantity of the new exclusive Marvel legends Two-Packs. We have listings up now for the Hulk & Valkyrie, Winter Soldier & Black Widow and Winter Soldier & Variant Grey Suit Black Widow sets, priced at $46.99 each.

STAR TREK REPLICAS - COMMUNICATOR, PHASER Diamond has shipped us two Star Trek replica items. the Communicator features voices of a number of ST:TOS characters and a metal grill, and is listed at $29.99 ($5 off MSRP), and the 40th Anniversary Black Standard Phaser has lights and sounds and is also priced at $29.99 ($5 off MSRP).

MARVEL SELECT THING RESTOCK We've been able to procure a small amount of Marvel Select Thing figures. This gigantic piece is perfect to battle the huge Hulk figure or any Fantastic Four enemy, and is priced at $17.99, saving you a couple of bucks off the MSRP.

-------------
NEW PREORDERS
-------------

TRANSFORMERS UNITED E-HOBBY THREE-PACKS We have listed the upcoming E-Hobby Transformers United Three-Packs for pre-order. The Autobot Pack includes a clear blue Hod Rod (from the scene where he becomes Rodimus Prime) as well as a battle-damaged Kup from Quintessa and Scrap Heap, a Junkion with a newly-sculpted head. The Decepticon pack includes clear purple versions of Scourge, Cyclonus and Galvatron, from the scene where Unicron gives them new bodies; each three-pack is listed individually for $119.99, or you can save $10 and get all six figures for $229.99.

NEW SCI-FI REVOLTECH - PREDATOR, GAIGAN (GIGAN) Kaiyodo has announced the two new figures in their Sci-Fi Revoltech line. First up is the Predator from the movie of the same name, and he comes with a removable helmet, retractable knife and more. Releasing with him is Gaigan, a Godzilla character known in the States as Gigan, who comes with a Petrochemical plant and name plate. Each figure is listed at $42.99, and both are scheduled to arrive in February.

BBTS EXCLUSIVE HEADROBOT - ALTERNATE UNIVERSE HOTHEAD MINI FIGURE The newest Big Bad Toy Store Exclusive is from the Headrobots line. This new Alternate universe version of Hothead is a resculpt with new coloring for the robot as well as the weapons, and more accurately matches the original design of Hardhead's headmaster partner. This figure can go with either the G1 or Universe version of Hardhead, and is listed at $30.99.

BRUCE LEE HD MASTERPIECE LATS SPREAD 1/4 SCALE STATUE A second 1/4 scale HD Masterpiece Bruce Lee statue has been listed. This piece is inspired by his search for physical well-being and is done in the Lats Spread pose. We have this statue listed at $199.99.

DOCTOR WHO CLASSIC - PERI & SIL TWO-PACK This new two-pack comes from the "Vengeance on Varos" episode. It includes the Doctor's companion Peri and Sil, a mining envoy who uses a water tank to regulate his body temperature. This two-pack is priced at $39.99, and should arrive later this month.

GIANT-SIZED X-MEN HEROCLIX - CLIXBRICKS, SINGLE BOOSTERS, SUPER BOOSTERS We have listed the Giant-Sized X-Men wave of Heroclix for pre-order. This wave is the first to include the Super Boosters with larger figures; each ClixBrick includes 8 regular boosters plus one Super Booster, and is priced at $89.99. We have also listed single boosters at $9.99 each, and a limited number of single Super Boosters, at $19.99 each.

GI JOE COBRA COMMANDER DIORAMA Sideshow's latest GI Joe diorama shows Cobra Commander standing in front of his throne, flanked by two of his Crimson Guardsmen. This piece is 12" tall by 11" wide by 10" deep, and is priced at $279.99, saving you $20 off of the MSRP.

STAR WARS MINI LIGHTSABER DARK SIDE DETECTOR The latest Uncle Milton Star Wars Science item is the Dark Side Detector Mini Lightsaber. This kit allows you to build your own lightsaber while learning about electricity, and the lightsaber blade will turn blue if you are a Light Side person, or red if you belong to the Dark Side. This item is priced at $14.99, and will arrive in February.

NEW MOEBIUS MODELS A number of new 2011 model kits from Moebius have been listed. We have a "Land of the Giants" 1/128 scale Mini Spindrift at $13.99, a Bela Lugosi Deluxe Dracula model kit at $44.99, a 1/6 Scale BSG Cylon Centurion at $26.99, a 1/8 scale Elvira lounging on a sofa at $31.99, Iron Man Mark VI and the Black Widow in 1/8 scale at $31.99 and $26.99 respectively, 1/25 scale Dark knight Tumbler, Batpod and figures at $26.99, $17.99 and $13.99, and a 1/144 Space Clipper Orion III from "2001: A Space Odyssey" at $26.99.

CDMW-15 THE KING'S POWER PARTS CUSTOM FOOT PLATES CrazyDevy continues to upgrade Predaking with their latest set, which includes two new giant feet to replace the originals. We have this set priced at $32.99, and it should be arriving soon.

THE SIMPSONS 3" MINI FIGURES SERIES 02 DISPLAY OF 20 This second assortment of 3" Simpsons figures continues the line with pieces like Milhouse, Patty, Selma, the family as Mariachi Band Members, Moe, Groundskeeper Willie and more. This box will include 20 pieces from the 24 piece lineup, and is priced at $194.99.

GT-01I & GT-01R HEAD & ARMS SETS Gear4Toys has announced two new pieces to make your G1 Ironhide and Ratchet figures closer to matching their cartoon forms. Each piece fits into the top of the robot mode and includes an LED-lit head as well as arms and a chromed weapon, and we have them listed individually at $29.99 each, or as a set of two for $56.99.

NEW GRAPHITTI DESIGNS T-SHIRTS We've listed a number of new t-shirts this past month from Graphitti Designs. From Hellboy and the BPRD to DC Comics, Green Lantern and more, we have something for everyone - check the menus at the link for all the new offerings.

NFL SPORTSPICKS TWO-PACKS 2010 - CASE, SET We have just listed two new assortments of two-packs, parts of which were formerly Target exclusives. Series 02 includes Brett Favre & Brett Favre 3, Tony Romo & Felix Jones and two of Shonn Greene and Mark Sanchez, and we have it listed as the case of 4 at $49.99. We also have the Series 04 assortment which includes Brett Favre & Brett Favre 3 and Rashard Mendenhall and Troy Polamalu, and is listed at $29.99 for the pair of two-packs.

MODOK 15" PREVIEWS EXCLUSIVE STATUE Bowen Designs has created this statue of AIM experiment/leader MODOK especially for Diamond Previews. It stands 15" tall and shows his chair blasting into the sky. This piece is limited to 500 pieces worldwide, and is listed at $209.99, saving you $10 off the MSRP.

BigBadToyStore.com