1:4 Scale Predators, 20% Off Black Friday Sale at Big Bad Toy Store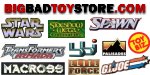 November 26, 2010 - (Sponsor Announcement) - Online retailer BigBadToyStore.com has several new items of interest to collectors:

Hi – Neca just sent over exciting new info about a new line of ¼ scale Predator figures – each limited to only 5000 pieces –

http://www.bigbadtoystore.com/bbts/search.aspx?search=1%2f4+predators

---
Hi - here is a quick update from http://www.bigbadtoystore.com about our biggest sale of the year, more new arrivals and more cool new preorders.

------------------
BLACK FRIDAY SALE
------------------

20% OFF TOYS, FIGURES & STATUES
40% OFF GRAPHIC NOVELS

This sale runs until Monday and everything is included except 'New' and 'Preorder / Backorder' items! Our 20% off sales don't come around too often - take advantage of this sale and stock up now for the holidays. Please note that sale pricing is not retroactive to past orders and this sale will end Monday November 29th in the afternoon. Browse or Search for your favorite products on www.bigbadtoystore.com now!

------------
NEW ARRIVALS
------------

PREDAKING 2010 REISSUE BOX SET The shiny new version of Predaking is finally here. This set includes all of the die-cast content of the original Predacon releases, all wrapped up in a nice gift box. We have this set listed at $184.99, and since it has arrived in time, it would make a great gift for any Transformers fan, from G1 to current.

GI JOE 12" BEACHHEAD Sideshow's version of GI Joe's ranger has arrived. This figure is a 12" version of the original design, even down to his balaclava, along with hordes of weapons and equipment. This figure is priced at $13.99, $6 off the MSRP.

INGLOURIOUS BASTERDS MOVIE MASTERPIECE 1/6 SCALE COLONEL HANS LANDA The villain from Quentin Tarantino's hit movie "Inglourious Basterds" has arrived. This 1/6 scale Movie Masterpiece from from Hot Toys features a head sculpt of Christoph Waltz as well as his costume, weapons and accessories from the movie, and is listed at $139.99, saving you $10 off the MSRP.

FUTURAMA SERIES 09 - SET, SINGLES This new assortment includes Wooden Bender and Robot Police Officer URL, and we have them available singly at $14.99 and $13.99 respectively, or as a pair for $24.99.

DEATH TROOPER MINI BUST WITH DEATH TROOPERS NOVEL The zombie plague leaves no stone unturned, and has now reached the Star Wars universe. This set includes a Death Trooper bust with removable armor plates (to show the grisly decay beneath) along with a copy of the Death Troopers novel. This set is limited to 2500 pieces and is listed at $69.99, saving you $5 off the MSRP for the pair.

STAR WARS LIGHTSABER CHOPSTICKS SERIES 01 - SET, SINGLES We have received a small restock shipment of the first series of Star Wars Chopsticks. This set includes Luke's blue lightsaber chopsticks, Darth Vader's red ones and Yoda's green ones, shone slightly smaller for smaller or child's hands. We have them as a set of three pairs for $35.99, or singly at $12.99 per pair.

STAR TREK: THE ORIGINAL SERIES EXCLUSIVE GEOLOGICAL TRICORDER This new version of the Tricorder includes exclusive speech and sounds, along with an opening compartment for the two included geological samples. This replica is listed at $44.99, saving you $5 off the MSRP.

ARH STUDIOS - MEDUSA STATUE (TWO VERSIONS), GHENGIS KHAN STATUE A shipment of ARH Studios statues has arrived. It included both the 11.5" Legged Medusa and 11.5" Snake-tail Medusa statues, priced at $169.99 each. It also included the 13" Ghengis Khan statue, priced at $169.99 as well. Each statue is listed $30 below MSRP, so if you're in the market, now is a great time to buy.

KABAYA GUM PLUS TRANSFORMERS SERIES 02 - BOX OF 8, RANDOM SINGLES The second assortment of transformable mini models includes Classics Jetfire, Classics Prowl and Ultra Magnus. The box of 8 includes 3 each of two of the Transformers and 2 of the third, and is priced at $43.99; we also have them listed as random singles, priced at $5.99. If you order more than one random figure, we will do our best to get different figures for you.

NHL SPORTSPICKS SERIES 26 - CASE, SINGLES We have received our shipment of NHL SPortspicks Series 26. This assortment includes Carey Price, Alexander Ovechkin 5, Mike Fisher, Zach parise, Ryan Kesler, Jean-Sebastien Giguere and Ryan Miller 2. Each figure is available singly at $11.99, or you can opt for the case of 8 (including a Chase or Collector Level Figure) for $89.99. We also have stock of a few Collector Level figures - check out the menu for more information.

CHRONO TRIGGER FORMATION ARTS BOX SET This new set of four includes characters from the classic Super Nintendo game, including Crono, Ayla, Frog, Magus and Lucca. We have the set listed at $29.99, and it would be a great gift for gamers.

RED SONJA & SNAKE MICHAEL TURNER RESIZED EDITION STATUE This new smaller scale version is a great idea for fans who don't have the room or the budget for the full-size piece. It shows the classic heroine standing above the corpse of an opponent, sword in hand; we have the piece listed at $69.99, saving you $5 off the MSRP.

UNIVERSAL STUDIOS MONSTERS CLOTH RETRO - SET, SINGLES Diamond has united the Universal Studios Monsters license with their Cloth Retro style to create this new assortment of classic monster figures. Series 01 includes Frankenstein and the Wolfman, each done in the 8" Mego-type style, and each in a full cloth outfit. We have them listed as a set of 2 for $31.99 ($6 off MSRP), or singly at $16.99 each.

STAR WARS VINTAGE 2010 FIGURE RESTOCK
The newest assortment flew out the door as soon as it arrived, but we have been able to restock a number of favorite Star Wars figures in time for the holidays. We have Darth Vader, Anakin Skywalker, a Clone Trooper and a Sandtrooper available, ready to increase your forces. Check out these and the other available figures at the link.

STAR WARS TRANSFORMERS 2010 A new shipment of Star Wars Transformers has arrived. We now have stock of figures like, Captain Rex to Freeco Speeder, Cad Bane to Xanadu Blood and Clone Gunner to Republic Fighter Tank, along with previous releases; each figure is listed at $13.99 - $19.99.

DC UNIVERSE CLASSICS RESTOCK We have also received a couple of shipments of DC Universe figures, and have restocked a number of singles. We have both the Superfriends and current versions of Series 13 Cheetah as well as Cyclotron, along with Series 11 Question and Starman (both), Raven, Sinestro Corps Batman and Golden Pharaoh from Series 15. We also have the All Star 75th Anniversary Superman available; these figures range from $10.00 to $19.99 each, so check out all of the available figures at the menus under the link.

HALO: REACH SINGLES We have singles of Grunt, Noble Six, Emile and Jorge back in stock, each priced at $11.99. Don't miss out on these figures, sure to be hot with the popularity of the game's release.

-------------
NEW PREORDERS
-------------

PREDATOR 1/4 SCALE FIGURES - SET, SINGLES NECA has announced a new series of Predator 1/4 scale figures. This assortment includes a Masked Predator as well as Open mouth and Closed Mouth versions of the Unmasked Predator, and we have them listed at $69.99 to $79.99 each, or as a set of three for $199.99, saving you $55 off the MSRP.

DANGER ROOM SESSIONS COLOSSUS FINE ART STATUE The latest in Kotobukiya's "Danger Room Sessions" line of X-Men statues is strongman Colossus. This statue stands 15" tall, showing him atop the remains of a Sentinel; we have it listed at $209.99, saving you $40 off the MSRP. It even comes with two different heads, so you can display him as you like.

STAR WARS EPISODE IV SANDTROOPER PRECISION CAST REPLICA HELMET Following up on the 30th Anniversary Stormtrooper helmet is this Sandtrooper Helmet Replica from Episode IV. This version is based on an original helmet and limited to 1000 pieces, and is listed at $168.99.

BATMAN BEARBRICKS - 400%, 1000% Two new Batman Bearkbricks are up for pre-order. This time around they are the 400% and 1000% scale versions, and they are listed at $99.99 and $399.99, respectively. Both are in the grey and black versions of the costume.

HARRY POTTER WAND CHOPSTICKS Kotobukiya has also announced new chopstick sets based on the "Harry Potter" mythos. They are releasing pairs based on the wands of Harry Potter, Ron Weasley and Hermione Granger, and each set is priced at $14.99, although that price may possibly go down once a domestic supply is found.

HARRY POTTER CLOTHING REPLICAS These new costume pieces from Museum Replicas are great for collectors, LARPers and more. We have listings for the Gryffindor school robe in Adult and Young Adult at $139.99, as well as the Grey School Skirt and the Grey School Pants, each in Extra Small, Small, Medium, Large and Extra Large and each priced at $69.99.

HALO: REACH WARTHOG - BATTLE DAMAGED VERSION This new piece from McFarlane Toys is the same as the original, but with the added details of battle damage on it. It will work with the Accessory Packs (see below) and is priced at $29.99.

HALO: REACH WARTHOG ACCESSORY PACKS - SET, SINGLES McFarlane Toys has announced two new accessory packs to attach to your Warthogs. The first is a Gauss Cannon with Spartan Custom Operator figure, and the second is a Warthog Rocket Launcher with Spartan JFO Custom figure. Each weapon snaps on to your Warthog and we have them listed at $23.99 each for the singles, or $39.99 for the set of both.

STAR WARS DARTH SIDIOUS LEGENDARY SCALE BUST This new piece stands 16.5" tall, is limited to 500 pieces and shows the Dark Lord of the Sith in his swirling robes. He is sculpted with a scowl on his face, and we have him listed at $239.99, saving you $10 off the MSRP.

PUNISHER CLASSIC 12" STATUE As the name says, this is Bowen Designs' take on the classic look of the Punisher. Standing 12" tall this statue of Frank Castle is in his signature costume, with a pistol in each hand. This piece is listed at $165.99, $9 off the MSRP.

DISNEY TRADITIONS TINKERBELL MONTHLY FIGURINES These new Tinkerbell dolls each contain the flower and gemstone of the given month, and would make great gifts. We have months January through June listed so far, at $27.99 each.

STAR WARS DARTH VADER ALARM CLOCK House of Asterix has announced a new Darth Vader Alarm Clock. It measures 9.5" in diameter, bears the likeness of Darth Vader, and is listed at $54.99, saving you $5 off the MSRP.

FUNKO-TRONICS 12" CHARACTER LAMP - 501ST LEGION CLONE TROOPER Funko has announced a new piece in their Character Lamp line. This time it is a 501st Legion Clone Trooper, and he acts as a lamp, a USB speaker and an alarm clock. We have him priced at $39.99, and he'll be a great piece for Star Wars collectors.

MLB SPORTSPICKS SERIES 27 - CASE, SINGLES The newest assortment of McFarlane's MLB Sportspicks includes Albert Pujols 4, Chase Utley 2, Derek Jeter 5, Dustin Pedroia 2, Joe Mauer 2, Tim Lincecum and Curtis Granderson, and you can get them singly at $11.99 each, or in a case of 8 with a Chase or Collector Level figure for $79.99.

CLASH OF THE TITANS TONNER FIGURES - PERSEUS, ANDROMEDA Two new Tonner figures are on the way, from the "Clash of the Titans" remake. Perseus is 17" tall, comes with his weapons and is listed at $209.99, while Andromeda is 16" tall in a beautiful gown and is listed at $174.99. Each doll is limited to 500 pieces.

HEADMASTER ALBUS DUMBLEDORE 17" DRESSED TONNER CHARACTER FIGURE This new version of Dumbledore is scaled to go with the new 12" Harry Potter and friends, and comes dressed in his red robes. This figure is also limited to 500 pieces, and is listed at $204.99.

THE WIZARD OF OZ 8" WITCH DOLLS Tonner has also announced two new 8" scale young-version dolls, one of Glinda and the other of the Wicked Witch. Each of these is also limited to 500 pieces, and are priced at $94.99.

ROBOT VINYL COLLECTION VOLUME 07 - 1/100 SCALE ZENTRAEDI LIGHT ARTILLERY BATTLEPOD Toynami's latest Robot Vinyl Collection is a standard coloration of the Light Artillery Battlepod. It has the two horizontal artillery units atop its head, and is priced at $23.99.

THE WALKING DEAD - STATUES & BUSTS Four statues and busts from "The Walking Dead" have been announced for reissue, following the success of the TV version. The 1/9 Scale Rick Grimes statue is listed at $79.99, with the 1/9 Scale Half-Zombie Statue priced at $37.99. We also have the Vince Bust and Andrew Bust at $24.99 each, so get pre-orders in for your favorites now.

BLACKEST NIGHT LEAD FIGURE & MAGAZINE - #03, 04 Eaglemoss' latest announcement in the Blackest Night lead figure and magazine series includes #03 Agent Orange (alias Larfleeze) and #04 Blue lantern Saint Walker. These two are listed at $13.99 each, and with the set only including 8 pieces, these are great collectibles for Green Lantern fans.

DAWN OF THE TED FIGURES The popularity of the zombie craze has finally crossed over into the land of teddy bears. This new line consists of imported teddy bear statues in a variety of styles, and they are listed at $10.99 to $14.99 each.

STAR WARS EASYKIT MODEL KITS Five new Easykit Model kits have been announced. We have Ahsoka Tano's Jedi Starfighter at $24.99, the Republic Attack Shuttle at $32.99, and the AAT, AT-TE and General Grievous' Starfighter at $29.99 each.

STAR WARS ANIMATED HAN SOLO IN STORMTROOPER DISGUISE DETENTION BLOCK MAQUETTE This piece is meant as a companion piece to the Luke Skywalker in Stormtrooper Disguise Animated Maquette. it shows Han Solo, just after shooting the command console with his blaster, and is priced at $89.99. This piece was sold at Celebration V and SDCC, and is now available to those who were not able to attend.

BigBadToyStore.com