Target Gift Card = Free LEGO Set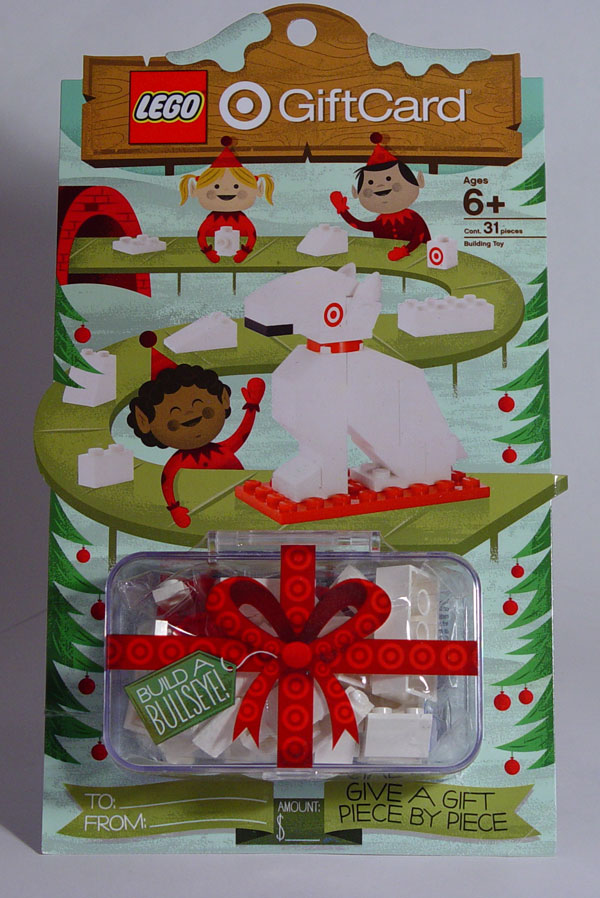 November 2010 - While at a Colorado Target, we found something we hadn't known about, but suddenly needed: a gift card that comes with a LEGO set of Bullseye the Target dog.

Bullseye is a 31-piece set that comes in a tiny clear box about the size of a mint box.

We put $15 on the card, but if you buy it online at Target.com, it appears that you need to put at least $25 on the card. (Target has a short animation of the set being assembled, click on "videos" under the picture on that page.)

We found ours stocked on the side of an endcap in the baby section, so if you don't see it in the gift card sections near the cash registers, be sure to either ask the store if they have any, or look around at the endcaps as you walk around the store.

---
Another unexpected LEGO surprise at that same Target was the Toy Story 3 Army Man with vehicle polybagged set, stocked in the holiday stocking stuffer section for $3.99. It has one Army Man and the vehicle, 37 pieces. The Jeep in this polybag version is smaller than the regular version. Just for comparison, over in the regular LEGO aisle, the boxed Army Men set was $10.99 and comes with four Army Men and the vehicle.