Marvel Select Thor & Loki, Slave I Vehicle Bank, Marvel Minimates at Big Bad Toy Store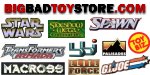 November 17, 2010 - (Sponsor Announcement) - Online retailer BigBadToyStore.com has several new items of interest to collectors:

-------------
NEW PREORDERS
-------------

THOR MOVIE MARVEL SELECT - THOR & LOKI Diamond has announced two of the next figures in the Marvel Select line will be Thor and Loki from the upcoming movie. Each figure will have the standard Marvel Select articulation, and each will include part of a rainbow bridge base. Each figure is listed at $18.99, $3 off the MSRP.

STAR WARS SLAVE 1 VEHICLE BANK - $19.99 This bank is in the shape of Slave 1, Boba Fett's ship. The ship is done in the green and orange-red color scheme and is listed at $19.99.

BATMAN INCORPORATED SERIES 01 - SET, SINGLES The new Batman comic has already got it's first line of figures. This assortment includes Batman himself in his new suit, as well as his son Damian as Robin, the Man of Bats and the Knight. Each figure is listed singly at $17.99, or you can opt for the set of four, priced at $64.99 (saving you $11 off the MSRP for the set).

MARVEL MINIMATES WAVE 38 SET OF 8 The newest assortment of Marvel Minimates is from the "Shadowlands" crossover and includes Iron Fist, Spider-Man in a new costume, Daredevil in his dark costume, Elektra, old and new versions of the White Tiger and 2 Hand Ninjas. This assortment is priced at $29.99, $6 off the MSRP.

SUCKER PUNCH SWEET PEA STATUE The third statue in the "Sucker Punch" line is Sweet Pea. She stands 18" tall and is packed with weapons, and we have her listed at $224.99, saving you $25 off the MSRP. This statue should be as popular as the movie, so don't miss out on yours.

STAR WARS AURRA SING MINI BUST The mysterious bounty hunter Aurra Sing is next in line to have her own bust, and this piece looks to be highly detailed. She has a blaster pistol as well as a sniper rifle, and has a dark look on her face. This bust is priced at $66.99, $8 off the MSRP.

STAR WARS CLONE WARS PRE VIZSLA MAQUETTE The leader of the Death Watch on Mandalore and all-around bad guy will soon be the recipient of his own maquette. Dressed in blue and green Mandalorian armor, he is ready to cause more trouble and is priced at $84.99, $10 off the MSRP.

12" TONY MONTANA A new Korean company named Blitzway is doing a 12" figure of Tony Montana from "Scarface" and we have it up for pre-order. This figure comes dressed in his signature white suit, and includes a leather gun holster, his favorite chair, a cigar and more. This figure is priced at $199.99 and is the first in a new line of 1/6 scale figures.

BLACKEST NIGHT: VIOLET LANTERN 1/4 SCALE POWER BATTERY & RING PROP REPLICA SET The series of Lantern Corps replicas continues with the Violet Battery and Ring, representing the power of Love. This set is priced at $29.99, $5 off the MSRP.

STAR WARS CLONE WARS 2011 SERIES 01, SERIES 01 REVISION 01 CASES Hasbro has also announced two new assortments of Clone Wars figures. They includes popular older figures as well as new figures like a new version of Obi-Wan Kenobi, a new version of Cad Bane, R7-A7 (Ahsoka's Astromech) and Heavy in Training Armor. Each case is priced at $99.99.

STAR WARS BATTLE PACKS 2011 SERIES 03 CASE OF FOUR This case includes Droids & Clones #2, Jedi Showdown, Anti-Hailfire Squad and Army of the Republic, and is listed at $99.99.

COVER GIRLS OF THE DC UNIVERSE HAWKGIRL STATUE Hawkman's better half is getting a statue in DC's Cover Girls line. The statue stands 9.3" tall and shows her holding a spiked mace. It is priced at $84.99, saving you $15 off the MSRP for the piece.

PREDATORS - THE TRACKER MASK PROP REPLICA The third mask from KNB and Sideshow is from the Tracker Predator in "Predators". This piece is 16" tall by 21" wide by 12.5" deep and includes a display base. The mask is priced at $309.99, $15 off the MSRP.

12" COBRA DESERT OPS TROOPER: SNIPER You can continue to increase your COBRA armies with this Cobra Desert Ops Sniper figure. He comes with desert equipment, a helmet, a marksman rifle with accessories, two different display bases and more, and is priced at $94.99, $5 off the MSRP.

STAR TREK ENTERPRISE NCC-1701 PIZZA CUTTER This new replica of the Enterprise from The Original Series has a saucer section that will cut your pizzas - hold the item by the nacelles and fire away! This item is listed at $39.99 and would make a great gift for any Star Trek fan.

MARVEL UNIVERSE 2010 3.75" REVISION CASES Hasbro has announced a number of new Marvel Universe 3.75" figure cases. Each case includes 12 different figures, and they are a great way to add to your collection. The cases include Series 06 Revision 01, Series 06 Revision 02, Series 06 Revision 03, Series 02 Revision 02, Series 03 Revision 01, Series 04 Revision 01 and Series 05 Revision 01, and each case is priced at $99.99.

MARVEL SECRET WARS COMIC TWO-PACKS 2010 SERIES 03 REVISION 02 CASE Hasbro is also releasing a new case of Comic Two-Packs, with a number of sets brought back by popular demand. This assortment includes two each of Human Torch & Wolverine and Spider-Man and Thunderball, with one each of Captain America & Klaw, Absorbing Man & Dr. Doom, Thing & Bulldozer and Dark Reign versions of Spider-Man and Wolverine. This case is to be released in January, and we have it listed at $109.99.

SPIDER-MAN 2011 3.75" SERIES 02 SET OF FOUR The latest assortment of Spider-Man 3.75" figures is now listed in the form of a new set of four. It includes Ultimate Scorpion, Classic Lizard, Cosmic Crusade Spider-Man and Electric Impact Black Costume Spider-Man, and is listed at $43.99. We have also listed some new singles, so be sure to check the menu for all of the available figures.

GHOSTBUSTERS MINIMATES SERIES 04 BOX SET This set concludes the Ghostbusters Minimates line and includes figures that were previously released as exclusives. It has clear Slimer, Viggo the Carpathian, the Jogger Ghost and the Titanic Ghost, and is priced at $15.99, saving you a couple of bucks off of the MSRP.

THE WALKING DEAD TAVERNCRAFT ITEMS The undead aren't being left out of the flood of new Taverncraft items. Four Glass Steins (Fresh meat, Dead Head, Rise & Feed and Dead Rules) are available at $29.99; we also have pairs of etched Pint Glasses (Fresh Meat and Rise & Feed, Dead Head and Dead Rules) available at $29.99 per pair. In addition to these, Taverncraft has listed a line of Enamel Lighters, available in four styles (Fresh meat, Dead Head, Rise & Feed and Dead Rules) at $19.99 each, or in a Gift Set of all four, priced at $79.99.

MOTU CLASSICS GREAT WARS WEAPONS PAK We have received stock of this second add-on assortment of MOTU weapons for the benefit of our international and other customers. It includes recolored weapons and accessories from a number of different figures and creatures, and is listed at $19.99.

JLU PARADEMON TWO-PACK This set of Parademons is a great way to buff up Darkseid's armies, and is priced at $39.99.

GHOSTBUSTERS 6" PETER VENKMAN WITH PROTON STREAM The new version of Peter Venkman comes with a Ghostbusters logo base as well as a Proton Stream to display him in mid-busting. We have this figure listed at $34.99.

ALL-STAR SUPERMAN DVD MAQUETTE The best-selling comic miniseries is now being made into an animated DVD release, and the hero is getting a maquette to top it off. This statue stands 9.25" tall and is listed at $84.99, saving you $15 off the MSRP.

HEROES: BLACKEST NIGHT - BLACK LANTERN FIRESTORM BUST The Black Lantern version of Firestorm (now called Deathstorm) is getting his own bust as a part of this line. He is perched atop a base with all of the Lantern Corps symbols and is listed at $59.99, $10 off the MSRP.

ULTIMATE SHOWDOWN - BATMAN VS. THE JOKER STATUE SET This assortment of archenemy statues continues with Batman and his nemesis the Joker in pitched battle. The statues can turn on their bases as well as turing their heads and we have the set listed at $144.99, saving you $30 off of the MSRP. The bases can also be connected to others in the assortment, allowing for all kinds of display options.

SUPERMAN FAMILY BUILD-A-SCENE PART 02 - SUPERGIRL & STEEL This second part concludes the statue set by adding Supergirl and Steel, and finishing the build-a-statue of Superman himself. This segment is listed at $159.99, saving you $35 off the MSRP.

MARVEL COMICS ETCHED PINT GLASSES, STEINS Taverncraft has announced a new assortment of etched glasses based off of Marvel comics characters. We have new listings for pairs of Pint Glasses as well as single Glass Steins, with Spider-Man, the Incredible Hulk, Iron Man or Captain America etched on them. Each pair of Pint Glasses or Glass Stein is listed at $29.99, so you can mix and match your favorites.

WORLD OF WARCRAFT - NEW TAVERNCRAFT ITEMS Taverncraft has also announced a number of new items from the World of Warcraft line. First up is the Rawgrlrlrlrrlglrl!!! Epic Collection Stein, covered with Murlocs and priced at $99.99. They have also announced a new line of limited edition mugs, with Orgrimmar, Stormwind, Undercity and Ironforge mugs at a $19.99 price point. We're still waiting for images of these items, but if previous releases are any sign, they should be great. Finally, we also have listings of Brew Glasses. It appears that they will come in pairs, and each pair is priced at $24.99. You can choose from Captain Ramsey's Lager & Thunderbrew Stout, or Dos Ogris and Brewdoo Voodoo.

SERENITY LITTLE DAMN HEROES - WASH, RIVER Two new "Little Damn Heroes" animated maquettes are on their way from Quantum Mechanix. Wash is shown with his dinosaurs in hand, while River holds a sword and an axe; each statue is listed at $37.99.

------------
NEW ARRIVALS
------------

VIDEO GAME MASTERPIECE 1/6 SCALE EZIO The hero of Assassin's Creed 2 has received his own 1/6 scale figure courtesy of Hot Toys. This version of Ezio includes all manner of cloth costume pieces, plus a wealth of weapon accessories, including daggers that slide into his gauntlets for sneak attacks. This figure is priced at $144.99, $5 off the MSRP.

JACK SPARROW PREMIUM FORMAT FIGURE This new 19" tall statue of Jack Sparrow from Sideshow includes a cloth costume, his compass and even an LED-lit lantern. The handcrafted piece is listed at $299.99, $15 off the MSRP.

BARB WIRE 12" FIGURE This perennial movie and comic favorite has finally gotten a 1/6 scale figure with detail and class, courtesy of Triad and Dark Horse. Barb comes with extra hands, fishnet stockings, handcuffs and more, and is priced at $89.99, saving you $30 off of the MSRP.

"FERRIS BUELLER'S DAY OFF" FERRARI 250 GT Mattel's line of 1:18 scale movie cars continues with the famous red Ferrari from "Ferris Bueller's Day Off". This car is limited to 5000 pieces and is listed at $109.99.

TF GENERATIONS SMALL RESTOCK - DIRGE, RED ALERT We just wanted to drop a quick head's-up - we have received a new TF Generations shipment, and have restocked our singles of Red Alert and Dirge, priced at $10.00 and $17.99, respectively.

MOVIE MASTERPIECE 1/6 SCALE PRINCE DASTAN This figure is sculpted with Jake Gyllenhall's face and look from "Prince of Persia: The Sands of Time", and includes many accessories like the Dagger of Time, his swords and much more. This figure is listed at $159.99, saving you $10 off of the MSRP.

DOCTOR WHO 2010 5" ACTION FIGURE SERIES 02 - SET, SINGLES We have received a shipment of the second series of Doctor Who 2010 figures. We have singles listed for Prisoner Zero, a Smiler and Vampire Francesco, priced at $16.99 - $17.99 each. We also have them listed as a set of 8, which adds a Red Drone Dalek, a Projected Weeping Angel, a Roman Auton, Dalek Ironside and a Dalek Progenitor, and the set is listed at $129.99.

-----------------
ARRIVING TOMORROW
-----------------

BLEACH PLAY ARTS KAI FIGURES SERIES 01 - SET, SINGLES The first assorment of Play Arts Kai Bleach figures has arrived. This assortment includes Rukia, Hitsugaya and Ichigo, and we have them listed singly at $41.99 each, or as a set of three for $119.99.

DCU ORIGINS SERIES 02 - SET, SINGLES This assortment includes two-packs, one with the modern version of the character and one with the original version. We have the two-packs for Green Lantern, Superman, Wonder Woman and the Flash listed at $23.99 each, or at $89.99 for the set of four two-packs.

GOTHAM CITY STORIES PART THREE - THE JOKER The third part of the Gotham City Stories collection of hanging statues shows the Joker escaping with money bags from an acid-melted window, with green smoke filling the room behind him. This piece is priced at $84.99, saving you $15 off of the MSRP.

JLA TROPHY ROOM BATMAN MODERN UTILITY BELT REPLICA The latest Justice League Trophy Room piece is a modern version of Batman's Utility Belt. It is made with a real working gold-plated Batman logo belt buckle as well as eight pouches with working gold snaps, and comes with a metal display shelf and mounting hardware as well as a Certificate of Authenticity. This fantastic collectible is priced at $279.99, saving you a full $70 off of the MSRP for the piece.

LYNDA CARTER AS WONDER WOMAN 5.5" BUST This piece is a follow-up to the statue, and shows the most famous actress to play the superhero in her signature costume. It stands 5.5" tall and shows her ready for a fight, and is listed at $69.99, saving you $10 off the MSRP.

WOMEN OF THE DCU POWER GIRL BUST The current leader of the JSA is getting a bust (hah!) in the Women of the DC Universe series. This piece stands 5.5" tall and is designed by Amanda Conner, and is listed at $49.99, $10 off the MSRP.

BigBadToyStore.com