Blackest Night: Violet Lantern 1:4 Scale Power Battery and Ring Prop Replica Set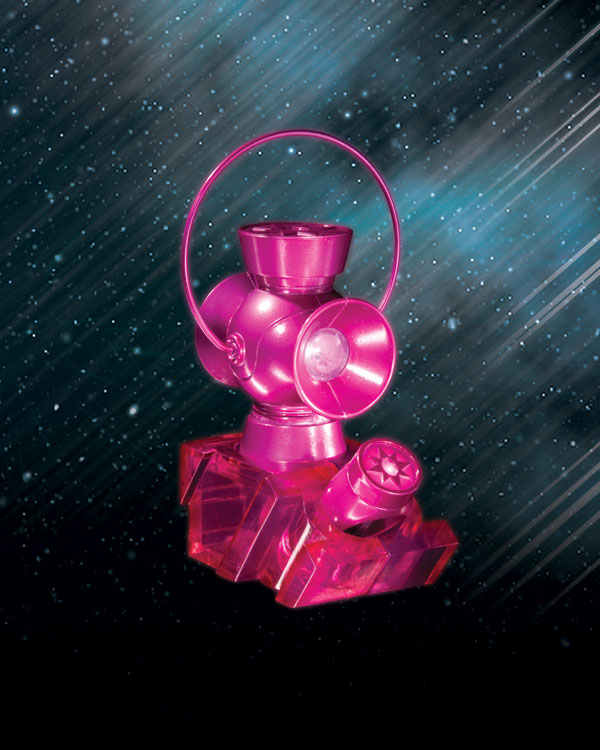 November 2010 - DC Direct - BLACKEST NIGHT: VIOLET LANTERN 1:4 SCALE POWER BATTERY AND RING PROP REPLICA SET

Mined from the pages of BLACKEST NIGHT!

Fueled by the flames of love and formed from the heart of the Star Sapphire gem, the violet power rings have the ability to crystallize prisoners, infect them with violet energy and create new Star Sapphires.

For nine consecutive months in 2011, DC Direct releases a 1:4 scale light-up Power Battery and light-up ring prop replica set featuring a color from the spectrum of the hugely popular DC Comics' epic BLACKEST NIGHT.

A great companion piece to the HEROES OF THE DC UNIVERSE: BLACKEST NIGHT VIOLET LANTERN: STAR SAPPHIRE BUST, on sale in March 2011!

The Violet Lantern 1:4 Scale Power Battery and the Violet Power Ring sit in a translucent violet purple display and are removable from the stand. Both light up, featuring manual on/off switches.

The Power Battery measures approximately 2.875" high (minus handle) x 1.75" wide x 2.375" deep and is made of PVC/ABS. The Power Ring fits most sizes and lights up when worn. The translucent violet acrylic display measures approximately 1.5" high x 2" wide x 3.25" deep. The set is packaged on a 4-color blister.

On sale July 13, 2011
Mini Prop Replica Set
$35 US