Ultimate Showdown: Batman vs. The Joker Statue Set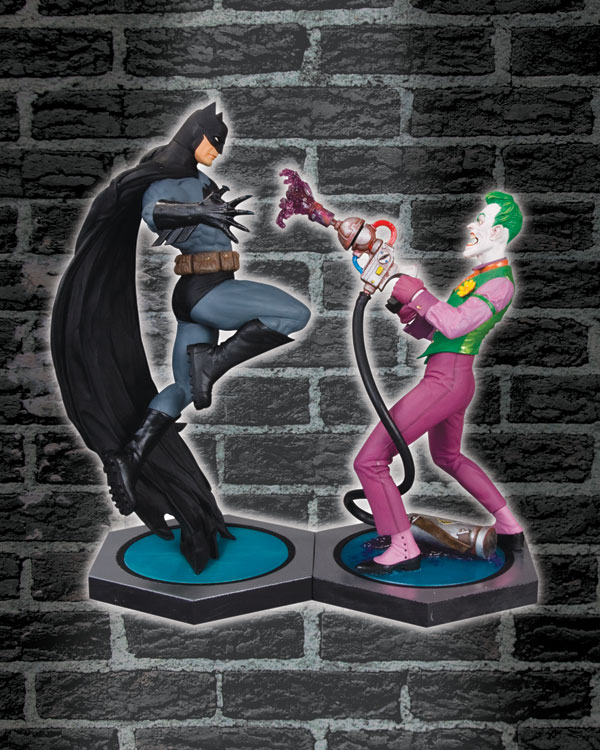 November 2010 - DC Direct - ULTIMATE SHOWDOWN: BATMAN VS. THE JOKER STATUE SET
DESIGNED AND SCULPTED BY TIM BRUCKNER

The Ultimate Showdown series is DC Direct's unique, new interactive concept for high-quality collectible statues featuring the world's greatest heroes and villains squaring off in deadly combat.

ROUND THREE!

Gotham City's greatest hero and his deadliest foe battle for supremacy of the city!

Each character is displayed on a specially designed stand-alone base intended to "interact" with the other statues in the series and to be displayed in a myriad of ways. The statues can pivot independently on their bases and rotate their heads to customize and direct the action. Collect the other statue sets in the series! Mix and match them to create your own showdown or combine them all in one ultimate battle statue.

These hand-painted, cold-cast porcelain statues measure approximately:
Batman: 7.5" high x 4" wide x 4.5" deep
The Joker: 8" high x 6" wide x 4" deep

Each set is packaged together in a 4-color box.

Limited Edition.

On sale July 20, 2011
Statue Set
$175 US