15% Off Sale, Dark Galactus, Gollum, Transformers Masterpiece Reissues at Big Bad Toy Store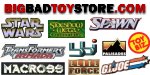 November 11, 2010 - (Sponsor Announcement) - Online retailer BigBadToyStore.com has several new items of interest to collectors:

Hi - Here is a quick update from http://www.bigbadtoystore.com about more great new arrivals, new preorders, and our latest sale

------------
15% OFF SALE
------------

From now until Friday 11/12 - save 15% of all all toys, figures, statues, vintage and more - everything except 'New' and 'Preorder / Backorder' is included. Graphic Novels are now 40% Off as well! Get a jump start on holiday shopping or reinforce your own collection with a variety of great deals. Just browse your favorite menus or search for your favorite items

-------------
NEW PREORDERS
-------------

TRANSFORMERS MASTERPIECE REISSUES Takara is reissuing two of the most popular Masterpiece Transformer figures. The new MPL-01 Convoy will include a talking display base (which will also reveal the next new Masterpiece figure) and is listed at $134.99, while the MP-05 Megatron reissue will come with the orange barrel plug and is also listed at $134.99. This is great news for anyone who may have missed the original versions of these figures.

COMBINER COMMANDER TWO-PACKS SERIES 01 SINGLES, SERIES 02 SET, FIVE-PACKS A number of new listings are up under the Power Core Combiners menu. For the Combiner Commander Two-Packs we have singles up of the Series 01 figures, with Heavytread and Skyhammer at $12.99, albeit with a January release date. We also have the Series 02 set of Undertow and Salvage, listed at $29.99 for the pair. Finally we have the 2011 Series 02 Five-Packs, with the new Stunticon set priced at $29.99 and the case of four (with Dinobots, Constructicons and two of the new Stunticon set) priced at $89.99.

SOUL OF CHOGOKIN GX-59 DALTANIOUS The super-robot from "Future Robo Daltanious" is next in line in the Soul of Chogokin line. This set will include all of the components to assemble Daltanious, and he is currently priced at $299.99.

THREEZERO LARGE MARTIN 9" FIGURES - SET, SINGLES Threezero is releasing a new assortment of Large Martin figures, this time in a 9" scale. We have singles available of Auspublic, Sanddevil and Mr. Frosty at $49.99 each, or you can opt for the set of 5 which also includes the sold-out Iron Panda and Big Red versions and is priced at $224.99.

IRON MAN 2 FIGURES 2011 SERIES 01 - CASE, SINGLES A new assortment of Iron Man movie-based figures is on the way. This mix appears to contain a variety of figures, from a redeco of Hypervelocity Armor Iron Man and Deep Dive Armor Iron Man to Light-Up War Machine and Subterranean Armor Iron Man. We have all of the wave's figures listed singly at $8.99 - $10.99 each, or you can opt for the case of 12, priced at $99.99.

LOTR GOLLUM 5.9" COLLECTOR'S EDITION STATUE This piece shows Gollum as he appeared in the recent movie trilogy. He is wrapped around an outcropping of rock, looking down on the scene below. We have this statue listed at $74.99, and he would make a fine addition to any LOTR collection.

THE WIND IN THE WILLOWS BOOKEND SET WETA has also announced the first piece from the upcoming "The Wind in the Willows" movie. This bookend set shows Ratty and Mole fishing on one side, while Mr. Toad and Mr. Badger sit in a parlor on the other. This set is priced at $399.99, and should arrive early next year.

BATMAN 1:1 SCALE STATUES Hollywood Collectibles has announced two new life-size Batman statues. The Batman Begins version stands 7'8" tall, is crouched atop a pedestal base and is priced at $3899.99; the Dark Knight version stands 7'4" tall on a pedestal base and is priced at $3799.99. Each statue requires an $800 nonrefundable deposit at the time of ordering, and each will ship direct from the supplier.

STORM WARRIORS 12" ULTIMATE DEMONIC WIND Enterbay has announced a new 12" figure from "Storm Warriors". This time it is the Ultimate Demonic version of Wind, and we have him listed at $159.99.

LEGO IMPORT MINIFIGURES SERIES 03 A third assortment of Lego minifigures has been announced. This assortment is split into Side A and Side B, with Side A including Baseball Player, Samurai Warrior, Snowboarder and more, while Side B includes figures like Mummy, Hula Dancer and Gorilla Suit Guy. We have each side available as random singles at $3.99 and also as bags of 40 at $134.99.

GENERATOR REX FIGURES From the hot new Cartoon Network show comes this new line of figures. We have listings for the Basic Figure Series 01 set and singles, as well as the Super Slam Cannon, the Air Attack Boogie Pack, the Transforming Rex Ride, the Evo Attack set, the Battle Pit Set and the Ultra Rex figure. You can check out all of the new listings at the link.

NEW BUSOU SHINKI FIGURES We have new listings for four upcoming Busou Shinki figures. We have the Arnval Mark II Tempesta and the Strarf Mark II Ravina priced at $109.99 each, and the new exclusive Zilvern Sapphire version and Olbern Garnet version at $119.99 each.

TF DELUXE 2011 SERIES 02 REVISION 02 CASE This new case assortment should be popular, with a mix of new figures. It includes two each of G2 Optimus Prime and the Classics Bumblebee Redeco, along with one each of Special Ops Jazz, Turbo Tracks, Perceptor and Wreck-Gar. We have this case priced at 99.99.

TF GENERATIONS 2011 SERIES 02 REVISION 02 CASE This second new case assortment is alsso a mix of newer figures. It contains one each of Cybertron Cliffjumper, Skullgrin, Thunderwing, Cybertron Megatron, Cybertron Soundwave, Blurr, Scourge and Sergeant Kup, and is also listed at $99.99.

TF VOYAGER 2011 SERIES 02 - CASE, SINGLE The new Voyager assortment includes two of new figure Deep Dive as well as one each of Lugnut and Solar Storm Grapple. You can place a pre-order for the case of four at $89.99, or you can grab a single of Deep Dive, priced at $29.99.

METAL BUILD GUNDAM 00 SEVEN SWORDS Bandai is introducing a new line of Gundams with die-cast body frames, and the first figure to be released will be the Gundam 00 Seven Swords. This figure will be covered in high-grade plastic parts and is listed at $194.99.

SAINT SEIYA MYTH CLOTH HADES The newest release in the Saint Seiya line is Hades. The lord of the underworld comes in his dark armor and is listed at $114.99.

SOUL OF CHOGOKIN BUZZ LIGHTYEAR FIGURE One of the heroes of the Toy Story movies is getting his own Soul of Chogokin figure. Buzz Lightyear appears to come with a display base and will probably also come with accessories; we have him priced at $169.99.

TF HUMAN ALLIANCE 2010 SERIES 02 REVISION 02 CASE We have a new case assortment of Human Alliance sets listed for pre-order. This case incldues the black version of Sideswipe as well as Jazz, and is priced at $69.99.

------------
NEW ARRIVALS
------------

MARVEL UNIVERSE GALACTUS - DARK VERSION Our shipment of the new version of Galactus has arrived. This new version has him in the darker colors seen in Marvel Ultimate Alliance and is dark blue and purple. We have this version priced at $54.99, and he's ready to become your devourer of worlds.

1/7 SCALE KOTOBUKIYA STAR WARS RESTOCK We have received a number of Kotobukiya 1/7 Scale Snap-Together figures, and have listed them at low prices. We have the Luke Skywalker Vs. Darth Vader Concept Duel Statue at $89.99 (regularly $199.99), the Yoda Vs. Palpatine 1/7 Scale ArtFX Statue at $99.99 (regularly $174.99), a 1/7 Scale Clone Trooper Statue at $49.99 (regularly $99.99) and a Yoda & Mace Windu Episode II Statue at $49.99 (regularly $99.99). Grab yours before they're gone!

STAR WARS LIGHTSABER CHOPSTICKS SERIES 02 - SET, PAIRS The second wave of Star Wars Chopsticks has arrived. This series is packed with two sets of chopsticks on a card, with chopstick rests for each. We have the set of Darth maul and Mace Windu and the set of Darth Maul and Luke Skywalker Episode VI, each priced at $19.99; we also have them listed as a set of 4 pairs (one each of the two different carded sets) at $35.99.

ASSASSIN'S CREED 2 SERIES 01 - SET, SINGLES NECA has shipped us a number of Assassin's Creed 2 figures. We have Standard Ezio (in white and gray) and Black Ezio each listed at $15.99, or you can grab the set of two at $29.99, saving you $6 off the MSRP for the set.

PRINCESS LEIA IN SLAVE OUTFIT MINI BUST This outfit may be the most popular of Leia's many costumes from the movies. The Princess is shown in her bikini with a Vibro Ax in her hands, and she is listed at $53.99, saving you $6 off of the MSRP.

LANDO CALRISSIAN MINI BUST This 6.5" tall mini bust of the administrator of Bespin is dressed in his
blue shirt with cloak, and is listed at $49.99, saving you $10 off of the MSRP.

NHL SPORTSPICKS - TEAM CANADA SERIES 02 SINGLES We have managed to get a small supply of the Team Canada Series 02
figures. These figures all wear the white version of their jersies, and we hvae Eric Staal, Jarome Aginla, Joe Thornton 2, Johnathan Toews, Martin Brodeur 4, Rick Nash, Roberto Luongo 2 and Sidney Crosby 4 each listed at $17.99.

CDMW-11 THE KING'S POWER PARTS CUSTOM WINGS SET We have received both our 14K-plated Wing sets and our upgrade sets, and have kitted them together so that our customers don't have to wait for the add-on set. We have them listed at $59.99, and they should also look great when added to the soon-to-be-released shiny Predaking Set.

2010 JLU SINGLES SERIES 02 - CASE, SET, SINGLES The second assortment of JLU 2010 figures has arrived. This assortment includes OMAC, Red Tornado, Captain Atom, Martian Manhunter, Superman Red, Superman Blue (not the electric ones) and Batman. We have them listed as a case of 12 for $99.99, as a set of 7 for $64.99 and singly at $9.99 each.

NEW STAR WARS CLONE WARS ASSORTMENTS We have received two new assortments of Clone Wars Animated figures. Series 04 Revision 02 includes figures like the Flamethrower Clone and Goji, while the Series 05 assortment has Cato Parasitti and an Undead Geonosian. We have Series 04 Revision 02 listed as a case of 12 for $99.99, and Series 05 listed as a case of 12 for $99.99 and as a set of 8 for $79.99. We also have many figures listed singly, and you can see them all at the link.

STAR WARS VEHICLES 2011 SERIES 01 - CASE, SINGLES This case of 4 is priced at $99.99 and includes the Droid Tri-Fighter, the Droid Gunship, the V-19 Torrent Fighter and Obi-Wan Kenobi's Starfighter. We also have singles available of the Tri-Fighter at $34.99, the V-19 Torrent Fighter at $34.99 and Obi-Wan's Starfighter at $29.99.

ONE PIECE GRANDLINE MEN SERIES 05 SINGLES A recent shipment has brought us the Series 05 assortment of One Piece Grandline Men figures. We have Luffy in Blue Jacket at $19.99, Trafalgar Law at $23.99 and Eustass "Captain" Kidd at $21.99.

LIVING DEAD DOLLS PRESENTS CLASSIC FREDDY KRUEGER This new LDD figure is the 10" version of the original Freddy Krueger. He comes in his trademark sweater and hat, with his clawed right hand. We have Freddy listed at $27.99, saving you $4 off of the MSRP.

NEW AME-COMI - STEEL, SUPERGIRL V2 Two new Ame-Comi girls have arrived. We have the new version of Supergirl in a blue minidress as well as Steel (daughter of the original) in a revealing costume, and each figure is listed at $49.99, saving you $10 off of the MSRP.

COVER GIRLS OF THE DCU HARLEY QUINN STATUE The latest Cover Girls statue is of the Joker's main squeeze Harley Quinn. Her statue stands 9.5" tall and shows her leaning on an oversized wooden mallet, and looks great on its own or paired with the upcoming Poison Ivy Cover Girls statue. We have this piece listed at $84.99, saving you $15 off of the MSRP.

WHITE QUEEN PX DIAMOND EDITION STATUE From Marvel and Bowen Designs comes this Previews Exclusive statue of the modern version of the White Queen in her diamond form. This version is transparent all over except for her outfit, and is listed at $214.99, $10 off the MSRP.

GHOSTBUSTERS STAY-PUFT MARSHMALLOW MAN BANK This 8" vinyl bank is sculpted in the form of Ray Stanz' nightmarish marshmallow adversary and is ready to swallow your coins. He is listed at $15.99, $4 off the MSRP, and would make a great gift for any Ghostbusters fan.

BigBadToyStore.com