Week Eight: Toy2R's 15 Weeks to Celebrate 15 Years Contest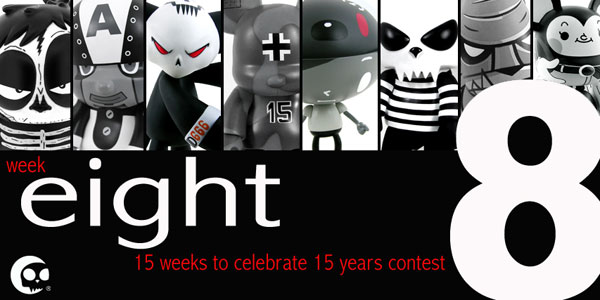 For Goodness Sake - Toy2R starts Week 8!

November 2010 - Seven down and eight more to go, your chances of winning continue to grow!

Continuing the 15 Weeks to Celebrate 15 Years contest, Toy2R announces WEEK EIGHT! Being one of the easiest contests to win, Toy2R invites everyone to take a moment and enter - YOU may be the next winner and receive $$$ worth of Toy2R classic designer toys!

Simply post a comment about why you like Toy2R or post some pictures of your Toy2R collection or a custom Qee you made or admire on the Toy2R USA Facebook Fan Page and you're automatically entered - just that easy! To 'Like' is good, but to post is better as it could make you a winner!

Check out the super prize package for WEEK EIGHT - Burgerman, Horvath, MCA and more - all for you, it's your chance to score!

Join the Qeevolution - it's fun, it's cool and it could all be about you!!