Sci-Fi Revoltech, Bruce Lee, Starscream, Hot Toys Abigail Whistler at Big Bad Toy Store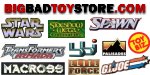 November 3, 2010 - (Sponsor Announcement) - Online retailer BigBadToyStore.com has several new items of interest to collectors:

Hi - Here is a quick update from http://www.bigbadtoystore.com about a variety of new arrivals and more new preorders as well as our latest sale.

------------
NEW ARRIVALS
------------

BRUCE LEE HD MASTERPIECE 70th ANNIVERSARY STATUE This new 1/4 scale statue follows up on the HD Masterpiece bust release, and shows Bruce Lee as he appeared with his battle wounds across his face and abdomen. This statue is listed at $199.99 and would make a great gift for Bruce Lee fans.

MP-M01 MASTERPIECE MOVIE EDITION STARSCREAM This redeco of Leader Class Starscream is done up in his color scheme from the first movie, and his packaging matches the other Masterpiece releases. We have this version of Starscream listed at $109.99.

"AVATAR" 21" AMP SUIT MAQUETTE This gigantic maquette is limited to 500 pieces worldwide and is sculpted from the actual 3D scans used in the filming of the movie. This statue is priced at $1099.99, Saving you $100 off the MSRP.

SCI-FI REVOLTECH #016 ALIEN WARRIOR This new figure from "Aliens" includes alternate arms and claw parts as well as an egg and a display base. The figure is listed at $39.99, so get your before they disappear.

"BLADE: TRINITY" ABIGAIL WHISTLER MOVIE MASTERPIECE 1/6 SCALE FIGURE Hot Toys continues their Movie Masterpiece line with Abigail Whistler, the daughter of Blade's original mentor. The character was played by Jessica Biel and has a fantastic likeness of her, as well as a host of weapons and extra pieces. We have this figure listed at $144.99, $5 off the MSRP.

TF GENERATIONS 2010 RESTOCK We've received a shipment of Generations Transformers items and have been able to restock a number of pieces. We have the Series 04 Case of 8 priced at $99.99, with the Series 03/04 Set of 4 at $53.99. We've also got plenty of singles of figures such as Cybertron Optimus Prime, Cybertron Megatron, Red Alert, Cybertron Soundwave and more - check out all of the in-stock items at the link.

MARVEL MASTERWORKS 19" GALACTUS RESTOCK Our shipment also contained a good number of Galactus figures. This piece is designed to be in scale with the Marvel Universe 3.75" figures, and is listed at $54.99.

STAR WARS FORCE FX LIGHTSABERS A number of FX lightsabers were also in our latest shipment. These include the Mace Windu, Luke Skywalker Episode VI, Asajj Ventress and Anakin Skywalker lightsabers, priced at $99.99 each. We also have a few each left of the Darth Vader and Darth Maul Removable Blade FX lightsabers, priced at $114.99 each.

STORM RIDERS 6.5" FIGURES Enterbay's new Action Masterpiece line of 6.5" figures begins with Striding Cloud and Whispering Wind from "Storm Riders". Each figure comes with alternate hands, a weapon and a display stand, and each figure is listed at $36.99.

REAL MASTERPIECE 1/6 SCALE IP MAN FIGURE Donnie Yen as Ip Man has now been immortalized by Enterbay in this 1/6 scale figure. from the "Best Film" winner of the 2009 Hong Kong Film Awards comes the Ip Man figure, which includes multiple costumes as well as other accessories, and he is listed at $169.99.

DC DYNAMICS, DC CHRONICLES SUPERMAN STATUES Two new Superman statues have arrived. The DC Chronicles version is 6.75" tall and shows Superman in his original incarnation; this statue is listed at $84.99, saving you $15 off of the MSRP. The DC Dynamics version stands 11.75" tall and shows Superman in his traditional costume rocketing into the sky, with his lower cape and legs transformed into a translucent blur behind him. This statue is listed at $154.99, $39 off of the MSRP.

NEW SONIC THE HEDGEHOG FIGURES We have received a number of new Sonic the Hedgehog items at our warehouse. We have the Dr. Eggman and Metal Sonic two-pack priced at $17.99, the 3" Espio and Vector Comic two-pack at $15.99, the Sonic 3" Figure Series 02 set of 3 (Amy, Silver and Shadow) at $20.99 and the Sonic 6" Super Poser Series 02 set of 3 (Knuckles, Tails and Shadow) at $39.99.

HARRY POTTER 7" DEATHLY HALLOWS SERIES 01 - SET, SINGLES NECA has released the first assortment of Deathly Hallows 7" figures. We have singles listed for Severus Snape and Harry Potter at $14.99 each, or you can opt for the set, which includes the short-packed Fenrir Greyback and is priced at $45.99.

MOS EISLEY CANTINA ENVIRONMENT This new set is scaled to work with 1/6 scale Star Wars figures, and includes two chairs and an LED-lit table where Greedo was killed in the cantina. The set is listed at $84.99, $5 off the MSRP.

MALEFICENT 22" PREMIUM FORMAT FIGURE The evil fairy from "Sleeping Beauty" can now join your collection in this 22" statue. This piece shows her with her beloved raven perched atop her staff, and is priced at $269.99, saving you $20 off of the MSRP.

CONAN: THE PRIZE DIORAMA This new 22" tall statue has Conan with a bloodied battle axe in his right hand and a rescued girl thrown over his left shoulder. This dynamic sculpt would be a great addition to any Conan lover's collection, and we have it listed at $274.99, $15 off of the MSRP.

IRON MAN MARK IV 1/6 SCALE ARTFX STATUE Kotobukiya has released another excellent ArtFX statue in this piece from "Iron Man 2". In it Iron Man stands atop a Repulsor Transmitter base and includes LED lights in his eyes, chest, hands and base. This statue is priced at $99.99, saving you $20 off of the MSRP.

-------------
NEW PREORDERS
-------------

KM-02 KNIGHT MORPHER ANNIHILATOR Master Mind Creations has announced their second figure, a recolor of the first Knight Morpher named Annihilator. This one has a black and gold color scheme and comes with extras like pieces of track and even a new head to go on their first figure, and we have this new one, which is limited to 2000 pieces, priced at $99.99.

METROID PRIME - SAMUS ARAN'S ORANGE GUNSHIP First4Figures is releasing another ship in their Metroid Prime series, this time the orange ship. This piece is packed with lighting effects and is priced at $274.99, saving you $50 off of the MSRP.

BLADE RUNNER COLLECTOR'S BOX - BLU-RAY & SPINNER REPLICA The cult hit "Blade Runner" is getting a new box set. This set includes a non-region specific Blu-Ray of the Final Cut of the movie as well as a 23.5 cm long replica of a police Spinner vehicle created by Medicom. This set is priced at $179.99, and should arrive in time for the holidays.

NEW CRAZYDEVY ITEMS - CDMW-13, CDMW-14 CrazyDevy has announced two new items, which we now have up for pre-order. The CDMW-13 Aviation Brigade Power Parts Set includes a new Blast Shield and and 5.25" gun, along with a new faceplate that will fit on either the G1 head or the recent CDMW-06 head, to make them more like the cartoon; this set is listed at $37.99. We've also listed the CDMW-14, the King's Power Parts Custom Giant Sonic Sword for Predaking, which measures almost 9" long and is listed at $19.99.

GX-58 EARTH DEFENSE FLAGSHIP ANDROMEDA This new Soul of Chogokin release is one of the ships from Space Battleship Yamato. We have this new die-cast piece listed at $339.99.

MOVIE MASTERPIECE 1/6 SCALE TOM BERENGER AS SERGEANT BARNES The second Hot Toys Movie Masterpiece figure from "Platoon" is Tom Berenger as Sergeant Barnes. This figure comes with multiple weapons and other accessories and is listed at $139.99, saving you $10 off of the MSRP.

TRON: LEGACY - DAFT PUNK FIGURES The European House band Daft Punk is providing the soundtrack to the upcoming "Tron: Legacy" movie, and they also appear in a scene of the movie. Medicom has decided to release their in-costume appearances as Real Action Heroes (each priced at $269.99) as well as coming out as a Kubrick two-pack at $44.99.

FANTASY FIGURE GALLERY - DISCOVERY STATUE The next piece in the Fantasy Figure Gallery is Discovery, from artwork by Boris Vallejo. It shows a tall powerful woman being escorted by a small creature riding a lizard-like creature. The actual sculpt has been created by Erick Sosa, and we have it listed at $249.99, saving you $40 off of the MSRP.

BUCK ROGERS 8" FIGURE SERIES 01 - SET OF 2 Buck Rogers and Princess Ardala's bodyguard Tigerman are the first pair of releases in ZICA's new line of Mego-like 8" figures from the classic sci-fi show. This pair comes in their costumes from the show and we have it listed at $59.99 for the two figures.

STAR WARS BATTLE PACKS 2011 SERIES 02 - CASE, SINGLES This new assortment includes new Battle Packs Droids & Clones #1 and Rishi Moon Outpost Attack, along with Orto Plutonia and Holocron Heist. We have the case of four listed at $99.99, with the two new battle packs available at $39.99 singly.

STAR WARS VEHICLE 2011 SERIES 02 REVISION 01 - CASE, SINGLES The new assortment of Star Wars Vehicles incldues new ship the Jedi Turbo Sppeder as well as Anakin Skywalker's Starfighter, the Hyena Bomber and Plo Koon's Jedi Starfighter. We have listed the case of four at $109.99, with singles of the Jedi Turbo Speeder at $39.99.

DOCTOR WHO 2010 5" FIGURE SERIES 03 - CASE, SET, SINGLES The newest assortment includes returning favorites Prisoner Zero, a Smiler, Vampire Francesco and the Roman Auton, along with Underhenge versions of the Roman Auton and the Cyberman, plus Silurian Warrior Alaya and Silurian General Restac. The set of 8 is listed at $129.99, with the case of 12 (containing 2 each of the Smiler, Vampire Francesco and the two Silurian figures) is priced at $169.99. We've also got singles listed of Francesco, the Smiler and the two Silurians, each at $16.99.

K-ON! GUTORE 23 FIGURES Three of the ladies from K-On! are getting their own 23 cm figures in the Gutore 23 line. We have Mio Akiyama, Yui Hirasawa and Tsumugi Kotobuki listed, each at $239.99.

FORMANIA GUNSHIP This Gunship replica from "Nausicaa and the Valley of the Wind" is the next release in Bandai's Formania line. We have it priced at $139.99, and expect it to arrive in February.

HOBGOBLIN COMIQUETTE Sideshow has announced a new 16" comiquette based on Spider-Man villain the Hobgoblin. This statue shows him riding a variation of the Goblin Glider, and we have it priced at $284.99, $15 off the MSRP.

NOSFERATU STATUE This piece goes back to the early movie about a vampire who is infatuated with a human girl. The statue stands 18" tall and is listed at $219.99, saving you $15 off of the MSRP.

REVOLTECH #100 - EVA-01 DX VERSION The 100th release in the Revoltech line will be the EVA-01 from Evangelion. It will come with a partial glow-in-the-dark coloring and include a base made of Bardiel the Angel, complete with an LED light and a pulled-off arm to use as a weapon. We have this new box set listed at $44.99, and it has already proven to be a popular seller.

NBA SPORTSPICKS MIAMI HEAT THREE-PACK The newly-formed trio on the Miami Heat team is the focus of the new three-pack from McFarlane Toys. This set includes Dwyane Wade, Chris Bosh and Lebron James 4, and is priced at $29.99, with an expected release this coming March.

GI JOE 2011 CASES - SERIES 01, SERIES 02 Due to popular demand, the two new series of GI Joe figures have been listed as cases as well. The Series 01 case includes three each of Snake Eyes Version 08, Duke Version 06, Cobra Shock Trooper Version 01 and Storm Shadow Version 06, while Series 02 includes three each of Destro Version 03, Low Light Version 01, Skydive Version 01 and Shadow Tracker Version 01. Each case of 12 is listed at $84.99.

NEW SCI-FI REVOLTECH - #020 SKELETON ARMY, #021 ANGUIRUS The most recent announcement of Sci-Fi Revoltech includes two new figures. From "Jason and the Argonauts" comes the Skeleton Army figure, which includes a pillared base with skeletons crawling up as well as alternate hands, weapons and shields. Anguirus, friend and foe of Godzilla, also gets his own figure, including a rocket and smoke trail; each figure is listed at $44.99.

POWER RANGERS SAMURAI - FIGURES, VEHICLES AND MORE We have just listed a wide variety of the American release toys for the upcoming "Power Rangers Samurai" series. We have 4" figures at $8.99 each, a Morphin Action 6.5" Ranger Set of 3 at $34.99, a 10" Battlized Red Ranger at $20.99, Zord Vehicles with Figures at $14.99 each, Power Rangers Cycles with 4" Figures at $15.99 each, a DX Morphin Vehicle at $26.99, a DX Megazord at $31.99, role-play items and more - check out all of the new items at the link.

HAMMER FILMS BRIDES OF DRACULA DOLLS Three Brides of Dracula from the Hammer Film of the same name have now been made into dolls by Gallery Marketing Group. Lucy, Mina and the Contessa have each been made into 12" fashion dolls, and we have them available for pre-order, priced at $139.99 each.

BigBadToyStore.com