Iron Man, Clone Wars, Halo: Reach, Sale at Big Bad Toy Store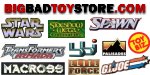 October 6, 2010 - (Sponsor Announcement) - Online retailer BigBadToyStore.com has several new items of interest to collectors:

-------------------------------
SAVE 40% OR MORE ON 2000+ ITEMS
-------------------------------

We've further reduced pricing on a variety of older and slow moving products. There are a total of 2000 items priced 40% or more off our list price, and about 2000 more priced between 20% and 40% off our list price. Take a look at the sale menu below for some great deals:
http://www.bigbadtoystore.com/bbts/content.aspx?content=18

------------
NEW ARRIVALS
------------

TRANSFORMER COMBINER TWO-PACKS SERIES 02, 03 & 5-PACKS SERIES 03 We have received the second and third series of Combiner Commander Two-Packs into stock, and the are available in sets of 3 at $33.99 each or singly at $11.99 each. We also have the Series 02 Revision 02 case of 6, which includes all thre figures in Series 1 as well as Series 2's three figures, and is listed at $65.99. Series 02 of the Combiner 5-Packs has also arrived, and we have the Protectobots available at $24.99, and the set of the Protectobots and the Destrons priced at $47.99.

HALO: REACH VEHICLES SERIES 01 - WARTHOG, GHOST The first two vehicles from Halo: Reach have arrived and are ready to join your armies. The Ghost is a one-man flyer and is listed at $20.99, while the Warthog holds up to three figures and has a rotating gun turret, and is listed at $29.99.

TF GENERATIONS MINICONS SERIES 01 SET OF 4 This first assortment of Generations Minicons includes four recolored Minicons - Drivetrain, Pan Handler, Swashplate and Break Neck, and is priced at $16.99.

SOUL OF CHOGOKIN GX-55 TOBIKAGE & HOURAIOH The second Ninja Senshi Tobikage Soul of Chogokin set is this version which includes the Houraioh Phoenix Thunderhawk, which can combine with Tobikage to form Kuuma Houraioh. We have this set listed at $114.99.

IRON MAN 2 COMIC FIGURES SERIES 04, MOVIE FIGURES SERIES 05, ARMOR TECH DELUXE SERIES 03 Three new assortment of Iron Man 3.75" figures are now in stock. The Iron Man Comic Series 04 includes figures like Mandarin, Modern War Machine and Whiplash and is listed at $99.99 for the case of 12 with various singles still available. We also has Iron Man Movie Series 05, with figures like Iron Man in Stark Racing Armor and the Weapon Assault Drone, priced at $99.99 for the case of 12, $74.99 for the case of 7, and various singles also available. Finally, we have Series 03 of the Armor Tech Deluxe figures, priced at $13.99 to $19.99 singly or $44.99 for the set of 3 figures.

ARMOR PLUS TEKKAMAN BLASTER BLADE EXCLUSIVE Tekkaman Blaster Blade is the upgraded version of Tekkaman Blade and has a white and red color scheme. This Japanese exclusive is listed at $199.99 and is ready to join your collection.

SW CLONE WARS SERIES 04 - CASE, SET, SINGLES The new assortment of animated Clone Wars figures has arrived. This case incldues figures like Embo, Shaak Ti, a Mandalorian warrior and more, and we have it available as a case of 12 for $99.99, with various singles also available, priced at $7.99 - $14.99 each.

TF VOYAGER 2010 SERIES 03 - FALLEN, BATTLE BLADES OPTIMUS PRIME SINGLES Our shipment also included a number of Series 03 Voyager cases, and now we're down to singles of the new blue version of the Fallen (priced at $34.99) and Battle Blades Optimus Prime (priced at $24.99).

TF GENERATIONS SERIES 03 - CASE, SET, SINGLES Our Generations Series 03 restock shipment has left us with stock of all figures from Series 01, 02 and 03 except Darkmount and Thrust, and the singles are listed at $9.99 to $14.99 each. We also have the Series 01 set of 4 at $51.99, the Series 02 set of 4 at $49.99 and the Series 03 Case of 8 at $99.99.

DOCTOR WHO - 7TH DOCTOR & ELECTRONIC TARDIS, 6TH DOC & STEALTH CYBERMAN, 4TH DOC & K-9 Three Doctor Who items have recently arrived at our warehouse. We have restocked the set of the Seventh Doctor with Electronic TARDIS pack, priced at $49.99. We've also got the Sixth Doctor & Stealth Cyberman set, priced at $39.99, and the Fourth Doctor & K-9 set, priced at 29.99.

JAPANESE TRANSFORMERS ANIMATED - TA44 ARMORED HIDE (IRONHIDE) The American release of Animated Cybertron Mode Ironhide may be few and far between, but we've got plenty of the Takara version in stock now. This figure is almost identical to the American version (other than having an actual Autobot symbol, as opposed to the silver symbol on the American release) and is listed at $29.99.

BTS-03 G1 PRIME MATRIX OF LEADERSHIP UPGRADE SET This great new upgrade set for your G1 Optimus Prime includes two new versions of his gun (both in black and in clear blue, a BBTS exclusive) as well as his energy axe, articulated hands, an openable Matrix of Leadership complete with housing to sit in Prime's chest and a jetpack/backpack which can also store the rest of the accessories. This set combines all the upgrades you may want and gets them all in at $21.99, so don't miss your chance to own this value-priced set.

MARVEL TF CROSSOVERS 2010 SERIES 02 - CASE, SINGLES The latest case of Marvel Crossovers includes new figures like the Ghost Rider Motorcycle and the Iron Man helicopter, and is available at $104.99 for the case of 6 and $21.99 to $29.99 individually.

TF LEGENDS 2010 SERIES 03 - CASE, SET, SINGLES Legends 2010 Series 03 includes new figures Dust Storm and Tuner Skids, and we have them available in a set of two for $14.99. The case includes two of each as well as Fireburst Optimus Prime, Cyberfire Bumblebee, Long Haul and Sandstorm, and is listed at $44.99.

STAR WARS VEHICLES 2010 - CASES, SINGLES We've also restocked a number of waves of 2010 Star Wars Vehicles. We have Series 02, Series 02.5 and Series 03 Cases of 4 available at $99.99 each, along with singles like the AAT Redeco, the Hyena Bomber, Plo Koon's Jedi Starfighter and the Bespin Cloud Car, priced at $29.99 each.

NHL SPORTSPICKS SERIES 25 - CASE, SINGLES The latest wave of McFarlane NHL Sportspicks includes Patrick Kane, Sidney Crosby 4, Henrik Sedin, Marion Gaborik, Nickalas Backstrom, and Phil Kessel. The case assortment includes two each of Kane and Crosby and one each of the others (although one figure will be replaced by a Chase or Collector figure) and is priced at $89.99. We've got singles available of the figures as well as some of the Collector Level variants as well - check out the link for pricing on the singles.

**ARRIVING THURSDAY**

**UNIVERSAL MONSTERS WOLFMAN MINIMATES SET The Wolfman Minimates Box Set has arrived. This set includes two versions of the Wolfman as well as Larry Talbot and the exclusive Gwen Conliffe. We have the set priced at $12.99, $3 below MSRP.

**STAR TREK TOS ROMULAN KIRK & SPOCK FIGURE SET, KIRK VS. GORN FIGURE TWO-PACK Two new Original Series two-packs are ready to join your collection. The first set has a regular Spock with Kirk as a Romulan and is listed at $24.99 ($7 below MSRP), while the second set has a Gorn and Captain Kirk in a battle-damaged uniform, and is listed at $31.99 ($8 below MSRP).

**IRON MAN EXTREMIS ARMOR STATUE Bowen Designs has released a statue of Iron Man in his new Extremis armor. The statue measures 12" tall and we have it listed at $164.99, $10 off the MSRP.

**BLACKEST NIGHT RESTOCK ASSORTMENT The Blackest Night Restock Assortment includes Black Lantern Superman, Blue Lantern Saint Walker, Red Lantern Atrocitus and Indigo Lantern Indigo-1. We have the set of four listed at $59.99, $17 off the MSRP, and singles available of all but Atrocitus, priced at $16.99 to $19.99 each.

-------------
NEW PREORDERS
-------------

IRON MAN 2 REPLICAS - BRIEFCASE, ARC REACTOR, RACING JACKET Museum Replicas has three new prop replicas from "Iron Man 2". An updated Arc Reactor Prop Replica is available at $194.99; there is also a Tony Stark Mark V Briefcase replica which is leather lined and includes two locks, and is priced at $459.99. Finally, we have a replica of Tony Stark's racing jacket, which is available in three sizes (Medium, Large, XL) and is listed at $349.99.

SCI-FI REVOLTECH - ALIEN QUEEN, RADON (RODAN) Two new Sci-Fi Revoltech figures are on the way. The Alien Queen from the Alien movies gets her own figure at last, priced at $57.99, while Radon (Rodan to us in the U.S.) bolsters the Godzilla mythos ranks and is priced at $42.99.

PX-02 KINGBAT VS NINJA SET, SINGLES Perfect Effect has announced two new figures based on the cassette Transformers from G1. The two-pack includes new versions of Ratbat ("Kingbat") and Rosanna/Flipsides ("Ninja"), and we have them available separately at $34.99 each, or as a box set.

CINEMAQUETTE PRESENTS: LINED ARMOR COCOON FOR 1989 BATMOBILE REPLICA This add-on piece is a fiberglass cover for the Cinemaquette 1989 Batmobile, and is fully felt-lined to protect your piece as well as displaying it in its armored-up form. This accessory is listed at $194.99 and is limited to 500 pieces worldwide.

DOCTOR WHO 2010 ACTION FIGURE SERIES 02 - SET, SINGLES The newest assortment of Doctor Who figures has been announced. We have singles available of the Red Dalek Drone, Vampire Francesco, the Smiler (normal head) and Prisoner Zero (a ceiling hanger-type figure), each priced at $17.99. The set of 8 is listed at $129.99 and adds Dalek Ironside, a Bronze Dalek, a Looper Angel and a Roman Auton with Cloak.

STAR TREK 1/6 SCALE CAPTAIN KIRK IN CHAIR STATUE A new 1/6 scale statue of Star Trek's Captain Kirk in his captain's chair is on its way courtesy of Hollywood Collectibles. The statue measures 10" tall and is limited to 600 individually numbered pieces, and we have it listed at $199.99.

JOHN CARTER WARLORD OF MARS - 12" JOHN CARTER FIGURE, 1/4 SCALE TARS TARKAS STATUE Triad Toys has announced that they've acquired the license for Edgar Rice Burroughs' John Carter series. The first releases are set to be a 1/6 Scale figure of John Carter, with multiple hands and accessories (priced at $99.99, $10 off the MSRP) and a Mix Media statue of Tars Tarkas, priced at $279.99, saving you $20 off the MSRP.

JAPANESE TRANSFORMERS ANIMATED EXCLUSIVES - BLACK RODIMUS, CLEAR ACTIVATOR OPTIMUS PRIME Japan is getting two more Transformers Animated exclusives, and we've been able to secure a supply for our customers. We have the black versions of Rodimus listed at $74.99, while the clear Activators Optimus Prime is Priced at $54.99.

TRON 14" STATUE Electric Tiki is producing a new statue based on the original "Tron" movie. This Tron statue stands 14" high and glows just like the movie under a black light, and we have it listed at $179.99, saving you $10 off the MSRP.

PREDATORS FALCONER MAQUETTE Sideshow is producing another maquette from the movie "Predators". The Falconer Maquette stands 14.5" tall and is listed at $259.99, saving you $15 off the MSRP.

DINOSAURIA APATOSAURUS MAQUETTE Sideshow's second entry this week is a 43.5" long Apatosaurus Maquette, part of their Dinosauria line. This statue is priced at $274.99, $15 off the MSRP for the piece.

SW EP V 30TH ANNIVERSARY EDITION STORMTROOPER HELMET REPLICA In honor of the 30th anniversary of the Star Wars franchise eFX is producing a life-size replica of the Stormtrooper Helmet from "The Empire Strikes Back". This item is based on the actual prop from the movie and is priced at $179.99, saving you $20 off of the MSRP for this piece.

LITTLEST PET SHOP NEW ITEMS We've recently listed a wide variety of upcoming Littlest Pet Shop figures, playsets and more. We have new LPS Online Pets, LPS Domes, Petriplets, Playpacks, Create-A-Pets, On-The-Go Purses, Pet Sitter Doll and Pet sets, Blythe single figures, Pets On The Go, and many more - check out all of the new listings at the link.

MY LITTLE PONY NEW ITEMS Hasbro has also announced many new MLP items. Princess Celestia leads the pack, which also includes Story Feature Ponies, playsets, MLP with Animal Friends sets, and Fashion Ponies, among others. Take a peek at the new items at the link.

ZOLOWORLD FIGURES - GRIM REAPER, ZOLOTRON & ZOLOTRONIC BODIES Day 2 Day figures and Zoloworld are producing a new line of 1/6 scale figures. The have a new Zolotron male 1/6 scale body which includes poppable head and shoulde pieces for ease of costuming and display, priced at $29.99; they also have the Zolotronic versions of the body which includes an internal MP3 device for adding sounds and more, which is listed at $79.99. They've also announced a Grim Reaper 1/6 scale figure with cloak and scythe, priced at $59.99.

ZOIDS HMM SABER TIGER GOLD VERSION A second version of the Saber Tiger Highend Master Model has been announced. This new Kotobukiya piece is a gold version and includes all of the extras that were in the original version, and is priced at $99.99 with a February 2011 arrival date.

BigBadToyStore.com