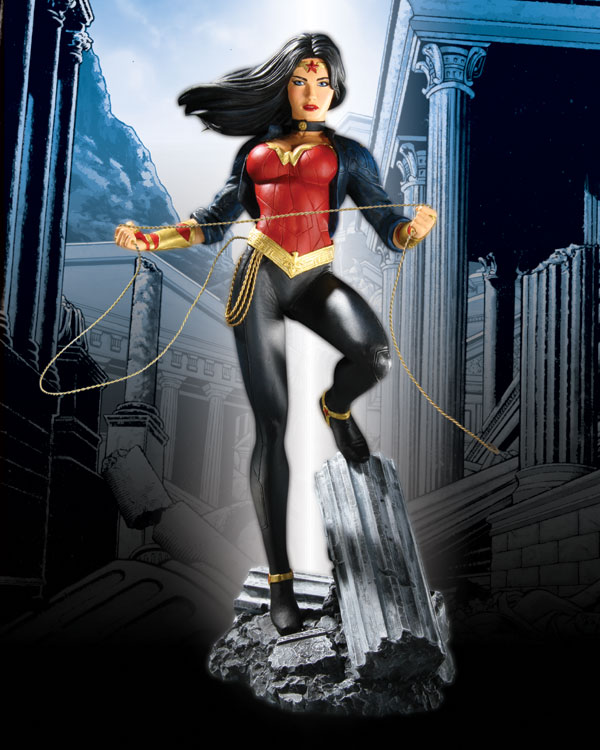 September 2010 - DC Direct - WONDER WOMAN #600 STATUE
BASED ON THE ART OF DON KRAMER
SCULPTED BY JACK MATHEWS

Paradise lost...

Concrete jungle found.

The gods of Olympus abandoned the Amazons, leaving Paradise Island to its destruction. As Amazons were slaughtered, Queen Hippolyta ordered her daughter smuggled away, as retreating warriors were scattered to the four corners of the Earth.

And now...

In a bolt of lightning and a rumble of thunder, Wonder Woman is back in black... and red, and blue. Diana rules over the rock 'n' rubble, ready to roll and take on those who still seek to destroy the refugee Amazons.

In biker boots and bracelets, the Amazon Princess screams dark and dangerous. Sleek and streamlined, Diana's new costume oozes badittude and ready-for-fighting functionality. Inner-city smart and street-fighter savvy, this urban Amazon is heavy on metal and tough in leather.

With a new costume designed by Jim Lee, this statue is inspired by the variant cover of WONDER WOMAN #600. The statue is hand-painted, cold-cast in porcelain, measures approximately 9.75" high x 4.75" wide x 3.75" deep, and is packaged in a 4-color box.

Limited Edition.

On sale May 4, 2011
Statue
$125