Fall Inventory Clearance Sale at Big Bad Toy Store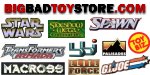 September 17, 2010 - (Sponsor Announcement) - Online retailer BigBadToyStore.com has several new items of interest to collectors:

Hi - here is a quick update from http://www.bigbadtoystore.com about a variety of new arrivals, some great new preorders, and our latest sale:

-----------------------------
FALL INVENTORY CLEARANCE SALE
-----------------------------

We've just reduced pricing by 10% to 20% on well over 1000 older items. We now have around 4000 items priced between 20% and 90% off, with 1000 of them priced at 50% off or more! Take a look through the sales menus and grab some great deals before they sell out:
http://www.bigbadtoystore.com/bbts/content.aspx?content=18

-------------
NEW PREORDERS
-------------

DC UNIVERSE SERIES 17 We don't have any information on the specifics of this wave yet, but it will include 7 figures as well as all the parts needed to form the Build-A-Figure. Preorders have been opened at $104.99 for the full set. DCU 15 will be arriving within the next 10 days or so - limited preorders remaining for that set.

GREEN LANTERN CLASSICS SERIES 02 Another great wave just announced by Mattel - again we don't have any specifics on the characters, but this set will get you one each of the 6 characters included as well as the parts needed for the build-a-figure. Preorders listed at $89.99

STAR WARS 1/10 KOTOBUKIYA STATUES Koto starts out their new line of 1/10 scale statues with some heavy hitters - Boba Fett is up for preorder at $39.99 and the Stormtrooper 2-Pack of Statues at $64.99 - take a look at these cool new items here

HOT TOYS - SYLVESTER STALLONE - THE EXPENDABLES Hot Toys is proud to present the 1/6th scale Barney Ross Collectible Figure from The Expendables movie. The movie-accurate Barney Ross collectible is specially crafted based on the image of Sylvester Stallone in the movie, highlighting the newly sculpted head, body tattoo, two styles of costume, detailed accessories and weapons.

KOTOBUKIYA DC BISHOUJO CATWOMAN STATUE Following the valiant DC X Bishoujo Batgirl, Catwoman is ready for heroism or mischief (or both) as she stands in a sexy pose. Clad in her tight black leather bodysuit, the thieving beauty coyly raises one foot off the ground while playfully biting her whip.

DC WORLD'S GREATEST RETRO SUPERHEROES - WAVE 04 Mattel's latest Mego-style set of figures is up for preorder at $79.99 for the full set, which includes: Black Adam, Darkseid, Martian Manhunter and Shazam. Each figure is also available separately at $20.99

24" SHOGUN WARRIORS - GOLION / VOLTRON The new generation of Shogun Warriors begins with GoLion! From the classic Japanese animated series Beast King GoLion, this colossal new vinyl figure stands nearly two feet tall and features multiple points of articulation! Limited in production to 500 pieces worldwide!

TAKARA MP-09 RODIMUS - NEW IMAGES We've just received a nice batch of official images of the new MP-09 showing the final paint color, trailer, and some other views as Hot Rod. The final price has been set at $199.99 - this looks to be another amazing Masterpiece figure - be sure to reserve yours now

MOTU CLASSICS GY-GOR We have a limited number of preorders available for our international customers looking to keep their classics collection complete. Gy-Gor is priced at $47.99 and will be a hulking bulky figure - take a look here

CRAZYDEVY.COM - 20" MASTER COMMANDER SWORD & CASSETTE PARTS We've just listed the new Master Commander sword - for use with Fort Max and Brave Max - its a whopping 20" from hilt to tip and is listed at $69.99. We also were able to secure a few additional pieces of the CDMW-07 cassette power parts. Many other Crazy Devy items are also in stock - see them all here

YAMATO SDF-1 - 1/3000 SCALE An awesome release from Yamato, this transforming figure is very high end at $424.99 and is sure to impress - check it out here

DANGER ROOM - KOTOBUKIYA SABRETOOTH STATUE Inspired by Jim Lee's 1990's era X-Men, Sabretooth embodies animalistic aggression! The fearsome predator stands ready for battle, his left hand balled into a fist and his right splayed open with claws at the ready.

ZOIDS - 17" DIE-CAST SHIELD LIGER FIGURE At last! Shield Liger from the television anime series ZOIDS is available as a large scale, fully painted and assembled die-cast action figure through the engineering marvels of Yamato. This massive, both in size and weight, die-cast action figure is designed with an eye towards articulation, posing, and a host of special features; yet sacrifices nothing in its finer details.

ASHLEY WOOD - PLAYGE RATS Limited to 300 pcs per version, 12" fully articulated figure. Includes: 3 piece suit, 2 sets of hands+1, SPAS 12, Bandolier, Stiletto, and Push-Button Action-Tongue!

GX-56 SOUL OF CHOGOKIN - ZEROKAGE & BAKURYU Another great chogokin figure from Bandai, the GX-56 figure will feature the high quality and design we've come to love as well as a cool combining feature. Preorder price has been set at $134.99

7 FOOT TALL - 1:1 IRON MAN STATUE - $3999.99 Thanks to Stark Industries, you can now own your very own Iron Man Mark VI. This is a life-sized recreation of Iron Man as seen in the new blockbuster movie and is officially licensed by Marvel. This fiberglass statue comes with a custom base and light-up chest, eyes, palms and base. While this Iron Man cannot fly, he will impress your friends and you won't need Tony Stark's wallet to own it

JUSTICE LEAGUE 2010 - THREE-PACKS We've just listed another case assortment and more three-packs including: Superman/Livewire/Weather Wizard, Warlord/Deimos/Supergirl, and Batman/Joker/Gray Ghost. No images available yet.

BLEACH ENCORE - SERIES 02 Toynami brings back the most popular figures from its original Bleach line - here is your chance to get Ichigo and Byakuya at $24.99 for the pair or $14.99 each

ROBOT CHICKEN The 10" Electronic Robot Chicken is now available at $22.99 and we also have a set of 3 series 1 figures at $44.99. Wave 1 includes Candy Bear with Bear Trap, Mad Scientist with Robot Chicken, and Humping Robot with Washing Machine

MCFARLANE - MLB SPORTS PICKS A variety of new MLB items have just been listed including:
Cooperstown Series 08
MLB Elite Series 01
Yankees Two-Pack - Granderson & Swisher
MLB 4" Playmakers Series 01

SIDESHOW LABORATORY ENVIRONMENT Sideshow Collectibles is proud to present the Laboratory 12-inch Figure Environment. The latest addition to the Sideshow Originals series, the Laboratory brings new dimension and context to the 1:6 scale category, offering a detailed setting for 12-inch figure display.

DC POP HERO - FUNKO VINYL Similar to the Mighty Muggs vein of figures - these new Funko DC Pop figures are very cool and reasonably priced at only $7.99 each. A variety of Batman based characters are up for preorder now - check them out here

GHOSTBUSTERS EGON WITH PKE METER Another entry in the very cool 6" Ghostbusters lineup is Egon Spengler - listed at $34.99. He is movie based and comes with a stack of library books.

TRIAD TOYS 1/6 ZORRO Another great figure from Triad Toys - the body has over 35 points of articulation and he even features a real metal sword and elaborate costume - preorder now at $114.99

LABYRINTH - THE WORM 13" PLUSH The creature known simply as "The Worm" and his missus live among the twists and turns that make up the Labyrinth. They spend their days sipping tea and keeping poor, lost travelers from taking a wrong turn and ending up in the court of the Goblin King! Limited Edition - Only $29.99

WORLD OF MMA CHAMPIONS - SERIES 04 The latest batch of figures features: Lesnar, Jackson, Velasquez, Buffer, Graci, and Rua - get the full set at $119.99

------------
NEW ARRIVALS
------------

HALO REACH - FIGURES & TWO-PACKS Just in time for the release of the game, McFarlane has delivered our shipment of Two-Packs and single figures. We have sets, cases and most singles available, but they are moving quickly - get yours here

DEVIL MAY CRY - PLAY ARTS FIGURES Nero, who makes his debut in the game, stands 10 5/8" tall, and Dante, the long-running hero, stands 10 1/4" tall. Each figure comes with the weaponry that is a hallmark of this popular series. Each available now for $38.99

MOTU CLASSICS - CHIEF CARNIVUS Our subscription has just arrived and we have a few extra Chief Carnivus available for international customers and those who missed the subscription sign up long ago. Another great figure from the Four Horsemen - in stock at $34.99

FRANK FRAZETTA'S DEATH DEALER STATUE Standing atop a barren landscape scattered with skulls, he wields his massive weapon, dripping with the blood of the decapitated beast whose head hangs lifeless in the great warrior's grasp. The statue is hand-painted and cast in polyresin all portrayed in this stunning statue designed and sculpted by William Paquet, fully approved and licensed by the Frazetta Gallery. The figure is 13 3/4 inches tall and $209.99

STAR WARS KUBRICKS DX - SERIES 02 This cool set features an AT-ST and a variety of mini figures based around the battles on Hoth - The box of 12 is in stock now at $199.99

TRIAD TOYS 1/6 BASE BODIES - EVA FEMALE & EVO MALE BODIES In stock at $39.99 each, these bodies are highly articulated and fantastic starting points for creating custom figures. The Evo and Eva bodies feature well over 35 points of articulation, modular parts, including heads, hands, feet, and chests, the Evo and Eva bodies are made for a nice balance of pose and beauty.

LEIA IN HOTH FATIGUES BUST A Gentle Giant Sculpt! From Star Wars: Episode V - The Empire Strikes Back and the battle on the ice planet of of Hoth is Princess Leia Organa! This 6 1/2" tall mini-bust has been finely sculpted and accurately detailed; Leia is depicted here in a practical insulated snowsuit and vest in traditional Alderaanian white in memory of her home world. In stock now at $49.99.

LEGEND OF ZELDA - TWILIGHT PRINCESS - 1/4 ZANT STATUE At 1/4 scale, he measures approximately 21 inches tall, including the base. Cast in high quality poly-stone, the statue is hand finished and hand painted. Comes dressed in an incredibly detailed and authentic hand tailored fabric costume. Created from official Twilight Princess game files has allowed First 4 Figures to faithfully recreate Zant's distinct style and add fine detail.

ULTIMATE BATTLE PACK - RISE OF BOBA FETT The Star Wars The Clone Wars Ultimate Battle Pack - The Rise of Boba Fett is a detailed five-pack of action figures that comes with a Slave I aircraft vehicle and a Jedi Starfighter vehicle for "high-flying, all-out battle action!"

ECLIPSE BARBIE - VICTORIA & ALICE Each of these beauties gets the Barbie treatment and is in stock now at $25.99 each - take a look here

DC HEROCLIX The new Arkham Asylum Heroclix have just arrived and we have a variety of other Heroclix listed - take a look at the full selection here

WRESTLING FIGURES - TNA & LEGENDS OF THE RING The latest waves from Jakks and Mattel are in stock now:
http://www.bigbadtoystore.com/bbts/menu.aspx?menu=2211
http://www.bigbadtoystore.com/bbts/search.aspx?search=legends+ring

BigBadToyStore.com