15% Off Sale, FansProject, MLB Sportspicks Cooperstown at Big Bad Toy Store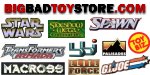 September 9, 2010 - (Sponsor Announcement) - Online retailer BigBadToyStore.com has several new items of interest to collectors:

Hi - Here is a quick update from http://www.bigbadtoystore.com about more great new arrivals, our latest sale, and some awesome new preorders!

------------
15% OFF SALE
------------ From now until Monday - save 15% on everything we carry except 'New' and 'Preorder / Backorder' items! We've just removed the new designation from at least 1000 items. Save on vintage, graphic novels, t-shirts, statues, busts, action figures, role play, games and more. Browse through your favorite menus on the site and score some sale items. Please note that sale orders may require a bit of extra time for shipping.

-------------
NEW PREORDERS
-------------

FANSPROJECT TFX-04 PROTECTOR, TFX-05 SIDEARM We have two new FansProject listings that are sure to make TF fans happy. The TFX-04 Protector set is a trailer add-on for all three versions of Rodimus (Classics, Henkei, Box Set Three-Pack) and includes accessory pieces like spoiler extensions and more. The TFX-05 Sidearm set includes a weapon partner for Rodimus as well as chromed spoiler and wing extensions. We have them listed at $82.99 for the TFX-04 Protector Armor and $9.99 for the TFX-05 Sidearm. Fansproject items often sell out quickly after being released, so be sure to reserve yours now.

STAR WARS ATTAKUS STATUES - 1/5 SCALE COMMANDER CODY - TWO VERSIONS Attakus France has announced a number of new Star Wars items. The 1/5 scale line continues with two versions of Commander Cody; one version shows him receiving the infamous Order 66, and includes a light-up Palpatine hologram, while the other version is "Ready to Fight" and carries a blaster rifle.

STAR WARS ATTAKUS STATUES - 1/10 SCALE ELITE COLLECTION Attakus France has also announced a new Elite Collection line of 1/10 scale Star Wars statues. The initial offerings include Darth Vader (limited to 3000 pieces), Stormtrooper, Shadow Trooper, Kashyyyk Trooper, Commander Cody and 501st Legion Trooper (each limited to 2500 pieces). These figures are listed at $99.99 for Darth Vader ($10 off MSRP) and $84.99 for each of the others ($5 off MSRP).

ROBOT CHICKEN - NEW FIGURES four new Robot Chicken figures have been put up for pre-order on our site. The title character gets his own big figure with the 10" Electronic Robot Chicken, who has lights and sounds and is listed at $22.99. We have also listed the first wave of Robot Chicken figures, including the Mad Scientist with Robot Chicken, the Candy Bear with Bear Trap and the Humping Robot with Washing Machine; this set is listed at $44.99.

TRANSFORMERS - NEW AUTOBOT ALLIANCE FIGURES We've added four new figures to the Autobot Alliance menu of import Transformers. A-11 Highbrow is listed at $59.99, with AA-12 Tomahawk, AA-13 Hailstorm and AA-14 Terradive listed at $34.99 each.

MLB SPORTSPICKS COOPERSTOWN SERIES 08 This new assortment includes Nolan Ryan 4, Carlton Fisk 2, Lou Gehrig 2 and more, and we have them listed at $79.99 for a case of 8 (which includes a Collector Level figure as well as 7 regular figures), or $11.49 for singles.

REAL MASTERPIECE 1/6 SCALE DONNIE YEN AS CHEN ZHEN Enterbay is also releasing a figure of one of the most popular Hong Kong actors. Donnie Yen has worked with many of the most famous asian actors such as Jackie Chan and Jet Li, and will now play Chen Zhen, a role made famous by Bruce Lee and Jet Li. This figure of Chen Zhen includes both a white suit and a black Kato-like outfit as well, and we have it listed at $169.99.

12" GREAT MAZINGER VINYL FIGURE High Dream is releasing a new foot-tall version of Great Mazinger. This figure will come with a sword accessory and is priced at $89.99, $10 below the MSRP.

BARBIE - 'DYNASTY', 'BEVERLY HILLBILLIES', BLACK LABEL We have listed a wide variety of 2011 Pink Label Barbie figures as well as the new 2011 Black Label assortments. The Pink Label figures includes Krystle and Alexis from "Dynasty", Elly May from "The Beverly Hillbillies", Samantha from "Bewitched", Japan versions of Ken and Barbie from the Dolls of the World line and the 50th Anniversary My Favorite Ken doll. The new Black Label Assortments include dolls using denim as a fashion base, and are split into four different assortments. Check out all of the new items at the menus for more information.

ASSASSIN's CREED II EZIO PVC STATUE This new piece is a PVC follow-up to Attakus' deluxe limited edition version. This piece measures 16.7" tall and shows Ezio perched on a rooftop peak. We have this version listed at $164.99, $10 off the MSRP.

NBX ACTIVE LABEL DELUXE FIGURE SET OF 4 Jun Planning has announced a new set of "Nightmare Before Christmas" figures. The figures in this assortment measure 10" - 12" tall and have a good deal of articulation. The set includes Jack with Podium, the Pumpkin King, the Mayor with Spotlight and Sally with Cooking Equipment, and the set of 4 is listed at $124.99, saving you $35 off the MSRP.

ULTIMATE UNISON #01 YUSAKU MATSUDA AS SHUNSAKU KUDOU This new collaborative effort between Medicom and Enterbay immortalizes one of Japan's most famous actors with a figure of his own. The 1/6 scale figure includes a suit as well as a special outfit set from "Story of the Detective" with a white parka and more. We have this figure listed at $249.99, saving you $50 off the MSRP.

REVOLTECH GETTER ARK The first of two new Revoltech figures is Getter Ark from the Getter Robo series. This figure is larger than a star in the story, but this figure will be sized to fit on your shelf, presumably in the 5" scale of most Revoltech figures. We have it priced at $31.99, and it should arrive this December.

REVOLTECH MAKINAMI MARI ILLUSTRIOUS VERSION 2.0 The new character Mari from Evangelion is the other new Revoltech. This figure will come with a number of accessories including a red and black Evangelion helmet, and she is listed at $39.99.

------------
NEW ARRIVALS
------------

1/6 SCALE MOVIE MASTERPIECE WHIPLASH From the recent "Iron Man 2" movie comes this 12" Whiplash figure. Whiplash comes with accessories like his power harness, multiple sets of hands and more, and even has light-up functions. This figure is listed at $169.99, saving you $10 off the MSRP.

LIVING DEAD DOLLS SERIES 20 - DAY OF THE DEAD This new LDD assortment has arrived, and we have it listed as a case/set of 5 for $99.99, saving you $30 off of the MSRP. We also have this figures listed singly at $24.99 each.

TRANSFORMERS 2010 VOYAGER - SET, SINGLES The newest wave of Voyagers to arrive includes Battle Blades Optimus Prime and Decepticon Banzai-tron, and we have them listed as a set of 2 for $49.99. We also have singles available, for the previous two listed figures, Autobot Ratchet, Seaspray and Payload, priced at $22.99 - $27.99 each.

STAR WARS OOLA MINI BUST This bust of Jabba's late dancer has arrived at our warehouse. She is done in the 1/6 scale, and we have it listed at $49.99, saving you $10 off the MSRP.

STAR WARS 12" EMPEROR PALPATINE Sideshow's 12" Emperor Palpatine comes equipped with his cane, robe with clasp, two sets of hands and more, and is listed at $84.99, saving you $5 off the MSRP.

TRANSFORMERS 2010 GENERATIONS SINGLES We've received a shipment of these figures, and although we're currently out of case and set assortments, we've got stock of singles Cybertron Bumblebee, Autobot Drift and Red Alert, priced at $12.99 - $14.99 each.

1/6 SCALE MOVIE MASTERPIECE PERSEUS This new Hot Toys figure comes from the recent "Clash of the Titans" remake. Perseus comes with his shield, two swords, the cut-off head of Medusa and more, and we have him listed at $159.99, $5 off the MSRP.

NFL SPORTSPICKS LEGENDS SERIES 06 A majority of our shipment of this wave has arrived, and we've got the case of 8 lisetd at $79.99, along with singles of figures like Steve Young, Tony Dorsett and more, priced at $10.99 each for regular singles and $22.99 - $24.99 each for Collector Level figures Warren Moon and John Riggins.

TNA DELUXE IMPACT SERIES 01 - SET OF 6 This series includes Jeff Jarrett, Sting, AJ Styles, Kurt Angle, Samoa Joe and Suicide, and we have them listed as a set of 6 for $59.99.

MLB SPORTSPICKS ELITE TEAMS - SETS, SINGLES McFarlane's new assortments include the Boston Red Sox, Philadelphia Phillies, New York Yankees and New York Mets, and we have them listed singly at $10.99 per figure, or at $79.99 per case of 8.

DOCTOR WHO "CLAWS OF AXON" TWO-PACK We've just received more stock of this item. This set includes the Master and an Axon creature, and is listed at $39.99

BATMAN DIE-CAST BATPOD STATUE This new piece measures 11" long and includes a custom display base. The Batpod has rubber wheels, and we have it listed at $99.99.

FRANK FRAZETTA'S DEATH DEALER STATUE We've received a second shipment of this popular statue. The piece measures almost 14" tall, and we have it priced at $209.99, saving $15 off the MSRP.

IRON MAN WAR MACHINE ARMOR STATUE This new statue by Bowen Designs shows Tony Stark in the War Machine armor. The statue stands 13" tall and has Tony in a dynamic pose, and we have it listed at $184.99, saving you $10 off the MSRP.

MARVEL WEB OF SPIDER-MAN HEROCLIX - CLIXBRICK, SINGLE BOOSTERS The newest wave of Marvel Heroclix figures has arrived. This assortment incldues a number of Spider-Man's friends and foes, along with members of X-Force, the U-Foes and more. We have them listed at $9.99 for a single booster pack, or $89.99 for a ClixBrick of 10 booster packs.

BigBadToyStore.com