Skelanimals x Qee Artist Series One Release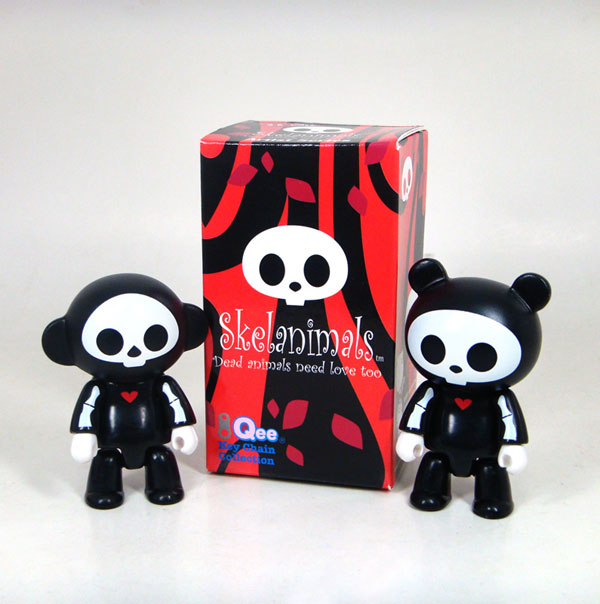 Skelanimals x Qee Artist Series One Release

September 2010 - The artist collaboration project of the year is about to begin revealing itself to the world starting tomorrow. The very first Skelanimals Qees will begin showing themselves each day for the next two weeks on the front page of www.toy2rusa.com and the Toy2R USA Facebook Fan Page as we prepare for the release of Series One just in time for Halloween. Check back each day to unearth a new Qee and see the series revealed.

Toy2R invited the hottest designer toy customizers to submit designs for the collection using newly sculpted Skelanimal Qees as their canvas. Each submission was personally hand-chosen by the Skelanimals creator to launch this "deadly" series of Qees, all inspired by the Skelanimals universe. The 25pc Blind Box Assortment includes designs by Jim Koch (USA), Chauskoskis (Mexcio), Lunabee (UK), Voltaire (USA), Reactor 88 (USA), Julie West (UK), Frank Mysterio (Mexico) and Jon Paul Kaiser (UK) as well as "Qee" versions of the original Skelanimals characters, Marcy & Chungkee.

Each Qee includes patented keychain attachment making it easy to show off your Qees wherever you go. Series Two is already in development - So don't miss this first assortment!!

Wholesale orders are still being accepted by Apex Trading Company, so contact Apex at [email protected] for information today and make your October a treat!!

Skelanimals x Qee: Unearthed and Cute as Hell