B-Boyz Contest
In July, Spin Master Toys launched their new breakdancing action figures, the B-Boyz: articulated action figures which come with "break rods" and internal mechanisms that allow them to actually perform breakdancing moves. Each figure also comes with a miniature boom box that plays music. (Read more about the B-Boyz.)
If you haven't been able to find these in stores near you just yet, here's a chance to stop looking for them: Spin Master has kindly supplied RTM with eight B-Boyz figures. Four are the prize in this contest (see below for how to enter) and the other four were a prize this summer.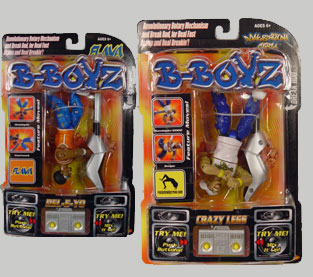 To enter for the B-Boyz, send an email to [email protected] with "B-Boyz E-Entry" in the subject line.
The prize for this contest is a set of four B-Boyz action figures: the figures included are Mike Spin, Al C Ya, Del-E-Yo, and Crazy Legs.
You may enter once per email address (yes, if you have more than one email address, you can enter with each one). Duplicate entries will be discarded.
Entries are due by midnight eastern time on Saturday, November 30, 2002. (A new contest will be launched shortly thereafter.)
The winner will be drawn within a few days of the closing date of the drawing. RTM will notify the winner by email. All entries will then be discarded, and the winner's name posted on this page. (If the winners prefer, we'll post their "screen names" rather than their real names.)
The drawing is a random process, helped along by the random number generated at this page, or a page like it if that page happens to be down at the time of the drawing. (The emails are sorted in a folder by date, then the total number of entries is fed into the generator, and the random number generated is matched up to the email folder. So if 23 is the random number, the 23rd email in the folder is the winning email.)
We are not collecting email addresses for anything other than to give away the prizes. The emails will not be sold, rented, or shared with anyone in any fashion for any reason.
This contest is void where prohibited. (International entrants: if you aren't sure if this applies to you, email us at [email protected] and we'll see what we can find out.)
---
HHH Contest Winners:
HHH #1: Billy McCarthy
HHH #2: Paul Petit-Clair
HHH #3: Karen O'Donnell
HHH #4: Curt (Buzz prize)
HHH #5: PMK (chat prize)
The HHH contests will resume in future weeks.
---
B-Boyz Contest Winners:
B-Boyz #1: William Villineau