The decision to do a new Lady Death cold cast statue under the Eternal Toys/Diamond Select Toys banner was an easy one.
Just as Lady Death has evolved in the pages of her comic book, it was time for her to be reborn as a new statue based on Ivan Reis design for the Lady Death the Rapture comic series. Brian Pulido, Chaos! Comics founder, Gregg Pisani, Chaos! Comics chief operating officer, Tom Stormonth, Diamond Select Toys executive director, and sculptor Sam Greenwell worked with the new design concept for Lady Death's look and the statues presentation. Pulls from her recent comics were sent to Sam so he would have an accurate reference to sculpt from.
We chose every detail of how the statue would look from; what costume she would appear in (above, left) what sword she would be carrying (above, center), even down to the pose she would be in (above, right).
Sam would e-mail images of the piece to Brian, Gregg and Tom and the collective would have a conference call about the progress and what changes we would like incorporated. All of these months of back and forth culminated in the four of them getting together at the San Diego Comic Con with a prototype in the advanced stages of production and reviewing it for any last minute details or changes we wanted to make.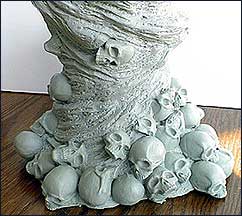 It was in San Diego that the group decided to take this piece to the next level.
They decided to add more skulls to the base of the statue (before, left - after, right). The decision was also made to represent Lady Death's arcane energy around her feet (below, left), her left hand (below, center) and radiating down her sword (below, right).
This will be done with a clear blue resin during manufacturing.

After that Sam finished his part of the work and passed it on to his painter Dan Lane to create the first paint master. The paint work enhanced the beautifully detailed sculpting job that Sam had already done and the piece was now ready for photography for advertising and box art.
The ads you see running in some of the toy industry magazines do depict the breathtaking end result, but only hint at the months long labor of love that all of the parties involved put into it.

We hope you enjoyed this special, behind-the-scenes look at the making of the Lady Death statue from Eternal Toys and Diamond Select Toys and Collectibles.
Special thanks to Josh Gold of Diamond Select.