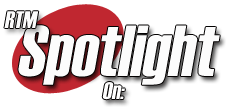 Lain Action Doll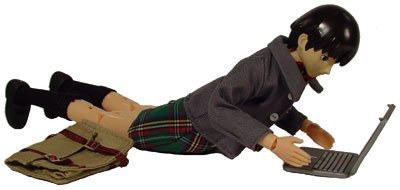 Anime in Japan is often first shown as several short (30 minutes) episodes on television, and then later edited together to form a feature-length piece for Western audiences. Some titles escape this fate, and are exported without the loss of footage. Serial Experiments: Lain is one of the lucky titles, presented to the West as 13 episodes.
Serial Experiments: Lain is missing a few of the stereotypical elements of anime, including robots and D-cups. While the lack of the latter might lead one to assume that Lain is a show for kids, think again - it is more of a metaphysical creeper than a "toon." The basic premise is that one day a young schoolgirl named Lain receives an email from a classmate. The twist is that the classmate had recently committed suicide, and that the email is from beyond the grave. From that point, Lain is faced with question about who she is, what is real, and where the line is between the "real world" and the "Wired world." (The "Wired" is what we know as the Internet, and is where Lain's classmate now exists.)

See the Big Picture
Toynami's new "action dolls" are part action figure, part doll. Creating a new name for the toy allows doll collectors and action figure collectors both to add these to their collections without feeling as though they are crossing genres and diluting their collection. Doll collectors can appreciate the cloth outfits and action figure collectors can appreciate the extra articulation. The action dolls are a bit taller than Mego action figures, standing between eight and nine inches tall. The first two characters made as action dolls are Naomi Armitage from Armitage: Dual Matrix and Lain from Serial Experiments: Lain.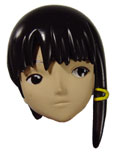 In addition to this version of Lain (dressed in her schoolgirl outfit), Toynami has another version planned with Lain dressed in a teddy bear outfit. Each version is a limited edition of 3,000 dolls. Lain has a ball-jointed neck so that she can look up and down a bit as well as side to side. Her shoulders are ball joints, her elbows are double hinges, and her wrists twist. She has a waist twist and a mid-torso joint. Her hips are ball joints, her knees are double-hinged, and she also has ankle articulation. Her feet can flex up and down, but the softer material of her feet also allow for a bit of side to side movement. Her joints are a bit loose, so you might want consider using a doll stand if you would like to permanently display her in a standing pose.
Lain's hair is molded rather than rooted, and the small pony tail in front slightly limits the range of motion on her head. However, the different lengths of Lain's hair (it is very layered in the back) would have made for a messy-looking doll if she had rooted hair.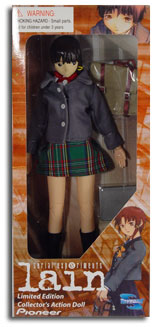 The schoolgirl outfit is the standard plaid skirt with white shirt and a jacket. The skirt is mostly green and closes in the back with velcro, and for you pervs out there, she is wearing white panties underneath. The short-sleeved shirt has metal snaps to hold it shut, with white buttons for decoration and a red bow at the collar. The gray jacket also closes with snaps and also has decorative buttons. For footwear, Lain has black mary jane-style shoes and black socks. The socks have a cuff at the top which helps hold them up.
Lain comes with two accessories: her laptop computer and a backpack. The laptop can be opened and has a blank screen. The backpack can be opened so that the laptop can be slipped inside. Brown ribbon on the backpack forms straps which allow Lain to actually wear it. The ribbon also forms a handle, although Lain's hands are both open so she cannot hold it using the handle. The ribbons fit through small buckles to hold the flap shut - tweezers are a big help getting the ribbons back through the buckles if you have 1:1 scale fingers. The back of the box mentions "interchangeable hands," but no other hands are included. The extra hand from the Armitage action doll also fits on Lain: the trigger finger from that hand also makes a fairly convincing "touch pad finger" for the laptop.
The Lain action doll is packaged in a small window box with artwork of Lain on all sides. The back has a very short summary of the plot of Serial Experiments: Lain and also has credits for the creative team who produced the doll.
More pictures of Lain
Where to buy Lain: The Lain action dolls are each limited editions of 3,000. They retail in the $16 to $25 USD price range (each) and are available at comic book stores and specialty stores as well as various online toy retailers.

Several such online stores are RTM sponsors Big Bad Toy Store, NHAtoys.com, The Outer Reaches, and SweatyFrog.com. (Be sure to check the other RTM sponsors, listed on the Shop Center.)

Lain
Buy This Poster
At AllPosters.com
on Amazon.com: Serial Experiments Lain - DVD Boxed Set