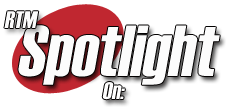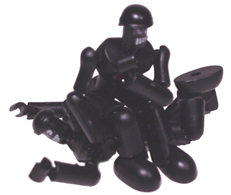 2002 is a new year, and what better way to start it than by looking at a brand new toy that has just entered the market. The toy has the unusual name of Stikfas, and that isn't the only thing unusual about it.
Today's toy market is filled with mass-market products - toys that are based on hot movies or television shows - that are backed with huge advertising campaigns. Stikfas turns this upside down to create a generic figure that can be used in almost any role. The figures are also highly articulated, offer a tabula rasa for customizers, are small enough to go just about anywhere, and incorporate some model-making in much the same way as Gundam and Dragonball Z action figure model kits do.
Stikfas action figures need to be assembled, and they come packaged in a solid white box decorated with imagery of the figure. All the contents come in a baggie (with a plastic closure like a zip-loc® bag) that can be used to keep any extra parts in one place. Inside the figure is still in the molding racks in the same way that model kits arrive, so the pieces must be cut from them. (Note to parents: The plastic is pretty strong so caution should be exercised to be safe and avoid being cut. Don't let small children do this without adult supervision.) The instructions come on postcards with pictures that clearly show how the toy is to be assembled, and there is also a sheet with a variety of clear stickers to put on the figure. It should take anywhere from 5 to 15 minutes to assemble one figure after the pieces have been cut from the racks.
| | |
| --- | --- |
| instruction diagram | box |
Once you've assembled these little guys, the fun can really begin. The figures have plenty of articulation because basically every joint is a ball and socket joint that allows for a wide range of movement. The ankles, knees, thighs, shoulders, elbows and wrists all have these joints. The figure also has a ball-jointed head, which can be spun and tilted. The torso is made of a lower piece that has a joint between the waist and upper torso, and this also has a ball joint. All together it is a very impressive level of articulation, especially when you consider that these are 3" figures. The Alpha Male Military figure (which we are covering here) comes with a bundle or weapons and accessories to finish out the figure. They have plenty of guns to choose from, as well as two hats, a ladder and a riot shield.
Customizers will have plenty of options because the kits have several versions of some parts to be able to build or swap parts. The thighs have two versions in each kit - one with peg holes to attach accessories and one without. The upper chest comes with four versions - one bulky and less bulky and then each of these has a version with peg holes and without. The hands of the figure are semi-circular clips that are very similar to LEGO mini-figures. The hands are roughly the same size, and they can hold most accessories from LEGO sets as well as some other items from other figure lines (like lightsabers from the Star Wars line). Since the figures are very generic, they can be made into anything the owner desires (and feels like doing). All the joints are about the same size, so parts can be moved from spot to spot and arms lengthened to create unique characters since the pieces are highly interchangeable. Check out the Boba Fett custom from the Stikfas homepage for a look at some custom work done on Stikfas.
The Alpha Male Miltary model is just the first one planned, and in the future there will be other models to choose from as the line expands. The figures are available directly from Stikfas and retails for $10 each. You can get more information (and order the figures) directly from Stikfas at their official site.
Pictures of the Stikfas in Action