Year of release: 1991
Figure Number: 4906
Accessories: Cerebro Computer Link
Action Feature: Laser Light Eyes (Light up Visor)


Comments: As with all the first series X-Men, the original releases came with white-bordered Series I trading cards. In most cases the character on the trading card matched the figure in the package. Some exceptions to this rule exist. First series cards were also characterized by the full "peg hole" at the top of the card. All subsequent series had "hanger hooks" that allow one to remove the figure from the rack without having to remove all the figures in front of it.

This version of cyclops was re-released in 1993 with a hanger hook and a later series trading card. This is Cyclops' original X-Factor uniform. The same mold was used to produce a Cyclops in his original X-Men uniform (with yellow trunks, red belt and no stripes). See Cyclops II. Contrary to some price guides this version of Cyclops was not released with the first series figures. It is only available on later series cards.

In a related note, this figure was also released as part of the Talking Marvel Superheroes in 1991. Each figure said three phrases via a battery operated backpack that could be attached to the back of the figure (See Talking Figures for more info).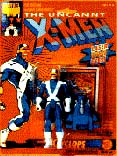 Back to the X-Men Index