Shrek the Third Trading Cards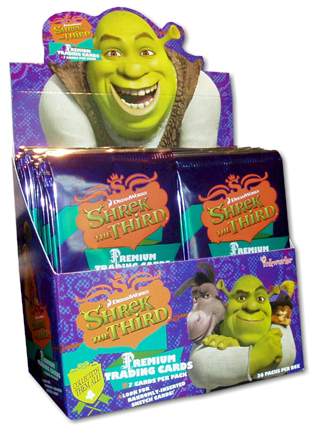 SHREK THE THIRD PREMIUM TRADING CARDS FROM INKWORKS

Each Hobby Box Includes An Individually Numbered, Hand Drawn Color Sketch Card!

MORRISVILLE, NC - May, 2007 - Inkworks announces the release of HOBBY-EXCLUSIVE premium trading cards for the highly-anticipated movie sequel, SHREK THE THIRD! SHREK THE THIRD follows in the footsteps of SHREK TWO which was the highest grossing animated film in history.

When Shrek married Princess Fiona, becoming the next King and Queen of Far Far Away wasn't part of the plan. Recruiting Donkey and Puss In Boots for a new quest, Shrek sets out to bring back the rightful heir to the throne. Back in Far Far Away, Fiona's jilted Prince Charming storms the city with an army of fairy tale villains to seize the throne. Fiona and a band of princesses must stop him to ensure there will be a kingdom left to rule.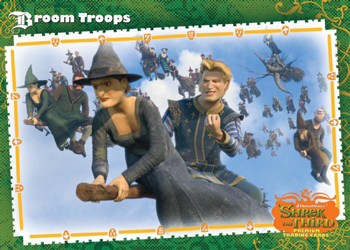 This set brings the wonderful film to life in a 72-card collection. In addition to the base set, collectors can find randomly inserted bonus cards including:

SKETCH CARDS - ONE PER BOX! Featuring hand drawn, individually numbered sketches from twelve amazing sketch card and comic book artists. Images of all the sketch cards created for the set can be found on the Inkworks web site. (Inserted approximately 1:36 packs). Artists include: Chris Moreno, Mark Dos Santos, Tone Rodriguez, Matt Wendt, Cynthia Cummens, Chad Frye, Tess Fowler, Cat Staggs, Renae De Liz, Lee Kohse, Taylor Bills, and Ray Dillon.

"SCRATCH AND STINK CARDS" - These cards really stink! Enjoy a sniff of beautiful Fiona's perfume, the swamp-like odor of Shrek or several other smelly characters. (6 cards inserted approximately 1:5 packs).

"FIONA'S FAIRYTALE 5" - Five sparkly foil cards featuring the lovely princesses who band together with Fiona to save the day. (5 cards inserted approximately 1:17 packs).

RAUL'S MAKE UP TIPS - Getting ogres ready for their royal duties isn't easy! Three different box loader cards (3 cards - one per display box).

OGRE LOVE - One case loader card (1 card - one per case).

Each pack of SHREK THE THIRD trading cards contains seven premium trading cards and has a suggested retail price of $2.49. Display boxes contain 36 packs. Cases contain 10 display boxes. A SHREK THE THIRD trading card collector album has been specially created to hold the trading cards (SRP $19.95).

About SHREK

DreamWorks Animation S.K.G. Presents a PDI/DreamWorks Production, DreamWorks "Shrek the Third," which is being distributed by Paramount Pictures. Directed by Chris Miller, the film features the voice talents of Mike Myers, Eddie Murphy, Cameron Diaz, Antonio Banderas, Rupert Everett, Justin Timberlake, Julie Andrews, John Cleese, Eric Idle, Cheri Oteri, Amy Poehler, Maya Rudolph, Amy Sedaris, John Krasinski and Ian McShane. The story is by Andrew Adamson. The screenplay is by Jeffrey Price & Peter S. Seaman and Chris Miller & Aron Warner. The film is produced by Aron Warner and co-directed by Raman Hui. The executive producers are Andrew Adamson and John H. Williams. This film is rated PG for some crude humor, suggestive content and swashbuckling action.

About DreamWorks Animation SKG

DreamWorks Animation SKG (NYSE:DWA) is devoted to producing high-quality family entertainment through the use of computer-generated (CG) animation. Utilizing world-class creative talent and state-of-the-art technological capabilities, the company is committed to making two computer-animated feature films a year that appeal to a broad movie-going audience.

About Inkworks

Inkworks is the award-winning entertainment trading card manufacturer based in Morrisville, North Carolina. Current Inkworks licenses include LOST, THE GOLDEN COMPASS, BUFFY THE VAMPIRE SLAYER, SMALLVILLE, HELLBOY ANIMATED: SWORD OF STORMS, VERONICA MARS, JERICHO, CHARMED, SUPERNATURAL, AVP: SURVIVAL OF THE FITTEST, THE 4400 and others. For a complete product release schedule, more information on Inkworks products or to find out how to get free collector cards, please visit the Inkworks web site at www.inkworks.com.

---
Upcoming products from Inkworks include Charmed Forever (May), The 4400: Season Two (June), and Buffy the Vampire Slayer: 10th Anniversary (July).