Power Rangers Operation Overdrive
DriveMax Megazord
click to see larger image
Bandai America Celebrates Power Rangers' 15th Season with
Versatile Lineup Based on New Treasure Hunting Themed Series

New "Power Rangers Operation Overdrive" Toys Incorporate Cool Decoding Gadgets and Transforming Figures, Vehicles, Megazords and More in Expanded Lineup

(CYPRESS, CA - January 2, 2007) - To coincide with the brand's milestone 15th season on air, the Power Rangers return next year with a compelling new treasure-seeking series called Power Rangers Operation Overdrive. In early 2007, Bandai America Incorporated will offer enhanced play value with more sound features, transforming action, collectibility and interconnectivity across its perennially popular lineup of figures, vehicles, Megazords and role-play toys. Once again, Bandai America has brought the classic theme of good always triumphing over evil to life for kids with their most versatile toy line yet.

Overdrive Tracker
click to see larger image
"Bandai America is set to celebrate the evergreen success of the Power Rangers brand with a new breakthrough toy line that really allows young kids to live, breathe and play like their favorite Power Rangers hero," said Matt Golding, director of marketing. "This expanded lineup for Operation Overdrive features more transforming toys than ever before, and new role-play accessories that truly deliver on the show's themes by allowing kids to play out the treasure hunting adventures in unique ways."

In the latest iteration of the Power Rangers' story, evil forces have discovered the fabled "Crown Aurora," which is said to give unstoppable power to anyone who reunites the crown with its missing jewels. To stop evil from taking over the world, five brave teens will set out on an exciting global treasure hunt to track down these magnificent jewels. The quest will be filled with action, adventure, mind-crunching puzzles and spectacular battles.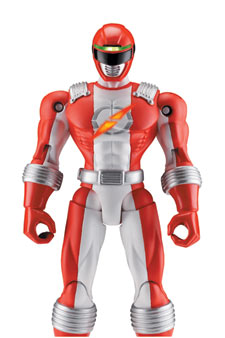 Red Ranger Action Figure
click to see larger image
Beginning in March 2007, Power Rangers Operation Overdrive will air 57 times a week on Toon Disney's JETIX action/adventure block and on ABC Kids. This perpetually popular boys' franchise from The Walt Disney Co. continues to be a major success due to the yearly refresh of themes, great action sequences and good over evil premise. Much of its popularity can also be attributed to Bandai America and Disney creating a seamless brand story that translates from the television series to retail, enabling kids to play out the adventures as their favorite Power Ranger hero in their own homes.

"As the longest running kids' show to date, Power Rangers is Disney Consumer Products' largest boys franchise, and special tributes are being planned for its 15th season on air," said Heather Rubaum, director of boys/film franchise, Disney Consumer Products. "In addition to special-edition product, JETIX on-air stunts and a new Power Rangers Supersite at www.powerrangers.com, we're planning some special fan-driven events that audiences of season 1 to season 15 can all enjoy."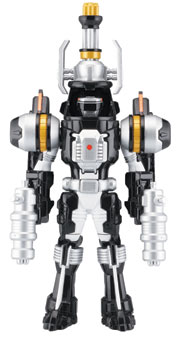 Black Ranger (Turbo Drill) Action Figure
click to see larger image
Power Rangers Operation Overdrive products can be found at all major retailers nationwide beginning in January. The spring's key items include:
5" Action Figures, the most popular product category, offer a total of five assortments including the new Mach-Morph transforming figures/vehicles and rocket-launching Torque Force Rangers.
Vehicles, from the new Hovertek Cycles to the Transtek Armor Machines and collectible TransMax sets, vehicles remain key in the lineup. With added transforming features, many of the vehicles can be collected and combined together to form even larger toys for more play value.
Megazords, the new Triple Transforming Megazords and deluxe DriveMax Megazord have more play features than ever. By configuring the Zords in different ways, each Triple Transforming Megazord set (three sets total) constructs three distinct Megazords. Zords from all sets can also be assembled to create even more unique combinations. The DriveMax Megazord is made up of five highly detailed vehicle-themed Zords that morph into Megazord and truck mode for more vehicle action. DriveMax also includes cool lights and sounds.
Role-Play, the new Overdrive Tracker Morpher comes equipped with a unique black light feature that enables kids to decode and decipher clues like their favorite Power Ranger. Clues can be found on the five included scan cards as well as on the packaging of other Operation Overdrive toys. The Ultimate Mission Gear set has everything needed to become a real treasure hunting Power Ranger. It features a utility belt with missile-firing action and storage spots for the morpher, as well as a wearable chest plate with lights and sounds.
About Power Rangers

Over the past fourteen years, the Power Rangers have been on Earth, in space, on the moon, under water, traveling through time, in the jungle and anywhere evil lurks. They've battled Rita Repulsa, Divatox, Master Org, Dark Spector, Toxica, Jindrax and many more evil-doers - villains who have been shrunk to miniatures, tossed in jail, reduced to ooze or banished. Over time, the brand has maintained its themes of teamwork, honesty, loyalty, courage, family, friends and above all, the victory of good over evil. For more information, please visit the new Power Rangers Supersite at www.powerrangers.com.

About Bandai America Incorporated

A leader in introducing Japanese toy trends to the United States, Bandai America Incorporated is a subsidiary of NAMCO BANDAI Holdings (USA) Inc., a new entity that resulted from the integration of Namco Ltd. and Bandai Co. Ltd. of Japan. Global interests encompass five strategic business units: toys and hobby (toys, models, apparel and sundries), amusement facilities, game content (home and arcade console gaming), mobile content, and visual and music content (including home entertainment). Bandai America is the manufacturer and master toy licensee of some of the most popular brands in children's toys and entertainment today, including Power Rangers, Ben 10, Team Galaxy, Tamagotchi and Girlz Connect. The company is headquartered in Cypress, California and information is available at www.Bandai.com.

---
PRODUCT LINE -- Spring 2007

The ancients once wrote that a crown encrusted with seven magnificent jewels would bestow ultimate power. Originally dismissed as mythical folklore, the "Crown Aurora" has been discovered by dark forces. Five brave teens set out on an exciting global treasure hunt to track down the missing jewels, before evil finds them and gains unstoppable power. Our world and the entire universe's fate rests in the hands of "Power Rangers: Operation Overdrive."

For more than 14 years, Power Rangers has remained one of the top boys' action brands in the United States. In 2007, Bandai America will introduce a versatile and expansive line of toys to support the new treasure hunting-themed series and celebrate the brand's 15th season on air - a milestone achievement. Debuting in March, the new series will air in 57 timeslots each week in the Jetix action/adventure block on Toon Disney and on the ABC Television Network every Saturday morning.

SUGGESTED RETAIL PRICE - AGE - RELEASE DATE

ACTION FIGURES

5" OPERATION OVERDRIVE POWER RANGERS - The 5" action figures, a perennial fan favorite, are back with cool new features! The Red, Black and Blue figures speak two phrases from the show and have a light-up chest and head, which is triggered by pressing the button on the Ranger's belt. These figures also offer a fun game utilizing the light up feature. All come with multiple accessories which can be combined to form separate robot figures.

The Yellow and Pink Rangers come equipped with cool light-up weapons and multiple accessories that can be combined to form separate robot figures.

To challenge the Power Rangers, the new Evil Space Alien figure has super-stretchy arms, body armor and a light up head.

$6.99 - 4+ - January

Assortment #2: The new Red, Black, Blue and Mega Red Torque Force Power Rangers have cool action tools - from a shovel to a drill - built into one arm. The end of the tool can also be detached to battlize the Ranger's helmet. In addition, the figures have a cool light up chest feature.

$6.99 - 4+ - April

Assortment #3: The new Gyro Launcher Power Rangers, available in Red, Black, and Blue, Gyro Force Red and Torque Power Red Power Rangers can launch a rocket from the figure's chest.

$6.99 - 4+ - May

5" BATTLIZED FIGURES - These action figures have their own unique weapons and special armor to morph them from Ranger mode to battlized mode. Available in Red, Black, Blue, Red Turbo, Black Turbo and Blue Turbo, the armor can also be configured separately to form cool vehicles.

$8.99 - 4+ - January/April

5" MACH-MORPH FIGURES - The exciting new Mach-Morph figures transform from Ranger mode into cool vehicles like a jet and cycle. These figures feature metal plating, transparent parts and come in Red, Black, Blue and Green.

$8.99 - 4+ - March/April/May

9" BATTERY-OPERATED FIGURES - The supersized Turbo Drill Power Rangers figures transform into battle vehicles and offer cool battery-operated drill-spinning action. They come in Red, Black, Blue and Green.

$10.99 - 4+ - January/March

MEGA TALKING POWER RANGERS - These large scale 11" Power Rangers - in Red, Black and Blue - speak two exciting phrases from the show and come with their own weapons for battling Evil Space Aliens.

$14.99 - 4+ - January

VEHICLES

MEGA POWER RANGERS MINI VEHICLE SETS - Each of the 5 TransMax sets come with 3 or 4 mini vehicles. Each set can be combined to form a cool Megazord. Collect multiple sets to mix and match, and create an even larger Megazord.

$7.99 - 4+ - January/April/May

TRANS-CYCLE WITH POWER RANGER - For 2007, the always popular Power Rangers cycle line has been updated to include new morphing options. The Hovertek Cycle transforms from a futuristic motorcycle into a battle helicopter. Intially, the Hovertek Cycle will be available in Red, Black and Blue. Two additional versions will be released later in the year.

$10.99 - 4+ - January/March

ALL-TERRAIN ACTION VEHICLES - The Transtek Armor Machines transform from vehicle mode to Zord mode - a first for the brand. Each vehicle comes with lights and a 5" Power Ranger action figure that can ride in the vehicle or Zord. Available in Red or Black, both vehicles can be combined to form an even bigger and more extreme Zord.

$14.99 - 4+ - January

MEGAZORDS

TRIPLE TRANSFORMING MEGAZORDS - There are three separate Megazord sets, featuring 3 Zords in each. Combine the Zords to form three different Megazords, and collect all sets to form unique new combinations. The collectibility gives the Triple Transforming Megazords more play value than any Megazord before them.

$19.99 - 4+ - January/July

OPERATION OVERDRIVE DELUXE MEGAZORDS - The awesome DriveMax and Super DriveMax Megazords are made up of 5 highly detailed and different vehicle Zords. Each Megazord can also be transformed into a cool truck for even more vehicle action. Lights and sounds are also featured in all three modes: Vehicle, Megazord, and Truck.

$39.99 - 4+ - January/May

ROLE-PLAY

OVERDRIVE MORPHERS - These high-tech gadgets are used by the Power Rangers in every episode to decipher clues to help them find the missing treasures. Now, kids can become their favorite Power Rangers hero and go on their own hunts with these cell phone-like Morphers. The Overdrive Tracker and Overdrive Tracker (Turbo Edition) Morphers feature a fun keypad with 5 unique sequences that create many different sound combinations. Activiate the Morph sequence with the Turbo Morph Wheel to create even more sounds. A first in the Power Rangers toy line, the new Morphers also include a unique black light capability which enables kids to decode and decipher clues on the 5 exclusive in-pack scan cards as well as the packaging of specially marked Operation Overdrive toys.

$16.99 - 4+ - January/March

OPERATION OVERDRIVE WEAPONS - The Drive Defender, Drive Lance and Drive Defender (Max Edition) all transform to offer 2 weapons in 1. With the battle lights, sounds and launcher attachment, kids can fight off evil like their favorite Power Rangers hero.

$14.99 - 4+ - January/March/June

ROLE-PLAY BY BANDAI CREATION

POWER RANGERS ULTIMATE MISSION GEAR - This Red Ultimate Mission Gear set includes everything needed to be an awesome treasure hunting Power Ranger. The utility belt has missile-firing action and lights, as well as storage spots for the Overdrive Tracker Morpher (sold separately) and other role-play weapons. The set also includes a wearable Ranger chest plate with a light and sounds, a mask, two weapons and other various accessories.

$24.99 - 4+ - March

POWER RANGERS ACADEMY TRAINING SET - This cool role-play set includes a Power Rangers mask, chest plate, morpher, weapons and a badge. Available in Red and Black, this set gives kids the ability to morph into a Power Ranger and battle Evil Space Aliens.

$14.99 - 4+ - March/April

WRIST-WATCH FIGURE & MASK SET - Kids can now tell time like a Power Ranger with this 5" figure which morphs into a digital watch that can be worn on the wrist. Available in Red, Black and Blue character versions, the watch also includes a cool Power Rangers mask.

$9.99 - 4+ - March

POWER RANGERS ELECTRONIC HAND GEAR - The Electronic Hand Gear includes a set of gloves and a morpher with cool action sounds. The set is available in Red, Black and Blue.

$9.99 - 4+ - March

POWER RANGERS SOFT ATTACK ROLE PLAY - The Soft Attack Drive Defender, Drive Lance and Red Blaster allows kids to act out their favorite Power Rangers scene in a safe and fun way.

$9.99 - 4+ - February/April

BANDAI CREATION

POWER RANGERS R/C CYCLE - The Radio-Controlled Red TransZord Cycle can morph with the push of the controller button. This fully mobile cycle can move in two different directions.

$19.99 - 4+ - March

OPERATION OVERDRIVE 3.5" ADVENTURE SETS - This fun set includes a variety of 3.5" Power Rangers and Evil Space Alien figures, as well as numerous accessories for playing out the battle of good over evil on a much smaller scale.

$19.99 - 4+ - March/May