MillionairePlayboy Mimoco Contest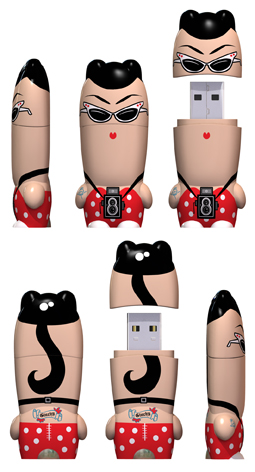 December 2006 - Mimobot is in the giving mood this holiday season and we're always glad to help out our loyal readers. We're offering one lucky winner a full set of all three Ginchy mimobots (512 Mb each!)!!

Rockabilly meets mimobots in this collaborative Series of "Ginchy" characters designed by Lili Chin, co-creator and producer of the hit Mexican Wrestling cartoon series "­Mucha Lucha!" for Warner Bros Animation. But the great designs aren't the only thing these 'bots have to offer!

All you have to do to win is sign up for the Mimoco and MPb mailing list, and we'll randomly draw a winner.

Contest ends December 22nd with the winner announced the day after Christmas! Holiday cheer for everyone... and a little more for some lucky winner! Good luck!!

Contest sponsored by mimobot who makes the coolest flash drives you'll ever see. Check out their site Mimoco.com, for more!!

Enter on MillionairePlayboy.com