Megatron, Rocky III, Guyver at Big Bad Toy Store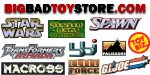 December 20, 2006 - (Sponsor Announcement) - Online retailer BigBadToyStore.com has several new items of interest to collectors:

Hi - Here is a quick update from http://www.bigbadtoystore.com about another big batch of new arrivals, more preorders, and holiday shipping deadlines.

BBTS HOLIDAY SHIPPING DEADLINES: Holiday deliveries are not a problem if you use UPS 2nd Day air up to 4:00 PM Central Time for delivery on Friday 12/22. You can get any of the brand new arrivals listed below in time by using 2nd day air. A big batch of preorders for the items listed below is currently being processed, feel free to upgrade your shipping as needed through the 'my account' page. Here is our current UPS shipping map.

--------------
NEW PREORDERS:
--------------

TRANSFORMERS #06 REISSUE MEGATRON: This Transformer Collection version of Megatron is going back into production for a January/February release date! As with the Masterpiece MP-05 Megatron, we won't be able to import or sell it without an orange safety tip so this item will also be modified - please see the item description online for further details. This figure has been selling well over $200 in the aftermarket recently and our preorder price is just $84.99.

ROCKY III FIGURES: Jakks Pacific recently cancelled all domestic shipments for this item, forcing retailers to either go without or take on a large order direct from China. We didn't want to let you down so put in a big order directly with the factory in China. Our shipment will arrive in February and sets of 9 figures are priced at $84.99. Clubber Lang and Thunderlips (Hulk Hogan) are available singly for $10.99. Nice images have just been added to the site - check out this cool set.

SERENITY ORNAMENTS: Dark Horse has gone back into production on the first Serenity Ornament, and they have also just announced a second limited edition 'Serenity in Disguise' ornament.

GUYVER PURQSTALL 8" FIGURE: Its been a while since Max Factory has announced any Guyver items, but the wait is over. Purqstall comes with a cloth cape and energy sword. Nice detail and quality is typical on the Guyver figures - this one is priced at $99.99

GETTER ROBO - RED GETTER 1 EXPORT VERSION: Another awesome Getter figure from Aoshima, this one comes with a bonus mini PVC figure and a selection of weapons. Preorders are available for $104.99

SOTA'S DARKSTALKERS: Sota's new foray into the Darkstalkers line looks great from the initial images they have sent over. The first series features Dimitri and Lord Raptor for $44.99, and a Felecia 6" Resin Statue is also up for preorder at $109.99

L-GAIM: More high quality mecha imported from Japan. We have two L-Gaim figures listed at $134.99 - the Bat-Shu and L-Gaim. These should contain some die-cast metal parts.

IRON MAN LEGENDARY SCALE BUST: Sideshow has done a great job with this bust, it stands about 10" tall and features a removeable face plate. Preorder now at $194.99

SIDESHOW 1:1 TERMINATOR BUSTS: Awesome high-end life sized busts of the T-800 in regular and a dirtier battler version. We have these listed $20 below MSRP at $479.99 each. Stan Winston Studios helped create these beautiful busts.

MACROSS 1/48 ARMORED PARTS: The Low Visibility Urban Camo set of armored parts is now up for preorder at $134.99

-------------
NEW ARRIVALS:
-------------

TRANSFORMERS TITANIUM SOUNDWAVE: The 6" Soundwave just came in and we have limited stock remaining at $16.99. This figure looks great in person and it comes with a miniature Laserbeak as well.

MARVEL ATTACKTIX: Almost all of the Marvel Attacktix items announced so far have just arrived including Marvel Booster packs with two random figures, Ghost Rider Starter Sets, Marvel Heroes Starter Sets, and a Battle Master Ghost Rider set.

DISNEY CARS - MOVIE MOMENTS: A new case wave with a variety of all new Movie Moments figure 2-packs has just arrived. Cases contain 12 2-packs for a total of 24 figures for $84.99

STAR WARS SAGA WAVE 8: We have limited stock remaining of the wave 8 sets and single figures, this has been a hot item - check out what is left.

FUNKO BRAND BOBBLE-HEADS & MORE: A huge variety of Wacky Wobblers and other novelty collectibles has just arrived from Funko - choose from over 50 different characters from a variety of Saturday Morning Cartoons.

MARVEL SUPERHERO SQUAD: Similar to the Star Wars Galactic Hero series, these fun little mini figures are available for $24.99 for the full set of 8 figures. Lots of top shelf figures in the first wave

TRANSFORMERS CLASSIC JETFIRE & PRIME: A new case wave has just arrived that contains Jetfire and Prime - we have them available as set of two for $44.99, and a limited number of Jetfires are also in stock for $34.99. Nearly all of the other Classic figures are also currently here.

STAR WARS GALACTIC HEROES CINEMA SCENES: Another shipment of these heavily populated giftsets has just arrived, pick up a ton of Galactic Heroes for $89.99 - which gets you all 4 scene packs. They are also available singly.

MP-03 MASTERPIECE STARSCREAM: We ran out earlier than expected, but were thankfully able to get more. The supply is nearly gone on the wholesale level so be sure to pick up an MP-03 before we can't find anymore!

PLAN B TOYS - LABYRINTH & DARK CRYSTAL: We've just received Jareth the Goblin King, Hanging Goblin, Sitting Goblin, and the Urskek mini bust from Plan-B. These are all limited to around 1000 pieces

NARUTO STATUE & BOOKENDS: Just in from Toynami, the Nine Tailed Fox statue and Naruto Bookends are available for $109.99 and $149.99

INTRON DEPOT - BALLISTICS SWAT FIGURE: A steamy new figure that would make your next run-in with the police a lot more enjoyable - in stock now for $69.99

SAINT SEIYA - PANDORA MAIL-AWAY FIGURE: Back in stock for $59.99

HANNA BARBERA - FLINTSTONES BOXED SET: The 2nd boxed set is now available for just $21.99 - this one features the entire family at the Drive-In ordering a car-sized slab of ribs.

GHOST RIDER SIDESHOW MAQUETTES: Both the Ghost Rider and Western Ghost Rider Maquettes have just arrived - these are available for $189.99 each and are very well done. Get your collection fired up before the movie hits the big screen.

VARIOUS TRANSFORMERS: These items are all back in stock in limited quantities: Hasbro Reissue Astrotrain, BT-15 Police, BT-06, BT-05, BT-13, Alternators Smokescreen, Hasbro Rodimus Prime Reissue, Kiss Players Rodimus, GC-01 Convoy, SC-22 Omega Supreme, GC-20, GD-11, MC-09, SC-01, SC-20, and EX-01 are now available.

ATTAKUS ALIEN STATUES: The new Alien Birth, Alien Warrior, and Alien Egg & Facehugger statues from Attakus are now in stock - very nice items.

DARK HORSE SAMURAI STATUE: A nicely done 11" statue based on the Dark Horse comic character - this statue is in stock for $25 under the MSRP at $149.99

FINAL FANTASY CLOUD STRIFE STATUE: This cool new elaborate statue is now in stock for $184.99. It stands around 10" tall and features Cloud Strife amid a twisted mass of pipes and steel girders.

Thanks for your interest in www.bigbadtoystore.com and be sure to get those last minute orders in by 2nd day air - we'll ship them out on time for delivery on Friday. You can also use UPS Next Day Air on Thursday for a Friday delivery.

Have a great Holiday Season and we'd like to truly thank you for helping to make this our best year ever!

BigBadToyStore.com