Michael Turner Red Sonja Statue
RED SONJA COVER BY MICHAEL TURNER 35TH ANNIVERSARY IMMORTALIZED AS STATUE BY DYNAMITE SELECT

Dynamite Brings Michael Turner Cover to Life

November 29, 2006, Runnemede, NJ - Dynamite Entertainment releases images and information today showcasing the premiere of the Dynamite Select: Red Sonja Statue (DEC063474). This magnificent rendition of Red Sonja is based on the work of artist extraordinaire Michael Turner's stunning cover to Red Sonja #1! Red Sonja stands over 13" tall on a 13" x 11.5" giant snake and swamp base. This amazing masterpiece was replicated by the sculpting and painting talents of Tom and Joy Snyder of Joy & Tom Studios; the very same people who brought us the Dynamite Select: Red Sonja Dell'Otto mini Bust.

Dynamite stated, "2007 is going to be a big year for Red Sonja as we continue to celebrate the 35th anniversary of her first appearance in comics in Conan #23 (Marvel) based on Robert E. Howard's creation. To commemorate, we are producing posters, comics, statues and more- all by superstar creators! This statue is a must-have for the true Red Sonja fans, as well as all those Michael Turner fans out there. Michael Turner's cover to issue #1 is one of the most compelling in the title's history (hey, it's Michael Turner we're talking about- did you expect anything less) and Joy and Tom Snyder have replicated that cover flawlessly. The swamp, the giant snake, the swords, and of course Red Sonja- it's all there in Tom and Joy's amazing work of art and was meticulously sculpted under the watchful eye of Michael Turner himself."

The artists, Tom and Joy Snyder, said about the opportunity to bring Michael Turner's art to life, "We are grateful that the crew at Dynamic Forces had the confidence in our studio to offer us this project. Bringing Michael Turner's cover to three dimensional form was a professional challenge and personal pleasure. Michael created a "Dynamite" illustration, and it is our hope that our statue realizes his intentions for the artwork. We hope that not only Michael, but also the fans of his work and all fans of Red Sonja will enjoy the results of our efforts."

DYNAMITE SELECT: RED SONJA STATUE - By Michael Turner! (DCD # DEC063474)
https://www.dynamiteentertainment.com/htmlfiles/
$295.00 MSRP

The premiere Red Sonja Statue sold out from Dynamite Select, and is now a highly sought after collector's items. Now, fans and retailers should not miss this opportunity to add a piece of Red Sonja's 35th Anniversary history to their collection - and what a piece!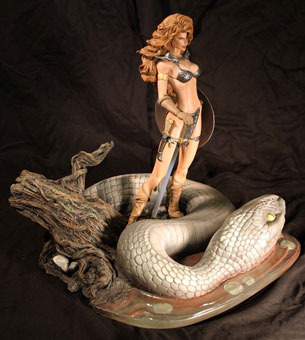 Featuring the first ever 3-D reproduction of Michael Turner's cover to RED SONJA #1, this incredible statue stands 13" tall, and a whopping 11.5" wide and 13" long! This statue is Huge!

Strictly limited, order yours today!

ALSO AVAILABLE: HIGH END ARTIST'S PROOF, WITH SIGNED CERTIFICATE BY MICHAEL TURNER, AT THE MSRP OF $499.99!

RETAILER INCENTIVE: FOR EVERY TWO STATUES ORDERED, RETAILERS WILL RECEIVE AN EXCLUSIVE, LIMITED EDITION MICHAEL TURNER STATUE RRP!

NOTE: ADVANCE SOLICITED, SHIPPING IN MAY

Dynamite plans to have incredible support for this release with house ads, Diamond Previews Ads, online ads through news websites, as well as prints ads in Comic Shop News!

ABOUT TOM AND JOY STUDIOS:
Tom and Joy Snyder, owners and operators of Joy & Tom Studio, are both graduates of the Ringling School of Art in Sarasota, FL- one of the top art schools in the nation. This artistically talented husband and wife team have been living and operating out of Orlando, FL for over 25 years and have experience in sculpting in several forms of media, in scales ranging from 1:12 to 2, as well as producing fine art in 2 dimensional media. Joy & Tom Studios was the recipient of ToyFare's Statue of the Year 2005 (Ultimate Spiderman vs. Doc Ock.) and have been featured in Spectrum Annual (George Perez's: Crimson Plague). They have produced fan favorite items for companies such as Dynamic Forces (Spiderman vs. Doc Oc, Michael Turner's: Red Sonja, The Leader, Adam Warlock); Bowen Designs (Quicksilver, She-Hulk, Spiderwoman, Vindicator, Sunfire); Art Asylum/Diamond Select Toys (Death of Phoenix, X-23); ReelArt Studios (The Three Stooges, Various Paintmasters); Monogram International (Catwoman, Wonderwoman, Robin, Teen Titans, Various Paintmasters); SciFi Metropolis (Lost in Space) Plastic Earth (Robot Chicken"currently airing new episodes", ToyFare); Walt Disney World (Various Characters) FAO Shwartz (Star Wars) George Perez (Crimson Plague). Additionally, the Snyders are actively involved in charity sculpting projects for the Hero Initiative at WizardWorld Chicago and Orlando MegaCon.

ABOUT DYNAMITE ENTERTAINMENT:
DYNAMITE ENTERTAINMENT was founded in 2004 and is home to several best-selling titles and properties. Beginning with their Army of Darkness comic book series - launching as the #1 independent comic in July of '04 - and recently ranked the #1 selling Independent Horror comic -- and continuing to their best-selling Red Sonja series - issue #0 alone selling over 240,000 copies and ongoing issues and one-shots recently ranked among the best-selling titles in unit sales and dollar volume - and not only has Dynamite consistently released Red Sonja as THE top selling single comic outside of Marvel and DC Comics, Dynamite successfully places more titles in the Top 100 than most non-Marvel, non-DC publishers. Dynamite's new monthly Battlestar Galactica series is the company's first major launch of '06, debuting with an impressive 175,000 copies in initial orders sold for the introductory #0 issue. Dynamite's ongoing Highlander comic book series launched to excess of 100,000 copies sold for issue #0. The recently released The Lone Ranger #1 sold out on its first day in comic shops, went in to an immediate 2nd printing, and the 2nd printing sold out from Dynamite!

Now, in addition to the ongoing Red Sonja and AOD series, DYNAMITE has released the all-new Battlestar Galactica comic by Greg Pak and Nigel Raynor - launching with a specially priced #0 issue, having sold in excess of 175,000 copies and recently featured in the pages of TV Guide, A classic Battlestar Galactica comic book series, Xena by John Layman and Fabiano Neves, a Darkman vs. the Army of Darkness mini-series and is preparing the Lone Ranger with Brett Matthews and John Cassaday - and Dynamite has more on the horizon!

In addition to the creators mentioned - Dynamite works with some of the most high profile creators in comics, including Alex (Justice) Ross, John (Astonishing X-Men) Cassaday, Michael (Superman/Batman, Aspen Comics) Turner, Jim (All-Star Batman) Lee, Michael (Red Sonja) Avon Oeming, Mike (Red Sonja/X-Men) Carey, Jim (Justice) Kruegar, Greg (The Incredible Hulk) Pak, Brett (Serenity, The Lone Ranger) Matthews - as well as working with up and coming new talent and enhancing strong creators!

The company also produces new and classic material from such creators as Paul Gulacy and Doug Moench's Six from Sirius, Tim Truman's Scout, Carlos Trillo and Eduardo Risso's Borderline and other titles including Jim Starlin's Dreadstar, in addition to reprint editions of classic Red Sonja material and more.