Megatron, DC Direct, Cthulhu at Big Bad Toy Store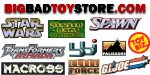 November 14, 2006 - (Sponsor Announcement) - Online retailer BigBadToyStore.com has several new items of interest to collectors:

--------------
NEW PREORDERS:
--------------

TRANSFORMER CLASSICS WAVE 3: Two new Deluxe sized figures - Cliffjumper and Mirage have just been listed at $12.99 each. These will be released in January. Classics Legends Wave 2 have also been listed, this set of 4 mini figures includes Whirl, Bumblebee, Trypticon, and Fireflight and is priced at $17.99. Check out all the classic items.

MP-05 MASTERPIECE MEGATRON: Masterpiece Optimus Prime will finally have a worthy adversary on your shelf! We will be importing a modified version of the MP-05 Megatron pistol with an orange tip on the barrel. This is being done so that the gun will comply with US Toy Gun laws. We have full details listed on our website about the modification and the reasons we had to do it. This is going to be a fantastic figure, preorder now at only $99.99 - Megatron arrives in March!

MEGATRON WALL STATUE: Another new release from Diamond Select Toys, this wall statue is priced $10 under MSRP at $79.99 and features Megatron in a soaring action pose with a variety of Cybertronian steel as his backdrop

DC DIRECT:

-- 13" DELUXE COLLECTOR CATWOMAN: The first female figure to join this popular line of characters looks to be very well done. Catwoman comes with whip, tight leather style outfit, goggles and helmet - preorder now at $59.99

-- BATMAN ELSEWORLDS WAVE 4: This wave of figures includes one each of: Amazonia: Wonder Woman, JSA Liberty Files Batman & The Flash, Kingdom Come Blue Beetle, and The Dark Side Superman - both good and evil versions. The set of 6 is priced at $71.99.

-- BATMAN BLACK & WHITE - ALEX ROSS STATUE: A mean looking statue designed based on the Alex Ross version of Batman - $54.99

-- DC MINIMATES WAVE 4: We have all waves including the recently announced 4th wave listed for this set of highly anticipated mini heroes and villains. Each set of 8 is priced at $29.99

-- WOMEN OF THE DC UNIVERSE - BIG BARDA BUST: Only $39.99 for this attractive new bust

-- SUPERMAN / BATMAN - WORLD'S FINEST BOOKENDS: A very cool new set of Bookends to hold your favorite novels, dvd's, or comics upright. We have it listed at nearly $50 off the MSRP

HARRY POTTER 17" DOLLS - BY TONNER DOLL: These huge dolls are very high quality and highly detailed. We've listed a total of 7 dolls, 3 extra outfits, and 5 accessory sets - each modeled closely after the world created JK Rowling. These dolls are all limited edition items and worth taking a look at.

H.P. LOVECRAFT - EXCLUSIVE BLACK CTHULHU: This is a fantastic repaint of Sota Toys' Cthulhu mold - mainly black with some speckles of pink and orange between his wings and various other places. This is limited to around only 1200 pieces and priced at $20.99

SPORTS PICKS MLB SERIES 19: McFarlane's latest series of baseball figures will include Albert Pujols 3, Johnny Damon 2, Jonathan Papelbon, Pedro Martinez 2, Prince Fielder, and Scott Kazmir. No images yet, but these are priced at $10.99 each.

18" ROCKET PACK HELLBOY EXCLUSIVE: A Previews exclusive by Mezco, this new version of the 18" Hellboy comes with a big rocket pack strapped on his back - arriving in February and priced at $54.99

MARVEL STATUES, BUSTS, & MAGAZINES: More new items from Bowen and Diamond including: Iron Fist Statue, Mandarin Bust, Prowler Bust, Wasp Retro Bust, Wasp Bust, Kitty Pryde Bust, Marvel Origins Punisher Statue. More of the Magazine and die-cast figure sets have been listed including #09 Captain America, #10 Doctor Doom, #38 She-Hulk, and #39 Mystique.

STAR TREK 40TH ANNIVERSARY STATUE - "City on the Edge of Forever" - this new statue is priced well under MSRP at $174.99 and includes an interesting mixed media presentation.

BUFFY / ANGEL: Diamond's new Angel Amends Motion Globe is up for order at $139.99.

-------------
NEW ARRIVALS:
-------------

TRANSFORMER CLASSIC DELUXE WAVES 1 & 2: All the deluxe figures are now in stock! Get the first 6 figures for $69.99 or pick out your favorite singles. The new Mirage figure is available for just $12.99, Starscream, Bumblebee, Astrotrain, and Rodimus are $10.99 to $12.99. Be sure to preorder the wave 3 figures as well.

CULT CLASSICS WAVE 5: A nice wave of evil figures has just arrived. In stock now are the Saw Jigsaw Killer in both human and pig faced mode, Leatherface, medieval Ash, and pass the liver, hold the fava beans - Doctor Hannibal Lecter. This is the best wave yet!

HARD HERO TRANSFORMERS BUSTS: Our big shipment of bust close-outs has just arrived. Fantastic pricing on a variety of busts and statues including the just listed Iron Hide bust & Bombshell statue. Other busts start at $16.99 including Wheeljack, Jazz, Starscream, Hot Rod and more all at a fraction of original retail pricing

STAR WARS SAGA WAVE 7: This wave is now fully available with full sets and singles in stock! Wave 7 contains a wide variety of characters at reasonable prices.

HOT TOYS - CHOPPER PREDATOR: More Movie Masterpiece figures are now in stock, the Chopper Predator is priced at $129.99 and he looks pretty nasty wearing his human skull backpack.

LORD OF THE RINGS - LEGENDARY MORGUL LORD BUST: A great big bust created by Sideshow, this one stands about 22" tall.

STAR TREK EXCLUSIVES: Now in stock are a variety of Star Trek exclusives including: Counselor Deanna Troi, Mirro Universe Sulu, and 1st Contact Picard.

VARIOUS NECA ITEMS: Other items that have just arrived include the Highlander Medieval Boxed Set, Jimmy Page, Crow 'Transform' Diorama, Iron Maiden Head Knocker, and Jack Sparrow Statue.

BigBadToyStore.com