Transformers, Botcon News at Big Bad Toy Store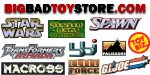 October 2, 2006 - (Sponsor Announcement) - Online retailer BigBadToyStore.com has several new items of interest to collectors:

Hi - Here is a quick update from http://www.bigbadtoystore.com packed full of Transformers news. We just returned from the Botcon convention and have all kinds of new items to tell you about.

-------------
NEW ARRIVALS:
-------------

MP-03 MASTERPIECE STARSCREAM: Takara's mind blowing Masterpiece Starscream is now in stock for $99.99. This figure has a complex transformation, extreme detail and an awesome sculpt. Our shipment is 80% sold and the rest of them are flying out the door so don't procrastinate too long on this beauty.

MP-04 MASTERPIECE CONVOY & TRAILER: Finally a trailer worthy of the Masterpiece Convoy. Takara has crafted a highly detailed and fully opening trailer in perfect scale with Prime so he can now enjoy the benefits of his traveling lab. This huge set is priced at $189.99 and will likely be the defining Optimus Prime action figure for all time.

STAR WARS 12" SIDESHOW: Obi-Wan Kenobi and Qui-Gon Jinn are now each in stock for $49.99. Authentic outfits and more great head sculpts from Sideshow.

KISS PLAYERS ATARI & AUTOROOPER: Another entry into Takara's off the wall Kiss Play storyline. This set features a Worlds Smallest Autorooper Transformer as well as a larger PVC Atari anime style figure - in stock for $39.99.

FOUR HORSEMEN - 7TH KINGDOM XETHEUS: The first figure, and leader of the 7th Kingdom, Xetheus - is now in stock for $19.99. There are not too many of these to go around.

--------------
NEW PREORDERS:
--------------

TRANSFORMERS ALTERNATORS: Ravage & Rumble have just been announced! Ravage will be none other than a Jaguar XK, and Rumble is a Honda Civic Si with huge piston style hands for pounding the ground. These are available singly for $24.99 and $27.99 respectivly, and also as part of a new case assortment with 2x Ravage, 1x Rumble, 1x Mirage for $89.99. Mirage is also back up for preorder at $23.99

E-HOBBY THS-02B - BLACK OPTIMUS PRIME: E-Hobby comes through with another nifty repaint, the THS-02 figure was wildly popular and this repaint comes with a few extra heads and cannons as a bonus. Scheduled to ship in February, this new exclusive will be a limited edition as always and is priced at $84.99

TRANSFORMERS CLASSIC DELUXE: Grimlock and Mirage join the original four figures in the second wave of Classic figures. They are unfortunately both short-packed so our single figure listings for Grimlock & Mirage are higher than I'd like them to be, but we've put together some very reasonable package deals: $89.99 for a case of 8 figures, and $69.99 for a set of all 6 of the classics released so far. Another set of the first four figures can't hurt anyways - its always fun to display both modes at once.

TRANSFORMERS 6" TITANIUM: Hasbro debuted a bunch of new 6" Titanium figures, the first two we can list are Soundwave and Rodimus Prime, priced at $16.99 each. This series continues to look great and each figure is fully transformable on top of being die-cast metal.

STAR WARS BATTLE PACKS: We don't have any images yet, but Hasbro has just announced three new battle packs priced at $23.99 each: Battle of Geonosis, Capture of Tantive, and Jedi Training on Dagobah. Check out all the upcoming Battle Packs.

TRANSFORMERS CLASSICS - LEGENDS: Another new price point in the Classics line-up. These figures will be slightly smaller than a typical 'basic' sized figure and similar to the 'Legends of Cybertron' line from earlier this year. The first wave is priced at $17.99 and includes one each of Fireflight, Leo Prime, Perceptor, and Trypticon.

BOTCON 2006 EXCLUSIVES: We have a very small number of the 'Dawn of Futures Past' Boxed and Loose sets remaining for preorder. These will be arriving to the warehouse on Wednesday when the truck containing all our convention stock returns. We were not able to secure meaningful stock of any of the other more limited Souvenir Sets unfortunately.

Thanks for your interest in www.bigbadtoystore.com - for those of you who are into lines other than the Transformers, we'll have more non-TF news later in the week.

BigBadToyStore.com